COLUMBIA, Mo. — On a night when Dennis Gates scrambled his playing rotations, both by choice and necessity, Missouri's coach turned to five veteran mainstays to close out Wednesday's improbable comeback at Mizzou Arena.
And each one — from 22-year-old relative youngster DeAndre Gholston, to 23-year-olds Kobe Brown, Nick Honor and Sean East II, to the graybeard of the group, 24-year-old D'Moi Hodge — all proved clutch in the Tigers' streak-busting 79-76 victory over No. 25 Arkansas. Down 10 points with five minutes left, Mizzou faced the kind of scenario that requires something close to perfection to execute a successful rally — and maybe some officiating fortune, too.
The Tigers got all of that and more in their third victory over a ranked opponent this season — and second win this season when they faced a double-digit deficit in the final five minutes. On Nov. 29, Mizzou trailed by 10 at Wichita State and won by four in overtime.
On Wednesday, in a marathon game that featured 17 lead changes, 11 ties, 55 fouls, 66 free throws, five replay reviews and lasted two hours and 36 minutes, it was understandable that a few hundred of the 14,448 fans in attendance headed for the exits with 5:07 left, when Ricky Council IV's free throws pushed the Razorbacks ahead 67-57.
But that's when Gates heard two pieces of advice from his five players on the floor.
"They said, 'Don't panic. Don't blink. It's a five-minute game,'" Gates recalled after the Tigers (14-4, 3-3 Southeastern Conference) steered out of their two-game losing skid and snapped a five-game losing streak to Arkansas.
"They just, at that point, did not pump the brakes. They didn't think twice."
A look at Mizzou vs. Arkansas Razorbacks basketball on Wednesday, Jan. 18, 2023
Here is a look at the Missouri vs. Arkansas Razorbacks men's basketball game on Wednesday, Jan. 18, 2023, in Columbia, Missouri. 
All five contributed in some way to the Tigers' relentless rally.
First up, East, the lead guard with the deadly floater. East hadn't scored a point until the game's final six minutes, but when the Tigers absolutely needed a spark, he attacked the paint and scored on three straight chances. His floater with 4:27 left got the Tigers within six points. Two minutes later, he stole an Arkansas pass in the backcourt to set up MU's game-tying 3-pointer. Down the final stretch, East sank all six of his game-clinching free throws to finish with 12 points in a flurry.
"He was able to link in and dial in with his teammates," Gates said. "His teammates gave him confidence, and I thought they pushed him and said, 'Sean, step up.' I thought he responded in a great way."
Next, Gholston. The slasher with the uncommon but reliable mid-range jumper. Playing with four fouls, Gholston got the rally started with a couple free throws then drilled the game-tying corner 3 off East's steal with 2:28 left. A minute later, he splashed one of his patented shots along the baseline.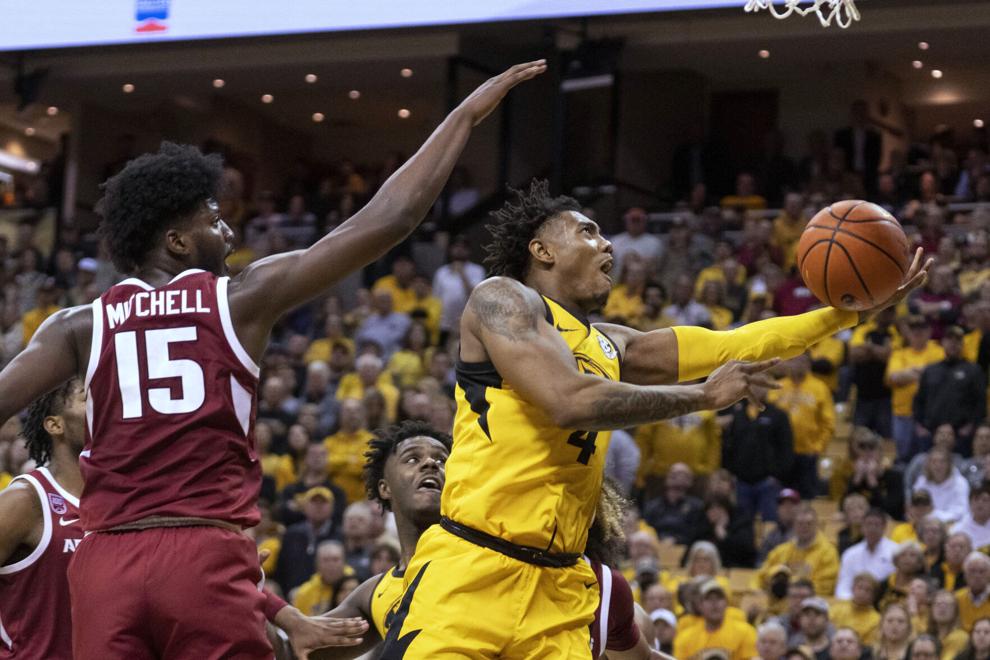 "Growing up, my dad made me watch Kobe Bryant, and that's where I originally got (the mid-range jumper) from," said Gholston, who finished with 16 points and went over the 1,000-point mark for his career. "After that, I've just always been able to get to it. Where I'm from (Gary, Indiana), we play a lot of one-on-one. So that shot really is what you shoot."
Battling cramps and a sprained ankle, Brown did his shooting from the paint and the foul line, but he had three critical rebounds late that helped carry the comeback. First, he corralled a defensive rebound that led to a tie-up under the rim to restore Mizzou's possession. Then, on a night when, once again, the Tigers were outmatched on the glass — Arkansas won the battle of the boards 42-23 — Brown outmuscled the Hogs inside and back-tapped two missed 3-pointers to teammates on the perimeter to keep a late possession alive, resulting in a crucial free throw for Hodge.
"We made a big focal point that we had to hit guys, keep them away from the rim," Brown said. "I was talking to Coach before the game, that if it's a 50-50 ball and you're going over somebody bigger than you, try to tip the ball out to another teammate. Just keep it away from the rim."
From there, Brown hit a couple free throws in the final minute to finish with a team-high 17 points.
It was a quiet offensive night for Honor — five points, one assist in 27 minutes — but he made a crucial defensive stop during the Tigers' late 10-0 run. With whistles screeching all game long, Honor didn't hesitate with 18 seconds left to pry the ball from Jalen Graham's hands in the frontcourt to protect a two-point lead. It was one of five consecutive defensive stops for the Tigers.
Finally, there was Hodge. The shooting slump continued with five more misses from 3-point range. He scored only seven points in 27 minutes, well below his season average. But Hodge made his impact on the defensive end. He blocked Anthony Black near the rim to smother a late Razorback possession. Then, with 43 seconds left and the score tied, Hodge slid in front of Devo Davis in the paint to draw a charge, one of 21 turnovers for the Razorbacks.
"He has in the past allowed his offense to dictate his defense, but he's a guy that I've always said all along could be a potential defensive player of the year with his ability to get deflections but also be in the right place," Gates said. "He has some of the quickest hands I've seen in a long time. … But ultimately he has to continue to be patient. And when those shots come … I thought he rushed and tried to sort of rattlesnake (his shot) versus just calmly and collectively shoot the ball. He takes it personal. He's on the court right now shooting shots."
But shooting them while celebrating a victory — a much-needed boost for the Tigers considering what awaits Saturday, a visit from No. 4 Alabama (16-2, 6-0).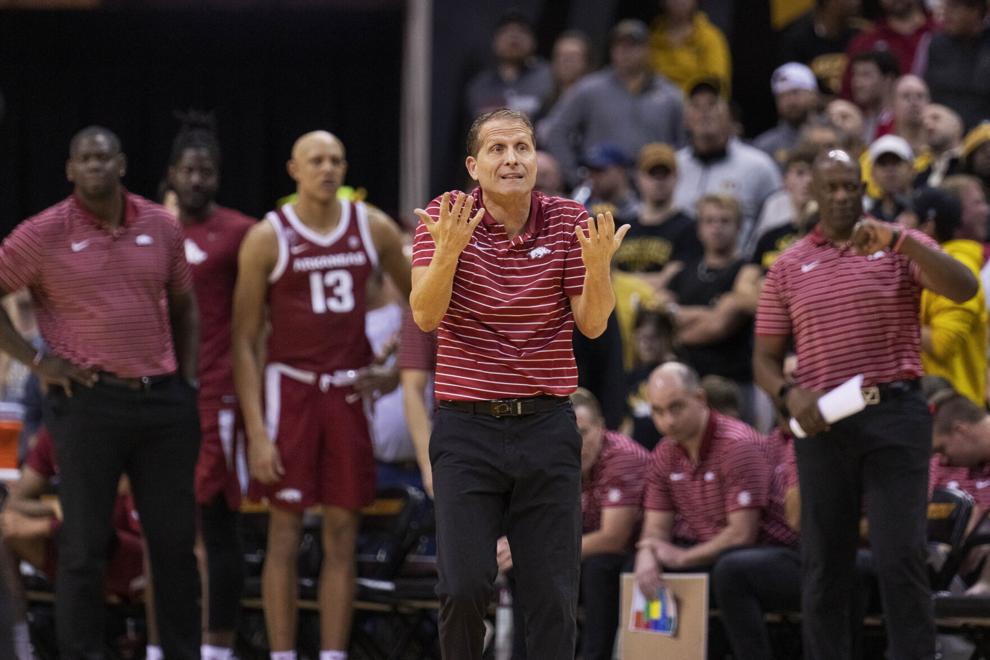 First, though, the Tigers had to protect Norm Stewart Court from the same team that beat them two weeks ago in Fayetteville. Officiating and unbalanced fouls have irked Gates away from home lately, and Arkansas' Eric Musselman could surely relate Wednesday. His team was whistled for a season-high 33 fouls, putting the Tigers on the free throw line a season-high 40 times. Four Razorbacks fouled out, including three starters. Arkansas (12-6, 1-5), now on a four-game losing streak, was whistled for 30 fouls Saturday at Vanderbilt, leading to 36 free throws.
"We're just a basketball team," Musselman said, "that has not figured out how to win down the stretch."
"I just have never coached in a game where four players fouled out," he added. "And the opposition shoots 40 free throws."
Mizzou started shorthanded before tip-off vs. Arkansas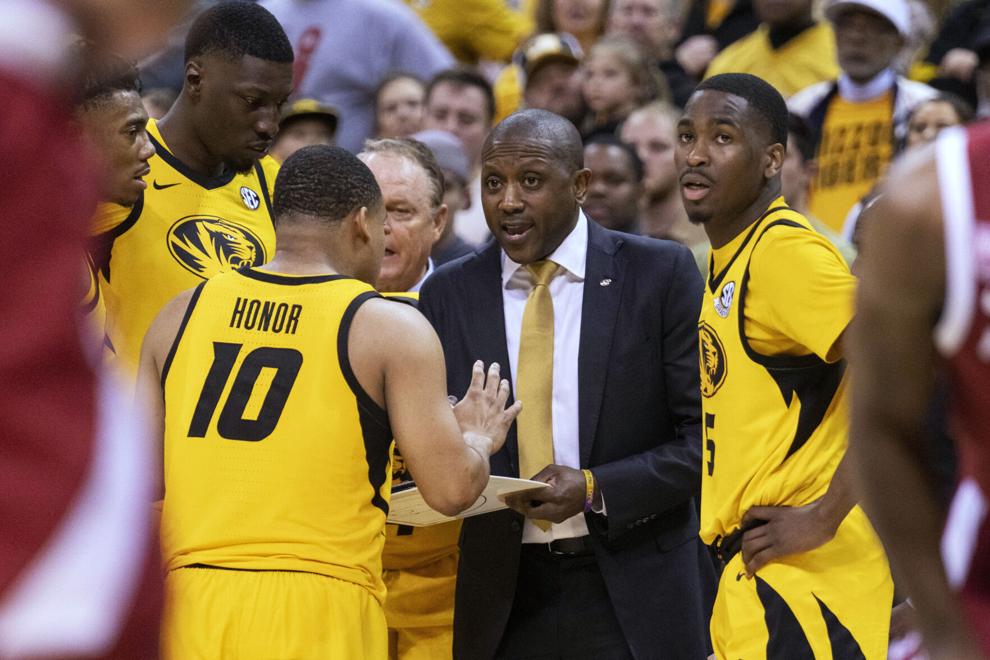 Forward Noah Carter, MU's No. 3 scorer and No. 2 rebounder, was held out for what the team called "health and safety precautions," a phrase typically associated with a positive COVID-19 test. With Carter unavailable, Gates turned to 6-foot-10 forward Mohamed Diarra, who played a season-high 10 minutes and scored a season-high five points, including his first Division I 3-pointer. Freshman forward Aidan Shaw rejoined the rotation, too, and drilled two 3-pointers from the corner. Their production was vital, especially during a clunky first half. The Tigers missed their first seven shots and 11 of their first 12.
Diarra, a junior college transfer who moved to the U.S. from his native France just a few years ago, struggled to get off the bench for the season's first two months but has given MU some promising minutes lately. Gates said Diarra was the team's best player in the practices leading up to last week's game at Texas A&M.
"Mo was able to show his teammates when his back was against the wall who he really is," Gates said. "Sometimes it takes juco transfers a semester to adjust. Sometimes it takes international kids a semester to adjust. We're understanding it's a process and not overnight. He got lost in the process that got him to play in these last three games, and I thought he was very, very important for us."
Isiaih Mosley makes return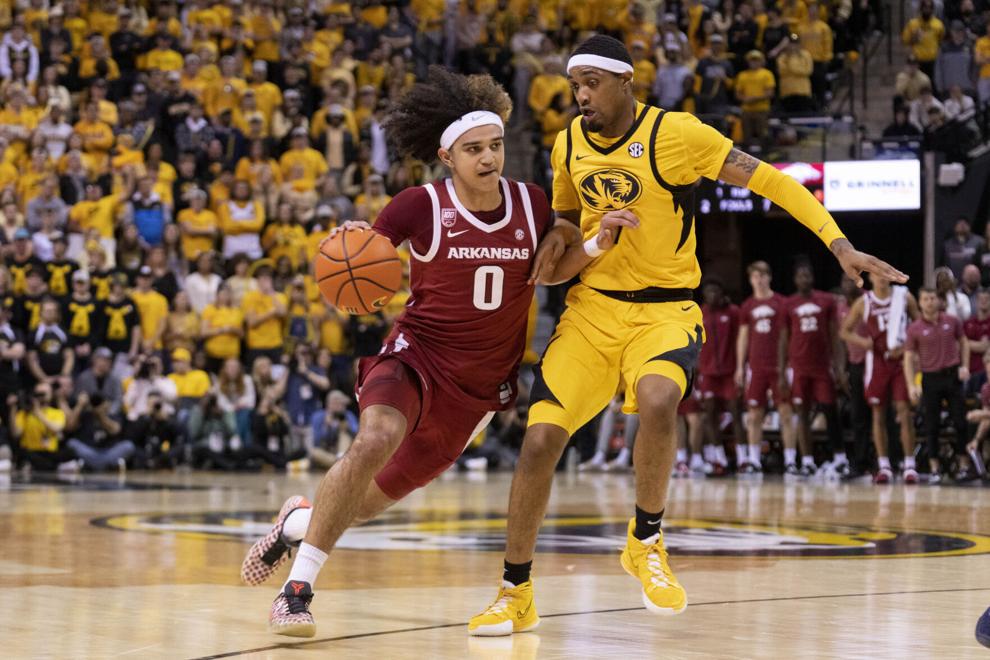 Wednesday's game also saw the much-anticipated return of Isiaih Mosley. For undisclosed reasons, the high-scoring transfer from Missouri State sat out each of the last six games since playing 10 minutes against UCF on Dec. 17. Mosley didn't even make the trip to Fayetteville the last time these teams met Jan. 4.
But he entered Wednesday's game in the fourth minute with a warm greeting from his hometown crowd. Mosley missed his first three shots — all from 3-point range — then broke through with a drive and short jumper with five minutes left in the half. In 19-plus minutes, he scored eight points, grabbed five rebounds, mixed two steals with two turnovers and held his own on the defensive end.
"His teammates definitely have encouraged him and continue to do so by wrapping their arms around him," Gates said. "We're excited."
And why not? With that kind of depth around the veteran core that ignited Wednesday's comeback, the Tigers might have caught their second wind.