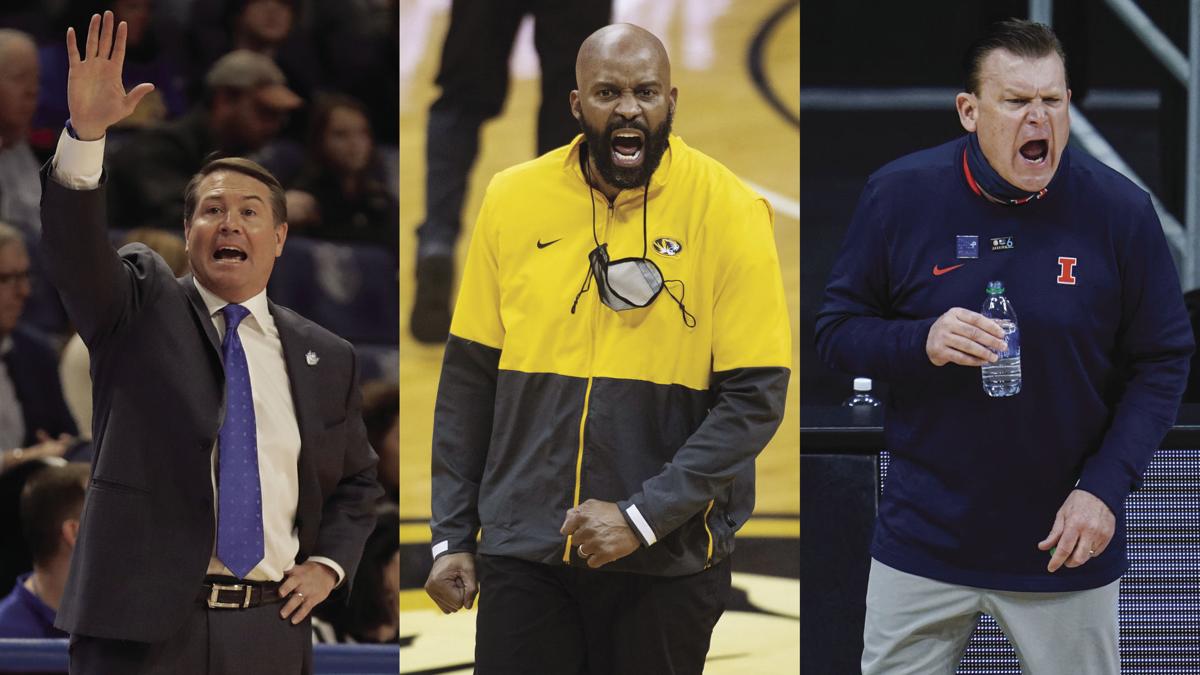 The momentum that came with three consecutive appearances in the NCAA Tournament had dissipated at St. Louis University by the time coach Jim Crews was fired in March 2016 after posting an 11-21 record in back-to-back seasons.
The basketball program was at a tipping point, and the same was true at Missouri and Illinois, which joined the Billikens that season in creating a trio of sub-.500 teams. It was a low point for area college basketball fans.
In 2013, all had reached the NCAA Tournament and combined for 74 wins. By the spring of 2017, they had new coaches with contracts and salaries that demonstrated confidence in the hiring decisions.
The salaries are record numbers for basketball at all three schools and reflect the importance placed on success on the court, which can translate to massive revenue.
At Illinois, Brad Underwood recently had his contract extended and his total compensation increased to $4.1 million, placing him among the 10 highest-paid coaches in the country. Mizzou's Cuonzo Martin is in the midst of a contract that averages $3 million per year. And SLU's Travis Ford is making at least $2.44 million.
Illinois and Mizzou divulge the salaries of their coaches. SLU does not, but the figure is reported on the university's public tax forms and is based on the most recent information available for 2019-20.
St. Louis agent Bob Lattinville, who represents some coaches and athletics directors, calls it a "top-down market" in a field that starts with Kentucky coach John Calipari topping $8 million annually.
"You have to determine where you think your guy fits into the market relative to the top," Lattinville said. "Guys are so hard to find, and like first-round quarterbacks they can be hit or miss. If you have a good fit and some continuity, and if you're at market or above market, the trend is that it's OK to pay above because the cost of starting over is staggering."
When a coach is fired, a large buyout typically must be paid in addition to a new coach's salary. SLU paid Crews $1.86 million in 2016-17, according to tax forms, John Groce's buyout by Illinois was reported at $1.7 million and Mizzou's Kim Anderson received $650,000.
Those numbers can be much larger in some cases. For example, Martin's contract started with a buyout of $6 million as of May 2020 with the total decreasing to $3 million in 2021, $1 million in 2022 and $300,000 in 2023.
Ford started at SLU in 2016 and Martin and Underwood were hired a year later. All have been to the NCAA Tournament at least once with Mizzou going twice. Only Underwood has a win thus far.
Time will tell if the investments produce wanted results after Crews — with a salary around $1 million — Anderson ($1.1 million) and Groce ($1.6 million) did not deliver. Crews did take SLU to the tournament twice with players recruited by Rick Majerus but saw a significant decline when they left.
Among the three athletics directors, only SLU's Chris May was willing to comment, although he does not talk about information related to contracts. Illinois declined a request for an interview with AD Josh Whitman and Mizzou did not respond to a request for comment.
Program commitment
"I don't see it as a commitment to a coach. I see it as a commitment to a program," May said. "You need a coach in place and all of these pieces to compete in any sport. This one (basketball) is highly important to us. So, we put those pieces in place from the coaching staff to the ancillary pieces that it takes to put them in position to win.
"You're constantly evaluating the marketplace from a competitive perspective and where you have to be to compete at that level. We do that on a regular basis, and it's a competitive marketplace."
In 2011, $2 million was considered the new elite level of pay for a coach, with 15 topping that amount. With more money pouring into athletics coffers in the Power Five conferences, mostly via media deals, the ceiling has continued to rise.
Aside from the money conferences make from schools appearing in the NCAA Tournament, Mizzou and Illinois benefit from massive payouts from the SEC and Big Ten conferences. In 2020, the Big Ten paid about $54 million per school and the Southeastern Conference about $45 million. The Atlantic 10 has a small revenue distribution for its 14 members (including SLU) and has provided supplemental payments to schools the last three years.
'A lot of ... overpaying'
"A lot of institutions are overpaying just for the sake of the fact that they have money coming in through media rights deals, and they can do that," said Jason Belzer, an attorney who is an agent for some coaches. "There is no more market rate. … I don't have a good answer other than some ADs feel the need to do it because they don't want to lose their coach."
When teams appear in the NCAA Tournament, one unit of payment is awarded per game played, and the money is distributed by the conference over six years. One unit in 2021 amounted to around $2 million, according to reported figures.
Illinois and Mizzou operate with significantly larger athletics budgets than SLU because of football. Illinois reported to the U.S. Department of Education that it had $21.4 million in revenue from basketball in 2019-20 with $11.6 million in expenses. Mizzou reported basketball revenue of $10.8 million and expenses of $9.1 million. And SLU reported revenue and expenses of $7.2 million.
Based on annual salary figures published by USA Today, Ford leads the A-10 in pay, Underwood is second in the Big Ten (behind Michigan State's Tom Izzo), and Martin is middle of the pack in the SEC. Thus far, Ford has built the best winning percentage of the three, .578 (89-65). Underwood is at .559 (71-56) and Martin at .545 (66-56).
When Underwood's contract was reworked last month, Illinois stated prominently in a news release that he would be among the 10 highest-paid coaches in the country. Whitman touted Underwood in a news release without referencing the contract, saying he arrived with a goal of "returning Illinois basketball to national prominence, and he has delivered."
Last season — five years after all finished under .500 — the three teams found themselves ranked in the top 25 in the same week for the first time since 1994. Illinois and Mizzou reached the NCAA Tournament.
All remain in search of the big payoff.