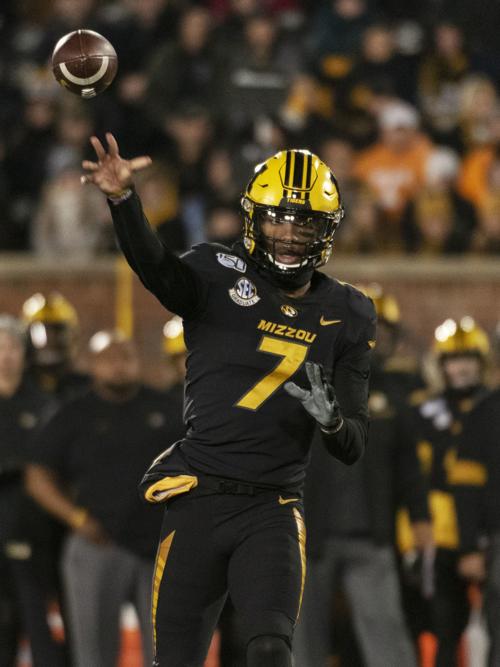 COLUMBIA, Mo. — By the time Missouri gets to Friday's season finale, quarterback Kelly Bryant might be held together with duct tape.
Bryant has suffered a sprained knee and strained hamstring this season and revealed on Monday he's dealing with more knee issues after a collision in the Florida game on Nov. 16. That injury bothered Bryant enough Saturday against Tennessee that Missouri's coaches had to decide if he could stay in the game.
It's been that kind of year for the Tigers (5-6, 2-5 Southeastern Conference) and their graduate transfer quarterback.
"It's not just the hamstring," offensive coordinator Derek Dooley said Monday. "Look, we've got to be honest. In (No.) 7's defense, he has not been 100 percent since the second drive at Kentucky. That's not an excuse, but his knee, he had to drain I don't know how much fluid out of his knee before (the Tennessee) game. It's starting to show. I think he started the game two weeks in a row really well. But as the game goes and you're getting hit … I think it's gotten tough and it affects him."
Bryant confirmed he had fluid drained before Saturday's game against Tennessee. The Tigers lost 24-20 as Bryant threw for 166 yards and a touchdown and finished with 18 rushing yards on 10 attempts, including two sacks. Two weeks earlier, he sat out Missouri's loss at Georgia while recovering from the hamstring injury but hasn't missed a snap the last two games.
"I want to be out there, just the love of the game and just me being a competitor," Bryant said. "I want to do whatever it takes to win."
Now, with Tuesday's news that Missouri's NCAA appeal was denied, the Tigers' season will come to rest Friday in Little Rock, Ark., where Mizzou plays Arkansas (2-9, 0-7) at 1:30 p.m. Under normal circumstances, an MU victory would clinch bowl eligibility. But with the program under a one-year postseason ban, Bryant's college career will end against the team some figured he'd join when he hit the transfer market last fall. Arkansas coach Chad Morris helped recruit Bryant to Clemson, where Morris had been the team's offensive coordinator. Bryant visited Arkansas during his second-chance recruiting tour last fall before choosing Mizzou.
It's been a disjointed season for Bryant, but he hasn't signaled any regrets about his decision. On Monday he backed Tigers coach Barry Odom, under fire for another five-game losing streak, the team's third in four seasons.
"We love playing for him," Bryant said. "He's a large part in why I came here. I don't listen to any of that (criticism). I wouldn't be here without Coach Odom."
As for Bryant's health, the way Dooley explained the situation, the coordinator has wrestled with decisions about Bryant's availability.
"It's our job to evaluate is he too hurt to play? It's not fair to him to put him out there if he's too hurt," Dooley said. "There was a part in the (Tennessee) game where I'm looking at him and I'm like, 'Hey, man.' He looks hurt.
"But he's a fighter. And that's what makes it so hard. And the game was within a score. So it's hard to make that decision in that circumstance. He's got an incredible amount of will and fight and doesn't say one word. It's hard to even know if he's hurting. But there's not many guys probably that would have been playing (with the injuries)."
Dooley said the staff would continue to monitor Bryant's status the rest of this week before deciding whether backups Taylor Powell and Connor Bazelak will see the field Friday.
"Well, ultimately, the quarterback's job is to move the ball and score points and not screw the game up," Dooley said. "That goes without saying. If we had come out (against Tennessee) and he was hurt and we weren't moving the ball and we didn't score and we got behind a couple of scores, the decision gets easier.
"Where it gets hard is when you're kind of doing some things, but then you stall, then you're doing it, then you stall. It was a great football game. That's where the decision gets tough. I mean, I'd like to sit there and know exactly (when to change quarterbacks). But it's hard. You beat yourself up when you lose. Should I? I don't know. I know Kelly didn't want to come out."
Bryant's knee and hamstring injuries have all but taken out a part of Dooley's playbook the Tigers expected to use significantly this year: designed quarterback runs. He's called a few plays the last couple weeks that gave Bryant the option to run the ball, most notably a third-and-3 keeper on what turned out to be MU's final offensive snap against Tennessee.
Dooley said he called the run because he expected the Tigers to go for it on fourth down if the run came up short. But when a corner blitz kept Bryant bottled in the pocket for a 2-yard loss, Odom chose to punt. Mizzou never got the ball back.
For the season, Bryant has netted 242 rushing yards on 106 carries. His most prolific running games came before the initial knee injury (77 yards against South Carolina) and before the hamstring injury (72 yards at Vanderbilt).
As a passer, Bryant's numbers are in line with his 2017 production, his only full season as Clemson's starter. His completion percentage this year is down from 65.8 to 62.0, while his efficiency rating is up slightly from 131.7 to 138.5. He's thrown 15 touchdowns with six interceptions, compared to 13 TDs with eight picks in 2017.
He ran for 665 yards and 11 touchdowns that season.
"What (the injury) does, it just minimizes the ways you can attack (defenses)," Dooley said. "It doesn't mean we don't have enough plays to win. So don't misunderstand that. I mean, we still attack defenses different ways. We can't do some of the things that really was a strength of his. Probably the bigger piece is not necessarily the plays but the extensions and the escapes. He had a couple the other night that were important, but when you're just lacking a little bit of your horsepower and your tires are a little low on air pressure and the oil hadn't been changed, it's not humming the same."
"I can't make the quick bursts that I'm normally used to," Bryant said. "I'm just getting down with it more and not trying to overcompensate whenever I'm running. I'm just getting out of bounds a little bit more."
"It's a battle," he added. "But it's not really hard for me because I know my body, what I can and can't do at this point."
As long as he's healthy enough, Bryant will suit up at least one more time for the Tigers in Little Rock. Odom said he was unsure how the graduate transfer's legacy will be told years from now, but he appreciates what the team captain brought to the program.
"I know what I will think of him and remember, a guy I'm grateful for and thankful for the things that he's done for us," Odom said. "He's a great competitor, and I know he wants to go win this one in a bad way, just to get number six."
"Whenever a guy like that is putting his body out there for the team, it's hard not to respect a guy like that," wide receiver Barrett Banister said. "He's been going through a lot, just physically. To see him go out every single Saturday and just put it on the line, it means a lot for us."