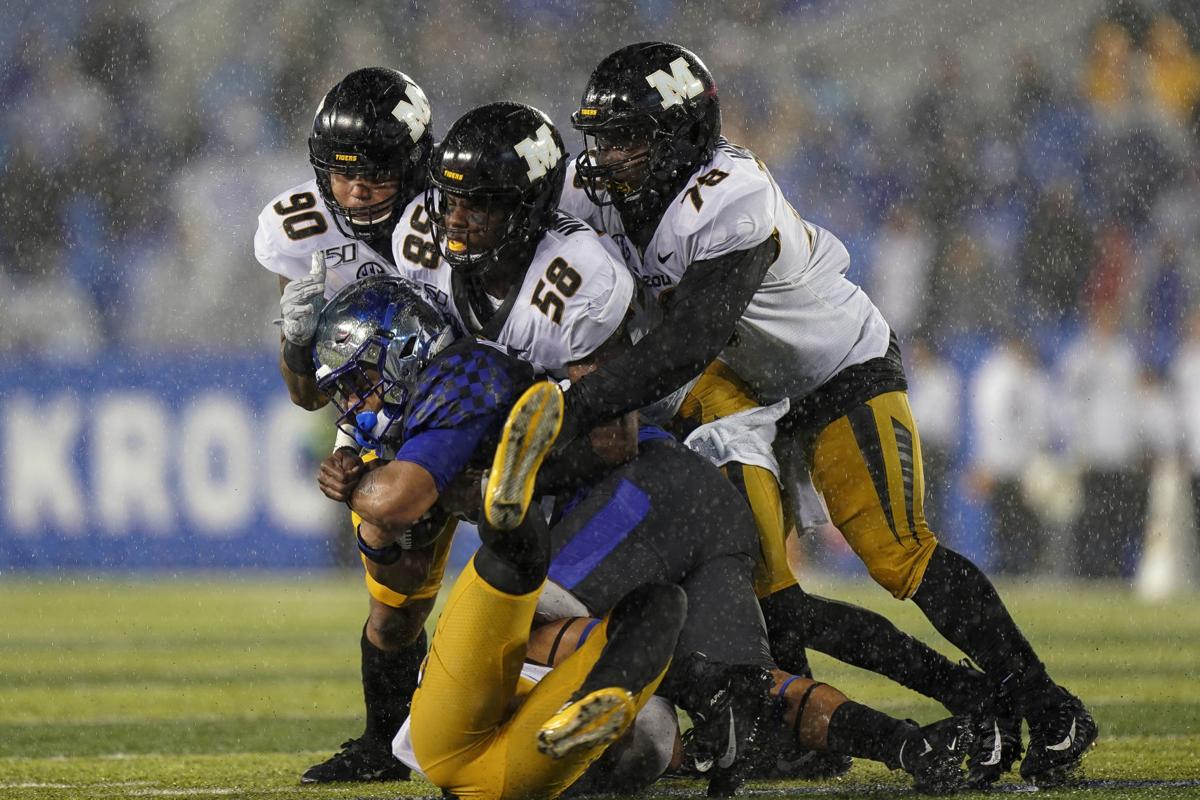 The football coach made his business pitch to the basketball player every so often for two years. No matter how many times Devin Nicholson said he wanted to focus on basketball, Cass Tech High School coach Thomas Wilcher pressed on: Nicholson was meant to play football.
"He kept turning me down," Wilcher said. Nicholson was all business — "a very serious person," his high school coach calls him. Growing up in Detroit, he played youth football but chose basketball as his high school sport. Wilcher was still convinced the young athlete had the body of a linebacker.
At one point, Nicholson even revealed that several family members had played football. "This is your whole bloodline!" Wilcher protested, but Nicholson held firm: "Sorry Coach, I'm playing basketball."
That is, until the summer before his junior year. Nicholson started showing up to football workouts, relearning the game with quiet determination. Wilcher's persistence had paid off.
Despite only playing two years of high school football, Nicholson is transitioning into what could be a consistent starting role in the Southeastern Conference as just a sophomore at Missouri. Coach Eli Drinkwitz named Nicholson last week as one of the defense's most impressive standout players throughout fall camp.
He received his SEC initiation in 2019 as a true freshman, when he was called on to start the last five games of the season. Linebacker had been one of Missouri's strongest position groups with senior Cale Garrett and rising star Nick Bolton playing most snaps, but a pectoral injury knocked Garrett out for the year and sent the Tigers into experimentation mode. They settled on Nicholson as the best backup option, but they were 2-5 without Garrett after a 4-1 start.
"I do feel like I'm more prepared now than I was last season," Nicholson said. "Got to know the defense better. Got to know my teammates better, their tendencies and stuff. I definitely think that plays a part."
Now he'll likely be slotted to start alongside Bolton, who is a consensus preseason All-American. Nicholson is the bigger question mark of the two linebacker spots, but he has proven himself to be a quick learner before.
After he joined Wilcher's team at Cass Tech before his junior year, Nicholson was placed at outside linebacker next to the team's best player, DeAndre Square, a senior bound for Missouri's SEC East rival, Kentucky.
"Devin hadn't played football, but he played so good that we were able to move DeAndre Square to other spots," Wilcher said. Nicholson's skill at the position opened up the defense and gave the team more options to use Square in space. The linebacker tandem became one of the best in Michigan that season, and when Nicholson made his first college start last year, it was a reunion against Square's Kentucky Wildcats. Square tallied seven tackles. Nicholson finished with six.
The freshman went on to record 24 tackles in his five-game stint, highlighted by his performance against Tennessee with five solo tackles (seven total) and a forced fumble.
"Devin had a huge role last season," said defensive lineman Darius Robinson, a sophomore from Canton, Michigan, who became close friends with Nicholson when they talked throughout the recruiting process. Nicholson was verbally committed to Eastern Michigan for five months but kept his options open. When Mizzou assistant coach A.J. Ofodile came calling, Wilcher recommended that Nicholson hear him out. Ofodile was a fellow Cass Tech alum who had played for Wilcher and thought Nicholson had been under-recruited.
Within a month, the linebacker was committed to Missouri.
"Now he's got that real SEC experience," Robinson said. "Ever since then he's just elevated his work ethic. On weekends, we'll always work out together. I can't wait to see him play this year with all he's put in."
The work ethic and determination has always been there — it was the key to learning linebacker so quickly. In high school, Nicholson loathed the idea of being late to a practice, but his mom would often be running behind to drive him where he needed to be. Wilcher got plenty of stressed phone calls from his pupil while he was on his way.
"He was never late," Wilcher said, laughing, "but his mother was."
Jamal Brooks, Chad Bailey and Aubrey Miller Jr. are in the mix to earn some snaps at the two linebacker spots as well this season for Missouri, while a third nickelback-like safety hybrid will play in the box sometimes. Ironically, what stands out most is an attribute that can't be learned: Nicholson's speed.
"He can run," Brooks said. "He can fly around. I'm struggling to keep up. I've dropped maybe 20 pounds this year trying to keep up. The game's getting faster, and that's something that stands out with Devin. He's going to be able to run you down."
Dave Matter brings you the latest updates from the Mizzou sports scene.