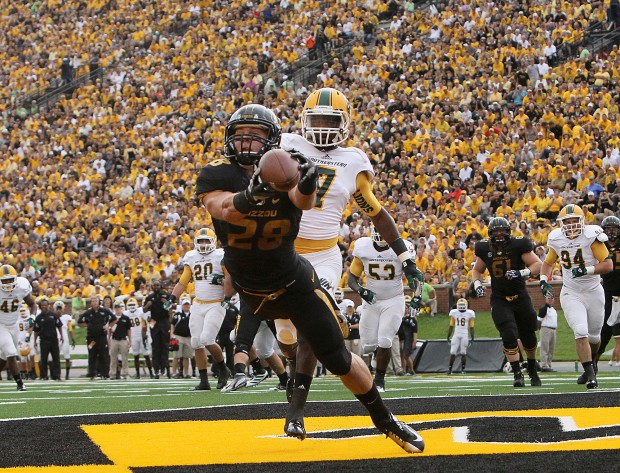 COLUMBIA, Mo. • T.J. Moe has made a habit of leaning on former Mizzou receiver Tommy Saunders to watch him practice and offer insight on any minutiae that might help his performance.
During a recent observation, Saunders noticed that Moe was leaning back slightly at a particular point on pass routes, thus tipping off his intended direction. By adjusting, Moe said he was able to gain an advantage on defenders.
"As a receiver, you naturally become lazy with your routes by running them so much," Moe said. "It's almost like a batter in baseball where one little thing changes and all of a sudden you're striking out all the time."
The little things matter to Moe, who considers himself a far better receiver as a senior than he was as a sophomore, even though his catches have dropped from 92 in 2010 to 54 in '11 and now 26.
His production has been a victim of numerous factors, including changes at quarterback, injuries on the line and tougher defenses in the Southeastern Conference.
But one thing that receivers coach Andy Hill doesn't believe has been a factor is Moe's work ethic and demeanor.
"He comes every day ready to go," Hill said. "Everyone knows he's serious about playing football. Every decision he makes pretty much in his life is about 'Is this going to help me?' But he's the same guy all the time, which is what you want. You want consistency out of your players."
Although Moe's ascent on the school's career charts has slowed, he is No. 6 all time with 174 receptions with the possibility of passing Jeremy Maclin (182) and Danario Alexander (191). He is No. 8 with 1,952 yards and needs one more touchdown to break into the top 10.
Not bad for a kid from Fort Zumwalt West who wasn't sure what position he would play after a dominant high school career as a quarterback.
But Moe says he's not a stat watcher and doesn't judge his progress based on the numbers.
"The only reason I knew the numbers when I was younger is they were so high and people told me," he said. "This year I have no idea what the numbers are. They're not near the top and that's OK. Numbers aren't going to get you where you want to go. They help the offense more if you work to become a better player. But if your goal is to be an NFL player, just having 90 catches doesn't guarantee anything."
So, Moe continues to work for the sake of his team and his future.
His preparation got off to a slow start when he missed much of preseason camp with a hamstring injury that kept him out of contact drills for several weeks. He missed the team's first two scrimmages and eased himself back into action.
That allowed Moe to enter the regular season healthy, and he had 17 catches after three games. But the production has slowed in the SEC with two receptions in each of the last three league games.
Offensive coordinator David Yost said Moe's decreased production has much to do with the quarterback. Blaine Gabbert's strength was the inside routes and Moe thrived. James Franklin, Yost said, is more of a distributor. Now, Moe and other receivers are having to adjust to backup Corbin Berkstresser.
"He's progressed as a receiver," Yost said. "He's a much better route runner than when he got here. He blocks. He's tough. Getting him the ball is something we need to do more, but we have to execute to get that done in a multitude of ways."
Moe has been given chances to run the ball on occasion in 2012 but without success after he broke runs of 21 and 20 yards the last two seasons.
His background as a quarterback makes him a threat to throw on trick plays, and he has attempted one pass this year. Last season he completed two passes for 71 yards and a touchdown. And he continues to have a hand in kickoff returns, averaging 23.3 yards.
But what he really wants is to show how his improvement as a receiver can impact a game.
"My numbers have progressively gone down, but I'm a lot better player today than back then," he said. "My sophomore year, if someone hit me I was on the ground. This year I've taken big hits and can shrug guys off. I'm just as fast, a little faster. I'm bigger, stronger.
"I understand the ins and outs of the game. I was running on talent and will power as a sophomore. If I'd been this player, I'd have gone for 1,500 (yards), not 1,000."
Moe has five regular-season games remaining in his career — two at Faurot Field — to finish on a high note.
The Tigers are more likely to break out of their offensive funk if he starts seeing increased touches to help move the ball with some consistency. Although he says football remains fun, there are always ways to make it more enjoyable.
"The more catches, the more fun it is," he said. "And it's always more fun when you're winning."