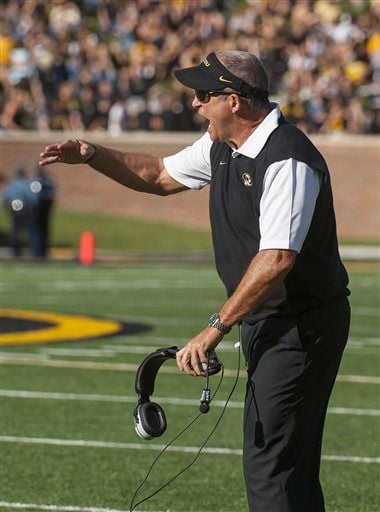 COLUMBIA, Mo. • Missouri football coach Gary Pinkel holds his weekly press conference at 3:30 today to discuss his 6-2 Tigers and Saturday's game against 5-3 Kentucky (3 p.m., SEC Network). Follow along here for live updates.
The SEC Network announced upcoming campus sites for "SEC Nation," the Saturday morning pregame show. In addition to being at Mizzou this Saturday, the show will air live from Texas A&M on Nov. 15 when Missouri plays the Aggies and a week later, Nov. 22, at Tennessee when the Tigers are in town to face the Vols.
Pinkel says wide receiver Darius White, nursing a strained groin, has a less than 50 percent chance to play against Kentucky. Says he'd have to make "quite a turnaround" to be able to play. He'll benefit from a bye the following week. 
Pinkel calls Kentucky "a really, really good football team." Says he's impressed with UK quarterback Patrick Towles. 
Pinkel praises Mizzou fans for pulling off the Tiger Stripe at Saturday's homecoming game. 
On Anthony Sherrils' targeting penalty, Pinkel says the call "looked really close." The team submitted the play to the SEC for clarification if it was the right call. 
"I don't think he ever lost his confidence," Pinkel said of Maty Mauk. "I think that's blown out of proportion." Said he could have had five or six more completions on plays that had breakdowns in other areas.
Pinkel on safety Braylon Webb: "He's like a coach back there. He's been back there so often. He's always accountable. He's always reliable." 
Pinkel on run-pass ratio, said offensive staff's plan on Saturday was to run more, get into short yardage third-down situations. Said it was a good decision by the staff. "What it's going to be in the future, I don't know," Pinkel said. 
Pinkel on recent rash of penalties: "It's discipline. It's focus. You're going to have some penalties, but you want them minimal. ... We've been here before, you don't like to be here." 
Incredibly rare stat for a Pinkel team: Mizzou leads the SEC in both penalties and penalty yards per game. "That's inexcusable," he said. 
Pinkel says linebacker Donavin Newsom continues to get better, is athletic as any linebacker MU's had. 
D-tackle Matt Hoch had one of his most productive games against Vandy. "It's neat to see that. ... I shouldn't say this but he's been healthy for a few weeks."
Pinkel talking about "SEC Nation" coming to Columbia. Says he hopes Mizzou fans attend the live show and represent the school well. 
Pinkel asked if Kentucky's success is surprising: "Nothing surprises me in this league. There are a lot of great teams in this league."
Pinkel says freshman Nate Brown has improved a lot in practice, as has redshirt freshman tight end Jason Reese. Both played more snaps on Saturday. 
Pinkel on Russell Hansbrough: "He ran much better inside. He's finding out he's really powerful. He's a load." 
Pinkel said he's hopeful Morgan Steward can play this year but says it's doubtful. "We think he can be a great player - not a good player, a great player." Team will explore options for Steward soon. (I presume that means surgery or further treatment for the hip injury.)
Pinkel says it's a possibility that Ish Witter plays more tailback and allows Marcus Murphy to play more in the slot but sounds like he prefers the Hansbrough-Murphy 1-2 punch at tailback.
Pinkel says the continuity along the offensive line has improved, notably with Connor McGovern moving back to right guard.
Pinkel on the upcoming College Football Playoff rankings:  "It'll be great for college football." Says he's interested to see how it works. Says this system will reward strength of schedule more. Says old system (BCS) didn't factor strength of schedule enough.
Pinkel on November football: "This is a fun time. ... This is when you finish. If you're a competitor, this should fire you up. This is the position you want to be in."