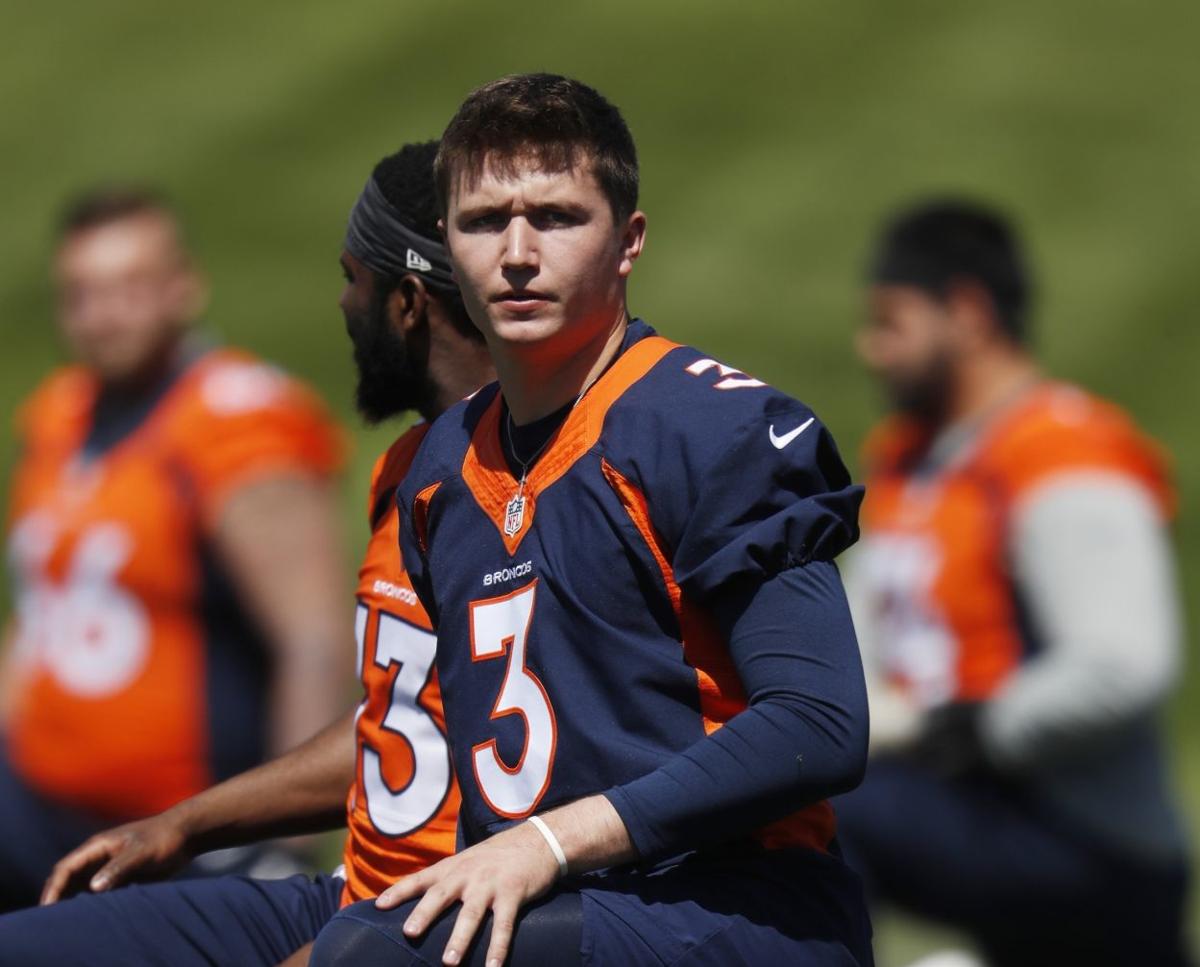 ENGLEWOOD, Colo. — The Denver Broncos activated rookie quarterback Drew Lock off injured reserve Saturday and waived rookie quarterback Brett Rypien, but the team didn't name Lock the starter against the Chargers.
Lock spent the first three months of the season on injured reserve after suffering a thumb injury in a exhibition game in August. In three preseason appearances, the second-round pick (42nd) from the University of Missouri completed 31 of 51 passes (61 percent) for 245 yards with one touchdown and one interception. He also ran three times for 28 yards.
Lock threw for the second-most yards (12,193) and third-most touchdowns (99) in Southeastern Conference history during his four-year college career.
Lock got about three-fourths of the snaps at practice this week with Brandon Allen getting the rest. Allen has started the last three games, going 1-2, after veteran Joe Flacco (neck) went on IR. Still, coach Vic Fangio has declined to say whether Lock will make his first start Sunday when the Broncos (3-8) host the Chargers (4-7). The delay that could be seen as a motivational ploy for Lock, gamesmanship with his opponent or even a sign that he's not sold on a switch to the raw rookie.
"I just wanted a chance to go in and look at the tape more extensively," Fangio said. "I think he's made progress each and every day. When you go from getting 10 out of 42 reps to getting 32 out of 42 three days in a row you should get a little better, feel a little more comfortable. I think he has."
Woman charged in Pryor stabbing
A woman was charged with attempted homicide in a Pittsburgh stabbing that critically injured former Ohio State quarterback Terrelle Pryor, who is also facing a charge, police said.
Pryor was taken to the hospital just after 4:30 a.m. Saturday following a dispute with "mutual combatants" in an apartment on the city's North Side, police said.
Allegheny County prosecutors and police said 24-year-old Shalaya Briston of Munhall was charged with attempted homicide and aggravated assault, while Pryor, 30, faces a charge of simple assault.
Gregory Diulus of Vantage Management Group, which represents Pryor, said family members had been told Pryor is expected to make a full recovery. Another call to Diulus was made seeking comment on the charge. Court documents don't list an attorney for Briston and a listed number for her couldn't be found Saturday. Diulus said he expects to see Pryor on Sunday.
After Pryor's illustrious Ohio State career ended in 2011, he spent time with nine NFL teams including the Buffalo Bills, New York Jets, Washington Redskins and Cleveland Browns. He most recently signed with the Jacksonville Jaguars but was waived in September after a hamstring injury.
Pryor, a product of Jeannette, Pennsylvania, was a national star in high school — considered one of the top high school football players in the country when he signed with the Buckeyes in 2008. His recruitment drew national attention because he took the unusual step of waiting until mid-March to make his final decision. Most prospects sign in early February.
At Ohio State, Pryor started as a freshman and was the Rose Bowl MVP during his sophomore season in 2009. He skipped his senior season to enter the NFL following NCAA rules violations which led to the forced resignation of coach Jim Tressel in 2011.
Lions put Driskel on IR
The Detroit Lions put quarterback Jeff Driskel on injured reserve.
The Lions were already without injured quarterback Matthew Stafford, and then Driskel missed Thursday's loss to the Chicago Bears with a hamstring injury. David Blough made his NFL debut at quarterback.
Detroit also announced it signed quarterback Kyle Sloter to the active roster from the Arizona Cardinals' practice squad, and the Lions also signed quarterback Joe Callahan to their practice squad.
Giants' DeOssie to IR
The New York Giants placed veteran long snapper Zak DeOssie on injured reserve with knee and wrist injuries.
The 35-year-old DeOssie, who rolled a PAT snap last weekend, has been the Giants' snapper since he was drafted in 2007. He and quarterback Eli Manning are the only remaining links to the team's Super Bowl titles in the 2007 and 2011 seasons.
Around the league
Cleveland starting safety Damarious Randall (unspecified) has been ruled out for the Browns' game Sunday at the Pittsburgh Steelers. Cleveland also downgraded left tackle Greg Robinson (concussion) to out. Pittsburgh wide receiver JuJu Smith-Schuster will miss a second straight game with a knee injury.
Dan Caesar • 314-340-8175
@caesardan on Twitter