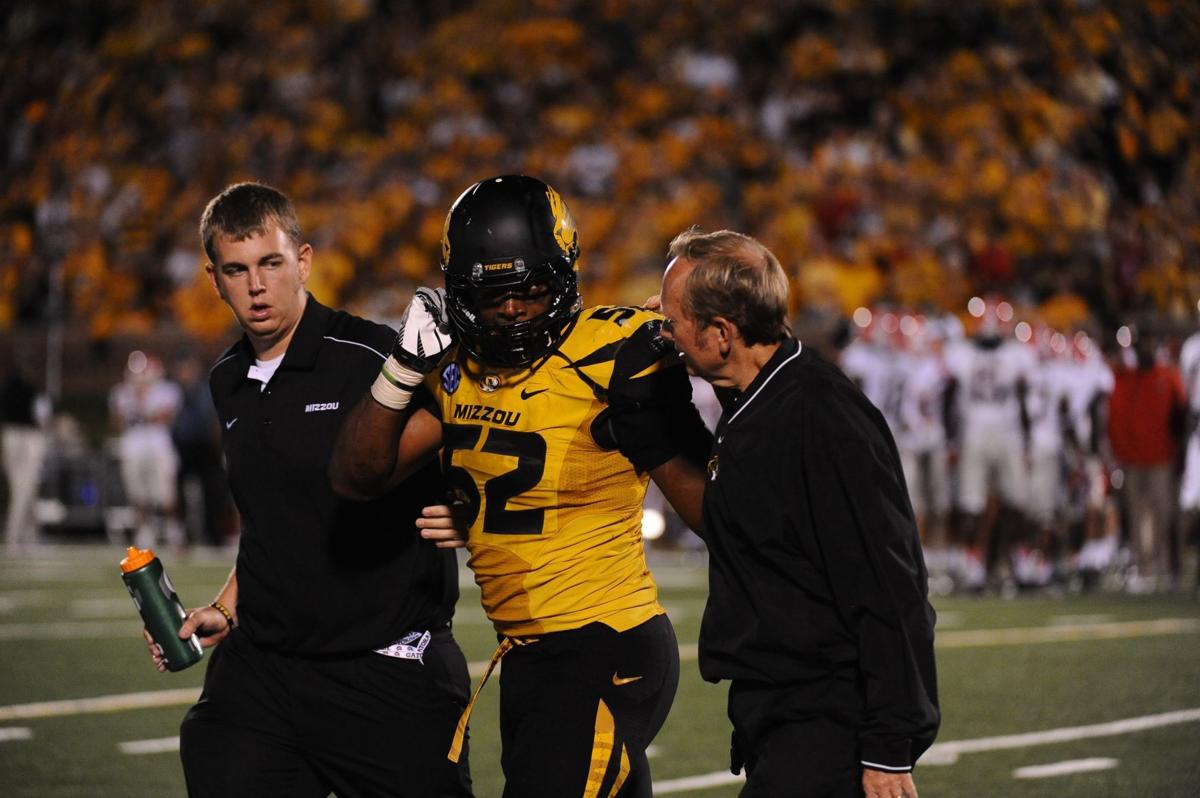 COLUMBIA, Mo. - Rex Sharp, a fixture in the Mizzou athletics department for nearly two and a half decades, has announced his retirement. Sharp, the MU football team's head athletic trainer from 1996-2019, pivoted to a new administrative role as associate athletics director for sports medicine last July. In recent months, he's overseen Mizzou's coronavirus testing protocols. Friday's decision had been months in the making and was completely Sharp's decision, multiple sources close to the situation confirmed.
"Rex Sharp has faithfully served Mizzou's student-athletes, coaches and staff for the last 25 years, and will be greatly missed," MU athletics director Jim Sterk said Friday. "Not only did he provide tremendous care to our student-athletes and help build some of the nation's finest sports medicine facilities, but he was also responsible for nurturing several young men and women who have gone on to successful sports medicine careers around the country. We wish Rex well in his retirement and look forward to honoring him when circumstances will allow us to do so."
Sharp worked as the Missouri football team's head athletic trainer under three different head coaches - Larry Smith, Gary Pinkel and Barry Odom - until he was moved to a new position last July in a decision that seemed oddly timed just as Sharp had designed the new training facility at the new south end zone complex. With Sharp moved into a new role, Mizzou worked under interim athletic trainer Kyle Blecha last season then in February filled the position with Owen Stanley, who came to MU from Kansas, where he had been the Jayhawks director of football sports medicine. 
Over the years, Sharp was a beloved figure within the Mizzou program and widely credited with helping countless athletes recover from serious injuries, including several high-profile football players who returned from catastrophic knee injuries to become iconic players in team history, from Jeremy Maclin to Danario Alexander to Henry Josey. 
Josey, a star tailback during the Pinkel years, missed more than a season and a half after destroying every working piece in his knee during a 2011 victory over Texas, then credited Sharp with crafting his recovery into a 1,000-yard rusher two years later. 
"He's been a great inspiration to me," Josey said in 2013. "He's almost taken me into his family as one of his own." 
In 2017 Sharp was inducted into the Missouri Sports Hall of Fame. He's also been initiated into the Ball State University "Ring of Honor" and in 2018 was inducted into the Missouri Athletic Trainers' Association Sports Medicine Hall of Fame as well as the New Albany, Ind., High School Hall of Fame.
At Mizzou he directed the Dr. Glenn L. McElroy M.D. Sports Medicine Center, the school's primary treatment and rehabilitation center and oversaw a staff of 16 full-time nationally certified athletic trainers, three certified graduate athletic trainers and close to 50 undergraduate athletic training students. Sharp also served as adjunct faculty in MU's Department of Nutritional Sciences. Sharp and his staff were twice recognized as the Big 12 Conference Athletic Training Staff of the Year in 2010 and 2011. Starting in 2015, he was a contributor to the Mizzou Integrated Healthcare Team to provide mental health support for Mizzou athletes.
A native of New Albany, Ind., Sharp spent 11 years as the head athletic trainer at Ball State, his alma mater, before coming to Mizzou.
In other personnel news, longtime Mizzou media relations director and football Chad Moller was laid off. Moller had been furloughed since early Jone. He had been Mizzou's primary football media contact since 2002 and has worked in the department since 1996. Moller served as the football team's spokesman and handled media requests through most of Gary Pinkel's 15 years as head coach and all four seasons under Barry Odom. His official title was associate athletics director for strategic communications. Moller, a 1991 Mizzou graduate, first worked in the department as an gradate student in 1992-94 and also served as the school's media contact for women's golf and previously served as MU's men's basketball media liaison under former coach Norm Stewart.
Dave Matter brings you the latest updates from the Mizzou sports scene.