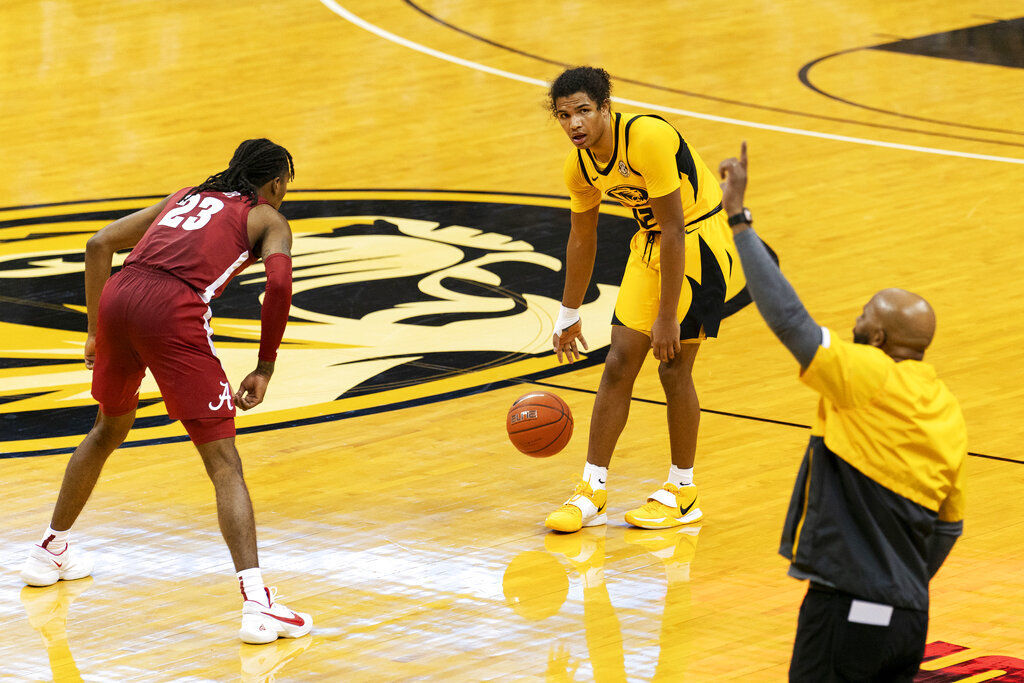 COLUMBIA, Mo. — Anyone who figured Missouri's Cuonzo Martin would revert to his conservative ways Saturday and thwart Alabama's furiously fast style with a plodding pace, figured wrong.
"That's not who we are anymore," Martin said after his team's 68-65 victory. "We had no intention of walking the ball up the court. We wanted this to be a fast-paced game and be aggressive and be physical."
For the first time in Martin's four years at Mizzou, the Tigers are fully invested in an offensive philosophy that runs counter to Martin's coaching past. For years, Martin has stressed three core tenets to his program: defense, rebounding and playing hard. The scoring, he would say, will take care of itself — but usually at an intentionally methodical pace. In other words, boring.
This year, when he's reviewed games from last season, Martin has found himself wondering why he ever preferred that style.
"We played so slow," he said recently, "I'm like, man, why did I coach that? Because I wouldn't want to watch that."
The foundation of Martin's program hasn't shifted — defense, rebounding, maximum effort — but the Tigers have clearly changed their ways offensively. By no coincidence, they're having their best season on Martin's watch heading into Wednesday's visit to Mississippi for an 8 p.m. tipoff on SEC Network. Mizzou (13-3, 6-3 Southeastern Conference) began the week second in the SEC and, at No. 10 in the Associated Press and coaches' polls, ranked higher than any team in the conference.
The Tigers are now ranked as high in the country as they were picked to finish in the 14-team SEC in the preseason media poll: 10th.
"You know, when that happened, I was like, man, the SEC must be really, really good, which of course it is," assistant coach Cornell Mann said Tuesday before the team left Columbia to face the Rebels (10-8, 5-6). "But if we're 10th, then there are some teams that are gonna tear up the land."
This year, the Tigers have torn up the script of years past.
As of Tuesday, Mizzou ranked No. 108 nationally in Ken Pomeroy's adjusted tempo statistic, averaging 69.7 possessions per 40 minutes against what KenPom.com rates as a team playing at average tempo. That doesn't put Mizzou in the nation's fastest class — the Gonzagas, Alabamas and South Carolinas — but it's a dramatic break from the past.
Martin's previous 12 teams at his four coaching stops ranked, on average, No. 257 in adjusted tempo: No. 283 at Missouri State, No. 262 at Tennessee, No. 192 at California and No. 294 in his first three seasons at Missouri.
This year, with three capable lead guards in Dru Smith, Xavier Pinson and Drew Buggs, Martin wants the ball down the court quickly.
"To be honest, he wanted to play fast before in years prior," Mann said. "But we did not do a good job of taking care of the ball. So with our turnovers being at a high level, we couldn't fathom playing faster because it probably meant our turnovers would rise.
"So with our guys gaining experience, being a little bit older, and (Martin) trusting them more and them trusting each other we went into the summer talking about moving the ball faster up the floor. I think we can still do it at a higher rate just in terms of outleting the ball maybe a little quicker, running ahead to the other half of the floor faster.
"As soon as (last) season was over, Coach talked about it, we implemented it through conversation and meetings and then once we got on the floor, we put it in."
The new approach has led to a revamped transition attack. The Tigers have attempted 34.6% of their shots in transition, according to Hoopmath.com, which defines a transition shot as coming within the first 10 seconds of a possession after a steal, defensive rebound or opponent score. That's up from 20.9% last year and 18.4% the previous season.
While Pinson and Smith play leading roles in the newfound attack, Buggs has quietly become a stabilizing force for stretches off the bench. He's not a threat to score but he's a pivotal playmaker: He's logged 33 assists with just nine turnovers.
"X is the fastest guy on the team, but Drew Buggs is probably our fastest pusher in transition," Martin said on his radio show Monday. "He does a great job of getting that thing down the floor."
Then there's Jeremiah Tilmon's role. The 6-foot-10, 260-pound senior center is the most physically imposing post player in the conference but has proven he can do more than camp out in the low block.
"I like to run the floor and I feel like I get a lot of easy buckets that way, just trying to beat the point guard down the court," Tilmon said. "I know they're going to look for me as long as I'm running the floor."
The commitment to tempo was obvious Saturday against Alabama, the fastest-paced team in the SEC. The Tigers binged on turnovers early and turned deflected and intercepted passes into extra possessions. In the first half, Mizzou scored 13 points in transition and rarely tapped the brakes in the half-court. The Tigers got into trouble in the second half when they went away from that breakneck tempo and nearly gagged away a 22-point lead. Martin blamed himself for toning down the attack, but MU survived in the final seconds. Lesson learned.
"I think at the end of the day we just have to count on our guards to stay aggressive," Mann said, "and encourage them to stay aggressive until the game is handled."