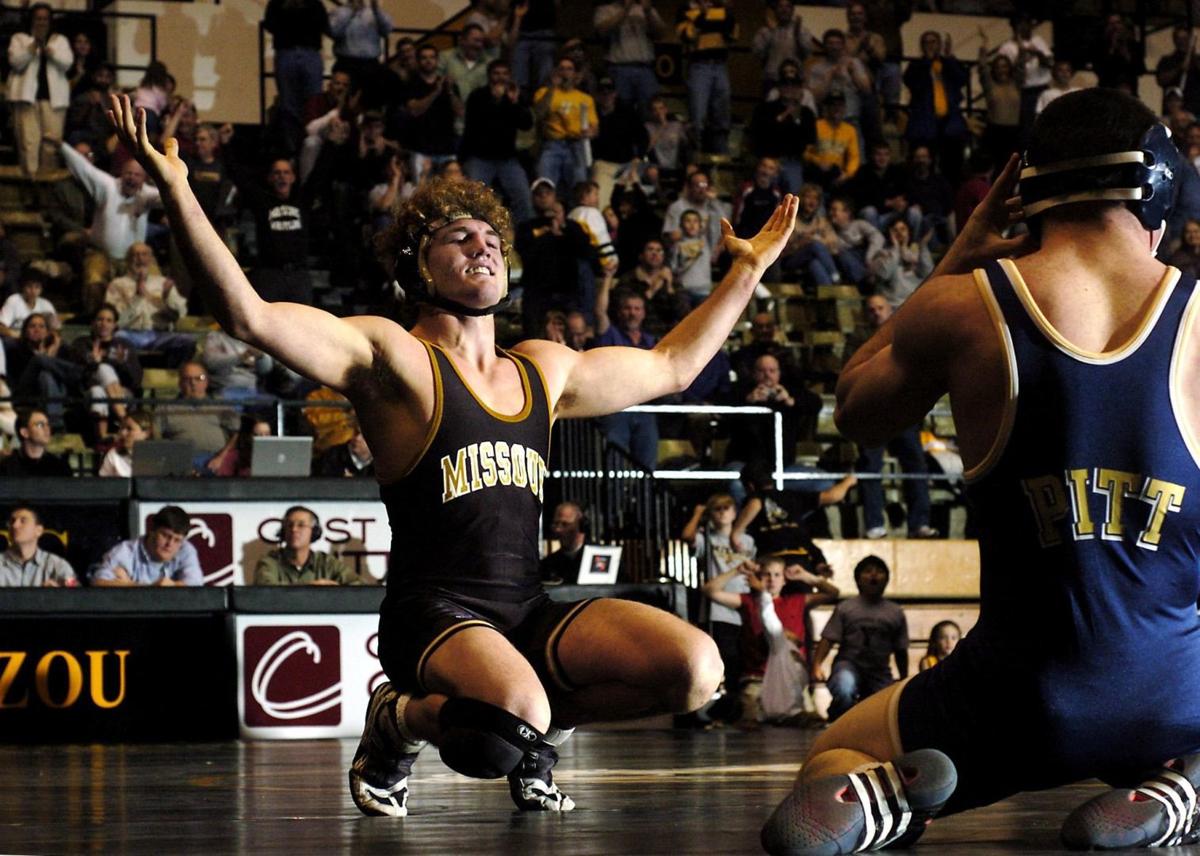 A five-pack of Mizzou thoughts to guide you through the weekend …
1. It's about to get funky in Atlanta
Former Mizzou wrestling great Ben "Funky" Askren retired from mixed martial arts two years ago but steps back into the ring on Saturday — the boxing ring. Askren will take on YouTube creation/celebrity boxer/professional loudmouth Jake Paul in Atlanta, hopefully with all of humanity on his side against the insufferably obnoxious Paul.
Presented by Triller Fightclub, the match is the main event on a pay-per-view card that can be streamed live for $49.99. Paul is 2-0 as a boxer and most recently knocked out former NBA player Nate Robinson last November in an undercard match to the Mike Tyson-Roy Jones Jr. fight.
Leading up to the fight, Paul has done what he does best: Run his mouth incessantly.
"This is boxing versus MMA, and you're going to see the difference," Paul said during the official fight press conference. "You're going to see the difference of a wanna-be fighter, a guy who choked in the Olympics, a guy who choked in the UFC, and now a guy who is going to choke against Jake Paul. I'm going to end this guy's career."
(Paul is also on record saying COVID is a hoax, for what it's worth.)
Askren, 36, no stranger to trash talk, has spent the last few months trading verbal jabs with Paul in person and online. Some of the greatest hits from Askren's Zoom press conference this week ... 
On Paul's personality: "I still think what he's doing is kind of an act, a show he puts on. I'd say if who he acts like is his real person, then he's probably kind of a (expletive) person. But I'll give him the benefit of doubt, maybe it's just an act. Even if he was a (expletive) person, I guess I would still be pretty indifferent to that. There's a lot of (expletive) people in the world."
On who he'll box after Saturday: "I don't really intent to box after Saturday night, but it's not a who question; it's a how much question. Is Triller going to recognize that I'm gonna sell a million pay-per-views and cut me a Connor McGregor type check for the next one? Because if they do then I'd consider doing it again. If they don't, I love coaching wrestling and podcasting. That's kind of my passion in life. I'll probably just go do that."
On what's at stake Saturday: "I think actually the biggest negative comes from winning because if I beat Jake Paul's ass I'm gonna be world famous. And I'm not really trying to be world famous. I'm just tyring to coach wrestling and podcast. That's really it. I'd like to win but I don't really think it changes my life a whole lot either way."
"I know one thing, when Ben knocks Jake Paul on his ass on Saturday night, YouTube will have itself a new most-viewed video highlight," Roach told the website MMAFighting.com.
"It was a little difficult at first but Ben adapted easily and we focused our time on technique and strategy," Roach added. "He knows how to beat Jake Paul and if he sticks to the plan we worked on I believe Ben will win this fight on Saturday. My advice to Ben when we last spoke was: 'Do what you know and you will win the fight.'
"Ben is so driven. He has a great work ethic. He had no problem with trying anything I recommended and gave me everything I asked of him in the gym. He has a lot of power. He's a helluva guy."
The betting odds have Paul as the favorite to win, minus-190 to plus-148 for Askren, per Fan Duel.
2. It's time for Mizzou fans to embrace the new transfer rule.
In the last couple weeks loyal readers and participants of my weekly Mizzou Chat at STLtoday.com have shared their fear and loathing of the NCAA's new transfer policies. Here's a sampling of recent comments I've received about the transfer portal, the new one-time transfer rule and Mizzou basketball's place in the trend:
"Looks like another nail in coffin of amateur sports in our Country!! Not much mention of education, the objective of developing young men, or college degree achievements in the article. Just another vehicle towards pimping young men by coaches and administrators."
"I am having a really difficult time caring about Mizzou or any NCAA sport now that it is more difficult to know the players and know their stories when rosters change so much."
Here's the reality facing Mizzou and every team across the country: The transfer rule is here to stay. The one-time waiver passed through the NCAA Division I Council on Thursday. In two weeks the NCAA Board of Directors will formally approve the measure and make it effective immediately.
Here's a refresher on what the rule means: College athletes in baseball, men's and women's basketball, football and men's ice hockey may now transfer schools one time without having to sit out a year at their new school, just like college wrestlers, swimmers, gymnasts, golfers and athletes in every other sport who transfer and are not required to sit out their first season on campus.
Starting in 2022, athletes in fall and winter sports — that includes football and basketball — must enter the transfer portal by May 1 to be eligible for the one-time waiver. Spring sport athletes must enter the portal by July 1. This year, the NCAA has granted a blanket waiver setting the date for all athletes as July 1.
Athletes who transfer must meet academic requirements and be academically eligible to compete immediately at their new school. Schools and coaches cannot block an athlete from transferring to another school. Athletes and their new head coach must certify in writing that they didn't have any direct or indirect communication before the athlete entered the portal.
The new rule will allow a handful of Mizzou first-time transfers to be immediately eligible for the 2021-22 school year, including wide receiver Mookie Cooper and offensive lineman E.J. Ndoma-Ogar, plus basketball transfers Boogie Coleman, Amari Davis and DaJuan Gordon and newly committed women's basketball transfer Skylah Travis, who signed with Mizzou on Thursday after spending her freshman year at Old Dominion.
Keep in mind, the transfer waiver does not apply to athletes who have already transferred once, meaning if Cooper or Coleman decide next year they want to transfer, they'll have to sit out a year at their next school or go through the NCAA waiver request process.
As of Friday, the portal had included more than 1,400 men's basketball players alone. Mizzou's Cuonzo Martin, for one, does not expect that to be the case every year. "Maybe every three or four years, who knows," he said.
Either way, the portal is going to be vital for coaches in constructing their rosters, some years more than others, especially if high school recruits don't develop immediately into contributors and are nudged into the portal to clear roster space.
Mizzou basketball has always benefited from transfers. Some of the program's best players from the past 20 years were transfers. In fact, four of the team's last six first-team all-conference players were Division I transfers: DeMarre Carroll (Vanderbilt), Jabari Brown (Oregon), Kassius Robertson (Canisius) and Dru Smith (Evansville). Others worth noting from the past few decades: Jordan Clarkson (Tulsa), Alex Oriakhi (UConn), Jordan Barnett (Texas), Zaire Taylor (Delaware), Julian Winfield (SLU), Albert White (Michigan), Byron Irvin (Arkansas), Ricky Frazier (SLU). If you add junior college transfers to the mix, Ricardo Ratliffe and Paul O'Liney headline that group. And the best transfers aren't always from the major conferences either. Baylor just won the national championship with an eight-man rotation that included four Division I transfers — but only one transfer from a major conference.
3. Crootin is back!
The NCAA passed another significant rule change Thursday: The recruiting dead period (finally) is coming to an end. Schools have been prohibited from hosting recruits on official visits or visiting their high schools and homes since last March 13. Starting June 1, teams go back to having in-person contact with recruits on official visits. You can read more about the rule change here.
Consider, Mizzou's Eli Drinkwitz pulled off a top 25 signing class for the 2021 recruiting year without being able to host prospects on campus for the 10 months leading up to last December's signing period. Now he gets the luxury of showing them Mizzou's sparkling new team facility. Free from the shackles of the dead period rules, he can have recruits on campus this spring, summer and fall with the chance to build an even stronger class. As of Friday, Mizzou's 2022 class ranked No. 17 nationally by Rivals.com.
Going forward, the teams that are smart are going to take what they learned during the last year of virtual recruiting and combine that approach and those technologies with in-person recruiting to make for a more efficient process. In the past year, coaches have learned how to present virtual campus tours and develop relationships with recruits without in-person contact.
Recruiting on the road costs coaches in two ways: time and money. Now they can save in both areas.
"What COVID has taught us is we can be more efficient in our recruiting," Martin said. "We don't have to spend as many days out (on the road). Zoom calls is really helpful with a lot of that. You can build relationships with Zoom calls before you actually get a chance to meet the young man. … Financially, being fiscally responsible I think it'll be very important."
"And I think," he said, "more than ever we've been able to spend more time you're your guys on your current campus. I think that is very important."
4. Back to the portal
Mizzou is out of the running for Creighton forward and Lee's Summit native Christian Bishop, who will be deciding between Kansas, North Carolina and Texas.
A very intriguing big man entered the portal Friday: Texas A&M 6-7 sophomore Emanuel Miller, one of the SEC's league leaders in scoring (18.2) and rebounds (8.2) and led the league in field goal percentage (57.1). Competition will be fierce.
Remember De'Vion Harmon, Oklahoma's No. 2 scorer who missed the NCAA Tournament because of COVID? He's in the portal and should have plenty of suitors.
Five MU football players have entered the portal in the last week: defensive tackle Markell Utsey, linebacker Jamal Brooks (graduate), walk-on punter Aaron Rodriguez, defensive back Aidan Harrison and defensive end Z'Core Brooks. Utsey has been a regular in MU's D-line rotation the last few years and started eight games last season. He chose to return for the 2021 season as a "super senior" to take advantage of the NCAA's extra year of eligibility but that will take place somewhere else.
Of the other three defensive players, Jamal Brooks was the only one who saw playing time on defense last year, playing 40 snaps off the bench. He played 209 defensive snaps in four seasons at MU. Harrison and the latter Brooks were both part of MU's 2019 recruiting class, the last full class under former coach Barry Odom. Nine of the 22 players signed that year have left the team in the last two years.
As of Friday, according to the portal trackers at VerbalCommits.com, here's the rundown for SEC players who have entered the portal, including graduate transfers:
7: South Carolina, Texas A&M
5: Ole Miss, Mississippi State, Georgia, Vanderbilt
4: Auburn, Florida, Tennessee
That's an average of 4.3 per team — with SEC champion Alabama at zero.
5. Can Mizzou baseball make a move the next two weeks?
As poorly as thing have gone for the Tigers in SEC play, they're not at the bottom of the conference. If the regular season ended today, they'd be the No. 11 seed in the SEC tournament. Mizzou (11-20, 4-8 SEC) is ahead of LSU (4-9), Texas A&M (3-9) and Auburn (1-12) in the conference standings and just a game behind Georgia (5-7) and two behind Florida (6-6). MU's next two SEC opponents? Florida and Georgia, starting with a three-game series in Gainesville that begins Friday night. Remember, only the top 12 teams in the SEC make the conference tournament.
It's been a dreadful season for the Tigers at the plate. They enter the weekend series last in the SEC in batting average (.241), slugging (.359) and on-base percentage (.348) and have the league's fewest hits, runs, doubles, home runs and total bases. Mizzou also sports the league's highest staff ERA (7.35) and has issued the most walks.