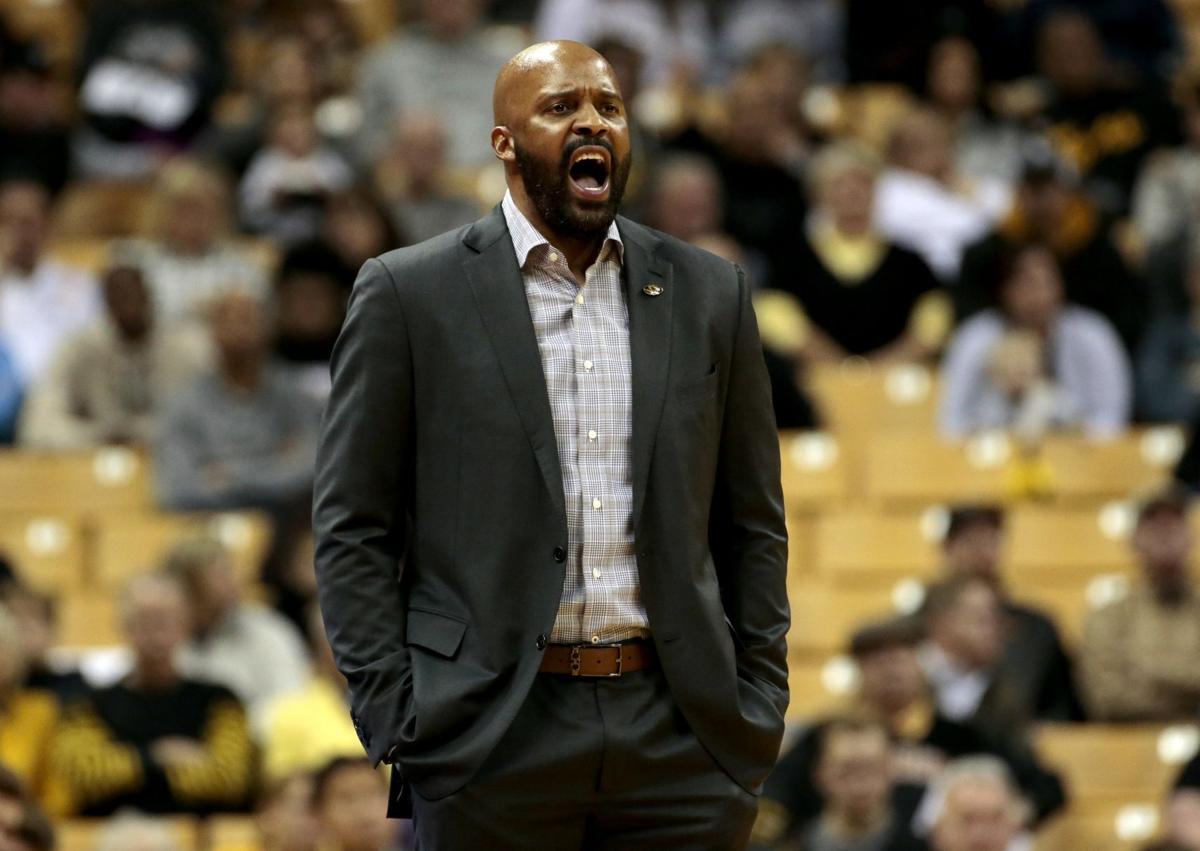 COLUMBIA, Mo. — After a week away from the keyboard, I'm back in the saddle.
Here's a rundown on what I missed on the Mizzou beat while visiting Furlough Town.
BROOKSHIRE ON BOARD
Cuonzo Martin landed his first piece in what figures to be a critically important 2021 recruiting class in Kickapoo High guard Anton Brookshire. A few instant positives to take away from Brookshire's pledge:
1. He's a guard. After this coming season, the Tigers are in dire need of help on the perimeter. The 2020-21 team will feature three senior guards in Dru Smith, Mark Smith and newly signed Drew Buggs. Xavier Pinson will be a junior — if he indeed stays on the roster — but after testing the NBA draft process this offseason, with a strong junior season he might be more inclined to enter the draft again in 2021. Either way, the Tigers need to load up on guards, especially ball-handlers. Brookshire, listed anywhere from 6-foot to 6-3, has been more of a scorer than facilitator in high school, averaging 18.9 points and 20.5 points as a sophomore and junior, respectively, compared to his assist averages of 4.1 and 3.3.
In January, Brookshire put his skills on display in the Bass Pro Tournament of Champions, scorching Oak Hill Academy for 33 points in Kickapoo's comeback victory. Against a lineup that featured four seniors committed to high-major programs — including five- and four-star SEC-bound guards Cam Thomas (LSU) and K.K. Robinson (Arkansas) — Brookshire shot 7 of 12 from 3-point range, pulled down seven rebounds and added three assists.
2. He's from the state. Mizzou's 2020 misfires on prospects from the St. Louis region are well documented. Caleb Love (North Carolina), Cam'Ron Fletcher (Kentucky), Ryan Kalkbrenner (Creighton), Davion Bradford (Kansas State), Luke Kasubke (Kansas State). Those are just the area's 2020 recruits whom Mizzou targeted at one time or another.  The Post-Dispatch's recent All-Decade team for the St. Louis region reflected Mizzou's struggles to recruit the region with only three of the 15 players on David Kvidahl's teams making it to Columbia — and all three arrived as transfers after starting their careers elsewhere: Mark Smith (Illinois), Jordan Barnett (Texas) and Cam Biedscheid (Notre Dame).
Brookshire is rated the state's fourth-best 2021 prospect by 247Sports, behind Springfield's Aminu Mohammad and St. Louis Christian Academy teammates Jaden Jones and Jordan Nesbitt. Louisville and Maryland have been pegged as the favorites for the five-star Mohammad with Indiana and Pittsburgh in the mix, too. Jones committed to Rutgers, while Nesbitt recently announced a top 15 list. He's visited Nebraska, SLU and Illinois. Missouri has not targeted the four-star wing.
Brookshire doesn't have the offer list of the aforementioned 2021 recruits or the local cache in the St. Louis area, but for a program that's struggled to reel in in-state prospects, his addition is measured progress for Mizzou.
3. Upside. The hope for MU is that the Tigers are landing Brookshire on the ground floor of his . Since December he's climbed from No. 213 to 165 in 247Sports' national rankings. Rankings won't matter in Martin's analysis, but another surge during his senior year could vault Brookshire into the top 150, maybe the top 100 if there's any semblance of a summer circuit, and build his base of scholarship offers. Iowa State has shown interest. Creighton, too.
There's some toughness in that 6-foot frame, too. In March, shortly before his junior season was cut short, Brookshire lost his mother, Karen Bracken, atjust 36 years old. she suffered from lupus, the Springfield News-Leader reported, and died March 3 after struggling with pneumonia. Brookshire grew up with Bracken in Milwaukee before moving in the sixth grade to Missouri, where he began to train under his uncle Robert Yanders, who founded the AAU team Yanders Law and runs The Basketball Movement basketball training facility in Nixa.
"He's one of the toughest human beings I've ever been around," Yanders recently told the News-Leader. "He knows what's important and what's not more than he ever has. He doesn't want anybody feeling sorry for him."
"I've never seen someone have such a tragic loss," he added, "and then see him go out there and still help his team to state and play down there every minute and concentrate with that magnitude in every minute."
Two days after his mother's funeral in Springfield, Brookshire scored 15 points to beat Jeff Hafer's Joplin Eagles in the Class 5 state sectionals, then three days later scored 25 points in a quarterfinals victory over defending state champion Rock Bridge. Next up, Brookshire would face CBC and future Tar Heel Caleb Love in the semifinals — but the tournament was shut down once COVID-19 puts its stranglehold on the sports calendar.
HOOPS ROSTER SET (FOR NOW)
Last week, MU also officially announced the signing of junior college forward Ed Chang, a 6-8 3-point specialist who began his college career at San Diego State. Here's what Martin told me about Chang.
"He can shoot the ball," Martin said. "You always want to have that, and that's an area we have to grow into. We feel like he's a guy who can shoot the ball, but the next step to add to his game is to putting the ball on the floor, making plays at the rim and really attacking downhill."
"He's also mature defensively. That's one of the things he got out of his time at San Diego State."
Martin's staff recruited Chang out of high school in Nebraska two years ago when he ultimately chose San Diego State over Nebraska and Ole Miss. Mizzou reconnected with Chang in March once he entered the transfer portal and Martin spoke with him three to four times a week, he said, leading to a virtual visit with the coaches and another scholarship offer.
Assuming all three of MU's NBA draft explorers come back to the roster — Pinson, Mitchell Smith and Jeremiah Tilmon — Mizzou is at the maximum 13 scholarships for the 2020-21 season. Even with 13 scholarship players, don't be surprised if Martin favors a smaller rotation next season. He's also serious about playing all three ball-handlers on the court together in Pinson, Dru Smith and Drew Buggs. The addition of Buggs, Martin believes, will allow Pinson to thrive as a scorer with less responsibility as a playmaker for his teammates.
"If you're  asking X to be a 10-assist guy you're taking away his ability to score," Martin said. "Really, he's at his best when he's a scorer and then looks to pass it off. But if you're trying to get him 10 assists, he's not as effective. I've had the chance to see that the last two years."
Some Mizzou coaches and administrators have returned to their offices while the bulk of athletics department staffers are still working from home. MU is still analyzing its budgets and putting together plans in response to projected revenue losses. Conference commissioners remain confident that there will be a 2020 football season. That remains the hope and expectation at Mizzou. The SEC has suspended all in-person team activities through May 31. Unless the league extends the ban, athletes could be allowed to return to campus facilities in June. Expect a decision from the conference in the next couple weeks. Once athletes are cleared to return to campus and use team facilities - if that happens - conferences will be one step closer to launching start dates for some sort of preseason training camps. 
Also, MU recently announced a new fundraising drive to help cover expenses for spring sport seniors who have decided to return for the 2021 seasons. With the Fight Tigers Fund, MU is asking for one-time donations. Donors will receive double priority points to count toward their total giving to MU athletics. From the spring sports, a little more than half of the 20 seniors are expected to return for another season of competition.
Dave Matter brings you the latest updates from the Mizzou sports scene.