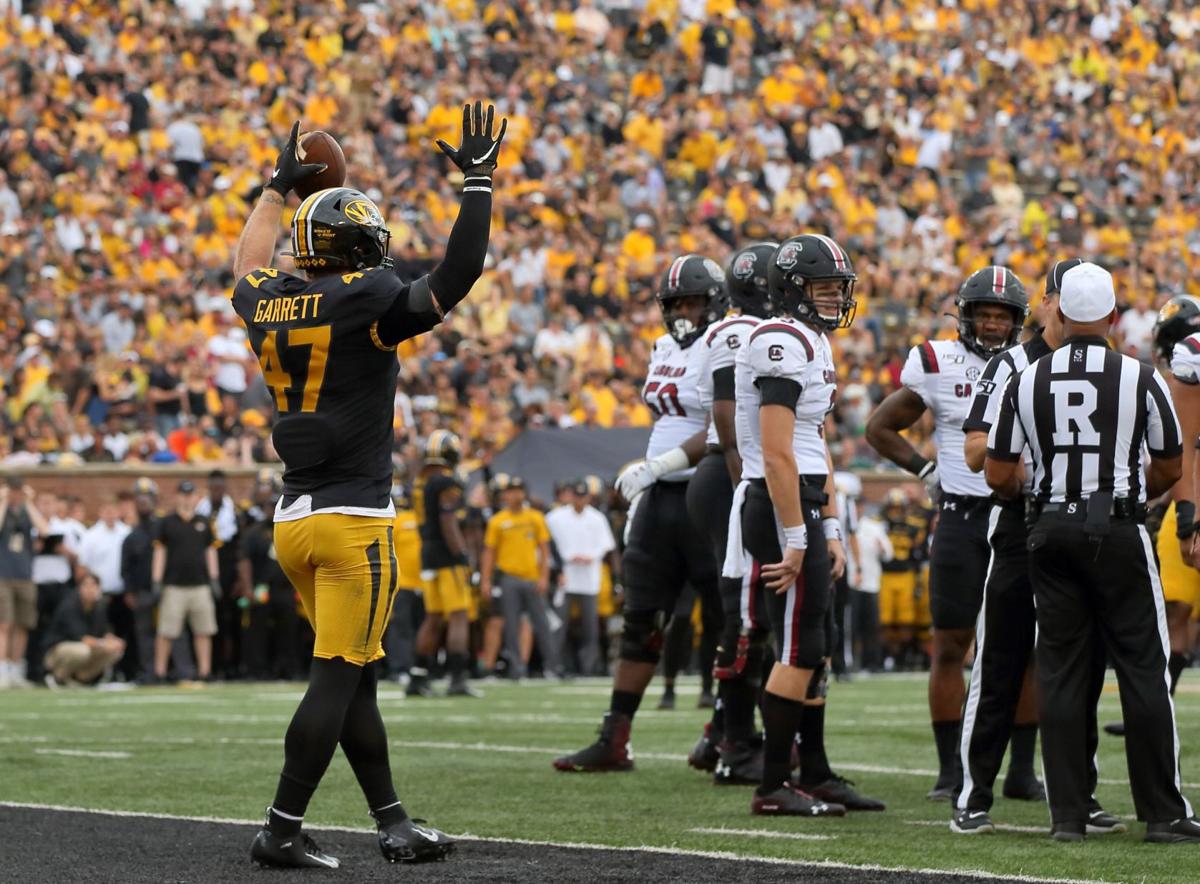 COLUMBIA, Mo. — "One of the great things about him is that he's not only a great football player, and makes a lot of plays, but is his personality. He's positive, he's upbeat, he's a team player. He's always giving congratulatory things toward his teammates.
"He will be with the team. I certainly think he'll be an inspiration."
"People have to step up. That's the name of the game all across the country. In my business, you cross them off and move on."
Those quotse are nearly 12 years old but they still apply this week. Those are all things former Missouri coach Gary Pinkel said in late October 2007, when safety Pig Brown's All-American campaign was sideswiped by a ruptured Achilles' tendon in the Tigers' eighth game of the season. The playmaking senior co-captain never played another college game.
The same could now be true for Mizzou's Cale Garrett. On Sunday, while Tiger fans were refreshing their browsers for updates on the quarterback Kelly Bryant, Mizzou confirmed what was quietly feared since late Saturday night: Garrett will undergo surgery for a torn pectoral tendon, likely ending a senior season that was trending toward All-American honors. Through five weeks of play, Garrett was a leading contender for SEC Defensive Player of the Year. On Monday, he was named the league's defensive player of the week for the second consecutive game. Now, a comeback seems unlikely given the diagnosis.
What about a medical redshirt season? Also unlikely. To receive a medical redshirt season, the injured athlete must suffer the season-ending injury after competing in no more than four games. Garrett's injury came in Mizzou's fifth game.
Where does that leave a defense that's among the best in the nation in most categories? Without its best player, its best leader and, as Barry Odom called him Saturday, "the heart and soul of our team."
On the field, the Tigers (4-1, 1-0 SEC) will have multiple options when Ole Miss (3-2, 2-1) visits on Saturday. Nick Bolton, also having a standout season, could shift from weakside linebacker to Garrett's position in the middle while backups Cameron Wilkins and Jamal Brooks platoon at weakside linebacker. Or Bolton could stay put and Wilkins or Brooks move into the middle. Either way, the Tigers will have a new middle linebacker for the first time since late in the 2016 season.
This is the kind of injury that not only tests a team's depth but measures the overall fitness of the program. Add Bryant's situation to that equation, also. (More on the quarterback soon.) Garrett was Mizzou's MVP through the first five games of the season, but if this is a team with genuine aspirations to challenge Georgia in the SEC East and win 10 regular-season games, then this an injury Odom's team must overcome. It's not just about replacing Garrett's production. It's about toughness, leadership, resiliency, leadership. Odom, defensive coordinator Ryan Walters and linebackers coach Vernon Hargreaves will ask for more from multiple players — and not just the new starter. More from Bolton, more from Mizzou's collection of safeties, more from the D-linemen. More from everybody, staff included. Garrett has made the biggest plays in the biggest moments, but this is a much-improved defense from front to back.
Mizzou is on an impressive run on Odom's watch, as he pointed out after the game. The Tigers didn't get there with one player.
"I think we're 18-7 in our last 25 games now," Odom said. "At the time going into (Saturday), that was ninth in the country in Power 5 schools. We've got a lot of really good things going here. Our kids are hungry to be better than we've been at any point. We're going to keep working to get there."
As for the injury itself, it looked like Garrett might have gotten hurt on the final play of the first quarter, a third-down pass into the flat. Garrett had dropped back into coverage then broke on the ball near the sideline. But before he got there, he took a shot from receiver Kaylon Geiger's helmet to his left shoulder/chest area. Garrett instantly grabbed his shoulder.
If that indeed was the fateful play, don't forget, Garrett INTERCEPTED TWO PASSES after that collision. Garrett was dragged down to the goal line on the first pick, and as he jogged to the bench he was in obvious pain and struggled to use his left arm to take off his helmet.
A series later Garrett snagged another Troy pass and returned it for a touchdown. Even then you could see Garrett push away teammates who were crowding around him on his way to the bench. That alone should earn Garrett some All-SEC votes even though he could miss more than half the regular season. 
A few more notes on Garrett:
• During Mizzou's four-game homestand — wins over West Virginia, SEMO, South Carolina and Troy — he and the first-team defense were on the field for three opponent touchdowns. In those four games, Garrett matched those three touchdowns with three visits to the end zone, two on interceptions and one on a fumble recovery. Remarkable.
• In a 12-game regular season, Garrett was on pace for 104 tackles, 12 tackles for loss and seven interceptions. Considering MU's defense is on the field only 62 snaps a game, that's an incredible season. With 104 tackles, he would have finished his career seventh all-time at Mizzou, six ahead of Odom. As of now, Garrett sits in 18th place with 307 tackles.
• As of today, Garrett has 27 ½ career tackles for loss and six interceptions. If he never plays another college game, Garrett put himself in the company of Sean Weatherspoon and Kentrell Brothers as one of the three best Mizzou linebackers this century.
Now, for the quarterback, here's how Mizzou phrased Bryant's current status: "Knee sprain, expected to have fully activity this week." Note what that doesn't say: "Bryant will start against Ole Miss." By all accounts, Bryant is healthy enough to play again this season, but if you're fully expecting to see No. 7 take the opening snap on Saturday, proceed with caution.
Other than obvious season-ending injuries, Odom's default mode is to publicly express optimism. Remember Albert Okwuegbunam's shoulder injury last year? Every week Odom sounded hopeful the tight end would play, up until the day before the Liberty Bowl. After the season, MU confirmed he had broken his scapula. Different situation, but Damarea Crockett's ankle injury was discussed the same way publicly. In August, Odom was hopeful Trajan Jeffcoat would miss about a week with his elbow injury. He missed four games. (Then, unrelated, he was dismissed from the university.) Two weeks ago Odom said Yasir Durant "will play, will start and play well" against South Carolina. He didn't see the field. Odom is hardly the first coach to muddy the truth when it comes to injuries. Sometimes you can't predict a player's status on Tuesday before a Saturday game. But, point is, "expected to have full activity" is hardly a guarantee of anything.
STATS THAT MATTER
213.0
That was Bryant's passer rating on Saturday, the best of his career in 23 starts at Clemson and Missouri. Granted, Troy has a pass defense that's among the worst this decade across all of college football, but Bryant and the passing game were clicking for a half. Receivers were open and getting big chunks of yardage after the catch. Kam Scott came out of hiding and caught a career-best five passes. Mizzou receivers have a knack for spoiling what could be long touchdown passes by getting tackled inside the 5-yard line, but Jonathan Nance's extra effort to tag the pylon on his way out of bounds assured Bryant of a TD pass in the first quarter. He matched his career-high with three touchdown passes 
Let's revisit a compelling stat comparison through five games:
Clemson's Trevor Lawrence: 61.8
90.1
That's Missouri's defensive efficiency rating as measured by ESPN.com. That ranks No. 4 nationally, behind only Wisconsin, Clemson and Ohio State.
40.8 & 512.5
That's how many points and yards Troy's offense averaged through the first four games of the season. On Saturday, the Trojans scored 13 points and moved the ball 211 yards. It was Troy's fewest yards in a game since 2014.
PLAYER OF THE GAME
Easy call here. Garrett joined former Mizzou defensive back Erik McMillan with the distinction of scoring three defensive touchdowns in one season. Think about all the great Mizzou defensive players who made game-changing impact plays during their career. Roger Wehrli, William Moore, Eric Wright, Bill Whitaker, Shane Ray, Justin Smith, Weatherspoon. McMillan scored his TDs on interceptions against Iowa State, BYU, and Syracuse, picking off Heisman Trophy runner-up Don McPherson in the latter.
Looking back on Odom's postgame press conference, he seemed unusually subdued when he talked about Garrett. Maybe he already knew the linebacker was badly hurt. Odom's "heart and soul" comment took me back to Garrett's state-of-the-program speech he made outside the visitor's locker room at Wyoming back on Aug. 31.
"It's a reality check," he said. "It's a wake-up call. It's all of that. You can have all the preseason hype you want about how good you're supposed to be, but at the end of the day you've got to line up and play and get wins on the field. That starts in practice.How do we respond to this? How do we respond to the criticism? How do we move forward and attack practice?"
"The other team plays football, too," he added, "and they have scholarship guys, too. We expect to win every game. That's how we approach every game. The moment you think you're past anything is the moment you get caught. For us it's important not to overlook anybody. It's a gut check. It's a wake-up call. It's a slap in the face. College football is the real deal and anybody can get beat any weekend."
Garrett missed a crucial open-field tackle at Wyoming. Mizzou's defense hasn't been the same since that night.
LOOKING GOOD
• If NFL scouts came into the season hoping to see more from Okwuegbunam, they had to like what they saw on his 15-yard touchdown catch. On a play that never would have happened had Daniel Parker not been flagged for grabbing a facemask on the previous play, Okwuegbunam high-pointed Bryant's perfect pass and somehow dragged his right foot before tumbling out of bounds. They'll show that catch next spring as Roger Goodell is working his way through OH-KOO-AY-BOO-NAM.
• Kobie Whiteside is tied for the SEC lead with four sacks. Repeat, Kobie Whiteside, he of two stars as a recruit, leads the SEC with four sacks. (MU initially credited Whiteside with two sacks Saturday but adjusted to one, giving him four for the season.) Here are some past Mizzou D-tackles and their single-season high for sacks:
Terry Beckner Jr.: 7 in 2017
Harold Brantley: 5 in 2014
Sheldon Richardson: 4 in 2012
Lorenzo Williams: 6.5 in 2007
• Jordan Elliott's play transcends his stats (four tackles for loss, one sack), but he's been a force in the middle. He nearly Undertaker-style chokeslammed quarterback Kaleb Barker in the second quarter, a play that initially drew a targeting penalty. Replay review changed that. "It wasn't targeting," Elliott said. "I never leaned in with my head. If you watch, I clearly just pushed him down. It was just a big push."
"Big Push" might be a good nickname for the junior D-tackle.
• Scott got himself off the bench and became the kind of playmaker he was in preseason camp. He used his speed to turn a crossing route into a 49-yard gain on MU's first series. "Kam is blazing fast," Nance said. "Once he catches it, he's gone. He played a good game and did what he's supposed to do."
• When reporters came into the team meeting room to interview players after the game, Taylor Powell was already seated in front of a keyboard calling up some clips to review. Powell doesn't say much, but he doesn't doubt his abilities. "If Coach needs me and the team needs me I'm ready to go," he said. Odom said the playbook shrank to "like three plays" in the second half with Powell in the game, but Powell threw the ball around a bit working with backup receivers and completed 6 of 8 attempts for 57 yards. "Was it a fair assessment of what he could do? No, not really," Odom said. "I've seen him enough in practice. But like he has the last couple weeks in practice, he gets a lot of reps. The game reps, if it would get to that, we have to play at a high level and the 10 guys around him to have to step up, too."
NEEDS SOME WORK
• Did the officials let this game get out of hand? Things were chippy from the start, to the point Odom took out most of his established starters at halftime. Odom mentioned "the standard of play" as reason for his wholesale changes.
On that topic, was Travis Sailo intentionally trying to hurt Bryant with his late and low hit on the quarterback's left leg? What else could be the explanation? Sailo was shoved in the back by offensive lineman Tre'Vour Wallace-Simms, but even if he couldn't avoid the collision with Bryant, Sailo didn't have to clutch his leg and hang on well after Bryant fell backward. Odom shared his thoughts on the hit with referee Steve Marlowe as Bryant walked off the field. After the game, Odom pleaded the fifth.
Here's what SEC officiating analyst Matt Austin said during the broadcast: "If the quarterback is in a passing posture with his feet on the ground you can't go low to the quarterback with forcible contact to the knee area. You can see the player comes out with his arm and he makes a point to give a little extra and go in and swipe at that leg."
SEC Network analyst Matt Stinchcomb didn't hold back his thoughts: "Its an ugly looking play. We've seen a couple targeting penalties that have been overturned but the point is to protect the players on the field. On that one, it's not like targeting. You're not trying to protect the defender. It's purely to protect the passer who has no idea … there's no way for him to defend himself as he's completing the pass from a defender going low to his legs. Now I'd be OK if penalties like that were eligible for ejection. Look at targeting, yeah that's dangerous. This is dangerous too."
"That's as malicious as it gets," play-by-play broadcaster Taylor Zarzour added.
"Yeah, and with intent," Stinchcomb said.
After the game, Troy coach Chip Lindsey told the Columbia Missourian's Nick Kelly that he'd "have a hard time believing it was intentional." He added, "It's unfortunate. Kelly Bryant is a great kid. I remember him in the recruiting days. Obviously Barry and I are really close. Hopefully he is not hurt bad."
• Tucker McCann didn't have his best day. He averaged 36 yards on three punts, though he dropped three inside the Tory 20-yard line. He also had a 21-yard shank. He missed a 52-yard field goal that was within his range but did did a nice job selling a roughing the kicker on a second-quarter punt. The Troy player who hit him? Travis Sailo.
• Who gets to return punts with Richaud Floyd sidelined with a  hamstring injury? The unit has been exponentially better with Floyd catching punts instead of Johnathon Johnson. Will the staff consider other options this week?
• Missouri's offensive line game of musical chairs continues to spin with Wallace-Simms now moving from right guard to left guard and Larry Borom shifting to his third position, right tackle. Against a Troy defense that ranked ninth nationally against the run, MU's running backs averaged 5.3 yards per carry. But the Tigers seem to be still searching for answers up front.
"We're still moving people around and trying to find the best five," left tackle Yasir Durant. "It can be (hard), but at the end of the day you've got to keep going no matter who's playing next to you."
Dave Matter brings you the latest updates from the Mizzou sports scene.