The town of Laramie, Wyo., is named after Jacques La Ramée. Or La Ramie … or La Remy. Historians can't agree on his name. He was a French Canadian trapper and fur trader who's credited with being one of the first people to explore and settle in what's now the state of Wyoming. Around 1821 he vanished. Gone. Au revoir. Theories surfaced on how he died, but there was never a consensus. He just … disappeared. Today, there's a town, river, fort and mountain peak named in his honor.
In five days, we'll find out if the Missouri football team pulled a La Ramée … or La Ramie.
Did an offseason full of hope and promise go poof into Wyoming's famously thin air, never to be seen or heard from again? Saturday's game at Wyoming's War Memorial Stadium was an unconventional place to launch a season for a team from the Southeastern Conference, but this was supposed to be one of the soft spots in a favorable schedule that many figured could lead to nine, maybe 10 wins.
Now the rest of the road looks far more ominous, because if you can't beat Wyoming …
Barry Odom said he was "devastated" after the 37-31 loss, which is on the short list of words you don't want to hear from your coach the first day of the season. As the team buses pulled out from the bowels of the stadium, Odom sat in the front seat, glaring straight ahead at the windshield, with a whole season staring right back at him.
After nearly nine months of preparation for the season, did his players look past their first opponent?
"Man, I sure hope not," Odom said. "I don't think so. I didn't feel that in the preparation. I didn't sense that at all. But I didn't deliver my best. I know that."
The Tigers were favored by 17 ½ points at kickoff, as many as 18 earlier in the week. The point spread database at Oddshark.com goes back to the 2000 season. Since then, the Tigers have lost games in which they were heavy favorites … but not by 17 points or more.
It was the seventh time the Tigers have lost to a team from outside the current Power 5 conferences in the past 20 years: Bowling Green in 2001 (13-point favorite), Bowling Green in 2002 (4 ½ points), New Mexico in 2005 (8 ½), Troy in 2004 (11), Navy in the 2009 Texas Bowl (6 ½) and Middle Tennessee in 2016 (8 ½). The Tigers were favored by 14 ½ in their 2014 home loss to Indiana. By those numbers alone, that makes this one of the team's biggest upset losses in 20 years.
It's fair to wonder after a face-plant performance like this if Missouri was supposed to be beyond these kind of losses. Had the program reached a point where these wins should be automatic? The team's veteran players were asked that question after the 37-31 loss.
"The other team plays football, too, and they have scholarship guys, too," linebacker Cale Garrett said. "We expect to win every game. That's how we approach every game. The moment you think you're past anything is the moment you get caught. For us it's important not to overlook anybody. It's a gut check. It's a wake-up call. It's a slap in the face. College football is the real deal and anybody can get beat any weekend."
The Tigers all seemed to believe that after the game. Did they believe that before kickoff? Did they overlook Wyoming?
"No, not really," tight end Albert Okwuegbunam said. "I mean, obviously, going into any game, especially a nonconference game, we expect to be the better team. And I believe we are the better team. There's no question we beat ourselves today."
That was the common theme of the team's post mortem: Three fluky turnovers were the culprit. One came on the goal line, one in the end zone, one Wyoming returned for a touchdown. Just erase those and the Tigers win comfortably, right? Maybe so, but great teams don't make those crucial mistakes in those situations especially against a 17-point underdog. We'll get to those mistakes and more soon in our own re-examination of the corpse.
No matter what happens the rest of the fall for the Tigers, they brought back a stench from Wyoming. How long it lingers will be answered this week.  
STATS THAT MATTER
Minus-3: That was Missouri's turnover ratio. Only four teams in the country posted a worse margin in their first game. Ball security was an issue all night. Kelly Bryant probably should have slid on the QB keeper that he fumbled. On his red-zone interception, he broke a cardinal rule when he ran left and threw right. Larry Rountree fumbled at the goal line. Okwuegbunam dropped a pass that could have been ruled a fumble but was upheld by a fortunate replay review. Johnathon Johnson briefly lost a ball on the way to the ground.
Defensively, the Tigers will have to wait another week for all those takeaway techniques taught by new cornerbacks coach David Gibbs to produce any turnovers. In 39 games under Odom, this was 10th time the defense didn't force a turnover. In those 39 games, the Tigers are 2-14 when they lose the turnover margin and 17-6 when they finish positive or even.
2.7: That was Missouri's yards-per-carry average. Yuck.
Even if you erase Wyoming's two sacks, the Tigers still just averaged 3.1 yards per carry. The two running backs, Rountree and Tyler Badie, averaged just 3.0. What happened to that potent 1-2 punch? What happened to that massive size and experience advantage along the line of scrimmage? Under Odom's watch, only four defenses have held Missouri to fewer yards per carry:
The Tigers averaged just 2.5 yards on first down and had just two runs of 10 yards or more, fewest in the SEC. Only three Power 5 teams had fewer than two 10-yard runs in Week 1. (One of them was Saturday's opponent, West Virginia, with zero.)
And things seemed so promising for the Tigers early. On their first drive, the two running backs had carries for 6, 14 and 6 yards. They combined for 33 yards on six carries on that opening series. That's 5.5 per carry. The rest of the game? Just 61 yards on 25 carries. Just 2.4 per rush. Of their 31 combined carries, 16 went for 2 yards or fewer. Badie and Rountree especially struggled to find breathing room inside the 10-yard line. They both had short touchdown runs; otherwise they ran four times inside the 10 for just 2 yards total.
This was supposed to be a physical, overpowering offensive line, but the front five struggled to reach the second level and create deeper lanes for the backs beyond the point of attack. The line seemed overwhelmed by the smaller Cowboys.
"They moved a lot. They played a lot of line games," center Trystan Colon-Castillo said. "Backers played up pretty close. They tried to get a lot of loaded boxes. We had six (blockers), they tried to have seven (defenders). We had seven, they tried to have eight. They did a really good job. You have to give credit to them."
0-7: This one's hard to explain. That's Odom's record as Missouri's head coach against FBS teams when given more than a normal week to prepare. That's season-opening games, games after byes and bowl games. It's still a small sample size, but it gets bigger by the season. (We're not counting season-opening wins over overmatched FCS teams Missouri State and Tennessee-Martin — though that Missouri State game in 2017 was far more competitive than anyone expected.)
5-19: Odom's record when the Tigers don't score 40 points. That's the sign of a team that can't win without a prolific offensive performance.
PLAYER OF THE GAME
Wyoming had several standouts, but quarterback Sean Chambers gets the nod here. He only completed six passes on 16 attempts for 92 yards, but he ran for 120 on just 12 carries. The redshirt freshman has started four career games. He has four 100-yard rushing games.
His 75-yard keeper for a touchdown seemed to crush the Tigers' soul. They just gave up the 61-yard touchdown run a play earlier. Good defenses get gashed on occasion. They can write off one long play as a fluke, make corrections, get settled and move on. On the very next snap, the Pokes ran another misdirection play: Wide receiver John Okwoli goes in motion on a jet sweep … Chambers doesn't give him the ball and fakes a handoff to running back Xazavian Valladay … Chambers burst through a canyon on the left side, dodges a diving tackle by Garrett and stiff arms safety Joshuah Bledsoe to the neck. Touchdown.
"This offense should be termed Doc Blanchard-Glenn Davis," Rick Neuheisel quipped on the broadcast. "It's inside and outside and Missouri can't find the ball."
Chambers was in command throughout the game. No picks, no fumbles, no sacks. Why, again, did Craig Bohl not make him his quarterback until the final month of 2018?
"It became apparent early on that we were able to establish the line of scrimmage," Bohl said. "Certainly Sean's athleticism was big, making plays with his legs and some with his arm. He's a really competitive player."
Runner-up: Bryant had two costly turnovers, but the Tigers aren't in this game without the grad transfer, who was mostly good but short of great. His career-high 423 passing yards were 11th-most in Mizzou history and third-most in a road game.  Only Texas Tech's Alan Bowman threw for more yards (436) in the first week of the season.  (Bowman's position coach and coordinator? Former Mizzou OC David Yost.)
Bryant was more accurate in the short-to-intermediate passing game than he showed most of preseason camp. He was poised in the pocket, maybe sometimes to a fault, when he took a crucial sack on the game's final drive. It's no secret Bryant doesn't have Drew Lock's arm, but he put a couple deep balls in position for his receivers to catch. This is an offense that needs to string together first downs and move the chains with a methodical attack. Bryant did that, moving the chains with his arm 17 times. Do you know how many times Lock had more than 17 passing first downs in a game? Only twice, vs. Idaho in 2017 (20) and Wyoming in 2018 (23).  
The fumble and interception led directly to 14 Wyoming points, though Bryant also saved the Tigers four points when he dragged down safety Alijah Halliburton on the long fumble return.
"I've got to be better with my ball security," Bryant said. "It's just as simple as that."
"Kelly is a mature competitor," Odom said. "He's going to be really, really hard on himself. That's to be expected. He'll bounce back. He's been through a lot and I'm confident he'll be all right."
LOOKING GOOD
• Badie's toughness and hands. The guy takes a hit and keeps coming back. His career-high seven receptions were the most for a Missouri running back in a decade, the most since Derrick Washington had seven catches against Oklahoma State in 2009.
• Tucker McCann's leg. He booted all six of his kickoffs for touchbacks, was perfect on PATs, hit a chip-shot 22-yard field goal and averaged 43 yards on four punts. All told, he kicked the ball 15 times.
• Kam Scott after the catch. He's got a burst unlike anyone else on this team and showed it on a 35-yard catch and run.
• Bryant's balance. He completed throws to five wide receivers, two tight ends and two running backs. Five different targets had at least 60 yards.
• Garrett against the run — most of the time. He missed Chambers on the long TD run and nipped Valladay on his long TD, but more often than not Garrett filled his gap and smothered the run, finishing with a career-high 16 tackles to lead the SEC through one week. Only three players in the country have more tackles, none from another Power 5 defense.
• Richaud Floyd's punt return. After last year, it was a minor miracle that Mizzou wasn't flagged for a penalty on Floyd's 43-yard return in the fourth quarter.
NEEDS SOME WORK
• What happened to Rountree? He had just two carries after his fumble on the final play from scrimmage of the second half. The Tigers were in 2-minute drill mode most of the second half and clearly like Badie in that situation — Odom said he was the preferred matchup — but Rountree needs to have a role in this offense.
• Okwuegbunam's numbers were fine (72 yards on three catches), but he can play better as a blocker and receiver. He barely got a hand on Esias Gandy when the safety came free and tattooed Bryant on the run that turned into a scoop-and-score fumble in the second quarter. A more physical block gets Bryant to the edge and safely to the ground or out of bounds. On his first target of the game, the tight end appeared to fumble deep in Mizzou territory but the replay review bailed him out, ruling the pass incomplete. Either way, it's a bad drop or a bad fumble.
• Just one tackle behind the line of scrimmage from Missouri's defensive line. The Cowboys exposed gaps in the trenches and were rarely under duress the few times Chambers dropped back to throw. Bryant had as many solo tackles (one) as any defensive lineman. Defensive end Jatorian Hansford missed as many tackles as he made (two).
• "Please, let's slam those brakes on 'this is the best safety tandem in Mizzou history' narrative." Yours truly, William Moore and Pig Brown.
• The Tigers were a mess on Wyoming's 61-yard touchdown run. Wyoming shifted to an unbalanced line against MU's eight-man defensive front. Safety Jordan Ulmer was in position to make a stop but ran into the back of Garrett, clearing a path for Valladay up the middle.
• Consecutive false starts by the punt team? That might be a first.
• Jonathan Nance's tackling skills. He admitted after the game he should have gone for the tackle instead of the strip on Bryant's fumble. "That's my fault," he said.
• Missouri was the only team in the country that gave up two runs of 50 yards in the season's first week, which means it was also the only team that gave up two runs of 60 yards.
• Mizzou's final three snaps. Bryant took an inexplicable sack on second and 5 with Badie open over the middle. That changed everything and forced MU to use its final timeout. Bryant threw out of bounds on third and long. On fourth down, he had Badie short of the sticks but probably could have converted. Instead he went to Johnson in coverage, with Okwuegbunam open down the seam.
Missouri Wyoming Football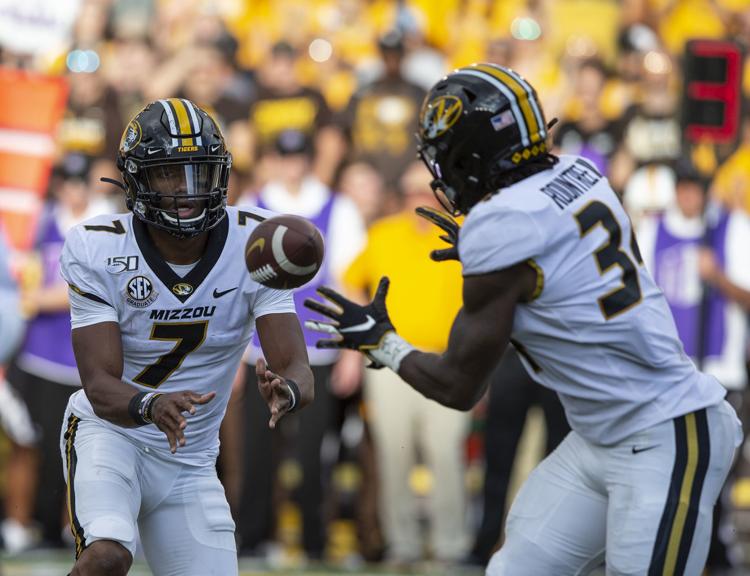 Missouri Wyoming Football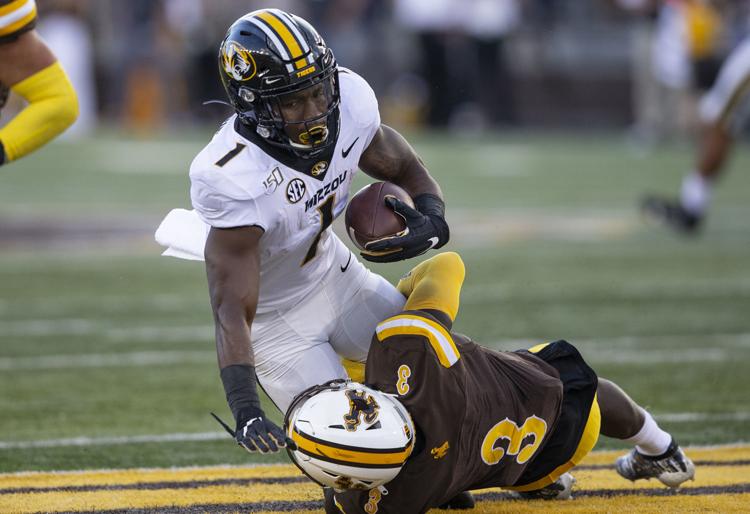 Missouri Wyoming Football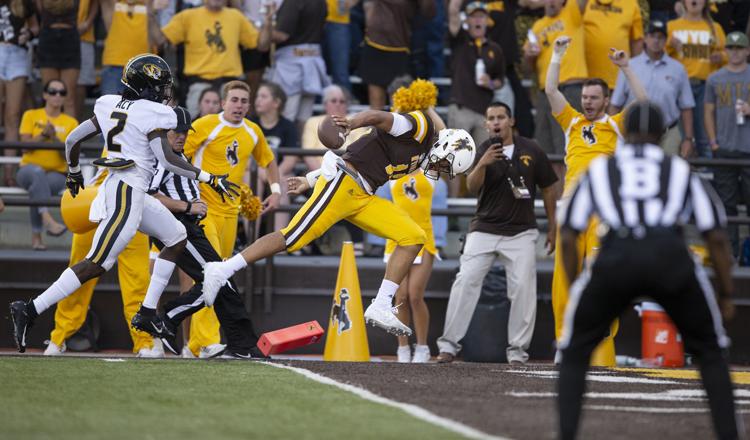 Missouri Wyoming Football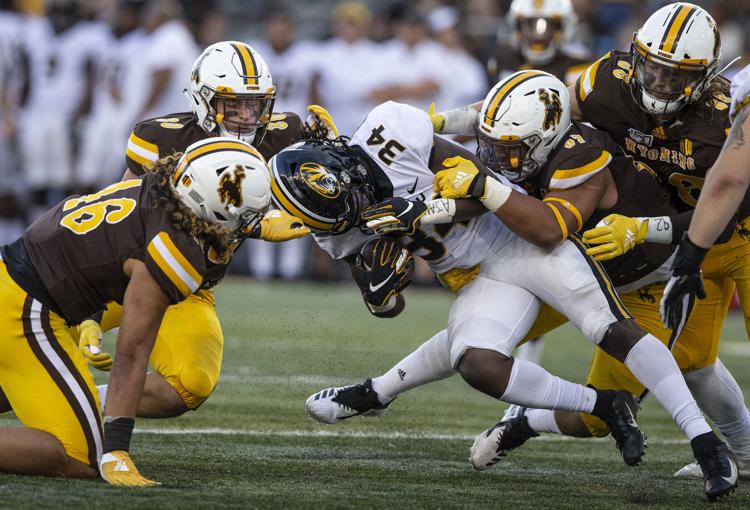 Missouri Wyoming Football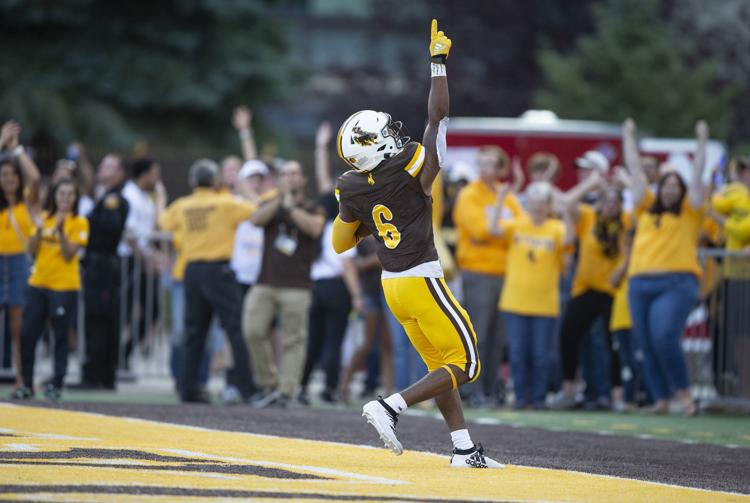 Missouri Wyoming Football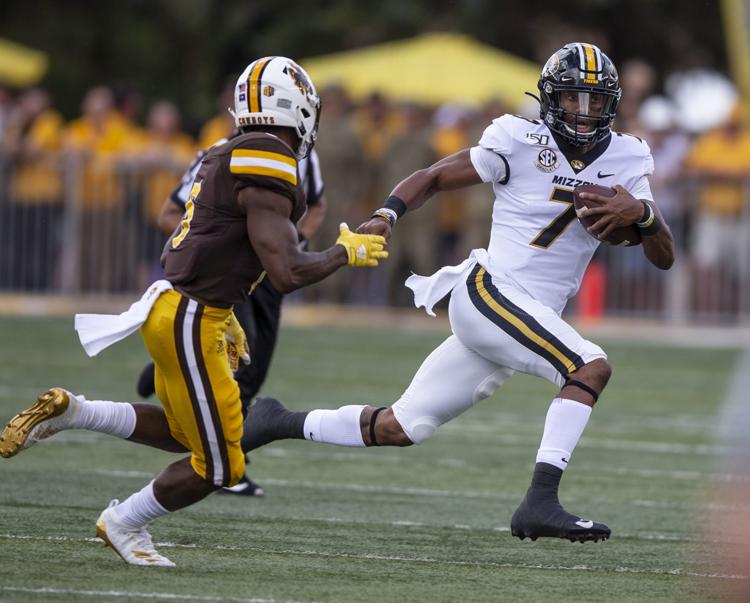 Missouri Wyoming Football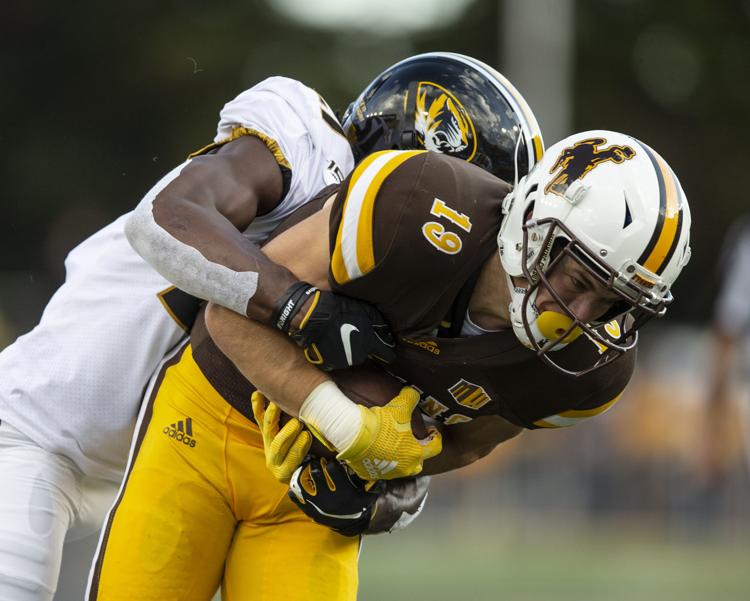 Missouri Wyoming Football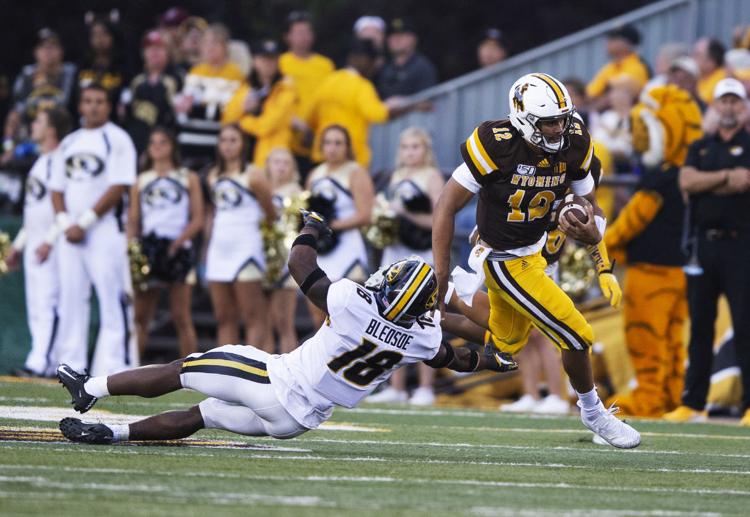 Missouri Wyoming Football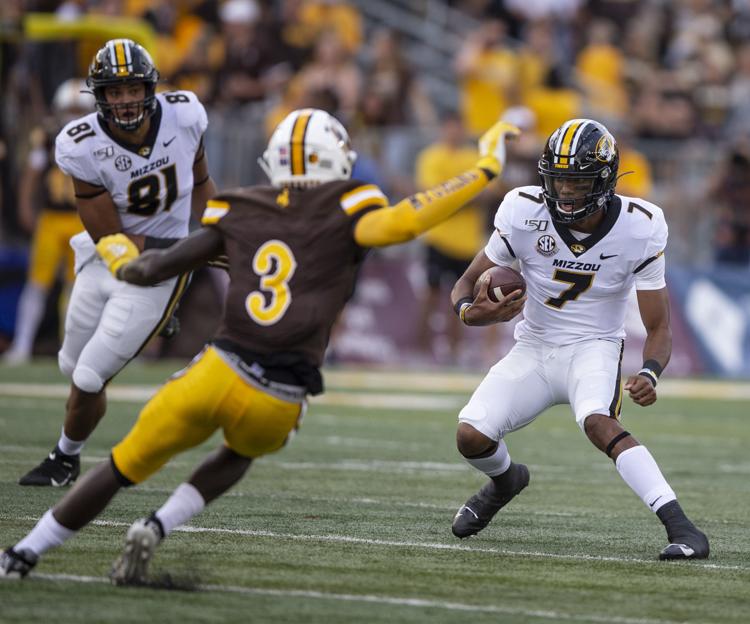 Missouri Wyoming Football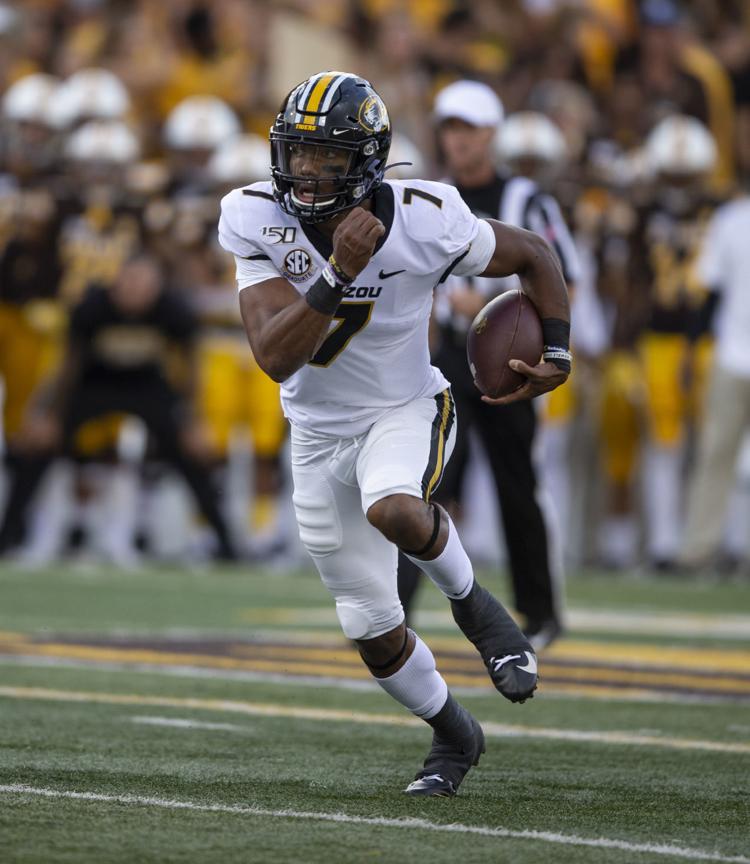 Missouri Wyoming Football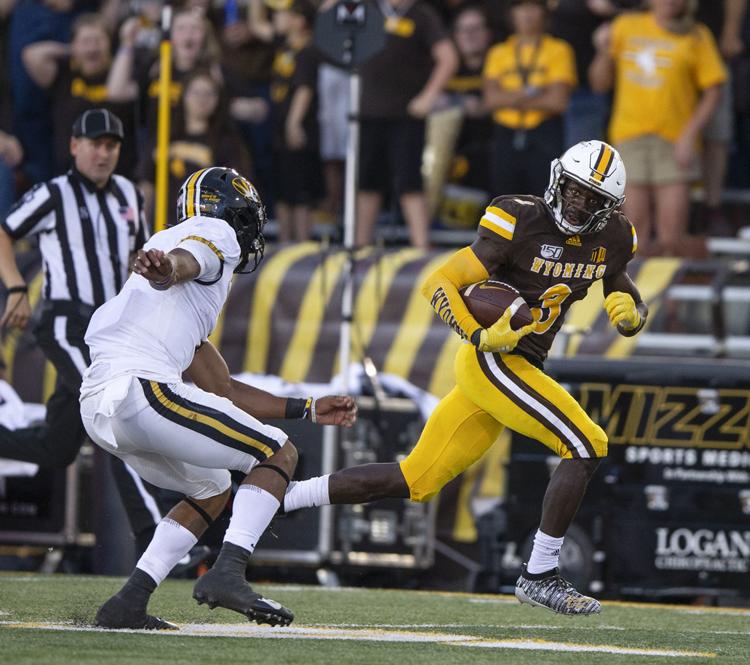 Missouri Wyoming Football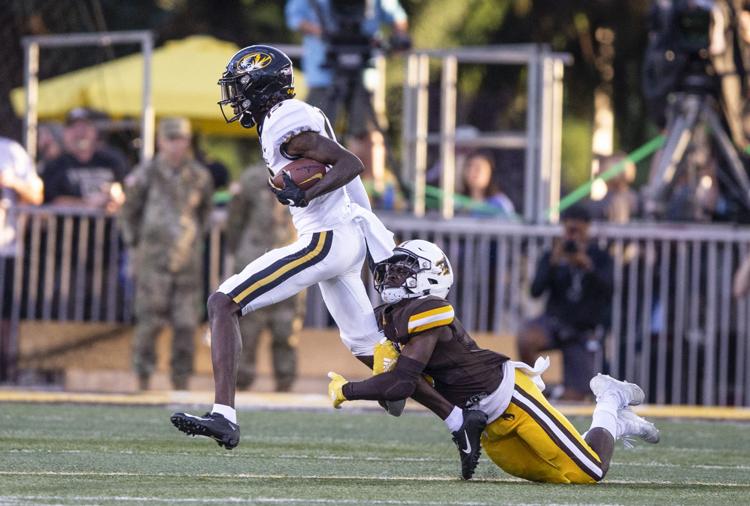 Missouri Wyoming Football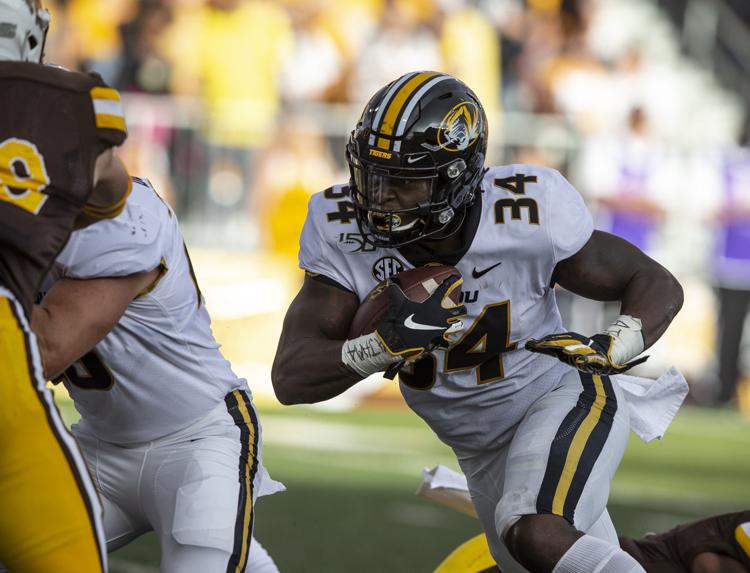 Missouri Wyoming Football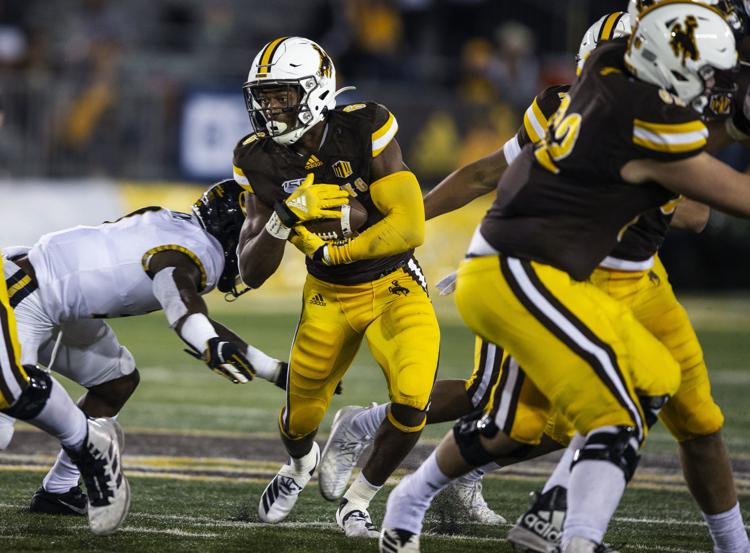 Missouri Wyoming Football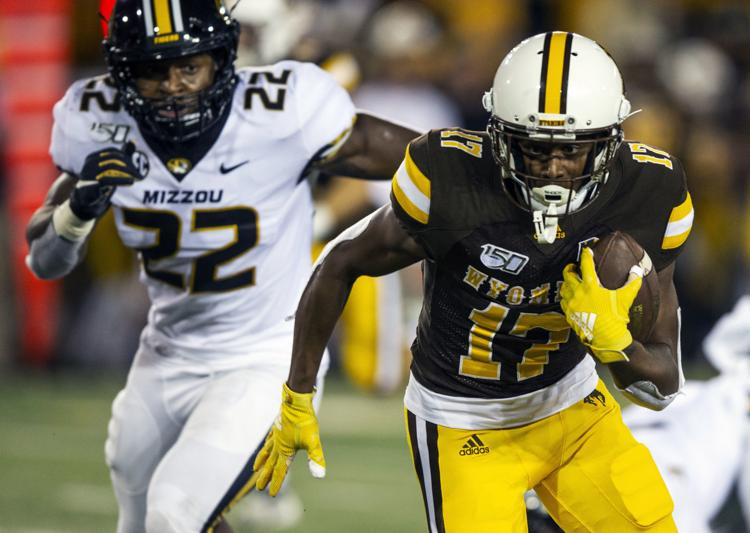 Missouri Wyoming Football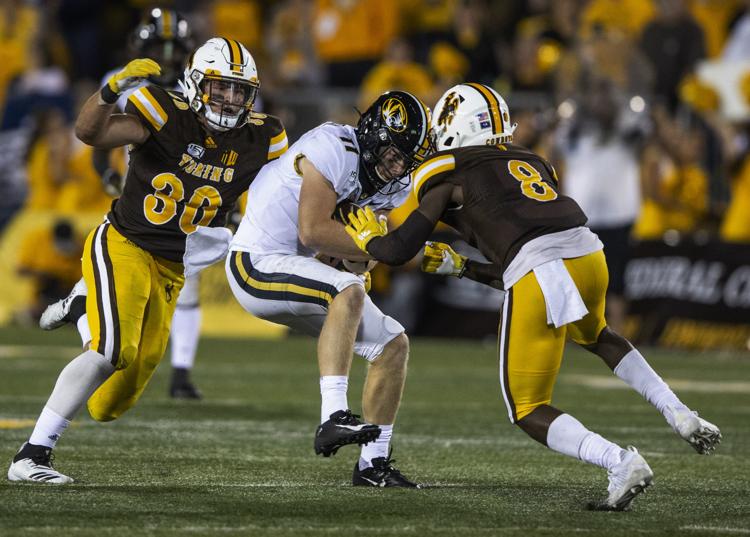 Missouri Wyoming Football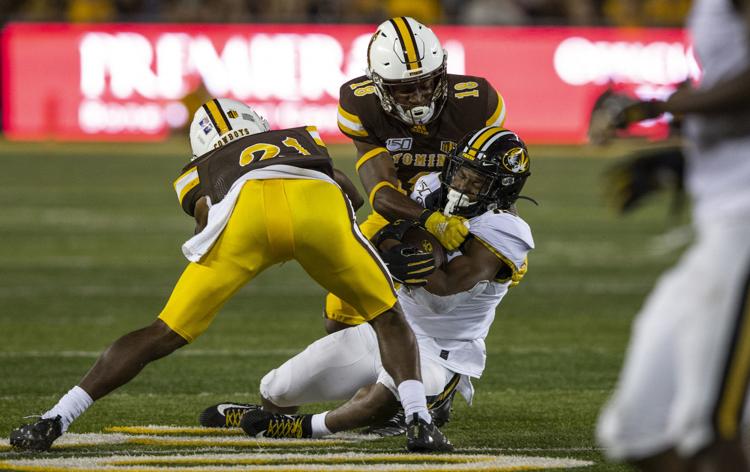 Missouri Wyoming Football