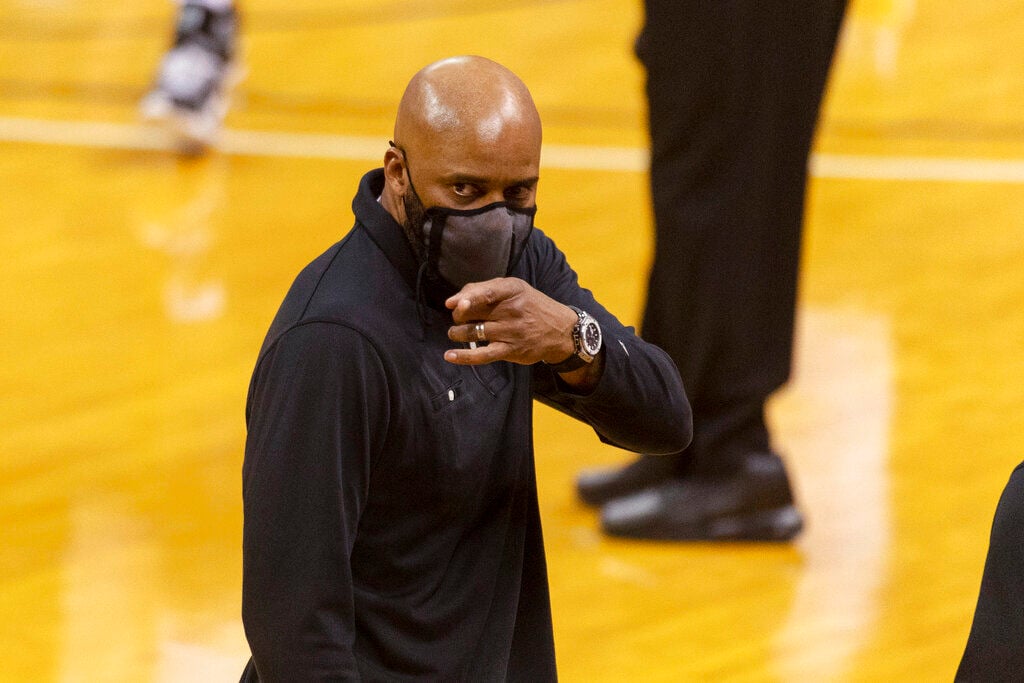 We've got a six-pack of Mizzou musings on this Tuesday morning.
1. Will there be a market for Cuonzo Martin this offseason? Normally we wouldn't let a year-old Twitter account with 900-something followers raise our pulse, but @RumorsCoach got Mizzou fans talking on Saturday when it tweeted that there will be mutual interest between the Miami Hurricanes and Martin should Jim Larranaga step down at the end of the year. The Canes are slogging through a third straight losing season after four consecutive 20-win years under Larranaga, who's now 71. Without getting into the weeds of the Canes' business, the larger topic at play is worth exploring.
Don't be surprised if there's a competitive market for Martin this offseason.
• Martin is on track to guide Mizzou to a second NCAA Tournament appearance in four years after inheriting the most woebegone high-major conference situation in the country four years ago. Martin's 64-52 Mizzou record requires context — the Porter saga and injuries galore — and probably resonates more favorably outside the Show-Me State, where fans nitpick every rushed 3-pointer or missed recruit like it's a national crisis. The outsider's view notices that Martin's most experienced rotation has knocked off three top 10 teams this year — after MU went more than 1,500 days between beating a single top 25 team from December 2013 to January 2018. Martin's Tigers have been nationally ranked for 11 straight weeks. That hasn't happened this late into a season since 2012.
• With the FBI probe still lingering over the sport, the market will value coaches with clean NCAA records — and perhaps over-value. Nobody is cleaner than Martin, the coach who famously declared, "I AM compliance," when the FBI first started snooping around some of the country's best programs.
• Martin has shown an impressive dexterity to handle current events that transcend basketball. In the age of the empowered college athlete — name, image, likeness legislation; social and political activism; Black Lives Matter — some athletics directors will put a premium on coaches who can guide their programs through these times with a steady hand and serve as a positive role model, especially for young Black athletes. Do not discount this factor.
Here's what recent conversations have told me: Martin isn't looking to leave. He likes the young class coming in next year far more than the recruiting sites. He's thrilled with Kobe Brown's development. Parker Braun, too. He's not giving up on Torrence Watson. None of that will stop other schools from reaching out. But Mizzou is committed to keeping Martin and keeping him happy. The administration is investing close to $4 million to renovate the team's player development facilities. The administration is committed to investing in staff and resources. The administration, I'm told, will be "proactive" if there's competition for its head coach. Martin has three years left on his original seven-year contract. Talks have started on restructuring that deal.
UPDATE, 8 p.m.: Before Tuesday's home game against Mississippi, Missouri athletics director Jim Sterk met with local media, during which he was asked about Martin's contract. Sterk confirmed that it's time to discuss renegotiating the terms of Martin's deal.
"He's done a heck of a job," Sterk said. "It's that time in the contract where you start to look at it (and say), 'OK, Cuonzo. What's important to you? Let's talk.' He wants to be here. He's building a program. He wants to be the last team standing some time, and I think he has a great opportunity to do that here. We want him to do that. We're excited about the future." 
2. It was February 2006 when Mizzou's radio analyst fired the head basketball coach, ending a once promising run for Quin Snyder that had spiraled beyond repair. Fast forward 15 years and Snyder barely looks a day older, but his redemption tour hit another milestone last week when he was named head coach of the Western Conference for next month's NBA All-Star Game. At 25-6, Snyder's Utah Jazz have the best record in the league, putting Snyder in prime position to be named NBA coach of the year. Unbelievable, right? Now in his seventh season with the Jazz, he's led the franchise to four straight playoff seasons. It will soon be five.
"It's just a statement about our team and our players. They're winning games, and that's ultimately why you're there," Snyder said last week, quoted by the Salt Lake Tribune. "It's a credit to them that I'm getting a chance to represent them in that capacity."
It's hard to believe Snyder is 54 years old, which to put in perspective is the same age Norm Stewart was when he was diagnosed with colon cancer during the 1988-89 season - and was in his 22nd season at Mizzou.
3. Back to the current Tigers. Mizzou's manageable stretch of games continues this week with two at home. Possibly. Ole Miss (NCAA NET No. 62) visits Mizzou Arena on Tuesday. Then it's lowly Texas A&M (No. 136) on Saturday. Except the Aggies haven't played a game since Jan. 30 because of COVID cases. Their midweek game against Kentucky has already been postponed. Mizzou expects to hear word from the SEC on A&M's latest round of tests by early Tuesday. Obviously, Saturday's game could be in jeopardy. The Tigers still have to make up games with LSU and Vanderbilt. Expect Mizzou to host one of the two on March 6. Which one? That's up to the SEC.
Mizzou begins this week slotted as the No. 6 seed in the SEC tournament bracket with a chance to climb into the top four for the double bye. Second-place Arkansas faces two stiff tests against Alabama and LSU this week, while fourth-place Florida gets Auburn and Kentucky.
ESPN's Joe Lunardi is less bullish on the Tigers, projecting a No. 6 seed and first-round matchup against No. 11 seed Boise State — also with Virginia looming in the next round as the No. 3 seed.
USA Today splits the difference and has Mizzou as a No. 5 seed facing a play-in game winner at the No. 12 seed, Seton Hall or Minnesota, then No. 4 seed Florida State potentially waiting in the next round.
4. Eli Drinkwitz will soon announce a couple staff additions, both from Auburn's 2020 staff: chief recruiting officer Brett Whiteside and executive director of sports performance Ryan Russell. Last week's departure of cornerbacks coach David Gibbs to UCF leaves open another spot on Mizzou's defensive staff. Drinkwitz could go a number of ways here. He looked to the NFL for his defensive coordinator and defensive line coach, hiring two veteran assistants in their 50s. He could go younger, too.
Mitchell Forde of PowerMizzou.com reported Tuesday that Drinkwitz will hire Tulsa's Aaron Fletcher, who has coached cornerbacks at Tulsa for the last six seasons and has strong ties to the high school scene in Dallas and Austin, Texas.
On the topic of adding staff last week, I asked Drinkwitz if he prefers older, more experienced coaches or up-and-coming upstarts in their 20s and 30s.
"I think both," he said. "You've got to have young guys with great energy, passion and enthusiasm who are willing to charge the hill. But you also got to have those guys with wisdom who you can surround yourself with. I think I have enough energy for a lot of people. So sometimes it's good to have those (older) guys to keep me under control a little bit."
Spring football practices start Friday with the spring game set for March 20.
5. We'll give the baseball Tigers a mulligan for their season-opening flop at Grand Canyon. Playing outdoors for the first time all year, Mizzou dropped three of four in Phoenix. (Never heard of the GCU Antelopes? Don't laugh. They've won 30 games four times since 2014, twice beat nationally ranked Oklahoma State last year and have been more than completive against Power 5 programs.) 
The Tigers were not sharp in any area. They hit .265 over the four-game series and posted a team on-base percentage of just .322, striking out 35 times with just nine extra-base hits. The Tigers hit into four double plays and committed six errors in the field. The pitching wasn't any better. With junior starter Konnor Ash unavailable for the series, the Tigers sported a staff ERA of 9.00 with 17 strikeouts and 27 walks, gave up three homers and hit six batters.
Steve Bieser's club gets a chance to clean things up this weekend with a four-game home series against Omaha.
6. Robin Pingeton's women's basketball team matched its single-game record for 3-pointers in Sunday's win over Florida and now ranks No. 4 nationally in field-goal percentage (48.4%). The only teams shooting better than Mizzou are UConn, Stephen F. Austin and Iowa — and those three teams are a combined 47-9, while Mizzou is just 8-9. For now, the Tigers (4-8 SEC) would be the No. 9 seed in the SEC tournament. … Mizzou softball is off to a 6-2 start with two more wins Sunday in Florida while seven different players have combined to smash 15 home runs. MU has 37 extra-base hits and slugging .695 through the season's first two weeks. … Former Mizzou golfer Hayden Buckley was a winner on the Korn Ferry Tour on Sunday, winning the LECOM Suncoast Classic with a birdie putt on the par-4 18th hole in sudden death. Buckley, who played at MU from 2014-18, was an alternate qualifier for the tournament and was the 144th and final player admitted to the field. It was Buckley's first top-10 finish on the PGA's developmental tour and earned him $108,000.