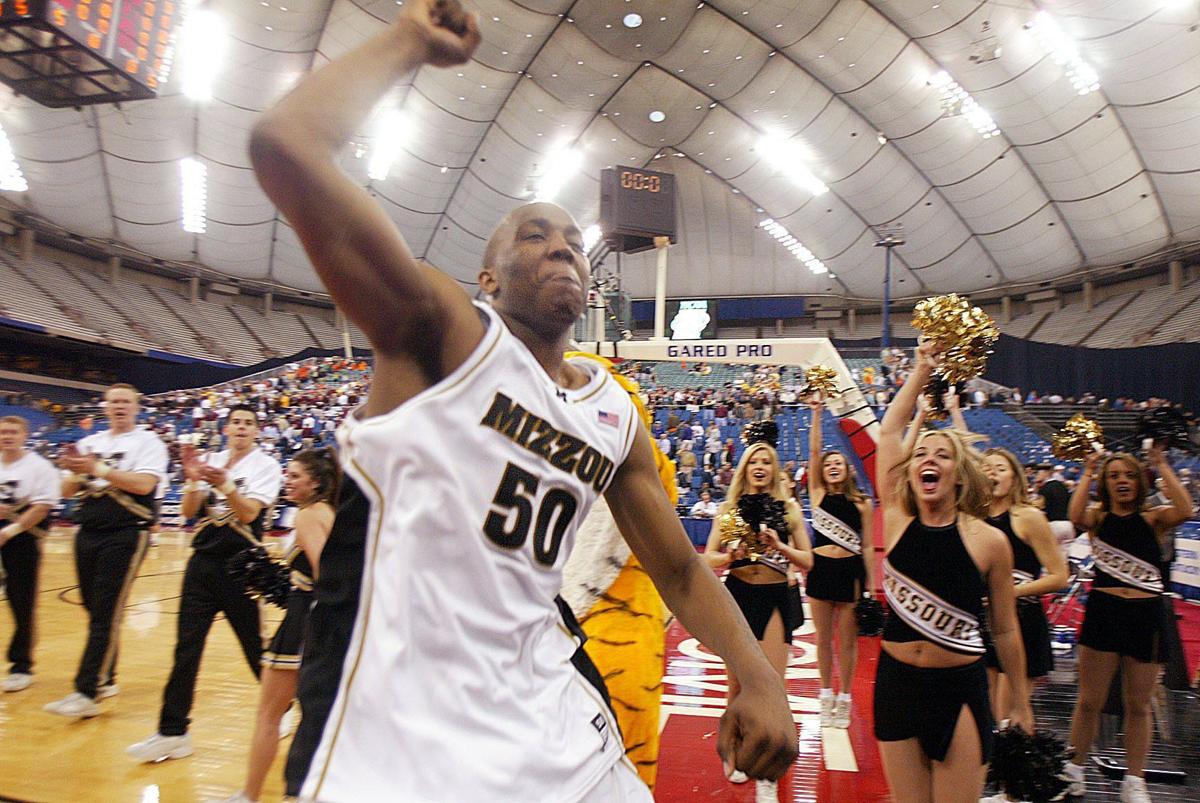 COLUMBIA, Mo. — Later this spring will mark 20 years since I graduated college, which means these eyes have seen a lot of Mizzou athletes over the last couple decades. Now that we've got a little time on our hands in this neck of the Internet, why not reflect on the best of the best?
Over the next six weeks I'll count down the 30 best Mizzou athletes I've covered in my time on the beat. We'll do this every weekday, starting today.
A few ground rules I set for myself when putting together this list:
• I started covering Mizzou as a college student in the fall of 1998. Only MU athletes who played from that point on were eligible for the list. I covered primarily football at the Columbia Tribune until 2013 when I came to the P-D and added men's basketball to my plate. But along the way I covered sprinkles of basketball and every other MU team.
• This list is very subjective. It's not based objectively on raw statistics, all-conference or All-American honors or broken records. Those accolades matter, but overall greatness, impact and longevity were major factors, too. Athletes who thrived over longer stretches carry more weight than one-year wonders, but for some, true greatness was captured in one season or a collection of moments. How does one measure a long-distance runner against a wrestler against a quarterback? Well, in those cases you had to be there to quantify impact and prestige — and then use your mind and your gut and figure it all out.
• For some of these entries, I'm going to write from a personal perspective. I interacted with or were around all of these athletes to some degree over the years, some far more than others, so personal connections matter, too.
A lot of great athletes didn't make the cut. The number 30 sounds like a big total until you start putting together a master list of every Mizzou athlete in every sport over the last 22 years. You won't agree with the list. Some of your personal favorites won't show up. Some will be too high, some too low. That's OK. It doesn't take anything away from your personal memories from the last couple decades. This is just one person's list. So, let's get to it, starting at the bottom … 
30. Arthur Johnson
Sport: Men's basketball (2000-04)
One of the best big men to wear the black and gold is also one of the most underrated players in team history. When history looks back on the 6-9 forward/center from Detroit, he's instantly linked to his Motown running mate Rickey Paulding, and to a larger extent, that first complete Quin Snyder recruiting class of 2000. Once fully established as Norm Stewart's successor, Snyder brought in one of the nation's top recruiting classes, ranked as high as No. 11 by ESPN. Two came from Long Beach, Calif., Wesley Stokes, the flashy point guard, and Travon Bryant, the skilled big man. First, though, Snyder landed the Detroit Tigers, Paulding and Johnson.
Paulding was the explosive perimeter player, billed as an elite athlete and ferocious dunker. Johnson was the classic post player, a 6-foot-9 beast in the middle. Johnson, known to some as A.J., but those closest to him called him Doc, was the less polished of the two Motor City newcomers when they arrived at Mizzou — he tipped the scales at more than 300 pounds when he showed up — but provided the true Detroit muscle in the class and still stands as one of the most prolific players in team history.
Johnson started 27 games as a freshman and rarely left the starting lineup his entire four-year career. He led the Tigers in rebounds every season, was a double-double threat every game and ended his career as Mizzou's career leader for rebounds and blocked shots. Sixteen years after his last game, both records still stand: 1,083 rebounds and 245 blocks. That's 30 more rebounds than former All-American Doug Smith, No. 2 on MU's career list, and 88 more blocks than Laurence Bowers, No. 2 on the list. Even more impressive, he ranks fourth all-time in the Big 12 in rebounds and blocks. Only one other player in the history of the Big 12 (1996-current) ranks in the top five for career rebounds and blocks: Kansas' Nick Collison.
Doc could score, too. Only two players in Mizzou history connected on more field goals than his 730: Smith and Derrick Chievous. Only Smith posted more double-doubles than Johnson's 44.
Johnson's game was far from flashy. He rarely stepped outside the paint for a jumper. He did his damage within the shadow of the rim and developed a trusty jump-hook midway through his Mizzou career. By any era's standards he was an iron man in Snyder's lineup: Only three players in team history appeared in more games for the Tigers: Marcus Denmon, Kim English and Mike Sandbothe. 
Throughout his four years, Johnson was always linked to Paulding, though their personalities were as different as their games. Rickey was thoughtful but quiet; Doc was the fun-loving court jester, always laughing, always yapping.
In Johnson's first few years in the program, Snyder constantly challenged the big man's work ethic and consistency, trying hard to draw more from his center than he was getting on a nightly basis. By the start of his senior year, Johnson had slimmed down to 255 pounds, added a mean streak to his game and became the alpha in the middle of the floor the Tigers always wanted. Johnson's legacy is dinged by the program's decline his senior year. Picked to win the Big 12 the Tigers stumbled early and never lived up to all its promise, slipping to the NIT for the first time in Johnson's four seasons. But he had his best offensive season, averaging a career-best 16.4 points per game.
By career's end, he was just the second player in Big 12 history with 1,700 points, 1,000 rebounds and 200 blocks.
By every measure, he's among the three most prolific big men in Mizzou history, right there alongside Smith and Steve Stipanovich. Only those two, Chievous, Anthony Peeler and Denmon have scored more points than Johnson.
Unfortunately for Johnson, his game didn't translate to the NBA. At 6-9 he didn't have the ideal frame to bang bodies with NBA centers and didn't have the perimeter chops to slip outside and play the modern power forward position. He went undrafted in 2004, then spent time with the Nuggets, Nets, Suns, Hawks and Bulls but never appeared in an NBA regular-season game. He later played in some American minor leagues and overseas.
The late Bryan Burwell captured the good and the bad of Johnson's Mizzou legacy in this piece from the 2003 Big 12 tournament in Dallas:
Arthur Johnson was seething mad. Missouri's wide-bodied center was engaged in a nasty little slam dance in the low post with some square-jawed, thick-muscled block of humanity named Andrew Drevo during the early moments of Mizzou's 70-61 victory over Nebraska in the first round of the Big 12 Conference tournament. But none of Mizzou's ballhandling guards seemed to be terribly interested in rewarding him for his hard work.

What was making Johnson so upset? Well, you try lugging around someone on your back who's roughly the size of a double-wide refrigerator for 2 1/2 hours, and see what kind of mood you're in. On every trip down court, Johnson would plant his considerable rear end into Drevo's gut, and began banging away, trying to gain control of the most valuable real estate on the court -- that glossy black lane under the rim. Johnson pushed. Drevo shoved. Johnson battered. Drevo rammed. It was nothing but big butts, thick arms and sharp elbows working down there, and every time the 6-foot-9, 265-pound Johnson gained his hard-earned, perfect post-up position against the 6-8, 270-pound Drevo and flashed his right hand high in the air awaiting an entry pass, all he got was a clinic on lousy passing.

There was a clumsy bounce pass that banged off Johnson's knees. There were several slow, ill-timed passes to his left hand that Drevo was able to tip away. And of course most frustrating of all were the passes that never were, created by hesitant guards who seemed to always be one or two beats too slow to get the ball into the post.

 "Arrrrggggghhh!!"

Finally Johnson let out a loud, guttural scream of pure frustration that pierced through all the noise of the 9,100 spectators inside American Airlines Center. He stomped back up the defensive end of the floor, clenching his fists in frustration, and yelling at either Ricky Clemons, Jimmy McKinney or Rickey Paulding.

What did he say? Well, I think NFL star Keyshawn Johnson said it best:

"Give me the damned ball!"

Of all the encouraging things that occurred during this incredibly odd, come-from-behind victory for Missouri, the most encouraging was the manner in which Johnson dealt with his frustrations. With the Tigers falling behind 22-4 in the first half, and Johnson not getting any touches on the offensive end, he could have easily pouted and moped around on the defensive end of the floor, and continued on his late-season funk.

Instead, Johnson went on a maniacal defensive tear, going down to the other end of the floor and ripping down defensive boards (11 of his game-high 12 came under Nebraska's basket), blocking shots (five) and altering many more, and providing the emotional spark that helped Mizzou dig out of that 22-4 hole to advance easily to Friday night's quarterfinal rematch with Oklahoma State.
Coming Thursday: It's all in the Mizzou family at No. 29.
Dave Matter brings you the latest updates from the Mizzou sports scene.