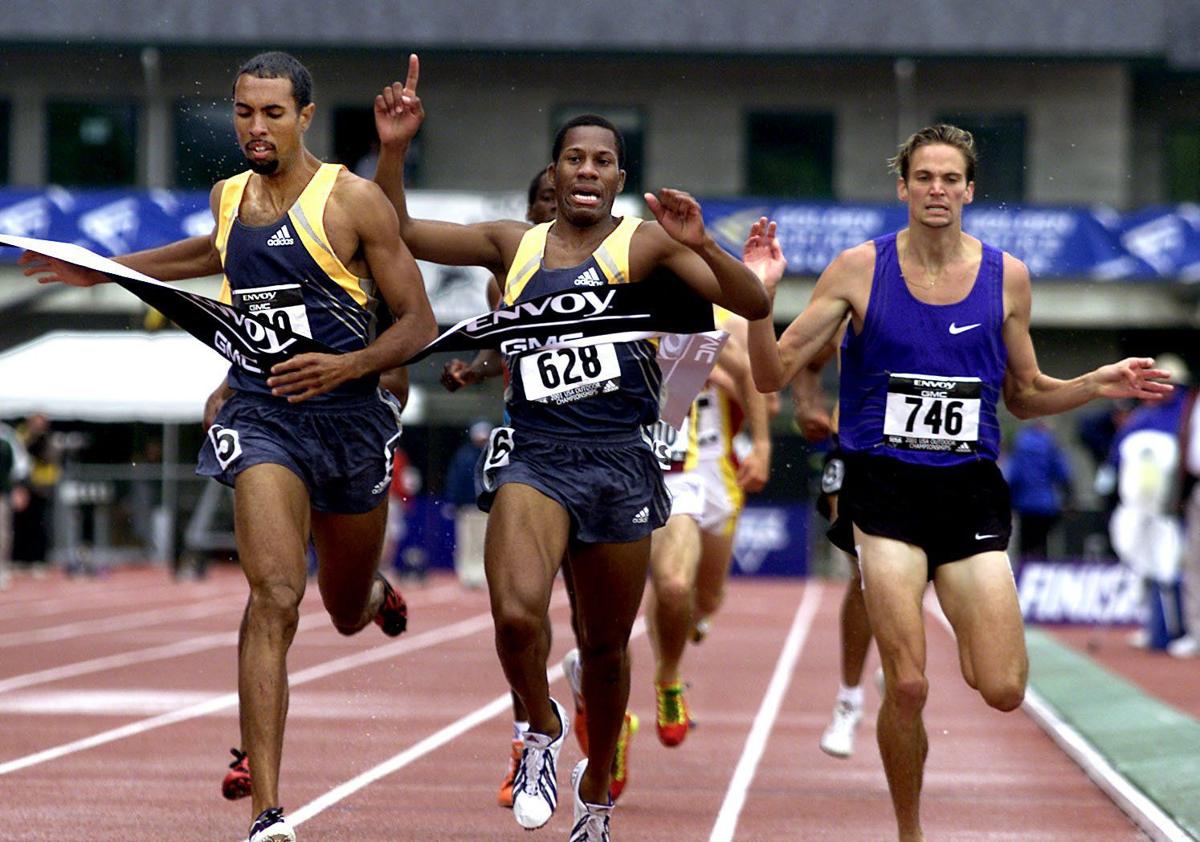 This is the latest in a series of stories highlighting the top 30 Mizzou athletes Dave Matter has covered in his time writing about the Tigers since the late 1990s. The series will run every day Monday through Friday.
He was a machine on the track.
In his signature event, the 800 meters, Derrick Peterson crossed the finish line first eight times in eight races at the Big 12 Conference championship events from 1997-2000. Eight for eight. From his freshman year to his senior season, from age 19 to 22, the Missouri Tiger was undefeated on the conference stage. Indoor, outdoor, didn't matter. When it came to the half mile, he was a machine.
"We thought he was a darned good runner, obviously, but there have been a lot of people who've been really good prospects who just don't bloom," longtime Mizzou track coach Rick McGuire told the Post-Dispatch in 1999. "This kid has more than good wheels, and it's those very special qualities about him that make the difference between a really fast guy and a champion."
Peterson was both. A really fast guy. And a champion, many times over.
In 1999, Peterson not only captured his fifth and sixth Big 12 titles in the 800 but he swept the NCAA championships, too, in both the indoor and outdoor seasons. His time in the indoor national meet at the RCA Dome in Indianapolis (1 minute, 45.88 seconds) still stands as the fastest indoor 800 at the college level by an American-born athlete.
Long before Karissa Schweizer — the queen of Mizzou distance running was 3 at the time — Peterson was crowned the king of Mizzou middle distance.
But like Schweizer, Peterson won his races with a furious kick in the final stretch. Peterson almost always stayed back in the pack for the first 600 meters of his races then pulled away with a sprint at the end.
He used the same form in his biggest race at the 2004 Olympic Trials in Sacramento, Calif. Long past his college career, this was Peterson's chance to (finally) make the Olympic team in his event.
That summer, the late Bryan Burwell captured the moment in the pages of the Post-Dispatch:
As Derrick Peterson galloped around the final turn in the 800-meter finals of the U.S. Olympic track and field trials, all sorts of messages rattled around in Derrick Peterson's head.

Fear. Failure. Redemption. Aggression. With 100 meters to go and a ticket to Athens at stake, Peterson charged around the turn, bursting out of the middle of the pack. He saw all these runners in front of him and heard so many other desperate souls breathing heavy on his back.

After four hard years of training, Athens was less than the length of a football field away. And all the former University of Missouri runner had to do was turn this last 100 meters into the greatest stretch drive of his athletic life.

"That was probably the most nerve-racking 100 meters of my life," Peterson said after scrambling from sixth at the turn and finishing third. "I knew who was ahead of me and I knew I had a lot of great kickers behind me, so I knew I had to get aggressive, more aggressive than I've ever been in my life."

In those last 100 meters, Peterson ran like a man possessed with an Olympic dream, and one by one picked off runners down the final straight. By the last 15 meters he had locked up his Olympic berth with a thrilling third-place finish in a career-best 1 minute 45.08 seconds.

The only men Peterson could not track down were Jonathan Johnson, who won a wire-to-wire victory in 1:44.7, and Khadevis Robinson, who nipped Peterson in 1:44.91.

Peterson's furious kick in the final 70 meters allowed him to pass heavy pre-meet favorite David Krummenacker, who finished fourth in 1:45.67. He was ranked No. 3 in the world in 2003 and was the 2003 world indoor champion and a three-time outdoor American 800 champ.

But Peterson beat him and completed his four-year quest to become an Olympian and overcome his failure in 2000 when he failed to reach the finals after being considered one of the pre-meet favorites.

"This whole week my theme was redemption," Peterson said. "I came in here the last time as one of the favorites and didn't do it. But now I can finally say, 'Derrick Peterson, Olympian."
Peterson didn't win a medal at the Athens Games, but he's got plenty of hardware from his decorated Mizzou career:
• Two-time national champion
• Eight-time Big 12 champion
• Four-time Drake Relays Champion
• Three-time school-record holder
"Competing for Mizzou meant giving my all for the Black and Gold and my teammates, every time I was able to lace up my track/cross country spikes," Peterson shared with me this weekend. "From the moment I arrived on campus, I had designs on continuing the rich legacy of Mizzou Track and Field/Cross Country  by bringing conference and national championships back to Columbia. I'm forever grateful for the experiences and education provided to me by Mizzou, my coaches and teammates that helped shape my Tiger career."
Peterson wasn't done running at Mizzou. At the World University Games, Peterson won three medals between 1999 and 2001. Peterson was part of the 1,600 relay team that won gold and took home bronze for the 800 in 1999 and earned a silver medal in the 800 in 2001. Before making the 2004 Olympic team, he was USATF finalist in both the indoor and outdoor 800m in 2003 and USATF indoor champion in 2002.
He's since given back to the sport at the collegiate level. He returned to Mizzou and served as an assistant coach at his alma mater for six years, then helped launch the track team across town at NAIA Columbia College. In 2016, Peterson joined the coaching staff at DePaul, where he now serves as associate head coach. Under his watch DePaul's men's team won the 2017 indoor and outdoor Big East championships — and his 800-meter specialist set the school record.
Coming Tuesday: One man, two sports, one memorable dive, all heart.
Dave Matter brings you the latest updates from the Mizzou sports scene.