Matter's Picks: Mizzou-WVU and more
BY DAVE MATTER • Post-Dispatch College Football Writer
The Missouri Tigers weren't the only ones to have a rough opening weekend of the college football season. Is it too late to call for a mulligan for the Week 1 picks?
My rough 2019 debut served another reminder to consider this weekly segment for entertainment purposes only. It would be a shame to waste your paycheck on a writer's ability (inability?) to guess the outcome of two teams of millennials hunkered over an oddly shaped football and all the quirky bounces it takes over a three-hour game.
Nonetheless, we'll give it the old college try again this week with 10 more compelling games from around the country, starting with those fumblin', bumblin' Tigers of Ol' Mizzou.
WEST VIRGINIA AT MISSOURI
Kickoff: 11 a.m., ESPN2
Line: Missouri by 14
Quick Hit: Fool me once. Shame on you. Fool me twice? The Tigers are big favorites again after falling flat on their faces at Wyoming. A couple fluky turnovers swung the game in Wyoming's favor, but this week's two-touchdown point spread is a Vegas vote of confidence the ball bounces the right way for the Tigers more often than not this time. West Virginia, with a new coach and a lot of young players, was lucky to slip by James Madison last week.
Here's guessing Mizzou salvages its season from spiraling, but not by two touchdowns.
And if not, at least there's beer at Memorial Stadium!
Matter's Pick: Missouri 28, West Virginia 24
NO. 12 TEXAS A&M AT NO. 1 CLEMSON
Kickoff: 2:30 p.m., ABC
Line: Clemson by 17
Quick Hit: Kelly Bryant — you know him, right? — led Clemson's comeback win in College Station last year. He's gone, but the national champs are still loaded on offense and led by Bryant's replacement, Trevor Lawrence. This could be a statement game for Jimbo Fisher and Texas A&M, but the Aggies don't have the horses to march into Death Valley and pull off the upset. The champs win comfortably.
Matter's Pick: Clemson 44, Texas A&M 21
NO. 6 LSU AT NO. 9 TEXAS
Kickoff: 6:30 p.m., ABC
Line: LSU by 6 ½
Quick Hit: Win this one and they're going to start calling Tom Herman "Big Game Tom." His  Longhorns are 8-2 as underdogs against the spread with five straight-up wins when picked to lose: against West Virginia and Missouri in 2017 and TCU, Oklahoma and Georgia in 2018. Two big reasons Herman might pull off another upset: One, he's got the better quarterback in the matchup in Sam Ehlinger. Two, LSU's remade offense is still unproven against legit competition. OK, cool. Hook 'Em.
Matter's Pick: Texas 27, LSU 24
CINCINNATI AT NO. 5 OHIO STATE
Kickoff: 11 a.m., ABC
Line: Ohio State by 16
Quick Hit: Another double-digit win season and Cincy's Luke Fickell will be the hottest Group of 5 coach on the market this offseason, especially if he can take down his former team in Columbus. Don't count on it. The Buckeyes have a Heisman Trophy candidate in Justin Fields and should go 2-0 — but not without a fight from their in-state neighbors.
Matter's Pick: Ohio State 37, Cincinnati 20
ARMY AT NO. 7 MICHIGAN
Kickoff: 11 a.m., FOX
Line: Michigan by 22
Quick Hit: Never bet against the U.S. Army — except in this case.  A year ago Army used its ball-hog ground game to take Oklahoma to overtime, but there's a big difference between the 2018 Sooners and the 2019 Wolverines: Michigan has a defense. As long as Shea Patterson and the UM offense doesn't play giveaway with the football, Army will have to put up points to keep pace with the Wolverines' new spread offense. Won't happen.
Matter's Pick: Michigan 38, Army 13
NO. 25 NEBRASKA AT COLORADO
Kickoff: 2:30 p.m., FOX
Line: Nebraska by 4
Quick Hit: Old Big Eight rivals meet again, a rematch of last year's wild game in Lincoln, where the Huskers led throughout until giving up the game-winning touchdown pass on the final play, spoiling Scott Frost's debut as the head Husker. Nebraska looked shaky in last week's win over Alabama. Correction: Make that South Alabama.
Matter's Pick: Colorado 34, Nebraska 31
ARKANSAS AT OLE MISS
Kickoff: 6:30 p.m., SEC Network
Line: Ole Miss by 6 ½
Quick Hit: It's never a good sign when you narrowly beat Portland State. That was true of the  Razorbacks last week. This might be the only SEC game either has a chance to win this season. Arkansas is winless in its last eight SEC openers. The Rebels make it nine.
Matter's Pick: Ole Miss 33, Arkansas 23
BYU AT TENNESSEE
Kickoff: 6 p.m., ESPN
Line: Tennessee by 4
Quick Hit: If last week's loss to Georgia State was rock bottom for the worst team in the SEC — yes, you're off the hook, Arkansas — then how bad will things get if the Vols lose at home (again) to BYU? Before last week the Vols had won 30 straight home games against teams from outside of the Power 5. Pile that streak on top of the big orange dumpster fire still cooking outside of Neyland Stadium. Then again, the Vols held a players' only meeting this week, so consider all problems solved.
Matter's Pick: BYU 27, Tennessee 23
VANDERBILT AT PURDUE
Kickoff: 11 a.m., SEC Network
Line: Purdue by 7
Quick Hit: Purdue gagged away last week's game against Nevada, now faces a Vandy team coming off a rough performance against Georgia. Something's gotta give. The Boilermakers are just 4-5 as home favorites against the spread under Jeff Brohm. The Commodores have three of the SEC's best offensive skill players but are iffy at quarterback.
Matter's Pick: Purdue 31, Vanderbilt 27
NO. 23 STANFORD AT USC
Kickoff: 9:30 p.m., ESPN
Line: USC by 1
Quick Hit: Both teams have injuries at quarterback. A Trojans win will cool the seat of Clay Helton, at least for another week. All things being equal, if this one comes down to coaching, put a check mark next to David Shaw.
Matter's Pick: Stanford 20, USC 17
LAST WEEK'S RESULTS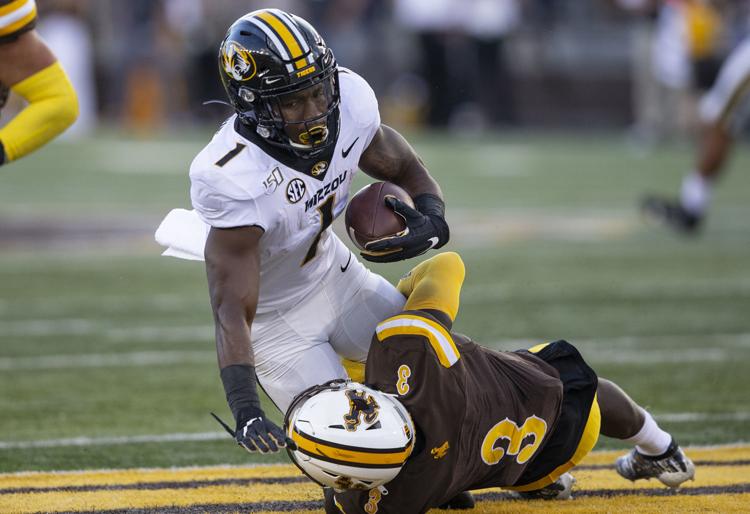 Matter's Mizzou pick: Tigers 34, Wyoming 14 (Mizzou favored by 18)
Mizzou outcome: Wyoming 37, Mizzou 31
---
All picks straight up: 6-4
Dave Matter vs. the spread: 3-7