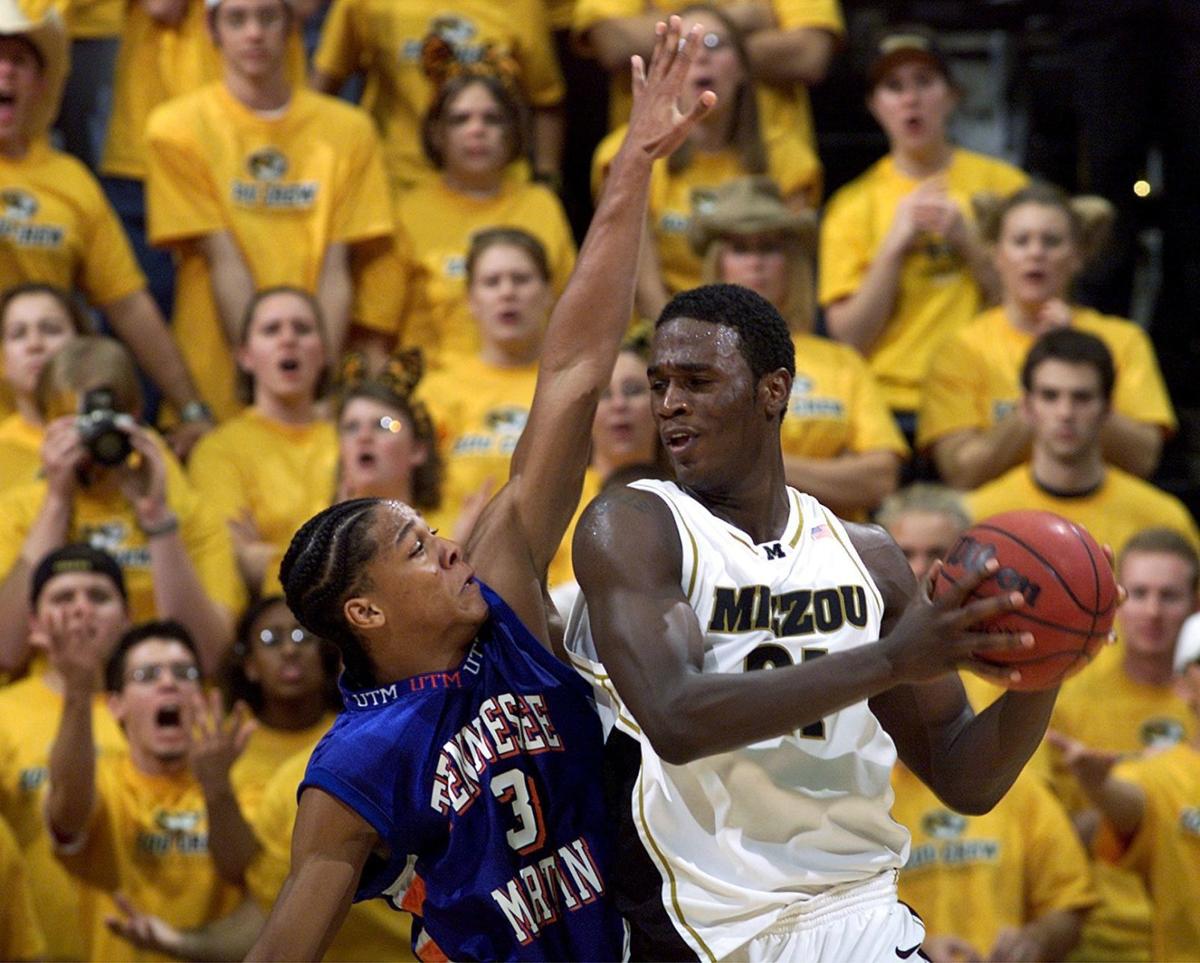 This is the latest in a series of stories highlighting the top 30 Mizzou athletes Dave Matter has covered in his time writing about the Tigers since the late 1990s. The series will run every day Monday through Friday.
Shortly after Mizzou hired a 32-year-old head coach, the basketball program's youth movement paid off with the kind of refreshing recruiting news that wasn't happening under Norm Stewart. Kareem Rush and his three straight state championships, his 31 points per game and his Mr. Show-Me Basketball title weren't coming to Columbia under the old guard. But he was the first official addition of the Quin Snyder regime in 1999.
"We feel," Snyder said at the time, "it's an excellent fit."
How does history look back on Rush's three years at Mizzou? Let's say fondly but measured. His game was brilliant at times but endlessly nit-picked for what it was not. But as time passes, Rush might not have gotten the appreciation he deserved.
Rush, the middle son of the Kansas City Rush brothers, was a preseason All-American heading into his junior year, but some of his production dipped that season. His shooting percentages fell off from the lofty standards he set as a sophomore. Fans (and media) always seemed to want more from Rush. Why couldn't he be more of a slasher? Why couldn't he become an elite defender? Why couldn't he show more emotion on the floor? 
As his scoring fell off that final year at Mizzou, Rush (finally) became a more complete player. Guess what happened? The Tigers started to win like they were expected at the season's start. 
Rush's game finally evolved inside the 3-point arc. He finally started to absorb contact late that season. A major headline was the busted lip he took in the first game of the NCAA Tournament. 
"Kareem is so gifted a scorer, he's got such a finesse game, that a lot of times he can avoid confrontation," Snyder said at the 2002 tourney in a Bernie Miklasz column that week in Albuquerque, N.M., where MU launched its improbable run to the Elite Eight. "And he's learning how to take confrontation on. And to me that's a mindset that gets him to the foul line more."
"He's also learning more than anything, the way to handle being a great player," Snyder added. "And how you can impact a game in a variety of ways. Not just as a jump shooter, but as a driver, a passer, a defender, or as a rebounder. Those are things he talked about earlier in the year, but I don't know that he really embraced them. I still think he got more enjoyment out of scoring. I think he's really grown as a player in seeing other aspects of the game."
If you reflect solely on Rush's strengths and not his shortcomings, he was one of the best in Mizzou history — especially in the post-Stewart generation. He was a shooter. He was a scorer. And damn good. Let us count the ways.
• Rush's best scoring average came his sophomore year when he led the Big 12 with 21.1 points per game. That's just outside of the top 10 Mizzou single-season scoring averages of all time. No Mizzou player has averaged 20 points per game since Rush's sophomore season.
• He's 12th on Mizzou's career scoring list with 1,584 but No. 1 among players who played only three seasons at MU — despite missing 16 games over his first two seasons, essentially half a season.
• Only three players in Mizzou history have a higher career scoring average than Rush's 18.9: Willie Smith (23.9), Derrick Chievous (19.9) and John Brown (19.7). That's it.
• Over a single season, only Clarence Gilbert made more 3-pointers than Rush's 111 in 2001-02. And it was in the same season.
• Rush ranks fifth in 3-point attempts and makes — behind only four-year players in both stats.
• In 84 career games, he finished with double-figure points 80 times. 80! He scored at least 20 points in 37 games and hit 30 in eight games. Only four Mizzou players had more 30-point games: The Smiths (Doug and Willie), Chievous and Anthony Peeler.
• He shot 42.2 percent from 3-point range over three seasons. Only four players in the history of the Big 12 Conference have shot better over the course of their careers. Only one Mizzou player with at least 50 attempts had a better career mark: Chievous at 45.5.
Rush's career wasn't over at Mizzou. He left school after his junior year and was widely projected to be Indiana's choice at No. 14 in the 2002 draft. Instead, he slipped to Toronto at No. 20. The Raptors packaged him in a deal to the three-time defending world champion Lakers. In three seasons with the Lakers — when the franchise was at the peak of Kobe-Shaq tension — Rush's highlight came in the 2004 playoffs as a sharpshooter off the bench. He shot 40 percent from 3-point range in the playoffs and poured in 18 points — all on 3s — in the deciding Game 6 victory over Minnesota in the Western Conference finals.
The next December, the Lakers shipped Rush to Charlotte for two second-round draft picks. He became a productive player for the Bobcats, averaging 10 points a game, but was waived after his second year.
"The Bobcats are about two things – hard work and maximum effort," coach and GM Bernie Bickerstaff said at the time. "With that in mind, we think that it is best to go in a different direction with Kareem."
In a recent SB Nation podcast, Rush said Bickerstaff "tried to make me look as bad as possible."
"They said I was a bad teammate," Rush said. "I don't know where that came from. It was never reported who said that."
"That stigma was like a black eye for me for a while," he added. "That shifted my entire work ethic. I was never going to be thought of as the guy who wasn't working hard or wasn't the proper teammate."
From there, Rush had stops with the Pacers and 76ers, then managed to make the Clippers roster in 2009. He was healthy and felt ready to contribute. Playing time was sporadic, but he broke through with nine points in 29 minutes off the bench at Oklahoma City. But then came the cruel ending to Rush's NBA career. I'd never heard this story until recently.
"My daughter had surgery in Columbia, Missouri a few hours away," he said on the podcast. "I took the next morning's flight to Columbia to be there for my daughter. I stayed in Columbia that night and called my agent and said, 'I'm not gonna make the (next) game.' We actually had a game in New Orleans a couple of nights later. He said, 'No, Kareem. They really want you to play.' So I said, 'Cool.' I had to make sure my daughter was fine but didn't want to kill the momentum of me finally breaking into the lineup. I wanted to keep this going. So I took two flights to get to New Orleans, land around 3 o'clock. I went right from the airport to the game, not expecting to play at all. I warm up, whatever, and in the first two minutes of the game (coach Mike Dunleavy) puts me in. I get up and down the court twice and, boom, snap my knee. And that was it."
Torn ACL. Rush never played another NBA game. He played some in the G League, the ABA and the Big3 3-on-3 league but his days of major professional basketball ended that night in New Orleans.
He's managed to find other ways to stay busy. Rush became an R&B singer and has produced multiple albums, his first titled, "The Rebirth of the Renaissance Man."
"I'm not a gimmick. I'm not out here playing," he told ESPN.com in 2010. "I take this as seriously as I take basketball. As much of a passion as I have for basketball, I have for music. So this is not a game to me. 'Oh, I'm an NBA guy with a bunch of money, so let me play this music thing.' This is an actual business. This is a career for me that I plan on having after I retire and sing for 20 years. This is my second career. So I take this very, very seriously."
Ever the entrepreneur, he's since launched a swanky clothing label, "The Gentleman Brand," designed a line of college-mascot inspired inflatable pool rafts called Water Warriorz, runs a Kansas City-based charity, The Rush Forward Foundation, and hosts an NBA podcast, "Bleav In Lakers." The kid who launched a new era of Mizzou basketball is hardly a kid anymore. He turns 40 in October.
Coming Friday: Mizzou's legacy on the edge 
Dave Matter brings you the latest updates from the Mizzou sports scene.