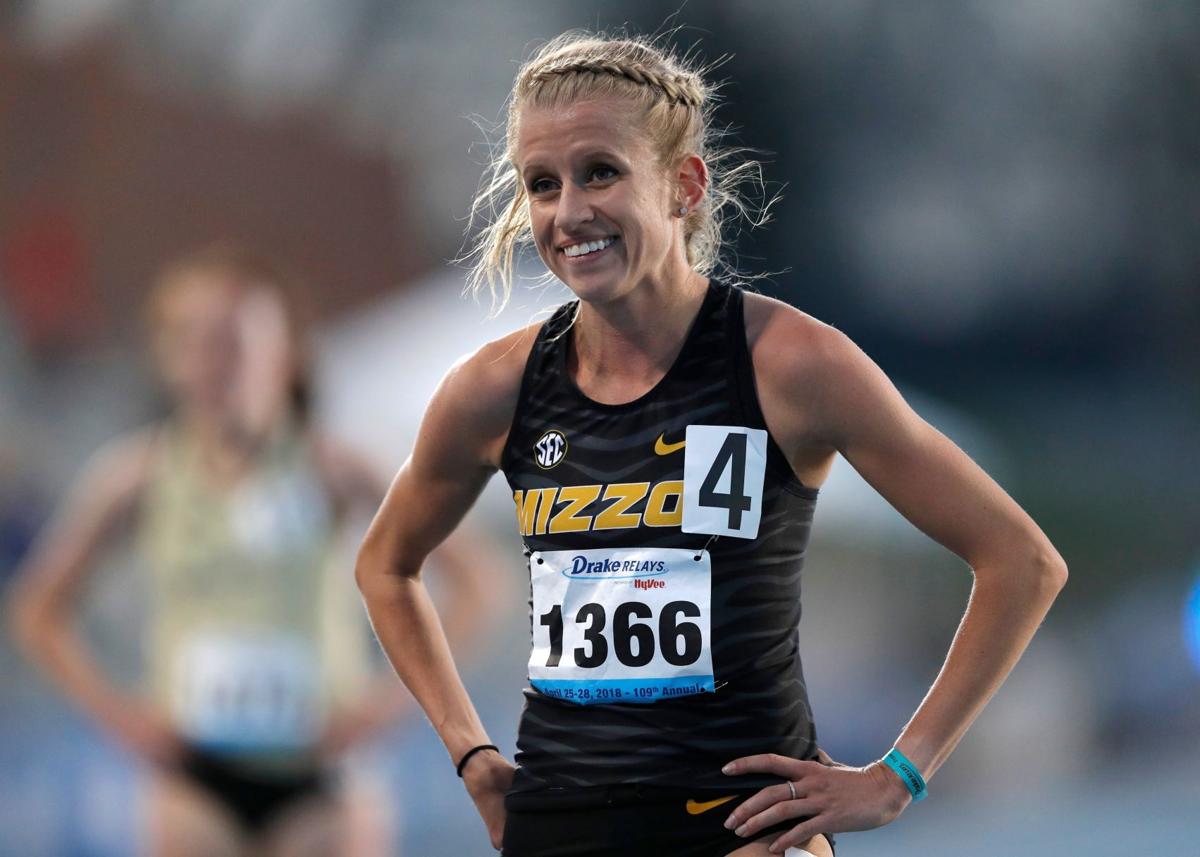 Karissa Schweizer came from a family of long-distance runners but never won a high school state championship in cross country. At Mizzou, she qualified for the 2014 NCAA cross country championships as a freshman — 154 runners crossed the finish line before her — but she didn't make much progress her sophomore year.
Then, during the 2016 outdoor track season, the moment came. That signal that maybe that 5-foot-4 frame carried something far bigger, far more unique than anyone expected.
That spring, at the Mt. SAC Relays in Walnut, California, Schweizer finished the 5,000-meter race in 15 minutes, 58 seconds. She was 12th across the finish line, third among collegiate racers.
"It was after that race," Mizzou coach Marc Burns said, "where I looked at her and she looked at me and she goes, 'I can do this. I belong in the front of every race.'"
For the next two years, the front became her home.
The next fall, the Mizzou cross country team opened its season at the University of Iowa, about two hours away from Schweizer's hometown of Urbandale, Iowa. Burns normally holds his top runners out of the season's first couple races. Schweizer's family had made the drive to watch Karissa run in her home state.
"I told her dad, 'Mike, you cannot fathom the level she's at. She's going to be a contender for the national title,'" Burns recalled. "He goes, 'Holy cow! OK, we can wait. We trust you.'"
Smart move. As predicted, Schweizer captured the national championship at the NCAA cross country championships two months later, the first of her six national titles during one of the most decorated careers for a Mizzou athlete on the nation's biggest stage. That was only the start.
The next spring, she'd win the 5,000 meters at both the NCAA indoor and outdoor championships, followed by three more NCAA titles her senior year in the indoor 3,000 and 5,000 and, finally, the outdoor 5,000 in the last race of her record-breaking collegiate career. Her six national championships are the most for any Mizzou athlete in any sport. Her 10 All-America finishes are tied for the school's all-time lead.
How did this tiny, soft-spoken, fuel-burning engine become the biggest star in college long-distance running? Genetics surely played its part, but more than anything, an insatiable competitiveness and tolerance for the most grueling workouts helped create a champion.
Schweizer's parents, Mike and Kathy, and paternal grandfather, Grandpa Frank, ran track in college at Minnesota State. Grandpa Frank coached Karissa's high school cross country team, and then her younger siblings, Ryan, a runner at Notre Dame, and Kelsey, a freshman runner at Mizzou.
In practice, Schweizer mesmerized coaches with her body's ability to recover not only from one day to the next but recover within a workout.
"Scientifically her ability to buffer lactic acid and stay in aerobic state longer than anyone else, I've never seen it before," Burns said. "That caught our eye pretty quick in training."
No designed workout was too difficult for the team's best runner — and most dedicated worker. "Just a laser focus," Burns said. "She can go to places other people aren't willing to go. Ultimately that's what's separates the good ones and the great ones."
Burns contends Schweizer's final collegiate race was the most impressive of her career. At the NCAA outdoor championships in Eugene, Oregon, Schweizer couldn't keep pace in the 10,000 meters and finished third. She was sick during the week and had two days to prepare for her signature event, the 5,000.
"She didn't want to go out without winning another championship," Burns said. "She did everything right, from A to Z on how to get to the end of the 10K to the finish line of the 5K. Strategy, rest, hydration, medicine, recovery, massage. She had to win that race differently than we planned. We knew because she was sick she couldn't run away from people."
Instead, she'd have to sit and kick: Stay with the pack and pull away late.
"I knew this was my last collegiate race and I wanted to leave it all out on the track," Schweizer said after the race. "My coach told me before this race to have one last gear in me. I kept thinking of that, especially coming down that home stretch. I honestly couldn't even feel my legs."
After her college career, Schweizer signed with the professional team Bowerman Track Club and has continued to shred seconds off her best times. Last fall, she finished ninth in the 5,000 at the IAFF World Championships in Qatar, clocking the fifth-best time ever by an American woman. This past February at Boston University, she set the indoor American record in the 3,000 meters.
She was primed to compete for a spot at this summer's Olympics in Tokyo but will have to wait for next year with the Tokyo Games pushed back because of the coronavirus pandemic.
Last week, Burns had Schweizer, 23, talk to his current Mizzou runners during a Zoom meeting about the disappointment of missing out on the Olympics. She put a positive spin on the circumstances.
"Her team is looking at it as an opportunity to be even more formidable. They'll have an even better chance of getting on the medal stand (in 2021)," Burns said. "That attitude is going to take her to new heights and a long way in the sport."
Matter's Best of Mizzou