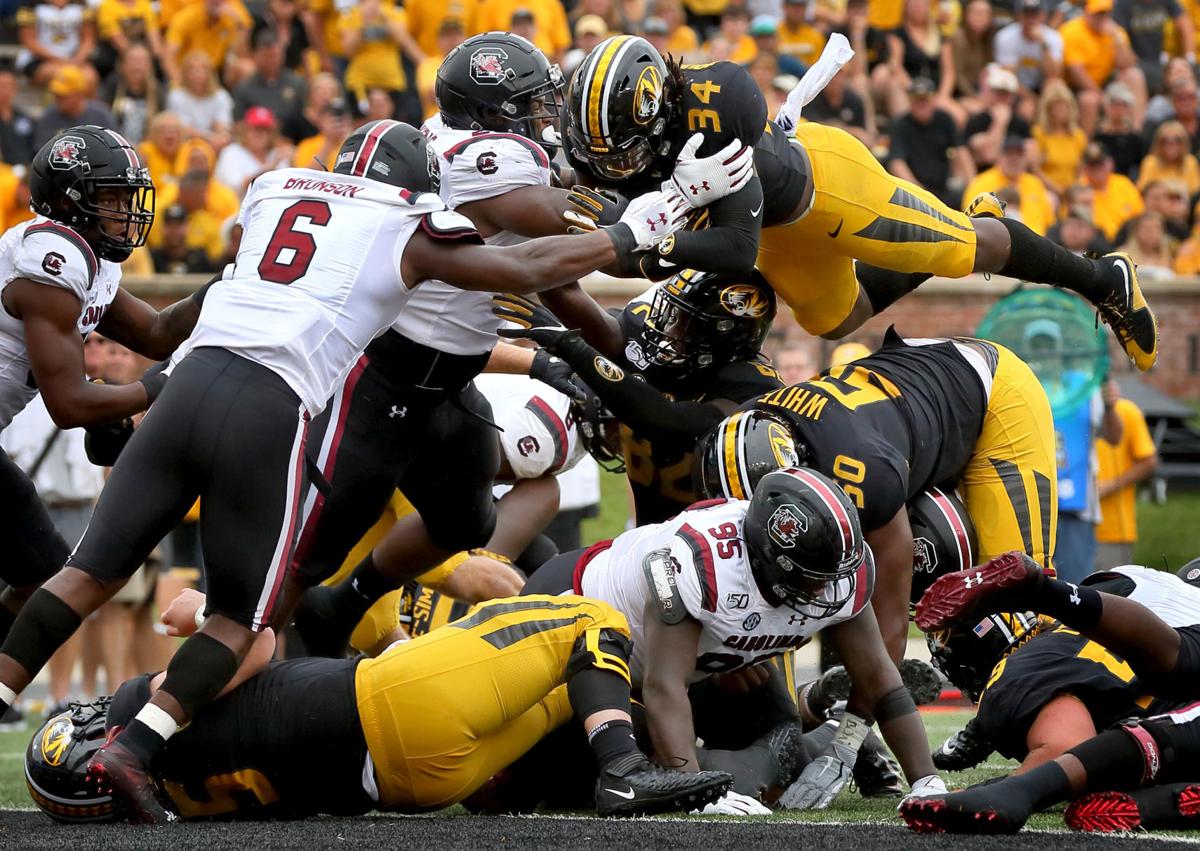 Keep your fingers crossed, but it's Friday and only one Southeastern Conference game has been postponed so far.
Otherwise, we've got some projected blowouts across the league on Saturday with three point spreads set at 25 points or more. Yes, style points could be on the line for playoff hopefuls — hello, Florida! — but beware of the enormous spread in SEC play.
Missouri at South Carolina
Kickoff: 6:30 p.m., SEC Network Alternate
Quick Hit: Let's get the important part out of the way: Will Missouri have enough players?
MU's roster is "right at 53" available scholarship players for Saturday's game for the Mayor's Cup, Tigers coach Eli Drinkwitz said Thursday during his radio show. Under COVID-19 protocols, the Southeastern Conference roster threshold is 53, though teams can choose to play games if they have fewer scholarship players available.
The Tigers underwent another COVID-19 test on Thursday, the results of which Drinkwitz should have received Friday morning.
Friday afternoon Mizzou's traveling party indeed boarded a plane for South Carolina as the Tigers are prepared to play the game even if the roster number slips below 53. Pending Thursday's test results, the Tigers were not at a serious risk of falling below the SEC requirement for quarterbacks (one), offensive linemen (seven) or defensive linemen (four), the team confirmed.
Mizzou, favorites for the first time this season, dropped from 54 players on Wednesday to 53 on Thursday because one player was downgraded from questionable to unavailable. Drinkwitz did not identify the player.
Two injured starters along the offensive line, right tackle Larry Borom (knee) and left guard Xavier Delgado (ankle surgery), will make the trip but will only be available in an emergency situation, Drinkwitz said. The same goes for nose tackle Kobie Whiteside (knee), who hasn't played since the season's second game at Tennessee on Oct. 3.
As for Saturday's game, South Carolina's already lousy pass defense will be without three starters in the secondary, including standout cornerback Jaycee Horn. If the Tigers can avoid the execution lapses they suffered in road losses to Tennessee and Florida —dropped passes on offense, missed tackles on defense — Connor Bazelak should have a productive night throwing against the Gamecocks and Ryan Walters' defense should limit the damage from a strong USC running game.
Matter's Pick: Missouri 38, South Carolina 31
---
LSU at Arkansas
Kickoff: 11 a.m., SEC Network
Quick Hit: The Razorbacks had covered the spread eight games in a row dating back to last season but the streak ended at Florida, where Kyle Trask's Heisman campaign caught fire and the Gators engulfed Barry Odom's defense in a 63-35 bloodbath. The Hogs get their head coach back this week — Sam Pittman is out of COVID-19 isolation —just in time to face an LSU team fresh off consecutive bye weeks thanks to its own COVID outbreak. The Tigers are having a rough 2020 on and off the field with problems that aren't going away anytime soon, namely USA Today's scathing report on the school's failure to address sexual assault complaints against football players. Bad look, LSU. On the field, the Tigers are a mess, plagued by injuries and inexperience. Here's a hunch the Hogs rally behind Pittman's return.
Matter's Pick: Arkansas 31, LSU 27
---
No. 6 Florida at Vanderbilt
Quick Hit: Since 2002, way back when Ron Zook still ran the Gators, Florida is 0-2 against the spread in SEC games as a four-touchdown favorite. This is the largest spread for a Florida conference game since 2009, Tim Tebow's senior season. The Gators are incredibly explosive with weapons galore … but those are a lot of points. Vandy is one of the worst Power Five teams in the country, but the Commodores are 3-3 against the spread with the average margin of defeat in the three covers at 5 points.
Matter's Pick: Florida 45, Vanderbilt 17
---
Kentucky at No. 1 Alabama
Quick Hit: Pick the Crimson Tide at your own risk. Kentucky's defense specializes in preventing the big play and forces opponents to methodically move down the field. Bama is built for explosion, but has the offensive line and playmakers to move the chains at any tempo. Still, that's a big spread. Since 2014, Alabama is 7-6 against the spread in SEC games as a 28-point favorite or more. The Cats can't keep pace but might control the pace for stretches. 
Matter's Pick: Alabama 45, Kentucky 13
---
Tennessee at No. 23 Auburn
Quick Hit: Can the Vols do anything right? First, they hand already-a-multimillionaire-coach Jeremy Pruitt a contract extension — in the middle of a pandemic! — and then promptly snap their eight-game winning streak with four straight losses. Then we discover, thanks to diligent reporting by the Knoxville News Sentinel, that eight of Pruitt's six- and seven-figure assistant coaches declined to take pay cuts to help offset losses in the UT athletics department — in the middle of a pandemic! Then, according to another News Sentinel scoop, it turns out Tennessee quietly gave athletics director Phil Fulmer a two-year extension back in May while increasing his retention bonus by $50,000 — in the middle of a pandemic! (Fulmer announced Friday that he tested positive for COVID-19. Here's hoping he has a swift recovery.) On the field, the Vols have to win out to secure a winning record. With no clear offensive identity in sight, that's an extreme longshot, especially with Auburn figuring things out in recent weeks.
Matter's Pick: Auburn 34, Tennessee 17
---
Mississippi State at No. 13 Georgia
Kickoff: 6:30 p.m., SEC Network
Quick Hit: Is it time for the J.T. Daniels Show in Athens? The former ballyhooed five-star recruit at Southern California could become UGA's third starting quarterback this year, none of whom were expected to run the offense this fall. (That would be graduate transfer Jamie Newman, who opted out before the season kicked off.) The Bulldogs are still alive for the SEC East race but just 2-6 against the spread as 25-point favorites in SEC games under Kirby Smart. Does UGA have the firepower to win by that many? Georgia's margins of victory this year: 27, 21, 23, 11.
Matter's Pick: Georgia 34, Mississippi State 10
---
No. 9 Indiana at No. 3 Ohio State
Quick Hit: The Hoosiers, one of the best stories of the season, haven't beaten Ohio State since 1988 — but they're 7-3 against the spread in the last 10 meetings. Indiana doesn't have the offensive horsepower to keep this one close against an Ohio State team coming off an unscheduled bye week. Unless the Buckeyes come out flat, they'll control this one early and often.
Matter's Pick: Ohio State 38, Indiana 17
---
No. 10 Wisconsin at No. 19 Northwestern
Quick Hit: The two best defensive teams in the Big Ten square off with division stakes on the line. Don't overlook the Wildcats. They force turnovers and don't allow big plays or third-down conversions. Pat Fitzgerald's team embraces winning ugly, and as long as the Cats get enough possessions — Wisconsin leads the nation in time of possession —an upset is possible.
Matter's Pick: Northwestern 20, Wisconsin 17
---
Last week: 3-2 against the spread; 5-0 straight up
Season: 23-24-1 against the spread; 36-12 straight up
Dave Matter brings you the latest updates from the Mizzou sports scene.