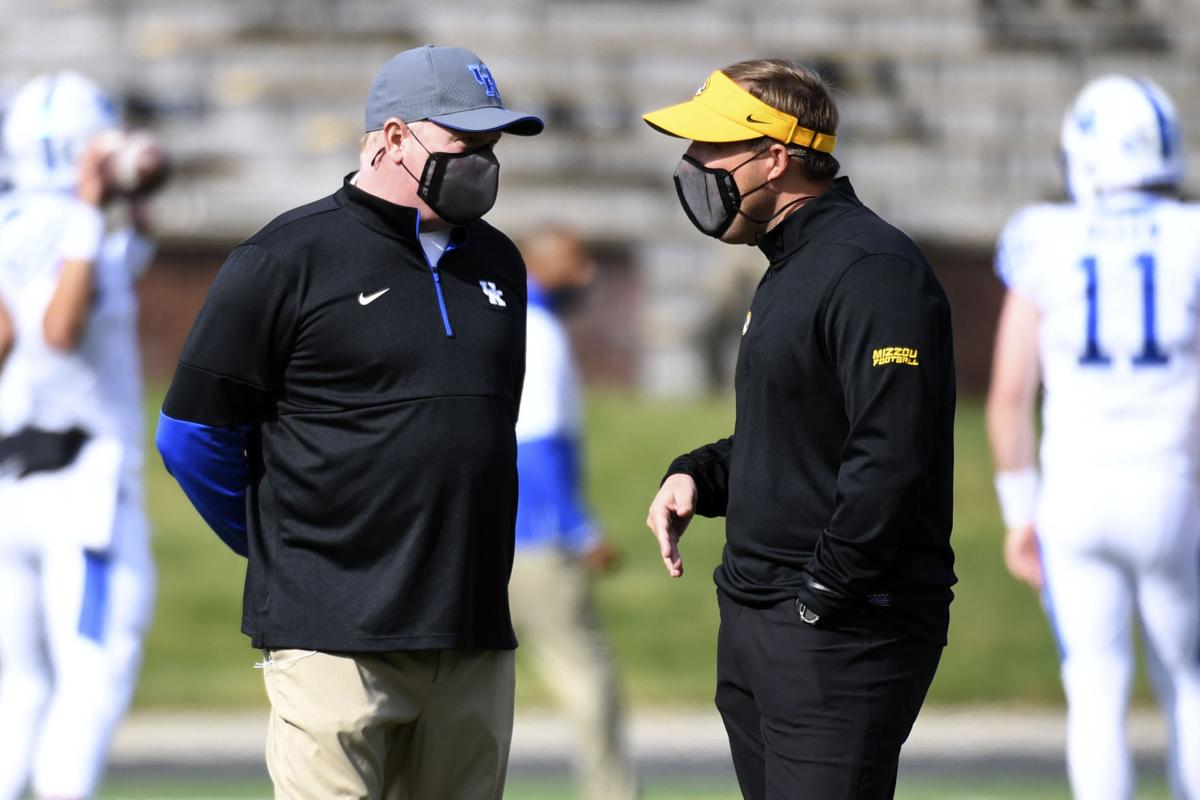 COLUMBIA, Mo. — It was a solid first week of football for the Southeastern Conference, unless your name is Ed Orgeron or you bought cheap stock in the new Vanderbilt regime. Otherwise, the rest of the league got through Week 1 unscathed, though some needed closer calls than others. We're looking at you, Starkville.
We've got a couple new features for the weekly picks. First, no more FCS games. We'll make an exception next week when Mizzou hosts SEMO, but with apologies to Auburn-Alabama State, Alabama-Mercer, LSU-McNeese State and Austin Peay-Ole Miss, we're going to pretend these blood donor games aren't happening for our purposes. We wish Power 5 teams would stop scheduling these games altogether, but that's an argument for another day.
Two, we'll kick off each picks segment with the STLtoday SEC Power Rankings, based each week on the state of the conference and each team's body of work:
1. Alabama (1-0) … Miami never had a chance.
2. Georgia (1-0) … Does Hines Ward have any eligibility?
3. Texas A&M (1-0) … Three INTs for Haynes King in opener.
4. Ole Miss (1-0) … Uh oh, Lane Kiffin has a defense.
5. Florida (1-0) … Are Gators playing the right QB?
6. Kentucky (1-0) … UK's remodeled offense looks sharp.
7. Auburn (1-0) … Tigers put up 60 in Harsin's debut.
8. Missouri (1-0) … See what happens when Badie gets the ball?
9. Tennessee (1-0) … Promising debut for QB Joe Milton.
10. Arkansas (1-0) … Sluggish start, better finish vs. Rice.
11. South Carolina (1-0) … Beamer Ball 2.0 is here.
12. Mississippi State (1-0) … Pirate ship nearly sank vs. La Tech.
13. LSU (0-1) … Tigers got pushed around at UCLA. No misprint.
14. Vanderbilt (0-1) … Brutal debut for Clark Lea.
On that note, lets' get to the weekend's games, starting with ….
Missouri (1-0) at Kentucky (1-0)
Series: Kentucky leads, 7-4
Kickoff: 6:30 p.m., SEC Network
Matter's Pick: The first SEC showdown of the season is a good one, maybe the nation's best matchup of unranked teams. Until proven otherwise, we'll call this the SEC East third-place game: The winner is best positioned to challenge Georgia and Florida while the loser stays muddling in the division's middle class. For the Wildcats, it's a revenge game. They're still peeved at last year's outcome in Columbia. For the Tigers, it's a chance to win as a road underdog for the first time under Eli Drinkwitz — and the first time overall since 2018. As for the matchup, it's a clash between two first-year coordinators hired from the NFL: UK's offensive play-caller Liam Coen vs. Mizzou defensive boss Steve Wilks. Coen's NFL team — they wear horns on their helmet, owned by the mustachioed Wal-Mart guy — was 3-0 against Wilks' Cardinals (2018) and Browns (2019), but the chess match continues Saturday at Kroger Field.
Who knows if UK's offensive success against Louisiana-Monroe was fool's gold, but we do know the Cats want to stretch the field vertically. Expect more passes on first and second down than UK has tried in years. The Tigers have no shot if they can't block and tackle better than last week's effort against Central Michigan. Both teams have impressive offensive playmakers, but, excuse the cliché, this is a line of scrimmage game. For now, the Cats are better in the trenches. Kentucky 27, Missouri 20 
---
South Carolina (1-0) at East Carolina (0-1) 
Series: South Carolina leads, 14-5
Line: South Carolina by 1 ½
Matter's Pick: Everything came easy for the Gamecocks in last week's FCS mismatch, but this week will tell us more about USC's readiness to compete in the SEC. East Carolina is no pushover at home, but Shane Beamer's boys find a way, no matter who's at QB. South Carolina 27, East Carolina 24
---
Pittsburgh (1-0) at Tennessee (1-0)
Series: Pittsburgh leads, 2-0
Matter's Pick: Tennessee opened the Josh Heupel era with a 32-point win over Bowling Green, but there were some red flags for the offense: three turnovers and three sacks allowed. The Vols, a home underdog for the 10th time since 2018, will surely face more resistance against Pitt's defense in this Johnny Majors Showdown. (The Vols are 3-7 in those 10 games as a home dog and 4-6 against the spread.) The Panthers have covered the spread four of their last five games. Let's make it five of six. Tennessee isn't ready to beat a quality opponent, even at home. Pittsburgh 34, Tennessee 30
---
Florida (1-0) at South Florida (0-1)
Series:  Florida leads, 1-0
Matter's Pick: Give the Gators credit for playing at a Group of 5 in-state opponent. But these aren't your Jim Leavitt Bulls of the mid 2000s. South Florida, which plays in Tampa, not exactly South Florida, has dropped nine straight games. Make it 10 — and by a lot. Florida 41, South Florida 10
---
UAB (1-0) at Georgia (1-0)
Series: Georgia leads, 2-0
Kickoff: 2:30 p.m., ESPN2
Matter's Pick: The Bulldogs have a QB but not much of an offense, and it probably won't matter until the SEC championship game as long as their defense outscores their opponent, like last week against Clemson. Expect Bill Clark to have his team well prepared. The Blazers don't have enough to win but are good enough to cover. Georgia 24, UAB 6
---
Texas A&M (1-0) vs. Colorado (1-0)
Series: Colorado leads, 6-3
Kickoff: 2:30 p.m., Fox Sports
Matter's Pick: A couple former Big 12 peers reunite in Boulder in a game the Aggies should control from the start. But there were two alarming numbers from A&M's 31-point win over Kent State: The Aggies gave up 226 rushing yards and turned the ball over five times. Texas A&M 38, Colorado 20
---
Texas (1-0) at Arkansas (1-0)
Series: Texas leads, 56-22
Huge test for the Sons of Sam (Pittman). Fayetteville should be bonkers as they greet their old Southwest Conference rivals and future SEC pals. Texas was far more impressive last week, and Barry Odom's defense could struggle with Horns running back Bijan Robinson. Texas 34, Arkansas 24
---
North Carolina State (1-0) at Mississippi State (1-0)
Line: North Carolina State by 2 ½
Matter's Pick: Nice comeback by the Bulldogs last week but unimpressive opener all-around for Mike Leach's sophomore campaign. MSU hasn't won as a home dog since a 2018 upset of Auburn and is 1-5 against the spread in its last six home games. Until proven otherwise, N.C. State is the more complete team at this point. N.C. State 31, Mississippi State 27
---
Vanderbilt (0-1) at Colorado State (1-0)
Line: Colorado State by 7
Kickoff: 9 p.m., CBS Sports Network
Matter's Pick: What a flop by Lea's Commodores in his debut, a 23-3 loss to East Tennessee State. Is Vandy's state of destitute reaching Kansas levels? The Dores have lost 11 straight games and haven't beaten a Power 5 team since … gulp, Mizzou in 2019. CSU is hardly a Group of 5 powerhouse but it won't have to be Saturday. Colorado State 20, Vanderbilt 7 
---
Outside the SEC
Iowa at Iowa State (-4 ½): The Hawkeyes are hot and own a five-game winning streak in the Cy-Hawk series. Iowa State looked shaky last week — that's usually the case against Northern Iowa — but the Cyclones have zero shot at the playoffs if they drop this one. They'll win but won't cover. Iowa State 20, Iowa 17 
Oregon at Ohio State (-14 ½): Other than UCLA, sell your Pac-12 stock now. We're putting the Ducks on fraud alert! Buckeyes roll, bigly. Ohio State 44, Oregon 17
Washington at Michigan (-6 ½): This looked like a good matchup on paper, until you remember the Huskies just lost to Montana. Wolverines roll, bigly. Michigan 37, Washington 7
Illinois at Virginia (-10): The Bret Bielema balloon party couldn't survive a visit from UTSA. Virginia 34, Illinois 17
---
Last week's picks