KNOXVILLE, Tenn. — For the first time since the pandemic got serious seven months ago, I left Missouri this past weekend, returning to the last state I visited on work duties way back in March.
By my count this was my seventh trip to Knoxville to cover a Mizzou-Tennessee game but the first by car. The 600-mile drive is longer than I'd normally make, but if I can avoid air travel this fall, I'll gladly gas up a rental car and hit the road.
With a mix of podcasts in the queue and a backlog of Howard Stern interviews — the latest chat with Chris Rock is fascinating — I pulled out of Columbia at 8 a.m. Friday and headed to Rocky Top.
I'll share a few tales from the road this season …
• First stop, gas up in New Baden, Illinois. Some quick Internet research tells me New Baden is actually a village. 
Just as I'm filling up, a man refilling the windshield cleaner basins startles me from behind. "Hey, did you hear Trump's got the COVID?" He was very excited to share the news. Yes, I told him. I had indeed heard the news.
Mr. Windshield Cleaner cackled manically. "He should have been wearing a mask!" he says  — while not wearing a mask. 
• Road tripping through rural Kentucky during a pandemic has its drawbacks. Here's one: If I don't drink enough coffee in the morning the caffeine headaches come on around lunchtime. I needed some coffee. Turns out, my only options were a couple run-down gas stations — no thanks — and fast food restaurants. I spot a McDonald's. Their coffee is adequate enough. The drive-thru is 12 cars deep. Negative, ghost rider. That pattern is full.
So I mask up and head inside. One problem: You can't order food inside this particular McDonald's. The "dining room" is closed. Instead, I have to go back to my car, download the McDonald's app on my phone, sign up for an online McDonald's account, enter my credit card information and order and pay for my $2.19 coffee through the app. Then I'm allowed to walk back inside where the guy working the fryer sees a coffee order on his monitor, wanders over to the coffee pot, pours a large cup and hands it to me. But I couldn't order and pay in person. This year gets stranger by the week.
• No matter the time of the day, it's always rush hour in Nashville. It's like the country music puts drivers in a trance and the highways creep to a halt.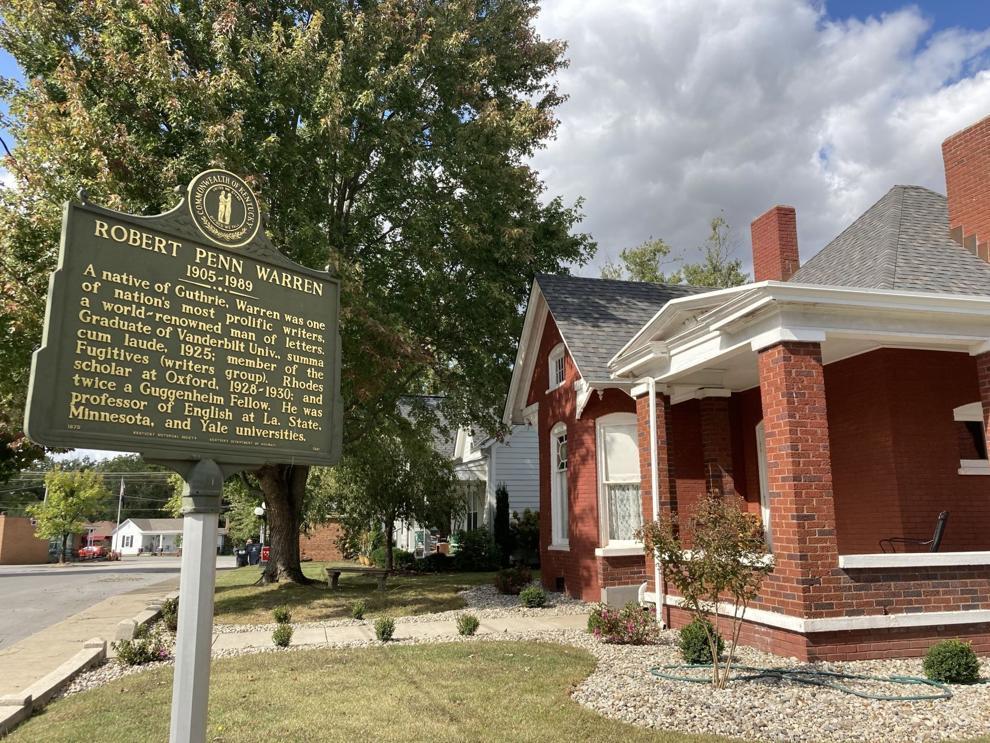 • Ever pass a highway sign for an attraction and always wonder if it's worth stopping? I've driven from Columbia to Tennessee countless times these last nine years and I'm always tempted to stop at the Robert Penn Warren Birthplace Museum, which sits just along the Kentucky-Tennessee border in a town called Guthrie. I'm making good time, so … why not?  
The website tells me the museum is open Tuesdays through Fridays. Perfect. I started reading "All the King's Men" a few years ago but never finished it. The Pulitzer Prize-winning author's home includes a gift shop where you can buy copies of his books. This sounds like a swell idea. It's only a few miles off the highway. Let's check it out.
I find the house. There's a plaque in the front yard. The street looks all but abandoned other than political signs dotting every other front yard.  There's a sign on the front door. I step onto the porch for a closer look: CLOSED.
• The presidential election billboards in the South are ... interesting. Let's leave it at that. 
• One downside to traveling through SEC country during a pandemic might be missing out on the dining scene. Calhoun's On The River is a staple in Knoxville, known for its hulking plates of barbecue. The original location is much closer to my hotel and I'm feeling like wings, so takeout dinner is an order of their original sweet and spicy.
On a scale of 1 to CJ's, I give Calhoun's wings a 7. Good size. Good texture. Good sauce. Calhoun's scores extra points for the name of its signature sweet and spicy flavor: Thunder Road. (I'm not sure it's a Springsteen thing, but you can't convince me otherwise.)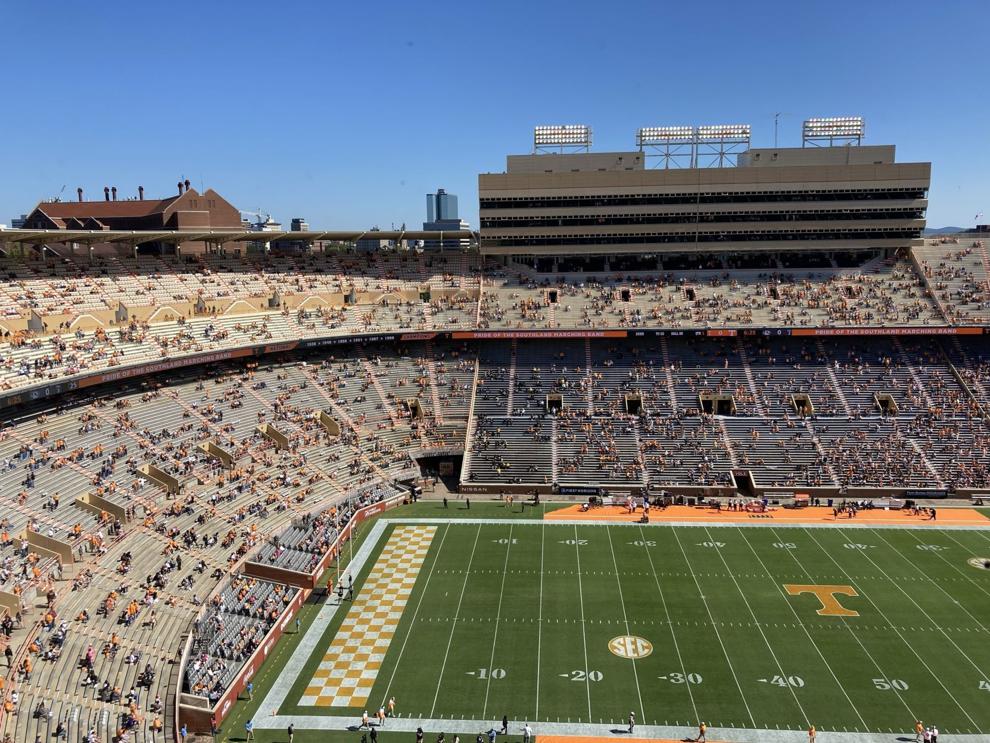 • Neyland Stadium is one of those monstrous college football stadiums that every fan should visit at least once. But this is not the season to get the full Sea of Orange experience. More than 21,000 were in the house Saturday, but a stadium that big feels almost empty when nearly 80,000 seats are unoccupied. 
• This was Tennessee's first home game of COVID-19 season. Media seating was limited in the socially distanced press box, but credit to the UT staff for running a smooth operation. Visiting reporters were required to fill out a health questionnaire before arriving at the stadium. Then, before I could park at the stadium, UT nurses conducted a drive-up temperature check. (I passed.) Once cleared, I could park just across the street from Neyland and proceed to the press box for a day's work.
Postgame interviews were through Zoom, and there was no on-field access for print reporters. That's part of the new normal that hopefully gets left behind in 2020.
• Let me paint the scene of what waited for me at my Knoxville hotel after Saturday's game. (A nice, fairly new hotel on the west side of town, by the way.) After grabbing another takeout dinner, I head to the elevator to retire for the night, only there's a problem. A young family just discovered a disturbing scene in the elevator: A man who looks to be in his early 20s is passed out cold, lying on the elevator floor. The family reports the scene to the woman working the front desk. The man not only isn't wearing a mask, but he's covered in what appears to be vomit, presumably his own.
"Oh, he's just drunk," the front desk woman informs us, far more tolerant of the scene than I would have expected — in a pandemic, no less. She heads to the elevator and tells him to stand up. He staggers to his feet and looks like he might regurgitate whatever's left in his system. Front desk woman reaches into the elevator and pushes 4.
That also happens to be my floor. Lovely.
I quickly find the stairs and sprint to the fourth floor, hoping to reach my room before our over-served friend exits the elevator. Too late. As I turn down the hallway toward my room, he has already assumed the position, again passed out like a corpse, lying on his back, his shirt and jeans covered in God knows what. He appears comfortable. I don't get too close, but it's clear by his moans that he's breathing. Fortunately he's not directly in front of my room. Under normal circumstances I'd ask if he's OK, but last I checked we're still in a pandemic.
Sunday morning, I leave the hotel before dawn to begin the 600-mile drive home. No sign of the guy in the hallway. Just to be safe, I take the stairs.