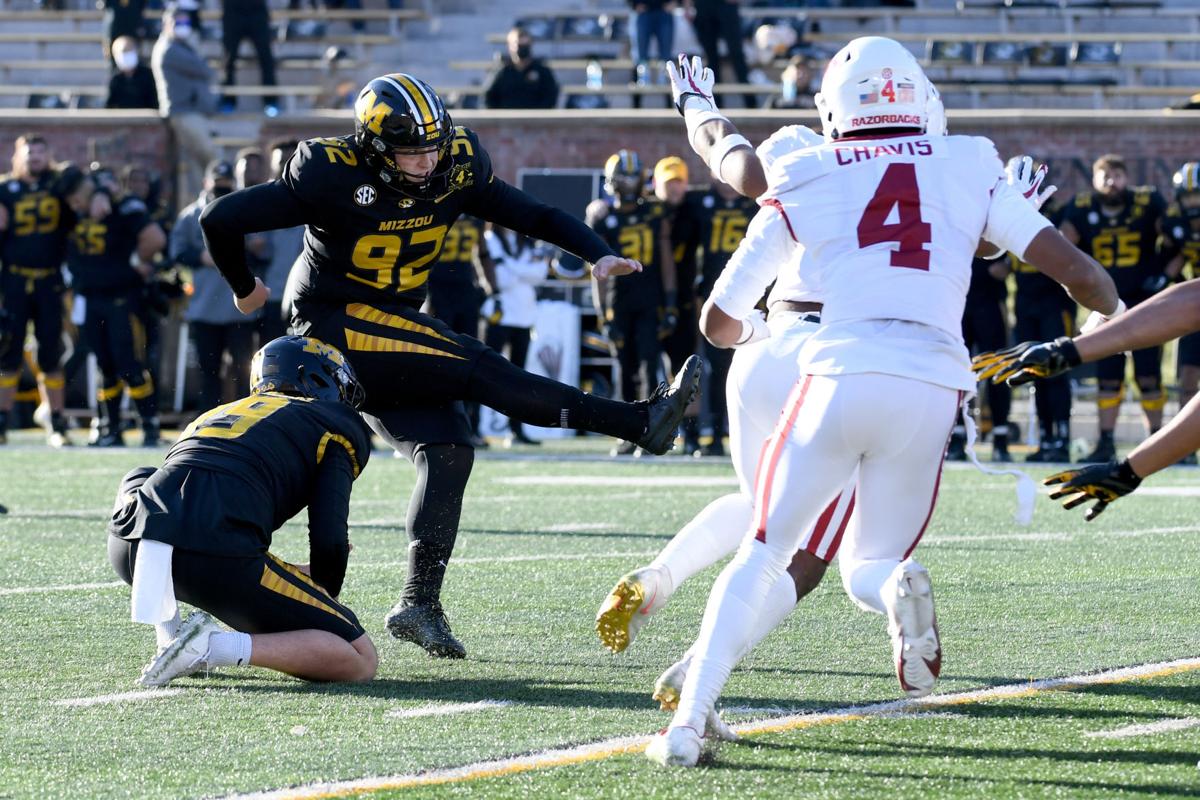 COLUMBIA, Mo. — Inside Missouri kicker Harrison Mevis' Columbia home, the place is in order.
The bathrooms are clean, the beds are made and nothing is out of place. When Tina and Tracy Mevis visited their youngest of two sons earlier this year, they said it was a pretty stark difference from what they were expecting from their college sophomore.
"When you go there, his house is immaculate," Tina Mevis said. "His house is perfect, pretty much perfect."
It's that same organization and focus that Mevis has with every kick on the football field. The second-year starting kicker for Missouri has yet to miss an extra point and has made 13 consecutive field goals dating to last year. He's just about the only surehanded piece on a Missouri football team that is 2-2.
He nearly saved the Tigers after drilling a career-long 56-yard field goal as time expired against Boston College on Saturday to send the game into overtime.
"I just wanted to give my team an opportunity to go win the game," said Mevis, who snuck the ball just above the crossbar and inside the right upright. "That's all I was focused on. I just wanted to win."
But the Tigers fell 41-34.
Growing up in Warsaw, Indiana, the Mevis boys, Andrew and Harrison, played competitive soccer. During the hour-and-a-half drive to Indianapolis for soccer practice, Harrison was quiet in the backseat studying goalkeepers. He was fascinated by their stats and watched videos of penalty kicks.
"You'd take his phone and look at the history because as a parent you're wondering what were you doing all this time? It was one thing after another," his father, Tracy Mevis said.
The boys always had a ball at their feet, and after seeing his older brother of 3½ years have success as a kicker, Harrison decided to take a crack at it, too.
"Harrison can do a lot of stuff well," Tina said. "It drives his brother crazy. Harrison is really good at pingpong. He's really good at archery. He just has that natural ability."
Andrew now kicks for Iowa State after spending the first part of his college career at Fordham. It's difficult for Tina, who always tries to be at every sporting event for both her boys. But she's not complaining and watched Andrew kick against Northern Iowa from her phone in the stands of Memorial Stadium.
"It's a really good problem to have," she said. "We're so very blessed and fortunate."
The boys practiced together in their hometown and the parents would videotape them. If the temperature was above 20 degrees, they were kicking, and according to the parents, Harrison was the trash talker.
But even as he was trash talking, he was locked in. After drilling a 53-yarder against Central Michigan before halftime in the team's season opener this year, he told reporters that he found veteran punter and holder Grant McKinniss. When the Missouri offense crosses midfield, McKinniss eyes Mevis and they go through their mental preparations together.
"I think he's just extremely focused," McKinniss said. "When I'm going on the field and I look back at him when I'm about to hold, it's like he's looking through me. The dude is so locked in and I think that helps him in a very good way."
Central Michigan even tried to ice him by calling timeout. But that didn't work.
"I knew I was going to make it," Mevis said. "I was pretty confident. Especially after they iced me, that was kinda a dumb move. I don't know what they did there."
The "Thicker Kicker," a nickname given to the 5-foot-11, 236 pounder after he emerged onto the college football scene last year, said that he became even more explosive with his hips in the weight room. It's since helped him on kickoffs, although that starting role was won by senior Sean Koetting.
Tina Mevis nearly laughs when she tries to describe his level of focus and dedication to improve at kicking. It's not something she sees in everything he does.
"When it's his passion, he's all in," she said.