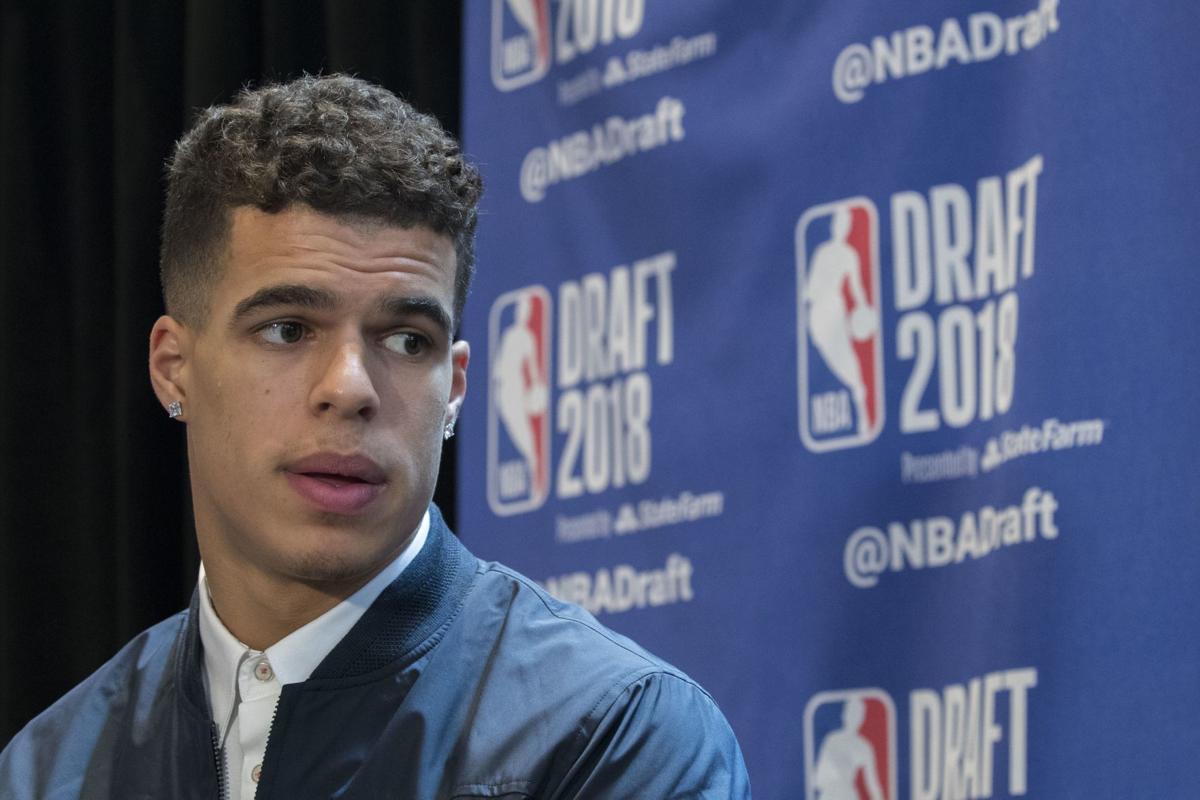 Denver Nuggets rookie and former University of Missouri player Michael Porter Jr. turned heads with a 19-point outburst in 20 minutes of action Monday in the NBA bubble.
On Tuesday he went viral for a very different reason.
During a Snapchat Q&A session on his verified social media account, Porter dabbled in a wild conspiracy theory more suited for a segment on InfoWars. Porter, 22, said the coronavirus is "being used for population control" to "control the masses."
"Personally, I think the coronavirus is being used obviously for a bigger agenda," Porter said. "It's being used for population control in just terms of being able to control the masses of people. Because of the virus, the whole world is being controlled. I mean, you're required to wear masks. And who knows what will happen when this vaccine comes out? You might have to have the vaccine in order to travel. That'd be crazy."
"I've never been vaccinated in my life," he continued. "I've never had any shots or anything like that. It could get crazy. It's definitely an agenda behind everything that's going on right now. All you can do is sit back and watch what's going on, don't get too emotionally involved. It is a serious thing. It's a real thing, but yes, it's being overblown."
Porter would have been required to be vaccinated as a student at Mizzou during his one year on campus in 2017-18 unless he received a medical or religious exemption.
Porter just recently reported to the NBA bubble in Orlando, Fla., weeks after his teammates for an undisclosed reason. In his first appearance with the Nuggets, he put his scoring skills on display in Monday's scrimmage against the Orlando Magic with 19 points off the bench. After the scrimmage, he told reporters he'd been playing 5-on-5 with friends in Missouri during the NBA shutdown and said they "really weren't paying the virus too much attention early on," the Denver Post reported.
Porter's comments Tuesday could provoke some backlash in NBA circles. What would Minnesota Timberwolves All-Star forward Karl-Anthony Towns have to say about his COVID-19 conspiracy theory? Towns' mother, Jacqueline Cruz-Towns, died in April after contracting the virus. She was 58.
Or former Mizzou teammate Jeremiah Tilmon? Tilmon's grandmother, Darlene Tilmon of Fairview Heights, Ill., suffered from the virus and died in June. She was 64.
This wouldn't be the first time Porter has generated controversy on social media this year. Two days after George Floyd was killed in Minneapolis, Porter tweeted prayers for the police officers who have since been charged in his death. "As much as you pray for George family, gotta also pray for the police officer(s) who were involved in this evil. As hard as it is, pray for them instead of hate them ... Pray that God changes their hearts."
It wasn't so much the sentiment but the timing that drew criticism from his NBA peers, including tweets from players Lou Williams and Maurice Harkless and former player Stephen Jackson.
Dave Matter brings you the latest updates from the Mizzou sports scene.