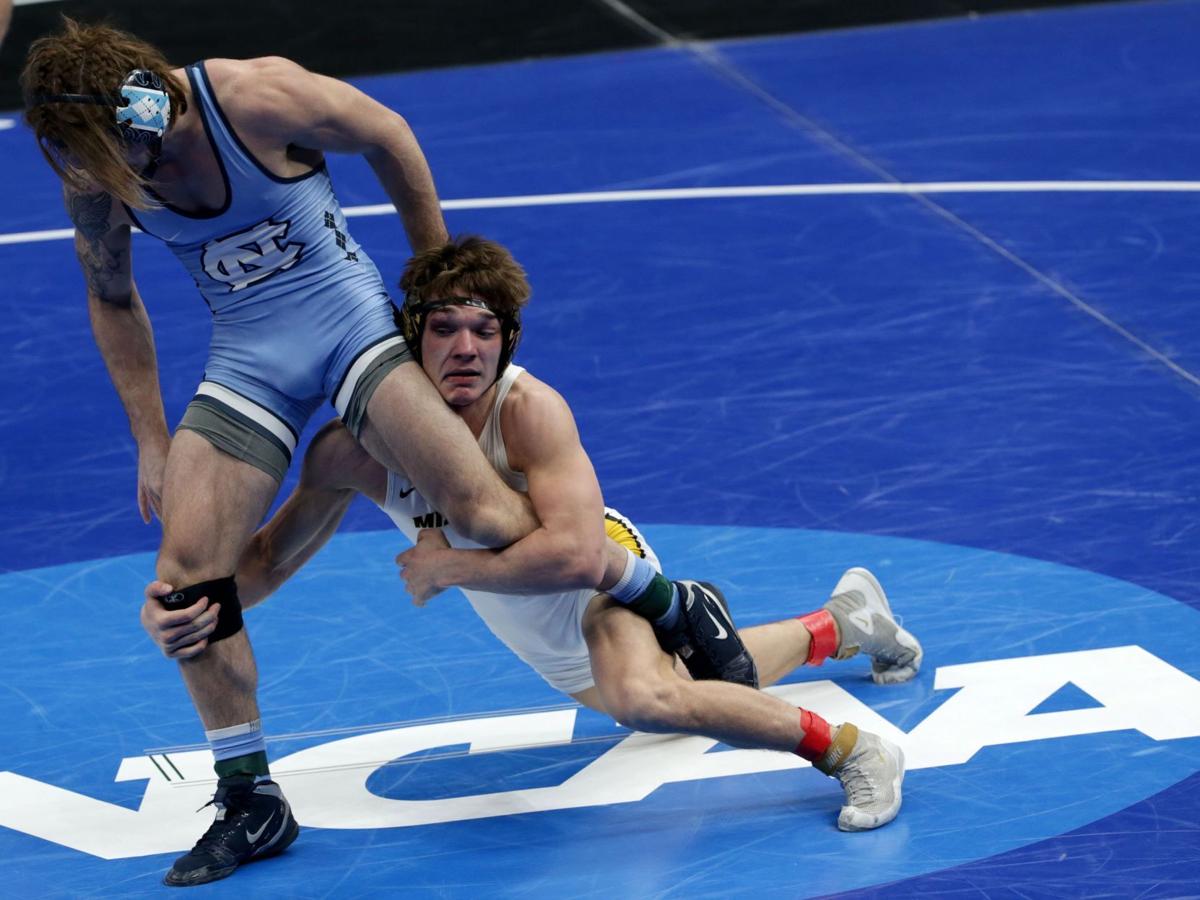 Missouri's Brock Mauller simply couldn't get the escape he needed.
A three-time All-American at 149 pounds, Mauller came up short in a 2-1 tiebreaker loss to second-seeded Austin O'Connor of North Carolina in the semifinals of the NCAA Wrestling Championships at Enterprise Center on Friday night.
Mauller, the No. 3 seed, will wrap up his season Saturday morning in the medal round.
The semifinal match was tight throughout as neither wrestler was able to establish any control. Mauller, who took sixth at 149 as a true freshman in 2019 and who earned All-America honors again last year when the tournament was wiped out by COVID, scored first with an escape to start the second period.
But O'Connor, who placed third in 2019 and also earned All-America honors last year, tied the score with an escape to start the third period. He scored the deciding escape in the tiebreaker and then rode out Mauller to move onto the finals.
O'Connor (12-0) will meet top-seeded Sammy Sasso (16-0) of Ohio State for the championship Saturday night. Sasso pinned fourth-seeded Boo Lewallen of Oklahoma State in the second round of their semifinal match.
"I've been waiting for this opportunity for two years," O'Connor said. "My team's got my back and I'm excited for the chance to go after the title. I'm looking forward to tomorrow. I know they seeded (Sasso) ahead of me and I'm fine with that. I don't mind being an underdog."
Quarterfinal highlightsMauller moved into the semifinals with an 8-3 quarterfinal victory over sixth-seeded Bryce Andonian of Virginia Tech earlier Friday. Mauller, a No. 3 seed, is the top-seeded Tiger in the event.
"For the most part, I did what I wanted to do. I feel pretty good," Mauller said after the early win on Friday. "I think I was a sophomore in high school when I saw my first NCAAs in person. It feels good to be competing with some family and friends here. My goal is to open up and wrestle to my ability. If I hold back at all, I know I don't have a chance."
Jaydin Eierman, a Columbia, Mo., native who earned three All-America medals at Mizzou before transferring to Iowa, advanced to the semifinals with a second-period pin of ninth-seeded Dresden Simon of Central Michigan at 141. It was the 100th career victory for Eierman, the tournament's No. 1 seed at 141.
Eierman got another pin in the semifinals and will wrestle for a national title Saturday night.
Mizzou's Matt Schmitt, a No. 6 seed at 133, dropped a 1-0 tough quarterfinal decision to third-seeded Korbin Myers of Virginia Tech. Myers' victory came by virtue of an escape at the start of the second period. Schmitt's tournament ended with a wrestleback loss.
The Tigers' Allan Hart, another No. 6 seed, came up with the match's first takedown, but third-seeded Sebastian Rivera of Rutgers controlled the pace of the match, going on to a 7-3 victory. Hart also lost in the wrestlebacks.
At 165, true freshman Keegan O'Toole, a No. 6 seed, scored the early takedown but Pitt's Jake Wetzel, a No. 3 seed, came on strong from there to win 9-6. The quarterfinal match featured a lengthy delay as officials double-checked the video.
O'Toole earned All-America honors with a pair of impressive wrestleback wins on Friday night.
The Tigers' Rocky Elam, another true freshman, rallied following an opening-round loss to win five consecutive matches and will also be an All-American.
Fifth-seeded Zach Hartman (13-0) of Bucknell became the first wrestler to move into the semifinals, advancing when fourth-seeded Mekhi Lewis of Virginia Tech was forced to withdraw because of an apparent shoulder injury. Lewis won the national title in 2019 and had won 29 consecutive matches before being injured in the Hokies' regular-season finale.
A redshirt sophomore, Lewis sat out the ACC tournament because of the injury and needed an at-large bid to get to St. Louis. He won 8-3 and 3-2 to start the weekend, but his quarterfinal match included a lengthy injury delay. The Hokies' first national champion, Lewis was a No. 8 seed in 2019 and was voted the most outstanding wrestler at that year's NCAA Tournament.
Lucas Byrd (133) and Dylan Duncan (141) of Illinois have also earned All-America honors.