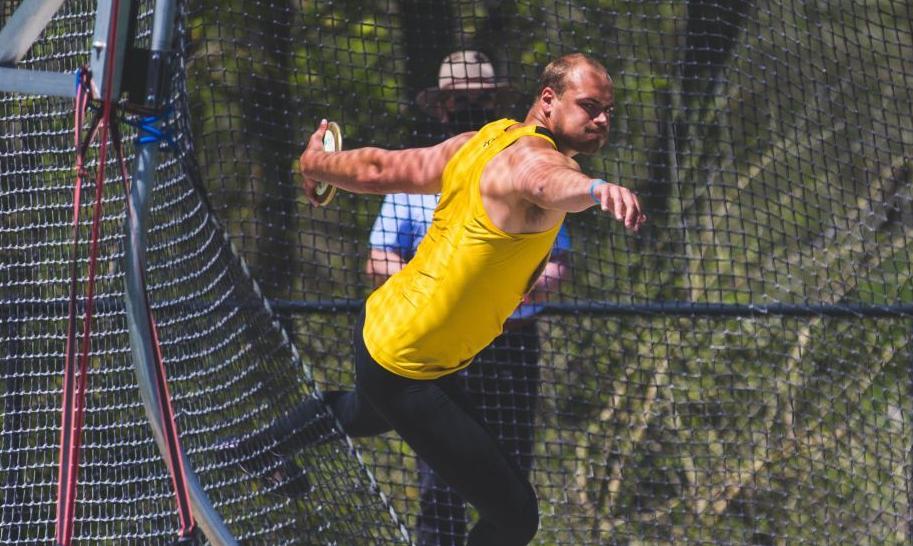 COLUMBIA, Mo. — Mitch Weber is not only Mizzou's next great star athlete you haven't heard about, but he's a scientific marvel. He can fling a 4 ½-pound discus farther than most people alive, and unlike nearly every one of his peers on the planet he does it left-handed.
The junior track athlete — he's actually just a redshirt freshman eligibility-wise — is one of the best discus throwers in the nation. He's driven by legitimate Olympic aspirations. He has the third-longest toss by a collegiate thrower this season, set at his first official outdoor collegiate meet, no less.
He's also a unicorn in Tiger stripes.
As a left-hander, every intricate movement Weber masters in the 8-foot thrower's circle to generate power and momentum to uncoil his 6-foot-5 frame he must do counter to the conventional right-handed approach that's taught and displayed in every track circle where he's ever practiced or competed. A right-hander spins his body counterclockwise so that the discus spins clockwise through the air. At a young age, Weber learned to watch the right-handed technique, visualize the exact opposite then execute the throw.
"I just switch it in my head," he said.
He's got that part down — and then some. Weber should be Mizzou's headliner at this week's Southeastern Conference track and field championships, the first time the league's best track athletes will gather outdoors to declare a champion since 2019. Two years ago, Weber was a freshman still trying to refine his technique in the circle. He used a redshirt season that spring, then along with every other college track athlete didn't get to compete in 2020 because of the pandemic. That makes Weber a rookie in this year's SEC field.
"I think a lot of people just haven't really heard much about me," he said. "I'm really going to surprise a lot of people. I hope that's the case."
In his first outdoor meet this year, Weber set his personal-best mark in the discus at 60.99 meters, the third-farthest throw in the country this season and the second-farthest in team history, less than 2 meters short of Mizzou's all-time mark set by Ben Plucknett way back in 1976. Plucknett has one of the most interesting careers of any Mizzou athlete in any sport. He qualified for the 1980 Olympics — the year the U.S. boycotted the Moscow Games — but still earned a Congressional gold medal, which he later gave to Mizzou track coach Brett Halter. Long after his college career, Plucknett twice broke the world record in the discus, but those marks were annulled when he tested positive for anabolic steroids. He's still credited with the North American record of 71.32 meters. Plucknett died in 2002 of a brain aneurism
Weber is quickly chasing down his Mizzou record, which is especially remarkable in an event that's oriented toward right-handed throwers.
In Halter's nearly 30 years at Mizzou, Weber is the first left-handed discus thrower he's had on the men's roster. Heather White, a thrower in the early 1990s, was the only left-handed female discus thrower he can recall. Many college coaches won't even bother recruiting a left-handed discus thrower.
"It's more than just flipping your mind and seeing the technique left-handed," Halter said. "Aerodynamics are a big deal in the discus. Every ring in the world is oriented for the right-handed discus thrower."
Throwing rings are built so that when the right-handed thrower releases the discus a crosswind blowing from the right will lift the discus into the lighter air and add distance to the throw. The same crosswind can cause a left-hander's throw to flutter and could cost the throw 4-6 meters, Halter said.
"So (Weber) is at a massive disadvantage on day-to-day competitions," Halter said.
That's what was so impressive about Weber's performance at the Kansas Invitational two weeks ago. The wind was blowing from the right at nearly 30 mph. Mason Finley, an Olympic contender, won the event competing unattached, unleashing one of the world's best throws this year at 66.40 meters. Weber, the only lefty in the field with the wind working against him, came in third at 57.29 meters.
"Mason went right up to Mitch and said, 'That's amazing,'" Halter said, "almost acknowledging that I'm not sure that I could do that if the wind was flipped the other way coming down the left sector line."
Here's the good news for Weber's future: In major events at enclosed stadiums — like next month's NCAA Championships in Eugene, Oregon and future international competitions — the wind won't be as much of a factor. On a level playing field, Halter likes Weber's chances to dominate.
"In zero-wind conditions Mitch has a massive advantage," he said, "because that's all he knows in his discus life, driving the discus in poor conditions."
Growing up in St. Clair, Minnesota, a town of around 800, Weber graduated in a high school class of 56 and thrived in other sports and other track events. He ran sprints and hurdles. He did the long jump and high jump. He never took up hockey but played football and basketball. He put track on hold during the summer and played on a traveling AAU basketball team. But more than anything Weber wanted to be like his big sister Katelyn, who became a championship thrower at the University of North Dakota. Twice in high school, though, Weber thought he ruined his chances when he broke his left wrist, first in a snowboarding crash, then in a snowmobile accident.
"Winter sports are not my thing," he said.
Luckily, he recovered in time to attract attention from Mizzou's staff. Weber chose the Tigers over Michigan and Minnesota and a few other offers, but he didn't know a thing about Mizzou's rich history of Goliaths in the thrower's circle until his recruiting visit. Halter has no doubt Weber can become next in line behind those all-time greats, the All-Americans and record-holders like Christian Cantwell, Russ Bell, Micah Shanks and Darin File.
Even as the rare southpaw.