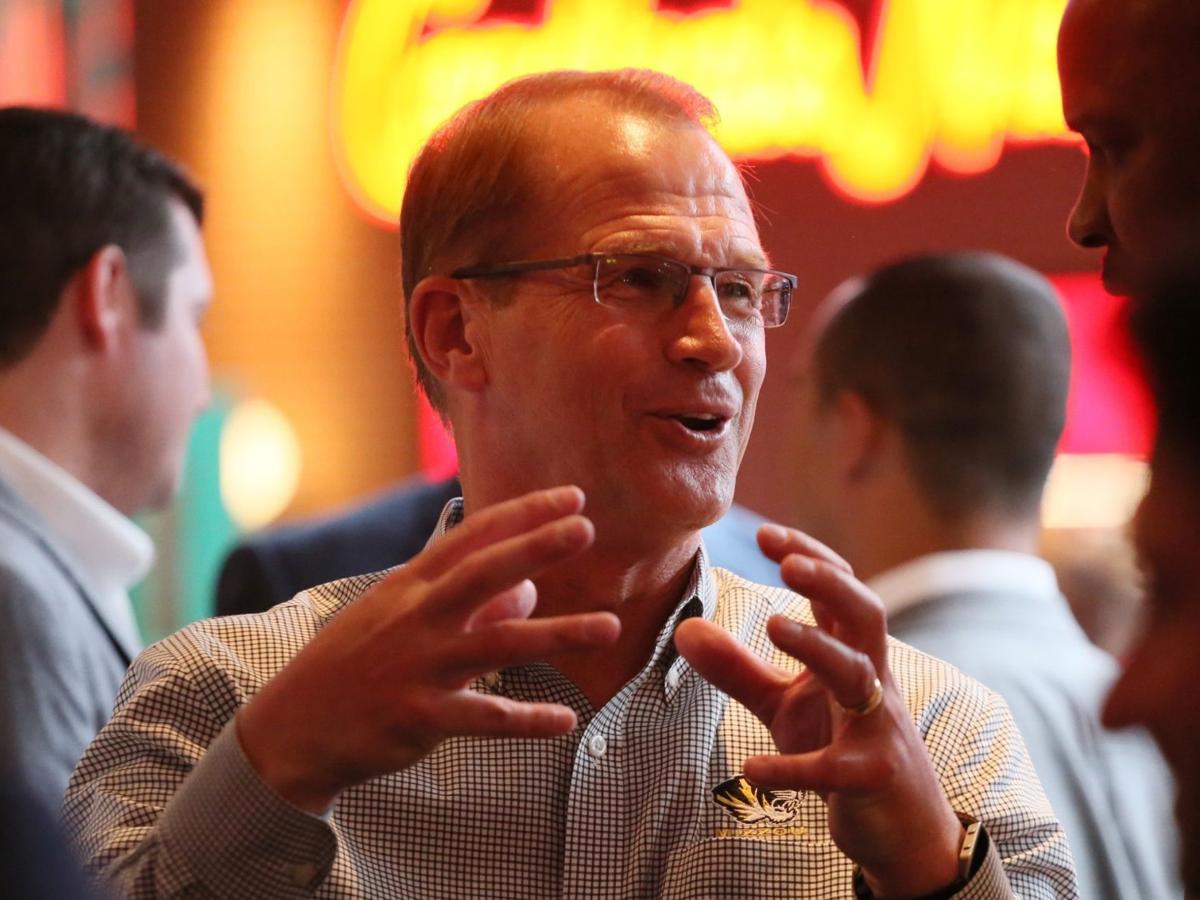 Missouri athletics director Jim Sterk held a Zoom media conference on Thursday to discuss the state of Mizzou sports and the coming football season.
The primary takeaway: Sterk pushed back — several times — on the notion that schools can only hold athletics events if all students are taking on-campus classes this fall.
NCAA president Mark Emmert made that point last week, saying, "You can't have college sports if you don't have college (campuses) open and having students on them. You don't want to ever put student-athletes at greater risk than the rest of the student body."
Speaking on the NCAA's live Twitter station, Emmert said last Friday, "All of the commissioners and every president that I've talked to is in clear agreement: If you don't have students on campus, you don't have student-athletes on campus."
Conference commissioners and athletics directors have since debunked that reasoning in various interviews. Sterk included.
"If campus is operational, we can have sports," Sterk said. "Now, classes are a different matter. They may need to decide at an earlier date that they're going online or online with some classes and some students working in labs and those kinds of things. So it's not an all or none as far as if a school is online, it doesn't necessarily prevent athletic events from happening. Because if a campus is operational, then we could possibly have athletic events."
Sterk later said it's "a misinterpretation" to think if there's no classes on campus then there's no college football.
"Well, if there's some classes and the campus is operational, then I think there can be football," he said.
MU plans to gradually open its campus to employees in the coming weeks, interim chancellor Mun Choi announced Wednesday. Select employees will be eligible to return to campus May 20 in the first phase of an approach that will allow approved faculty, university leaders, staff and graduate students who perform on-site research to return to campus while adhering to safety measures. Choi said MU continues to take actions to have students on campus for the fall.
With so many comments from coaches, administrators and pundits flooding the media about the return of sports, Sterk doesn't expect any firm decisions until midsummer.
"Anything of an opinion right now is a guess, and it's most likely to be wrong," he said. "So we're going to wait. But it'll be the middle of July probably before anyone really makes a decision on the fall. So we've got a couple months yet to go and see where things are and then make the best decisions possible by that time."
Back to work
In Mizzou's athletics department, Sterk and other administrators have returned to their offices, as has football coach Eliah Drinkwitz. The football team's offensive staff has been meeting at the south end zone facility in the morning while the defensive staff meets in the afternoon. Sterk said employees must have their temperatures taken by members of the athletics training staff before they're cleared to enter the building.
Once athletes return to the facilities, they'll be monitored "at another level," he said, "because they're going to be coming from different areas."
"How long do we quarantine?," he said. "Do we have everyone take a (COVID-19) test? We haven't determined all that yet. I'll take advice from the medical officials on the best way to do that."
For now, athletes across the Southeastern Conference are prohibited from participating in any team activities at their facilities through May 31. Sterk said the SEC presidents and chancellors will decide on May 22 whether to lift the ban and open facilities on June 1 or extend the shutdown.
"If you see the June 1 date move it's because everyone wasn't comfortable about starting then," Sterk said. "It could (move). So we'll make those adjustments but I think we try to be of a collective mind. Do people have different opinions? Yeah, but I think we're pretty dang close. Commissioner (Greg) Sankey does a great job of keeping us all together as well."
Reduced crowds at games
Sterk listened in an on a session Thursday by the National Association of Collegiate Directors of Athletics. The organization conducted a poll of 600 people asking if they'll feel comfortable at a sporting event this fall.
"Some people said, 'I'm never going to another event again in my life,' and then the same percentage said, 'I'm going no matter what,'" Sterk said. "Then probably in the middle, about 75 % of the people, they want to feel safe and they want to go to sporting events because that's their normal life. So what we have to do is really make people feel comfortable by the fall of going to an event as best we can.
"Does that mean, 10 %, 20 %, 50% of the facility? I don't know. A full (stadium) right now without a vaccine is probably not something you'll see. But I saw a picture from 1918, and I think it was when the Spanish flu hit, and it was a Georgia Tech game and people had on masks and it looked like they were social distancing. So it
can be done, and we'll look for the best way to do it."
Sterk hasn't made any decisions on any social distancing policies to institute at sporting events. Should MU be limited to smaller crowds, how would Sterk decide who gets to attend games? Students first? Donors first?
"I'll kick that can as far and as long as I can until July 15," he said. "We would have to be ready for scenarios like that."
Season ticket renewal orders for football are due May 31. Sterk said those sales figures are tracking behind last year's numbers for this time of year but he wasn't sure by what percentage.
"I think as people gain confidence, and we need to help them gain confidence that if there's games we're going to do it in the right way … they'll, like all of you, everyone wants to attend. The fans want to want to go to a game and they want to feel normal. So we're going to work towards that."
Budget cuts
Asked if he anticipates any layoffs or furloughs within the athletics department, Sterk said, "We're still wrestling around. We're continuing to have budget meetings and we'll be taking some kind of actions to help us with our budget. … We think maybe there'll be a 20 % downturn in tickets (sales) and donations. So what does that mean to our budget? We need to make adjustments to our budget, but we're still a ways away from that. But I would say all those HR tools we'll need to utilize."
Several schools outside of the Power 5 conferences have been cutting programs, but Sterk doesn't anticipate Mizzou shedding any of its teams. For now.
"Depending on how deep and long (the pandemic lasts), we'll have to make adjustments," he said. "But as of right now, no sports are on the block, if you will. I think you're going to be seeing that across the country over the next weeks and months. But as of right now, we don't have that."
Missouri hasn't had any discussions with its football nonconference opponents about contingency plans should those games not be possible, including MU's Oct. 10 football game at Brigham Young in Provo, Utah.
"We're taking it as we will be able to play," Sterk said. "As we get closer to that July date, we'll be making sure that they're still online and over the next couple of months be checking in with them."
In light of expected budget cuts, Sterk has talked to the coaches for his non-revenue teams about regionalizing their schedules to cut down on travel expenses.
"I forget which sport, maybe soccer, was supposed to go out California and we're not going to do that," he said. "We're going to look at what we can do in the interest of saving expenses."
Dave Matter brings you the latest updates from the Mizzou sports scene.