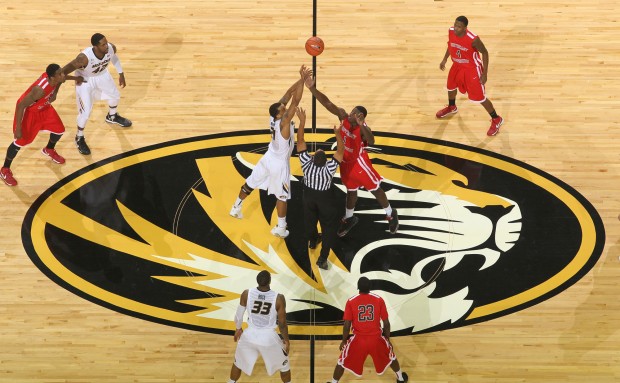 COLUMBIA, Mo. - It's uncertain when Mizzou Arena will host its next college basketball game, but the facility will be busy on Nov. 3.
On Wednesday, Boone County officially approved Missouri's basketball arena to become a central polling place for the November election. On Election Day, any eligible registered voter in the county will be able to vote at the arena instead of using their assigned polling place. The polls will be open at Mizzou Arena from 6 a.m. to 7 p.m.
"It's really a great location because of social distancing measures that we can implement there and its proximity to the university so that students, faculty and staff can use the arena," Boone County Clerk Brianna Lennon said in a phone interview Wednesday. "
"This is our second election of this year that we've had a central polling location affiliated with the university. In March, we were at Memorial Union. So we're very excited to be in this larger space that has really great parking and accessibility."
A larger building like the 15,000-seat arena will allow for safer social distancing and should free up space at the smaller polling locations around the county. The Boone County Government Center in downtown Columbia will also serve as a central polling place. Social distancing and face coverings will be required at the arena. 
Lennon described the decision to convert a Mizzou athletics venue into a polling place as a "joint venture" between the county and the university.
"When we were discussing what we were going to do for November, we already knew that we wanted a central polling location," she said. "And as the uncertainties of COVID came to the surface we were discussing with their facilities and athletics departments whether we would be able to use Mizzou Arena or the Hearnes it just really came together."
Earlier this month, Mizzou's athletics department announced a comprehensive voter action plan  as part of the Southeastern Conference's new non-partisan voter education and participation program. Mizzou head coaches will be encouraged to make Election Day an off day for athletes and staff and help coordinate transportation to polling places. The athletics department has coordinated guest speakers from campus organizations and from around the community to help educate and engage athletes and staff on the registration process and the issues at stake this fall.
Mizzou's campus has been riddled with COVID-19 since students returned last month — though as of Wednesday, there were 229 active cases among the student body, down significantly from last Friday's total of 562, according to MU's COVID dashboard — but Lennon said the county didn't have reservations about adding a polling place on the campus.
"We've implemented so many safety concerns at our polling locations," she said. "Mizzou Arena will be like our other ones that have Plexiglas barriers between election judges and voters. Election judges will be wearing masks and have face shields available. And just like we did in August, we'll be hiring extra poll workers to help ensure that the polling locations themselves are sanitized."
Dave Matter brings you the latest updates from the Mizzou sports scene.