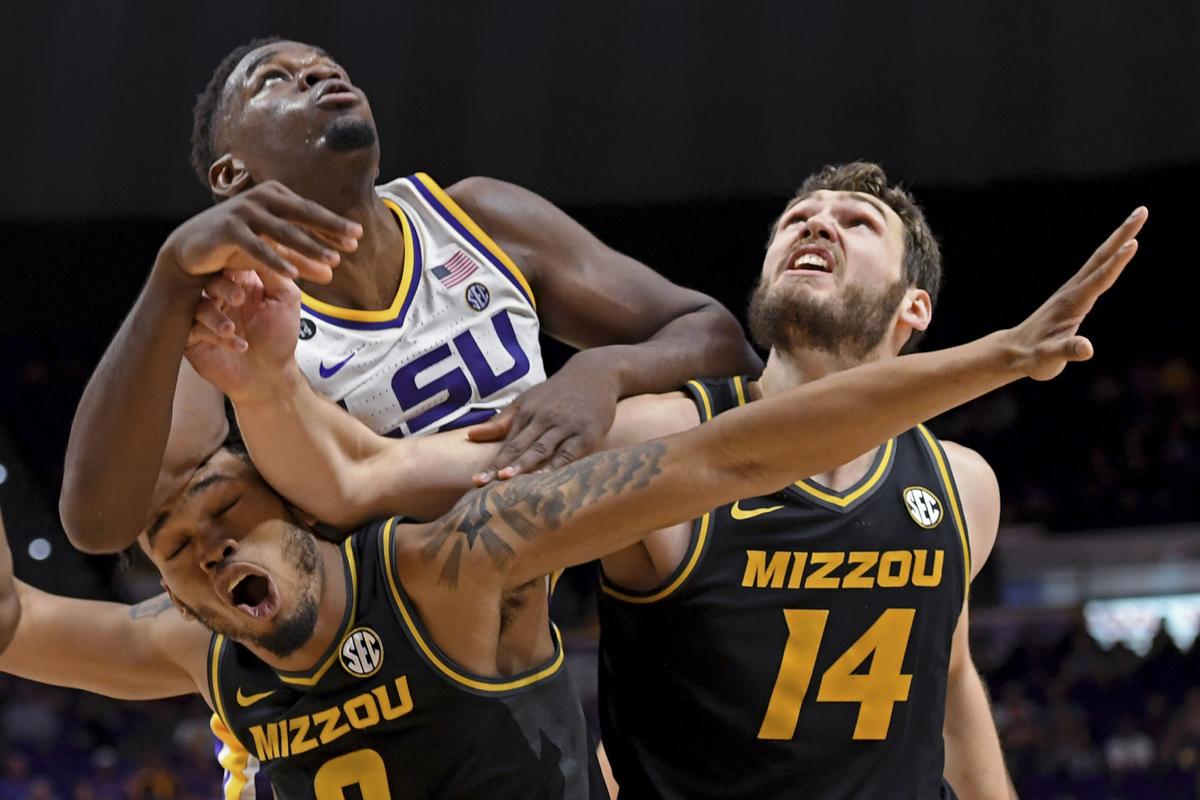 Riding a 15-game losing streak against ranked opponents in true road games, Missouri strolled into Baton Rouge, La., Tuesday again shorthanded but resilient enough to make No. 25 Louisiana State sweat. Missouri led for nearly 33 minutes and by as many as 12 points but couldn't close out the upset, falling 82-78 at the Maravich Assembly Center.
Dru Smith, playing with foul trouble on a sore ankle, led MU (11-13, 3-8 Southeastern Conference) with 20 points. Again missing center Jeremiah Tilmon (foot stress fracture) and guard Mark Smith (lower back injury), Mizzou got a strong outing from center Reed Nikko (13 points, eight rebounds).
"Our guys did a tremendous job but just came up short," MU coach Cuonzo Martin said on his postgame radio interview. "It's a tough one."
MU outscored LSU in the paint 42-38 and won the rebounding battle by one but couldn't overcome LSU's massive advantage at the foul line and didn't have an answer for LSU senior guard Skylar Mays (23 points) and Darius Days (20). LSU made 29 of 34 free throws, while MU only got to the line 13 times with just seven made free throws.
Both teams shot nearly the same line from inside the arc — 22 of 39 for MU and 22 of 41 for LSU — but Mizzou nearly overcame the discrepancy at the foul line with a better night on the 3-point arc, making 9 of 21 compared to LSU's 3 of 12.
This marked the second straight meeting that LSU erased a double-digit deficit against Mizzou, though last year's rally came in a blur at Mizzou Arena, a 14-point comeback in the final two minutes of regulation in an overtime victory. This one, comparably, was more of a bloodletting.
After playing from behind since the opening minutes, LSU finally went ahead for good on Darius Days' 3-pointer with 4:44 left, part of an 11-2 LSU run. In the deciding possessions, the sophomore forward later grabbed an offensive rebound and scored with 25 seconds left to give LSU a five-point cushion. Xavier Pinson's floater with 13 seconds left cut the lead to 78-75, but LSU closed out the victory at the foul line.
"When you're going toe to toe against one of the better teams in our league your margin for error is so slim," Martin said. "We've got to get those box-outs, got to make those plays down the stretch. They made those plays to win the game."
It doesn't get any easier for Mizzou. The Tigers return home to play the hottest team in the SEC, No. 11 Auburn, on Saturday.
Mizzou was trying for its first win on a ranked opponent's home floor since its days in the Big 12, an 89-88 victory at No. 3 Baylor on Jan. 21, 2012. It was their fourth loss to a ranked team on its home floor this season, following defeats at Xavier, Kentucky and West Virginia.
Unlike their previous SEC road games this season, Mizzou started fast, taking a 12-8 lead into the first media timeout behind a quick five points from freshman Tray Jackson off the bench. Jackson was a factor throughout the half, finishing with nine points in 12 minutes of action. It was the second straight promising performance for Jackson, who barely saw the court in some games through the season's first three months. He didn't score in the second half but played a career-high 18 minutes and seemed to establish his place in Martin's rotation.
"I'm so happy for him because he was at a low point from a standpoint of not playing," Martin said. "He stayed in the gym, continued to work, didn't complain, didn't make excuses. Now you see the result."
Against either zone or man defense, Missouri continued to attack early and find points inside and out. Midway through the half, MU beat a 2-3 zone attempt by LSU with textbook high-post pass from Javon Pickett to Nikko for an easy dunk. Pickett splashed a 3-pointer two series later as the Tigers built a double-digit point lead. Pickett finished with 10 points, but it marked the first time in eight games this year the Tigers lost when he hit double figures.
In the first half's final few minutes, MU surged to a 12-point lead with points on four straight possessions: back-to-back 3-pointers by Jackson and Mitchell Smith, a Dru Smith floater and a Mitchell Smith layup. But MU got sloppy down the stretch, allowing LSU to close the half with a 6-0 run on three baskets at the rim. MU took a 43-37 lead into halftime.
LSU hit its first 3-pointer to open the second half and caught a break just before the first media timeout when Dru Smith picked up his third foul. LSU evened the game at 49-49, the first tie since 4-4, but even as the fouls piled up Martin's Tigers regained its lead on a couple Dru Smith put-back floaters in the lane.
Mizzou climbed ahead 62-54 with a Dru Smith three-point play, another Mitchell Smith 3-pointer and Parker Braun's bucket off the bench.
Gradually, the short bench and foul trouble seemed to test Mizzou's legs. Mays' jumper with 5:10 left evened the score at 69-69, and on LSU's next possession Days' 3-pointer gave LSU its' first lead since the opening minutes, 72-69, a lead the home Tigers wouldn't relinquish.
Dave Matter brings you the latest updates from the Mizzou sports scene.