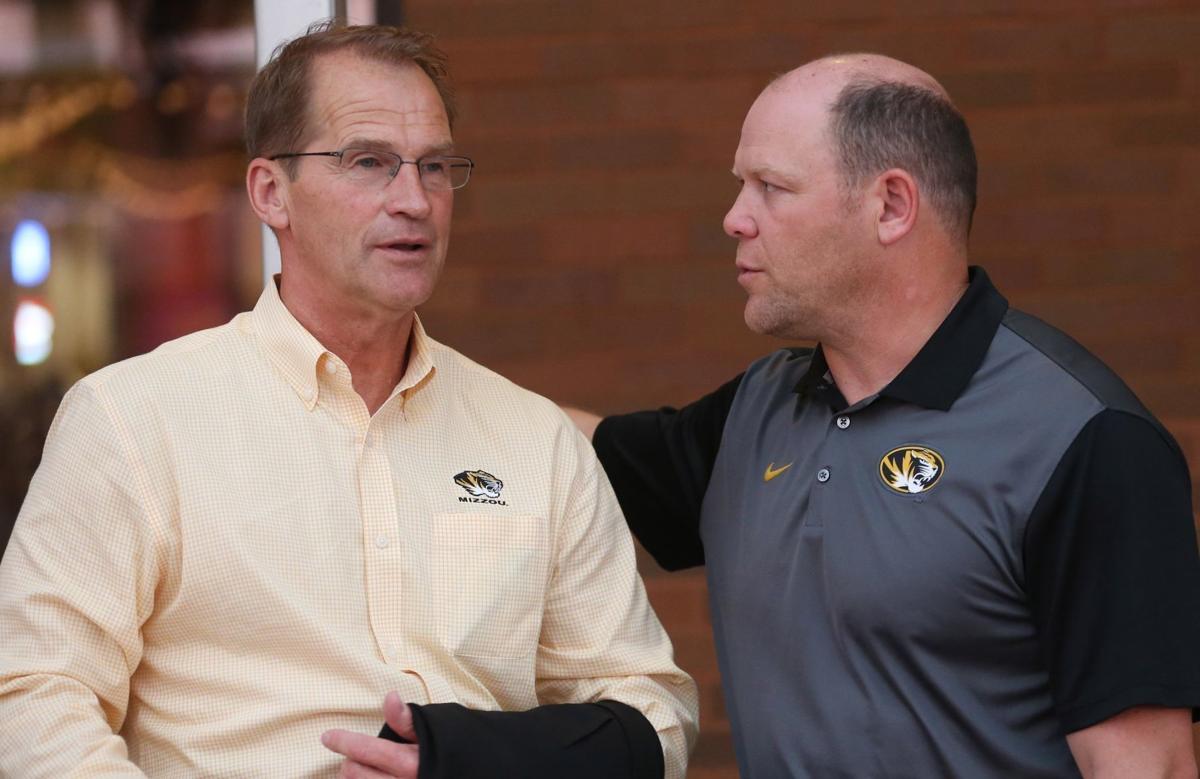 COLUMBIA, Mo. — As Missouri athletics director Jim Sterk continues to look for his next football coach, some members of the UM System Board of Curators aren't thrilled with some of the choices being presented as options, multiple sources told the Post-Dispatch Thursday.
Sterk has shared with some board members that Mizzou is targeting Arkansas State's Blake Anderson, Army's Jeff Monken and Louisiana Tech's Skip Holtz, a source confirmed. Board members did not outright reject any candidate but some are worried about the public fallout if Mizzou doesn't consider other high-profile coaches instead of settling for lesser-known names, especially after firing Barry Odom, a Mizzou alum whose last three teams were 21-17 and each won enough games to be bowl eligible. 
The board must vote to approve a major head-coaching hire that would come with a seven-figure salary. The board has not met in any official capacity to discuss the hire. Jon Sundvold, the board chairman, tweeted as much Thursday, adding, "The search continues and remains confidential to respect the privacy of all individuals involved."
There is mutual interest between Mizzou and Anderson, sources have confirmed. Anderson, 50, has talked to MU officials multiple times about the position and is interested in the job, per sources with knowledge of the process.
Anderson has won at least seven games each of his six seasons at Arkansas State with an overall record of 46-30 while winning 75 percent of his Sun Belt Conference games at 36-12 with two conference championships. He's 1-4 in bowls and will lead ASU to a sixth bowl this postseason.
Monken, 52, is 40-35 in six seasons at Army, where he runs the triple-option flexbone offense, a system that would be an unusual fit in the Southeastern Conference. The Black Knights won a school record 11 games last year but are just 5-7 heading into the Dec. 14 Army-Navy game. Monken was previously the head coach at Georgia Southern and has been an assistant at Hawaii, Arizona State, Buffalo, Navy and Georgia Tech.
Holtz, 55, is coaching his sixth straight bowl team at Louisiana Tech, where he's 55-36 in seven seasons. He previously coached at Connecticut, East Carolina and South Florida and was an assistant at Notre Dame under his father, Lou Holtz.
Nevada's Jay Norvell, another head coach from a Group of Five conference, has emerged as an option. He's on Sterk's list, but not necessarily near the top, a source confirmed Thursday.
Norvell has had some success as a head coach, though has a losing record (18-19) in three years at the Mountain West Conference program. He's 15-10 the last two years, both bowl-eligible seasons. His Wolf Pack teams have beaten a couple Power Five teams (Purdue, Oregon State) and won last year's Arizona Bowl over Anderson's Arkansas State team.
Norvell, 56, is a proven recruiter at the Power Five level. He was Bob Stoops assistant offensive coordinator and receivers coach for seven years at Oklahoma. Before that he coached on staffs at Wisconsin, Iowa State, Nebraska and UCLA, plus NFL stints in Indianapolis and Oakland. After leaving Oklahoma he spent a year at Texas coaching receivers — Mizzou D-line coach and current interim coach Brick Haley was on that staff, too — and then a year at Arizona State as the passing game coordinator.
Norvell's Nevada staff includes longtime UCLA offensive assistant Angus McClure, who's considered one of the best recruiters on the West Coast. His offensive coordinator is Matt Mumme, son of spread offense innovator Hal Mumme.
What about all that Jim McElwain buzz the last couple days? Overblown, a source said Thursday. That doesn't eliminate the Central Michigan coach, who at Florida won back-to-back SEC East Division titles in 2015-16 but was ousted six games into this third season. His Chippewas play in Saturday's Mid-American Conference championship game against Miami.
Other coaches linked to the search include Tulane's Willie Fritz, Air Force's Troy Calhoun and Charlotte's Will Healy. Earlier in the week, sources indicated Boise State's Bryan Harsin would be a prime target, but he hasn't been mentioned as a realistic option in recent days.