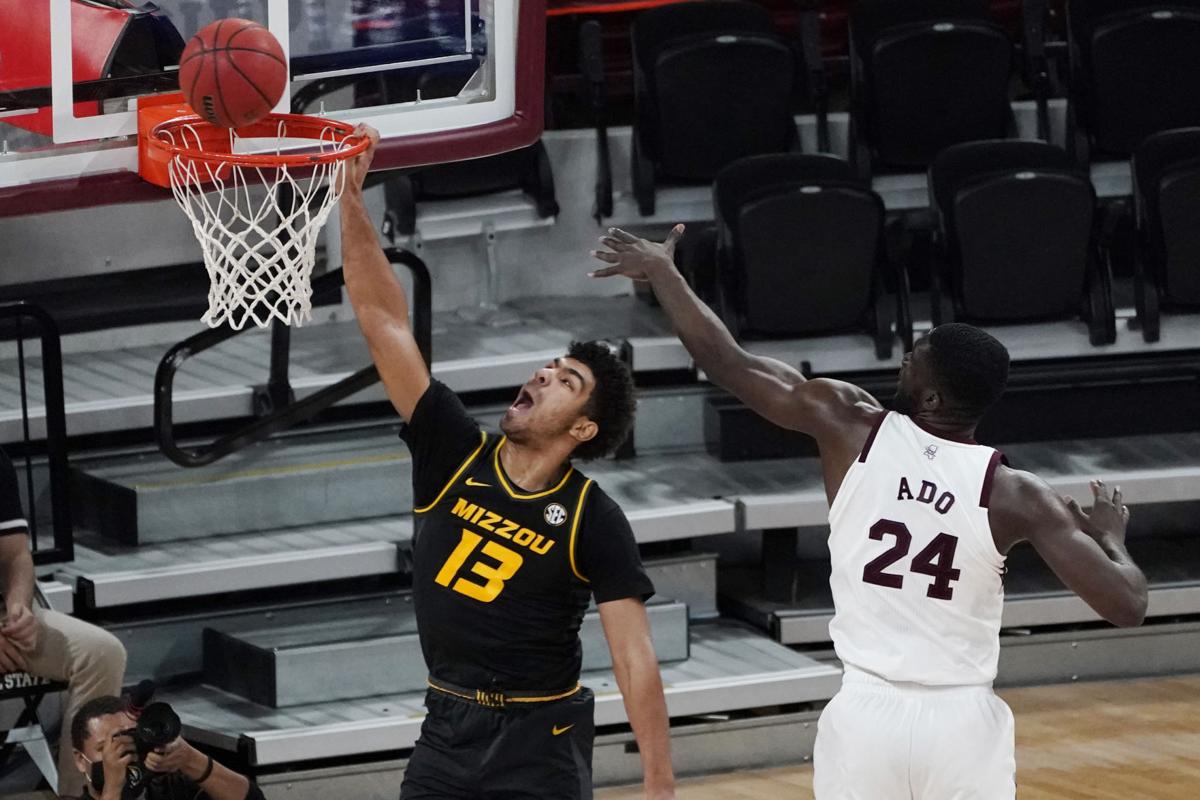 After its most impressive first half of the season, No. 13 Missouri imploded in the second half at Mississippi State on Tuesday as a 14-point lead evaporated in a 78-63 defeat.
The Tigers (7-2, 1-2 Southeastern Conference) were in complete control at Humphrey Coliseum and seemed halfway to its second SEC road victory before the Bulldogs erupted two minutes into the second half, starting with a 15-0 run that secured the lead for the home team. MSU's surge grew to 40-11 over a 14-minute span as Bulldog guards Iverson Molinar and D.J. Stewart outscored the Tigers in the second half 36-24.
In the second half, Mizzou produced more fouls (12) than field goals (11) and followed a one-turnover first half with seven giveaways. Mississippi State (6-4, 2-1) crushed the Tigers on the boards, 37-22, and capitalized with 17 second-chance points to MU's four.
Mizzou's Jeremiah Tilmon finished with a team-high 16 points for the Tigers, while Xavier Pinson added 13 plus a career-high eight assists. MU comes home Saturday to host Louisiana State.
Stewart finished with 24 points, while Molinar added 20.
Missouri opened with its most thorough half of the season, shooting 50 percent from the field with just one turnover. Before heading to the bench with his second foul with 4:47 left, Tilmon gave the Tigers eight points, including three dunks. Javon Pickett supplied seven quick points off the bench, and Pinson controlled everything at the point, finishing the half with six points and five assists.
Mizzou opened with its best start offensively and grabbed control with a 12-0 run midway through the half. Playing three days after a double-overtime loss to Kentucky, the Bulldogs looked gassed after a brief offensive spurt. MSU made its first three shots then missed 10 of 11 as the Tigers continually turned turnovers into points.
Coming out of the 12-minute timeout, Pinson got behind the defense in transition and dropped a behind-the-back pass to Tilmon for a uncontested dunk and an 18-13 lead. Pinson put the Tigers in front 26-16 with a drive through traffic, then extended a 3-minute MSU scoring drought taking a charge in the paint.
Tilmon stayed on the attack, buried 6-10 center Abdul Ado deep into the post and shot over him for his fourth basket. A Dru Smith transition layup finished off the 12-0 run, putting the Tigers ahead 30-16.
With Tilmon on the bench for the half's final stretch — plus Kobe Brown, who picked up two early fouls — the Tigers maintained their 10-point lead with Mitchell Smith and Parker Braun in the front court. Pinson's fifth assist of the half came on a deep lob to Mitchell Smith for MU's fourth dunk of the half.
The Tigers went back ahead by 14 to open the second half, but the Bulldogs finally came to life, erupting for a 15-0 run with seven points by Molinar and then five straight baskets by Stewart to erase Mizzou's lead. A Tilmon dunk put MU back ahead 50-48 heading into the 12-minute timeout, but the Bulldogs didn't let up. Stewart and Molinar continued to keep the Bulldogs ahead with midrange jumpers while the Tigers couldn't rediscover their offensive flow from the first half.
Tilmon picked up his third foul on an illegal screen then quickly picked up his fourth on the defensive end, far from the basket with 8:17 left.
The Tigers continued to melt down on both ends. Dru Smith fouled Stewart on a 3-pointer, leading to three free throws and a six-point MSU lead that continued to grow until the final buzzer.
It's back on the road for No. 13 Missouri on Tuesday with a late tip-off at Mississippi State, a place where the Tigers haven't won in nearly eight years. The last time Mizzou won at Humphrey Coliseum, Tigers coach Cuonzo Martin was coaching at Tennessee, assistant coach Chris Hollender was on the MSU bench and MU's leading scorers that day (Feb. 13, 2013) were Keion Bell and Jabari Brown.
Here's a preview of tonight's matchup:
Where • Starkville, Mississippi, Humphrey Coliseum
Series; Last meeting • Mississippi State leads 9-5; Mississippi State 67, MU 63, Feb. 29, 2020
Records • Missouri 7-1, 1-1, Mississippi State 6-4, 1-1
TV, radio • SEC Network (Dave Neal, Daymeon Fishback), KTRS (550 AM)
Point spread • Missouri by 1 ½
KenPom prediction • Missouri 69, Mississippi State 67
Net rankings • Missouri No. 11, Mississippi State No. 113
Mississippi State
G Iverson Molinar (6-2, So.) … 18.4 ppg, 50 3pt %
G D.J. Stewart (6-6, So.) … 18.3 ppg, 44.4 3pt %
G Jalen Johnson (6-6, Sr.) … 8.2 ppg, 40.0 3pt %
F Tolu Smith (6-10, So.) … 12.5 ppg, 8.9 rpg
C Abdul Ado (6-11, Sr.) … 5.3 ppg, 6.2 rpg
G Devion Smith (6-1, Fr.) … 4.1 ppg, 2.3 apg
F Javian Davis (6-9, So.) … 4.5 ppg, 5.5 rpg
Missouri
G Xavier Pinson (6-2, Jr) … 15.0 ppg, 3.3 apg
G Mark Smith (6-5, Sr.) … 12.5 ppg, 42.1 3pt %
G Dru Smith (6-3, Sr.) … 11.4 ppg, 2.6 apg
F Kobe Brown (6-7, So.) … 6.5 ppg, 6.0 rpg
F Jeremiah Tilmon (6-10, Sr.) … 10.4 ppg, 7.8 rpg
G Javon Pickett (6-5, Jr.) … 7.1 ppg, 3.3 rpg
F Mitchell Smith (6-10, Jr.) … 4.8 ppg, 5.4 rpg
CAN TILMON DELIVER AGAINST MORE SIZE?
Can Tilmon follow the best scoring game of his career with another strong showing against one of the tallest front lines in the country? With Smith and Ado on the floor, MSU will always have a big body trading blows with Tilmon inside and offer a much different package of size compared to Arkansas.
"What happens is, he was physically imposing in that game, but Mississippi State has physical big guys, so they'll have to make adjustments," Cuonzo Martin said on his radio show Monday night. "They'll continue to play the way they play. Mississippi State doesn't change a lot in what they do, so you have to do what you do well. But we have to go to him, let him play his game, throw the ball inside one on one, because in most cases, Mississippi State in the past has defended one on one in the post."
MSU is No. 8 in the country in offensive rebound percentage. Second chances will be there for the Bulldogs if Missouri's bigs don't show up on the glass. That's not just Tilmon. That's Kobe Brown and Mitchell Smith, too.
"One of the things that we have to continue to get better at when we play teams with multiple bigs, especially when they're on the floor at the same time, we have to be strong and block out and be consistent with that," Martin said. "When physical bigs are active, we got to do a good job with it. In past years, we haven't done a great job with that."
Missouri needs its two Smiths on the perimeter to keep coming out of their funk. Dru and Mark hit some crucial 3-pointers at Arkansas but they also combined for 14 turnovers, including a career-high eight for Mark.
"I said to him, 'Mark, you can shoot the 3-point shot. Yes, good job. But you also can do other things. You can get to the free throw line. You can drive the basketball. You can sprint out on transition and make plays,'" Martin said Monday. "It's just consistently doing that and being locked in. I thought he passed up two 3s at Arkansas. I thought he had one in the baseline corner he passed up. I was like, 'Man, you have to take those shots.' He doesn't need enough daylight but he has to take what's presented to him."
As for Dru Smith, he just hasn't been himself lately on the offensive end. Martin credited him for holding Arkansas' Desi Sills to just one field goal on 11 shots, but the fouls continue to keep Smith off the floor. He's also had 11 turnovers in the last two games.
"He wasn't Dru Smith," Martin said. "Defensively, he did his thing. … Dru's an intelligent basketball player but to foul the way he's fouled … and the turnovers at Arkansas, that's not Dru Smith."
TIGERS MUST DEFEND THE ARC
The 3-point arc is going to be crucial. Mississippi State makes a higher percentage of 3s than any team in the SEC, 37.9 percent. Mizzou has the SEC's best 3-point defense, limiting teams to just 26.2 percent from the arc. The Bulldogs start three players along the perimeter who have made at least 40 percent of their 3s, including former SLU Billiken Jalen Johnson. When MSU makes better than 40 percent of its 3s, it's 3-0 this year. When the Bulldogs make less than 38 percent of their 3s, they're 1-3. Stewart's 32 points against Dayton is the highest scoring game for any SEC player this season.
"Molinari is probably, if not (number) one, one of the two or three most improved guys in the league," Martin said. "He's a talented basketball player. He just didn't get a lot of playing time early last year because of what they had. But he gets to the rim. D.J. is playing very well. Both of those guys (average) 18-plus points. They're getting to the rim, making plays, shooting the 3-ball at a high level."