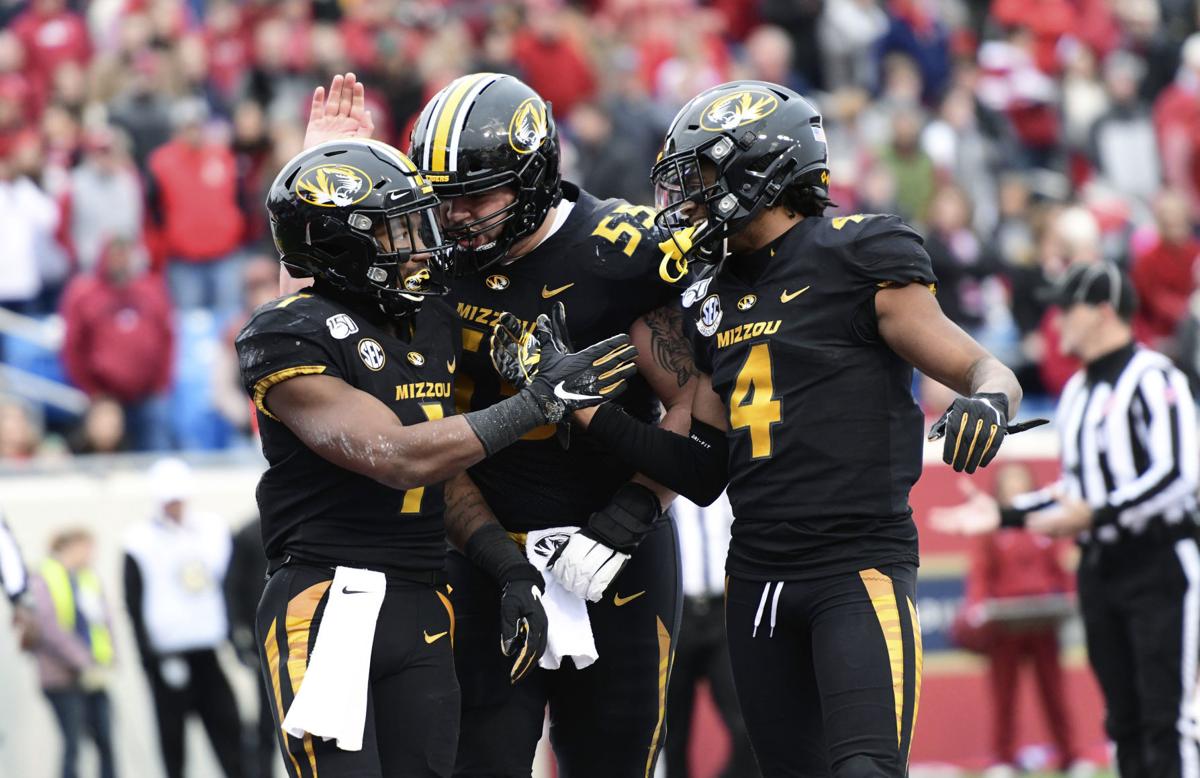 LITTLE ROCK, Ark. — He was emotional, but there were no tears in Barry Odom's eyes. A smile rarely seen the last six weeks stretched across his face Friday as he hugged everyone in sight at War Memorial Stadium.
The former Mizzou linebacker stopped to snap a picture with two of his favorite players, linebackers Cale Garrett and Michael Scherer, before he jogged into a victorious locker room for the first time since Oct. 12.
Odom's injury-riddled Missouri Tigers had just outlasted illness-riddled Arkansas 24-14 to punctuate a season that went off course long ago. The win snapped the Tigers' losing streak at five games and came on the heels of Tuesday's decision by the NCAA to uphold the program's postseason ban. That means no bowl game even though the Tigers finished 6-6.
All of that didn't seem to matter in a rowdy visitors locker room, where the Tigers had something to celebrate for the first time in what probably felt like ages.
"So happy to get win number six," said Odom, now 4-0 against Arkansas in the Battle Line Rivalry. "Wish we had an opportunity to go play in a bowl game somewhere, but they can't take those six from this team."
"To get back to the win column," receiver Barrett Banister said, "and see those guys' faces and send those (seniors) out right, it means everything to our program."
It's a program that now faces an uncertain future. Friday brought closure to the season, but not to the question that's consumed Mizzou fans the last couple weeks and into the night Friday: Will Odom be back for 2020?
The victory Friday salvaged a .500 finish for the season — the Tigers were 3-5 in Southeastern Conference games — and left Odom's four-year record at 25-25. MU athletics director Jim Sterk worked his way down from the press box to watch the final five minutes unfold from the sideline and to see the ensuing celebration, but he was out of sight by the time players and coaches spilled out of the locker room. He's yet to give Odom a convincing vote of confidence.
Does the coach expect to return next season?
"No idea," Odom said. "I'm going to wake up in the morning and go to work."
Odom went to work Friday with a team that hardly resembled the starting lineup he envisioned this season.
Starting quarterback Kelly Bryant missed his second game, this time because of a knee injury. Starting slot receiver Johnathon Johnson (shoulder) missed his fourth straight game, while starting cornerback DeMarkus Acy (hamstring) was out again, too. By game's end, Mizzou also lost first-time starting QB Connor Bazelak (knee), two outside receivers in Jalen Knox (ankle) and Kam Scott (shoulder) and starting right guard Case Cook (knee).
"I wish they all could have played because we're a lot better with those guys out there," Odom said. "But with toughness and grit and resolve they found a way to go win a game tonight, which is awesome."
The Razorbacks (2-10, 0-8) had their own calamities, including a case of the mumps that wiped out nearly a dozen players. On the short list of the worst SEC teams since Mizzou joined the league in 2012, Arkansas extended its SEC losing streak to 19 games.
To make that possible, the Tigers had to rally from a brief third-quarter deficit. After the Tigers opened the second half with an interception of a pass thrown by third-string quarterback Taylor Powell, the Razorbacks went ahead 14-10 on Jack Lindsey's 10-yard touchdown pass to Grayson Gunter.
But Powell, playing in his home state on the same field where he captured the 2015 and '16 state championships, led two touchdown drives to reclaim the lead for good, including his first career touchdown pass. It was a 10-yard strike to, of all people, wideout Jonathan Nance — a former Razorback who transferred to Mizzou for his senior year.
"That's just the type of person (Powell) is, the type of player he is," said Banister, Powell's teammate from those Fayetteville High School state title teams. "He's going to bounce back whenever he gets knocked down. I'm so proud of him. He's been waiting a long time for that."
Bazelak, getting the call-up over Powell, led a couple promising drives in his first career start before suffering a sprained right knee at the end of a third-down scramble in the second quarter. Bryant had hoped to play in what would have been his college finale, but the team's training staff ruled him out because of swelling in his knee. That ended a disappointing season for the transfer from Clemson.
"Putting him out there would not have been wise," Odom said. "He couldn't function well enough to be able to operate the way that he needed to. I hate it. I love the kid to death, and he wanted to (play)."
But like so much of Mizzou's offense, the Bryant experiment didn't work as planned. The passing game was a mess most of the year. Nance's touchdown catch was the only one by a wide receiver in eight SEC games.
Tight end Albert Okwuegbunam, a preseason All-American, was a ghost late in the season. He didn't catch a pass Friday. The running game had a pulse against the Hogs — Larry Rountree and Tyler Badie combined for 147 yards and a touchdown apiece — but was a drag on the offense most of the year.
Knowing the program's next major decision will be out of their hands, the Tigers called a players-only team meeting Thursday in Little Rock, where they talked about playing for pride, playing for their coaches. The captains, senior leaders and junior cornerback Christian Holmes were among the most outspoken players, teammates said. The players figured, linebacker Nick Bolton said, Odom and his staff would be fired if they lost to Arkansas.
The Tigers did enough Friday to avoid that fate.
Now the ball's in Sterk's hands.