COLUMBIA, MO. • It's Five for Friday, Mizzou Edition. We can't promise this will return as a regular weekly item, but it's here today, so read away.
First, a recap of the Mizzou week that was in links …
1. Knox Landing?
Unlike a lot of blue chip recruits, Kevin Knox spent his entire high school career at the same school and wasn't a nationwide vagabond hopping from school to school. He arrived at Tampa Catholic High as a 6-3 guard with raw skills and boundless energy. He made the varsity as a freshman but didn't start. On the AAU circuit he was overshadowed some by teammates Tony Bradley, now at North Carolina, and Jonathan Issac, now at Florida State. His sophomore year, Knox became a starter for Don Dziagwa and started to grow and develop into a star.
"He was just this 6-3 skinny ninth grader that had a great work ethic," Dziagwa said.
At Tampa Catholic, classes start at 8. Dziagwa's son, Thomas Dziagwa, was a star player on the team, a year older than Knox. (Dziagwa now plays for Oklahoma State).
"One year my son said, 'Dad, I want to get to school early so we can work out for an hour before class,'" Dziagwa said. "So we started getting there at 7. Kevin stated coming to those morning workouts. Then he grew from 6-3 to 6-5 to 6-6 and now he's 6-9. But his work ethic is a great story for me to tell people. We always knew he'd be a pretty good player, but as a ninth grader he shot just 48 percent from the free throw line and averaged about six points a game. He was OK, a good high school player and maybe he'd play college ball. But he kept getting better and better."
After his sophomore year, Knox earned one of the last invitations to the USA 16-and-under national tryouts and made the team. The next summer, he made the 17-and-under team.
"It's been a neat meteoric rise to be honest with you," Dziagwa said.
As a 6-3 guard, Knox began his high school career working with the guards in practice in ball-handling and shooting drills. "It was never like we stuck him down in the post," his coach said. "We didn't know he was going to be 6-9. But the way the game has changed if I had a 6-9 freshman I'd probably have him do all of our guard drills."
When Knox pulled down a rebound, Dziagwa let him run the floor and bring the ball up the court. He developed a reliable 3-point shot, too.
Any of this sound familiar? It should. From a 2016 P-D story on Michael Porter Jr.:
Orthopedic specialists took a look at his growth plate and indicated he'd one day tower over his 6-4 parents. But Michael Sr. left nothing to chance. If youth coaches tried making Porter a post player, Michael Sr. yanked him off the team. Eventually, he started training him ball-handling and shooting skills. "Even though the orthopedic doctor said that, there was no guarantee," Michael Sr. said. "I didn't want him to get to high school and be a 6-4 post player."
Dziagwa usually prefers players sign their letter of intent in November so they can focus on their senior season, but even though Knox delayed his decision until the spring, he had no trouble putting aside his college choice during the season.
"For us, he was all about winning," Dziagwa said. "It wasn't about Kevin Knox. It was all about Tampa Catholic. If he ends up being a one-and-done that one year (in college) wherever he's at he's going to devote himself totally to help the team get into the NCAA Tournament and do well in their conference."
Knox was recently Florida Dairy Farmers' Mr. Basketball, the state's player of the year honor. Past winners include Vernon Maxwell, Vince Carter, Teddy Dupay, Amar'e Stoudamire, Brandon Knight, Austin Rivers, Joel Berry and Antonio Blakeney.
2. Book of Jeremiah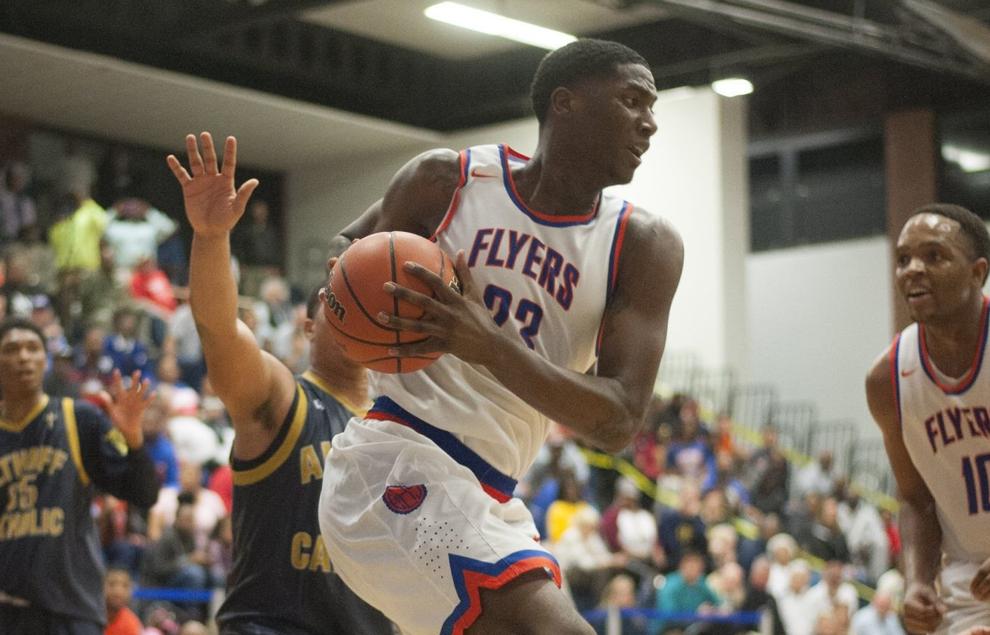 What's the latest on East St. Louis center Jeremiah Tilmon? A source said Friday that Illinois has not granted Tilmon's request to be released from his letter of intent, but he's expected to be released soon. "It could be any day or moment," the source said. Should that happen Missouri figures to have a strong chance to land the 6-10 center — though his recruitment has been mysterious at times.
"I would be shocked if he doesn't end up at Missouri," Rivals.com national recruiting analyst Corey Evans said. "One of the big things Illinois had going for them was keeping (assistant coach) Jamall Walker. I guess some things happened behind closed doors."
There are mixed reviews about Tilmon's skill level after a senior season that saw him average 16 points, 11 rebounds and four blocks. But Missouri desperately needs a functional big man — and not necessarily a prolific scorer. If Tilmon can rebound, play post defense and protect the rim to some degree, he'd be an immediate impact for the Tigers.
Here's a Tilmon scouting report courtesy ESPN.com:
He's broadly built with wide shoulders, a naturally strong frame and good agility and athleticism for his size. He runs the floor well, has good use of both hands and plays with a ton of sheer force around the rim. He's a powerful finisher who can leap through contact and loves to get on the offensive glass. Right now, his biggest impact is on the defensive end of the floor. He's an excellent rim protector who both blocks shots and challenges just about everything at the rim. ... His defense is ahead of his offense right now and so while he shoots a very high percentage from the floor, he's not a signature piece on the offensive end. He'll show you flashes around the paint with agile footwork and dexterity but he doesn't have a go-to move with his back to the basket and so he's not a guy you can play off of yet in a half-court game. Because he's such an aggressive shot-blocker he also tends to be foul prone and a much better rebounder on the offensive end than the defensive end. … He's a top national prospect with a ton of physical upside but right now his game is based off blocking shots, running the floor, finishing inside and providing a physical presence inside the paint on both ends.
3. Better late than never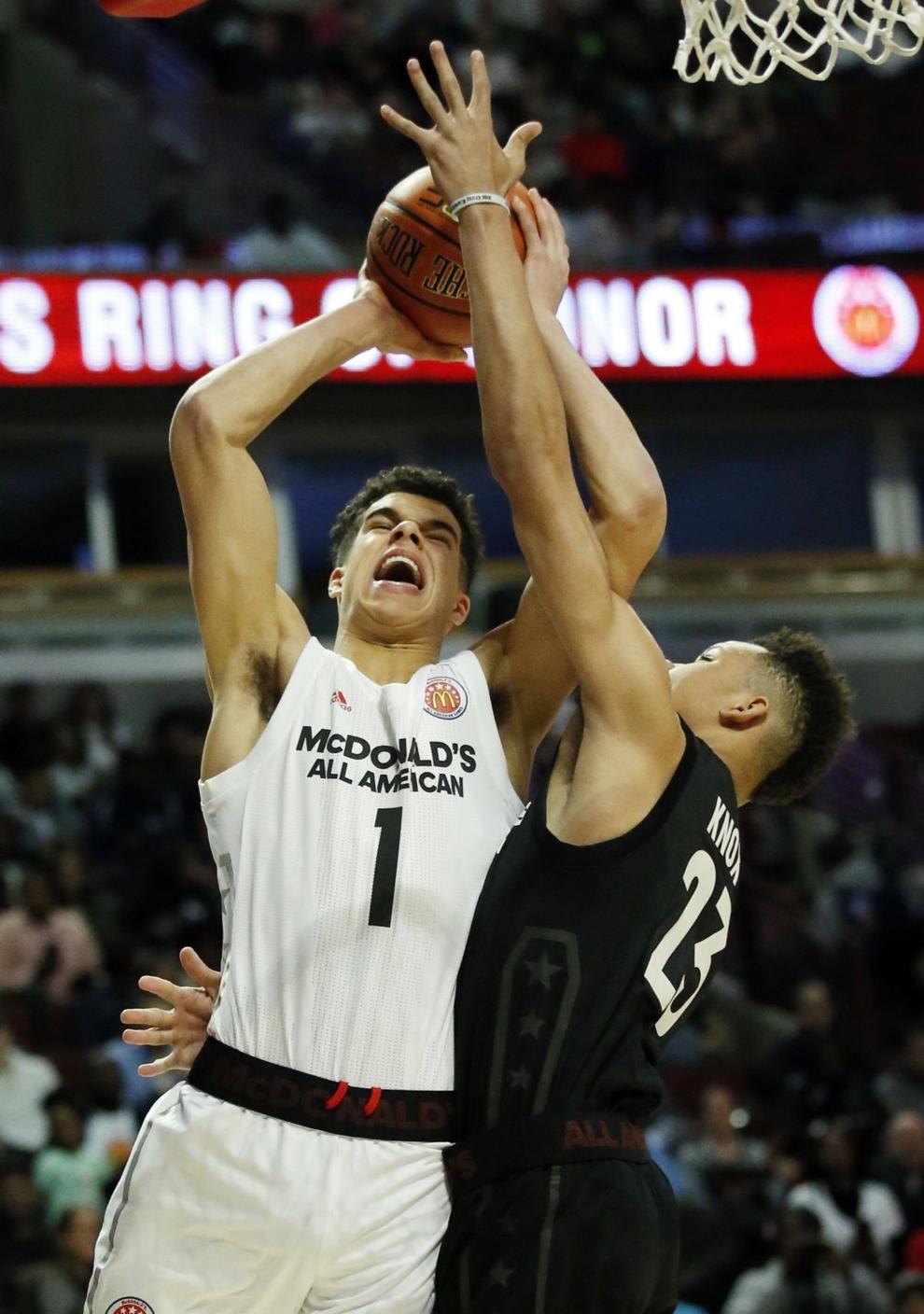 Back to Knox. Common sense tells you Mizzou would have considerable ground to make on the programs that have recruited Knox for more than a year. The coaches at his other four choices have built relationships with the player, his family and coaches. Duke coach Mike Krzyzewski and North Carolina's Roy Williams are regulars at Tampa Catholic, Dziagwa said. Knox knows Florida State well with both parents, Kevin and Michelle, having played football and volleyball, respectively, at the state school.
But here's a case where a latecomer like Mizzou can get into the mix quickly: Elite five-star recruits like Knox might spend only a year on campus—and realistically, about nine months — which changes the criteria for the player during the selection process. Possible one-and-done recruits are less invested in factors outside of the basketball program.
"When I interview some kids that are fringe top 100 guys, I ask them what they really want in a school," Evans said. "It's the system, the fit, the school environment, the academics. When you talk to top 25 kids, it's skill development, the coach's ability to get guys in the NBA and marketability. For these higher-level one-and-done prospects it's more about the fastest route to the NBA."
For Knox, there already figures to be a national spotlight on Mizzou this season because of Porter's presence, but he'll also have the chance for more minutes, touches and shots compared to, say, Kentucky, where John Calipari has signed another top-rated class stocked with readymade NBA talent.
"I think Missouri certainly is a very interesting, different type school than the other (finalists)," Dziagwa said. "Not that Missouri can't be good … but Duke, North Carolina and Kentucky have already signed so many players."
4. Where will Martin's first class rank?
Knox is visiting Mizzou this weekend, along with three-star guard Blake Harris from Raleigh, N.C. Martin is also heavily pursuing Edwardsville guard Mark Smith.
As of now, 247Sports.com's composite class rankings has Mizzou's class of two (Porter and C.J. Roberts) at No. 47. The 247 composite rankings average all the class rankings by national recruiting outlets. The site has a fun class calculator tool that allows you to plug other recruits into team's classes to get a projection of where the class will ultimately rank. Mind you, there are a lot of uncommitted recruits still out there, so other team's rankings will change eventually, too.
Here's where Mizzou would rank under a few different scenarios:
Porter, Roberts, Knox, Harris, Tilmon, Smith: 69.66 points, No. 2
Porter, Roberts, Knox, Harris, Tilmon: 69.21, No. 2
Porter, Roberts, Knox, Harris: 65.72, No. 5
Porter, Roberts, Harris, Tilmon: 65.04 , No. 5
Porter, Roberts, Tilmon, Smith: 65.94, No. 5
Porter, Roberts, Harris: 56.28, No. 16
Porter, Roberts, Tilmon: 61.27, No. 11
If Missouri ends up with a top 20 class, it would mark the sixth time in 15 years. Here's where Mizzou's best classes have ranked in the modern age of recruiting class rankings, as rated by 247's composite rankings:
5. Chemistry class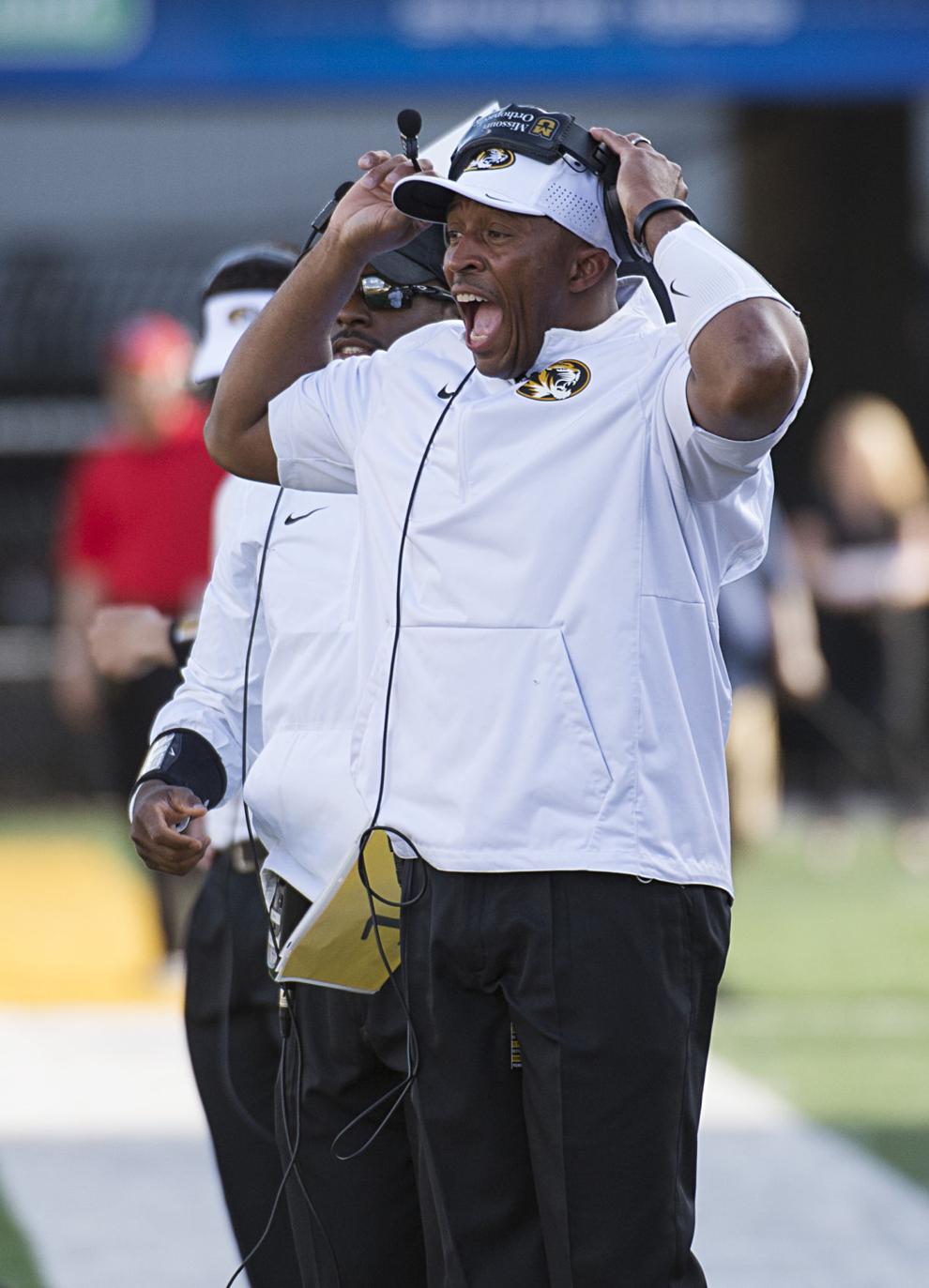 One quick note on Mizzou football. Second-year defensive coordinator DeMontie Cross gave a very interesting answer to a simple question after Thursday's practice. Asked why he's more confident with this year's defense compared to last, Cross said this:
"Chemistry. It works wonders. When you have guys on the same page and nobody's really worried about who gets the accolades, that's the makings of something really special. Right now we've got a group guys who are all happy about being part of something. Nobody's complaining about the scheme, about their opportunities to do things. From that standpoint it's refreshing to see guys pulling for each other, whether they're one or two or three (on the depth chart). Everybody's pulling for each other whether it's the front or the back end. We've got walk-ons making plays and the guys are going nuts on the sidelines. Last year's team we dealt with a lot of adversities on and off the field and we could never really get it going quite well enough. When you have success it breeds confidence. We didn't have enough success really, so that confidence didn't come until later. Right now I don't think that'll be a problem coming up."
Some veteran Missouri players openly grumbled about last year's scheme change. Barry Odom made the switch back to Mizzou's previous defense midway through the season, but the complaining clearly touched a nerve with Cross.
Extra Points
Martin continues to finalize his staff: Paul Rorvig will stay on Mizzou's staff as director of operations. Marco Harris, Martin's former high school teammate and staffer at Cal and Tennessee, will be MU's director of player development. Nicodemus Christopher, Martin's strength coach at Cal, will have the same role at Mizzou, the director of athletic performance. Christopher endeared himself to The Antlers student fan group with this quote in MU's press release: "I've quickly noticed the excitement that is in the air in Columbia. It's an amazing feeling. The support for Mizzou's program is everywhere, from the students, to those Antlers, to local business owners. You can tell everyone wants Mizzou Basketball to succeed." … Question left to ponder this weekend: If Martin lands his next prized recruit, does Mizzou Arena transform into Fort Knox or the Porter House for 2017-18? … Mark Smith was once a Mizzou baseball commitment but has blown up as a national basketball recruit. Kentucky offered him a scholarship Thursday. Michigan State has recruited him heavily, too. ... Odom's staff has offered scholarships to multiple 2018 quarterbacks in recent days: Cammon Cooper (Lehi, Utah), Tyler Shough (Chandler, Ariz.) and Chase Wolf (Cincinnati, Ohio), but it appears the Tigers are still locked in on James Foster (Montgomery, Ala.) as its top QB option for 2018. As for the current team, coordinator Josh Heupel has been high on redshirt freshman Micah Wilson's campaign to become Drew Lock's backup this fall. "He's starting to see defenses a lot better," Heupel said Thursday. "The game is still fast but it slows down for him every single day. He's done a really good job. One of the things we talk about is not making the same mistake twice. If you learn from the mistake you've got a chance. He's done a good job of when he's made a mistake learning from it and moving on."