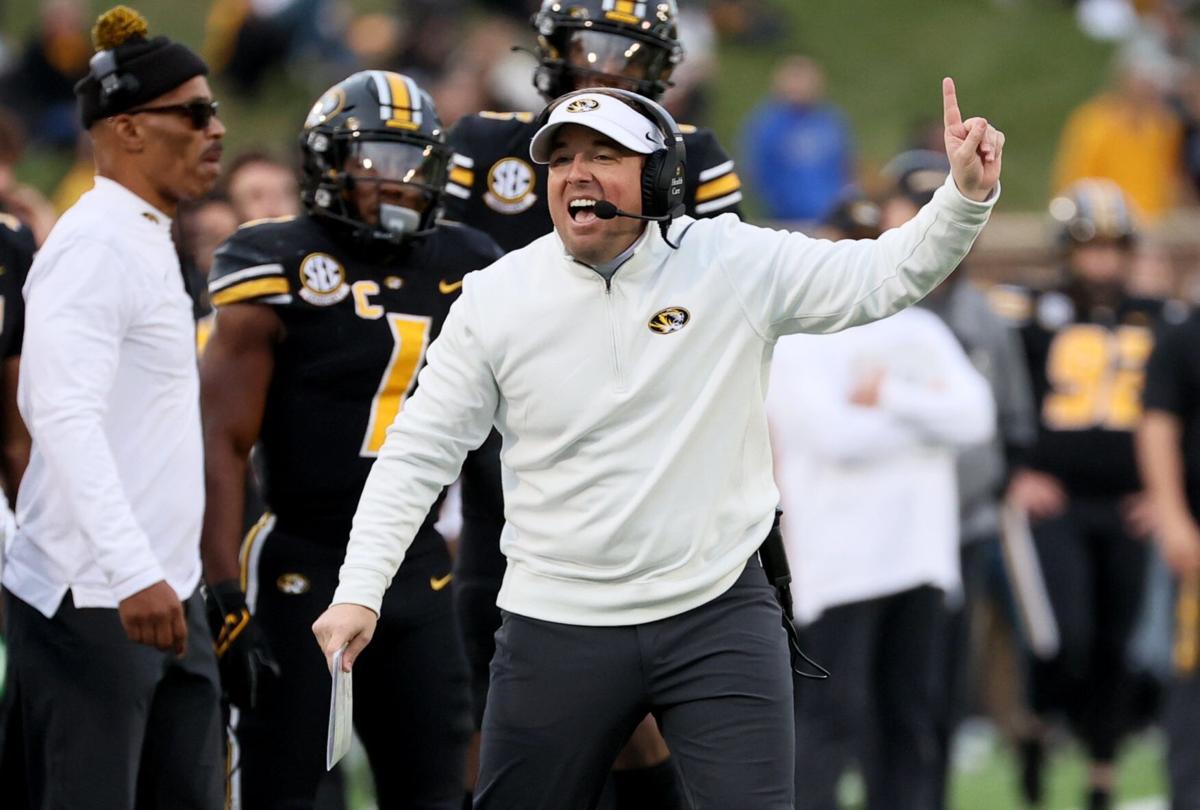 The 2022 Missouri football season will no longer open with back-to-back road games. The Tigers have canceled the contract for their previously scheduled season-opening game at Middle Tennessee and replaced it with a home game against Louisiana Tech on Sept. 3.
From there, Eli Drinkwitz's Tigers go on the road for a Week 2 game at Kansas State, as scheduled.
"We worked hard to ensure a seventh home game," Mizzou athletics director Desiree Reed-Francois said. "It's important to our football program, fans and local economy to have a full slate of games at Faurot Field. We look forward to welcoming Louisiana Tech to Columbia for the first time as part of a competitive home schedule which features 2021 National Champion Georgia, Kentucky, Arkansas and Vanderbilt."
"I'm grateful to our administration and everyone involved in bringing a seventh home game to Faurot Field next season," Drinkwitz said. "Gameday brings a fun energy to our city and our fans. We look forward to hosting Coach (Sonny) Cumbie and the Bulldogs in September."
This will be the first-ever meeting between Missouri and Louisiana Tech. Cumbie was recently hired at Louisiana Tech after more than a decade as an offensive assistant at TCU and Texas Tech. Louisiana Tech canceled a game at Baylor to make room for the trip to Mizzou. Mizzou is paying Louisiana Tech $500,000 to play in Columbia, MU confirmed.
The Middle Tennessee game was part of a multi-year series Mizzou signed under the past administration. MTSU will still visit MU in 2023, as scheduled. The financial terms of the canceled MTSU game were unclear on Tuesday.
The rest of Mizzou's 2022 schedule remains unchanged. After traveling to Manhattan, Kansas, to play the Wildcats of the Big 12, the Tigers host Abilene Christian on Sept. 17 and then play a late-season nonconference game at home against New Mexico State on Nov. 19. MU's SEC home games are against newly crowned national champion Georgia (Oct. 1), Vanderbilt (Oct. 22), Kentucky (Nov. 5) and Arkansas (Nov. 26 or 27). Mizzou opens SEC play Sept. 24 with its first-ever game at Auburn, followed by trips to Florida (Oct. 8), South Carolina (Oct. 29) and Tennessee (Nov. 12).
Hea out, Banister back
Mizzou's tight end position continues an offseason overhaul. Niko Hea will not return for the 2022 season and is medically retiring, a team spokesperson said Tuesday. Hea, a St. Louis native from CBC, led MU's tight ends with 18 catches for 145 yards and two touchdowns this past season and over three years caught 35 passes for 305 yards and four TDs. He has two more years of college eligibility. Hea did not play in the Armed Forces Bowl against Army.
That means the Tigers will be without their top three players at the position in 2022. Daniel Parker Jr. and Messiah Swinson both entered the transfer portal, committing to Oklahoma and Arizona State, respectively, in recent weeks. Ryan Hoerstkamp, who played in four games as a freshman, returns as MU's most experienced player at the position. Mizzou also lost tight ends coach Casey Woods, who is the new offensive coordinator at SMU.