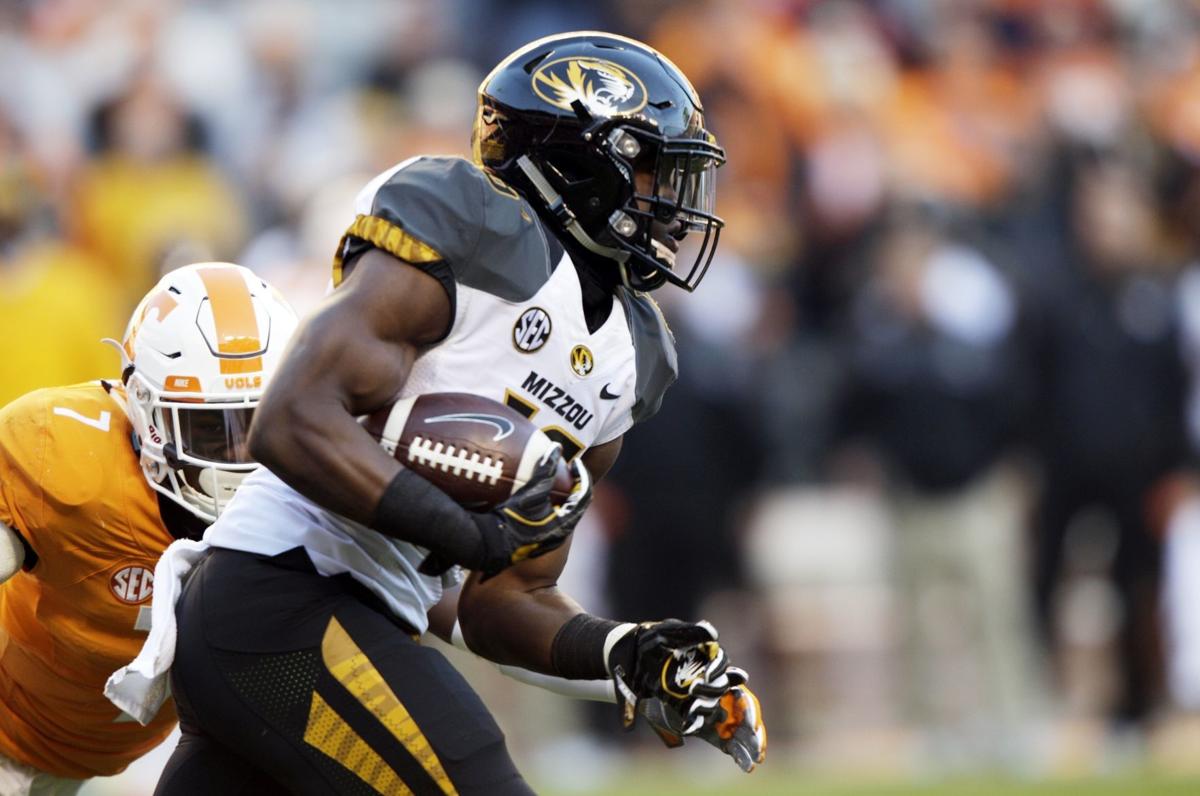 The skinny • Forget about identifying Mizzou's quarterback for 2019. The question nobody wants to think about but MU's coaches must answer is about 2018: What happens if Drew Lock gets hurt? If July was about launching Lock's Heisman Trophy campaign, August was about preparing for the worst. The record-breaking passer is easily the most important player on the roster, a fourth-year starter coming off a 44-touchdown pass season, the most in SEC history. But should Lock miss a game or more — he's started 33 straight since taking over the job midway through 2015 — Micah Wilson figures to be next in line. The redshirt sophomore was Lock's backup last year and by the end of preseason camp was getting the most work with the first and second units in relief of Lock while Lindsey Scott Jr., a junior college transfer, worked with the scout team along with the other backup QBs. Then again, MU might have multiple options in mind. Odom said Thursday that the backup would "depend on the situation of the game on who would go in right now."
The skinny • This looks like a timeshare between two backs who could probably start for the majority of SEC offenses. The 230-pound Damarea Crockett prides himself on speed and quickness that defy his bigger frame. By comparison, the 210-pound Larry Rountree III is smaller but packs a wallop as a downhill runner. Both are efficient runners — Crockett has averaged 6.6 yards per carry in two seasons, just ahead of Rountree's 5.6 — and either could push for 1,000 yards with enough carries, but Mizzou hopes to keep both fresh and will lean on the hot hand in the second half of games. Freshman Tyler Badie campaigned for the No. 3 job as a smaller, quicker option but will have to hold off former walk-on Dawson Downing for the leftover touches.
The skinny • Outside receiver Emanuel Hall was among the nation's best home run hitters as a deep threat last year but should get more chances for single and doubles on underneath and intermediate routes in Derek Dooley's new offense. Nate Brown and Alex Ofodile, an Oregon transfer, are rangy possession receivers to complement Hall on the other side. Johnathon Johnson returns as a slippery playmaker in the slot. Freshmen Dominic Gicinto and Jalen Knox should factor into the rotation, plus senior Richaud Floyd once he's recovered from a broken foot. Albert Okwuegbunam wants to prove he's the nation's best tight end after sharing the SEC lead with 11 touchdown catches last year. He'll remain a popular red-zone target, as well as senior tight end Kendall Blanton, who should play a larger role after catching only six passes last fall.
The skinny • The Tigers return all five starters along an offensive line that's short on household names but consistently keeps Lock on his feet. The line allowed just 13 sacks last year, tied for the fewest among Power 5 offenses. The scheme has changed under Dooley, and the same group will have to hold its blocks longer in pro-oriented pass protections. But from tackle to tackle, the starting five mixes massive bodies — they average 6-foot-5 and 328 pounds — with valuable experience in the form of 85 collective starts. Right tackle Paul Adams and left guard Kevin Pendleton are three-year starters. Left tackle Yasir Durant kept Lock's backside clean last year, while Trystan Colon-Castillo (center) and Tre'Vour Wallace-Simms (right guard) form a powerful inside tandem.
The skinny • The Tigers are stacked at defensive tackle with at least six players ready for the rotation, led by a healthy Terry Beckner Jr., coming off a seven-sack season. Nose tackle Walter Palmore will anchor the interior, while Texas transfer Jordan Elliott and returners Rashad Brandon, Kobie Whiteside and Markell Utsey will take turns relieving the starters. Things are less settled on the edges. Some combination of Chris Turner, Nate Anderson and Tre Williams will start at defensive end, with freshmen Trajan Jeffcoat and Jatorian Hansford getting snaps, too, but the Tigers lack an established rusher off the corner.
The skinny • Inside tandem Cale Garrett (middle) and Terez Hall (weakside) will rarely leave the field and give the defense two rugged tacklers to plug the middle. When the Tigers play their base 4-3 defense, Brandon Lee returns as the strongside linebacker, giving the defense three seasoned upperclassmen at the second level. Odom has been concerned with the depth behind the starters, but sophomores Aubrey Miller and Jamal Brooks, plus freshman Nick Bolton, the big surprise of preseason camp, will get some snaps early, along with seniors Tavon Ross and Jacob Trump.
The skinny • Here's where the Tigers need consistent stoppers. The corners are all but set with returning starters DeMarkus Acy and Adam Sparks back to patrol the outside. Christian Holmes, after missing all of 2017 with a shoulder injury, could push both for playing time and will factor into coordinator Ryan Walters' various substitution packages, along with redshirt freshman corner Terry Petry. At safety, the staff has been praying for a reliable playmaker to surface. That could be Oregon transfer Khalil Oliver, who quickly climbed the depth chart and should open the season as a starter, likely opposite senior Cam Hilton. There's youth in reserve as Joshuah Bledsoe and Tyree Gillispie will nip at their heels for snaps in the base and sub packages.
The skinny • It's been a long time since the Tigers had two trusty kicking specialists as good as punter Corey Fatony, the coaches' first-team All-SEC choice, and third-team kicker Tucker McCann, whose 2017 season eased concerns after his sketchy freshman year. A number of players could share the return duties, at least until punt return specialist Richaud Floyd returns from a broken foot. Receivers Dominic Gicinto, Jalen Knox and Johnathon Johnson could all get looks in the return game.