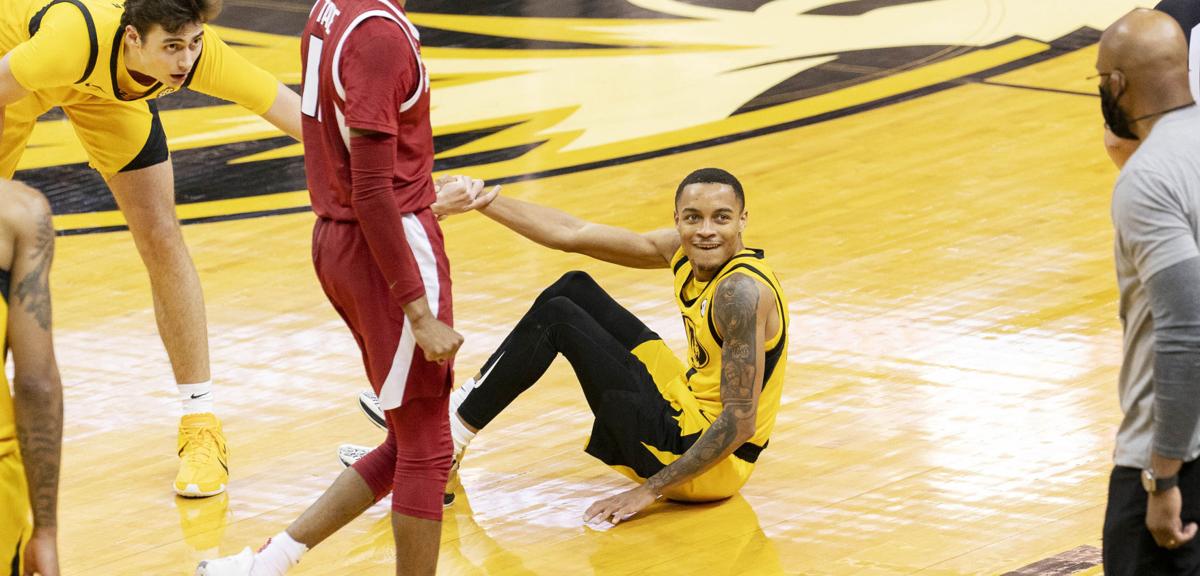 COLUMBIA, Mo. — What's wrong with Xavier Pinson? It's the most commonly asked question around Mizzou basketball for the last couple weeks.
Outside of a 23-point splurge against Arkansas in last Saturday's overtime loss, the junior guard has rarely resembled the explosive playmaker who looked like the best guard in the SEC in that road victory at Tennessee or that ferocious comeback against TCU.
But which Pinson will show up Saturday at South Carolina?
In three of MU's last four games — taking the Arkansas game out of the mix — he's averaged just 8.7 points per game, attempted just five free throws, made only 1 of 14 3-pointers and mixed seven assists with 11 turnovers.
Pinson's shot selection has been suspect. Lately he's seemed reluctant to drive the ball, attack the rim and absorb contact and more content to shoot ill-timed jumpers.
Cuonzo Martin's frustration with his junior guard has been impossible to miss lately. He sounds like a broken record when the topic comes up after games. What does he expect from Pinson on the floor?
"Strong drives, stuff we talk about all the time, strong defense," Martin said after Tuesday's loss. "Execute what we're trying to do as a point guard. He's one of the experienced guys in our program. … It's nothing different than what I talk about all the time."
As the Tigers continue to slip in the NCAA Tournament bracket projections, it's worth wondering if it's time Drew Buggs gets more of Pinson's minutes in the backcourt. Not all his minutes but more.
They're two wildly different players. Buggs is all about the floor game. He plays under the rim, passes up far more shots than he takes and when he does shoot it's not pretty: He's made just 1 of 13 3-pointers. He's not much of a free throw shooter either at just 53 percent. Mizzou sacrifices some scoring when he's on the floor. But that's not his game. He's been a stabilizing force without the scoring upside but also comes without the scowls and bad body language when things go south. There's a reason his teammates call him Coach Buggs. He might be the most alpha personality on a team that lacks fiery leaders.
In far fewer minutes, Buggs plus-minus rating for the season is plus-40. Pinson? He's barely breaking even at plus-4. Plus-minus is far from a perfect indicator of what's truly happening on the floor, but through 19 games, we're no longer talking about a limited sample size.
In the Georgia game, Pinson was minus-19. Buggs was plus-10. Again, other factors contribute to this statistic, but with live-ball turnovers becoming a problem, this can't be ignored:
Pinson: 61 assists, 61 turnovers
Buggs: 40 assists, 12 turnovers
With Kobe Brown showing off his scoring ability at Georgia … with Jeremiah Tilmon returning Saturday … with Mark Smith scoring in double figures in three of MU's last five games … with Parker Braun showing some scoring touch … maybe the Tigers can afford to trade more minutes of Pinson's scoring for more minutes of Buggs' playmaking. And we haven't even touched on defense. Against UGA, Pinson allowed 139.2 points per 100 possessions when he was on the floor. Buggs allowed 118.1.
"Buggs is a natural facilitator," Martin said Friday. "That's what he brings to the table. He's looking for guys. X is more of a scoring guy. X is more built to score. Even though X's stature says point guard x is more of a combo guard. He'll make plays and pass when there's as an opportunity to pass. I just think Buggs is a natural, what we'd consider as old school guys like myself a John Stockton-type guy. You just set guys up the whole night."
Here's a closer look at Saturday's game:
No. 20 Missouri at South Carolina
Where • Colonial Life Arena, Columbia, South Carolina
Series; Last meeting • Missouri leads 7-6; Missouri 81, South Carolina 70, Jan. 19, 2021
Records • Missouri 13-6, 6-6, South Carolina 5-10, 3-8
TV, radio • ESPN2 (Karl Ravech, Jimmy Dykes), KTRS (550 AM)
Point spread • Missouri by 3 ½
KenPom prediction • Missouri 77, South Carolina 75
Net rankings • Missouri No. 43, South Carolina No. 116
South Carolina
G Keyshawn Bryant (6-6, Jr.) … 14.2 ppg, 5.4 rpg
G A.J. Lawson (6-6, Jr.) … 18.0 ppg, 4.3 rpg
G Seventh Woods (6-2, Sr.) … 5.5 ppg, 2.2 apg
G Trey Anderson (6-6, So.) … 2.5 ppg, 1.1 rpg
F Justin Minaya (6-6, Jr.) … 8.1 ppg, 6.9 rpg
G Trey Anderson (6-6, So.) … 2.5 ppg, 1.1 rpg
F Wildens Leveque (6-10, So.) … 6.3 ppg, 5.3 rpg
Missouri
G Xavier Pinson (6-2, Jr) … 14.5 ppg, 3.2 apg
G Dru Smith (6-3, Sr.) … 13.9 ppg, 3.4 apg
G Mark Smith (6-5, Sr.) … 9.8 ppg, 30.9 3pt%
F Kobe Brown (6-7, So.) … 7.5 ppg, 5.9 rpg
F Jeremiah Tilmon (6-10, Sr.) … 12.8 ppg, 7.8 rpg
G Javon Pickett (6-5, Jr.) … 7.0 ppg, 2.7 rpg
F Mitchell Smith (6-10, Jr.) … 4.5 ppg, 5.1 rpg
• Gamecock to watch: The Gamecocks aren't expected to have Jermaine Cousinard, who missed USC's last game with an ankle injury, but they still have Lawson, one of the SEC's most prolific scorers. He has nine 20-point games this season and only two teams have held him under 10 points: Houston and Mizzou. In the first game against the Tigers, he scored only five points on 2-of-9 shooting in 25 minutes
"You certainly have to make his looks tough," Martin said. "He's one the few guys in our league who can catch a shoot where he stands and gets up on his shot. He doesn't have to take a step. So as soon as he catches it, boom, he's off the ground. He's got a great release. He's 6-6 and long and can get it over the top. With him you really have to do a great job of trying to limit his catches because when he catches it he's a threat. And he straight-line drives you hard. He's an athlete around the him. He can dunk the ball and make plays there. But you just want to try to limit his touches as much as possible, which is easier said than done.
"You got to try to stop him in transition and you have to make other guys beat you. Because if you allow him to get going, it'll certainly be a long night for you."
• Don't count out Frank Martin: When Cuonzo Martin rejoined the SEC in 2017, Frank Martin joked at SEC media days that they were "brothers from another mother." There's a lot of mutual respect between these two, and Mizzou's Martin certainly sympathizes with the COVID and injury issues his colleague has endured this year. South Carolina really struggles to defend this year, especially along the perimeter. They still play at Martin's favored fast pace, but the defense hasn't been there.
Mizzou can't overlook this game. Remember, with five chances every year in the SEC, the Tigers haven't swept a season series since 2014.
"It's been a tough season for them," MU's Martin said. "Not because of their personnel. Of course, they have great personnel. But when you're dealing with COVID, when your head coach and your leader is dealing with it, when you have key guys out against Tennessee that's hard. I'm joking, but I'm serious: It's like being on the Screaming Eagle, the ups and downs and highs and lows. It's a tough ride. You've got to have a strong stomach to deal with that. Obviously Frank is as tough as any. So they'll navigate through. He's one of those guys who's not making excuses. He won't complain about it. But when you have that level of talented team, and if you don't have all your parts … think about it, we just had one guy out and we're a different team. Imagine you got two or three key guys out. You're dealing with COVID, can't practice at the level you practice. I'm not sure what you guys know behind the scenes when you have COVID situations, but you can only practice one guy at a time. So it's not a team. It's not like you're still practicing as a team. It's more or less individual workouts. And now it's game time and you have to come together and make it work."
• Kobe on the rise:  Tilmon returns in the middle, but the Tigers now know they have another capable scorer inside. Brown was outstanding against Georgia's smaller frontline. There's no reason Mizzou should go away from that inside threat at South Carolina.
"I think that's certainly something we saw when we recruited him," Martin said. "I think with Kobe, (he's a) different player but similar in a lot of ways to Jeremiah. They continue to get better with age and experience and just understanding. Because Kobe is a guy he's gonna try to do everything you ask him as a player, whatever you want done as a player. He's that type of guy. He's a coachable guy. He wants to be good whatever it takes to win games, all those things. I just think for him it's just playing off his instincts because with his size his ability to get to the rim, he's really improved scoring around the rim, using the strength, because he's always been a guy who can face up and make plays. Add all those things, and also shooting his timely 3-point shots, it's just another dimension for our team."