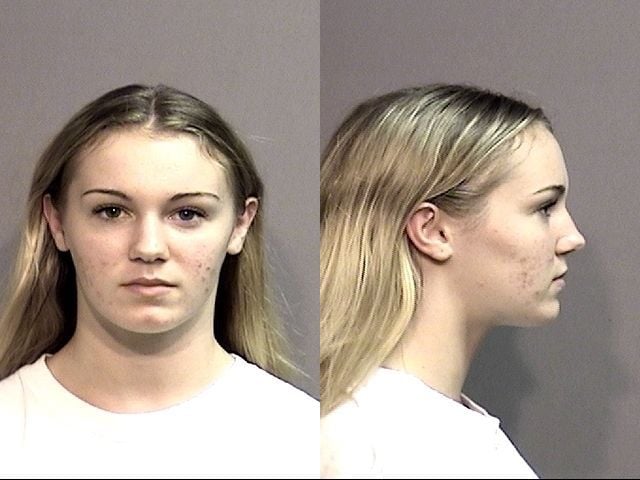 COLUMBIA, MO. • Mizzou gymnast Morgan Porter was arrested Tuesday by MUPD on suspicion of felony fraudulent use of a credit device.
Porter, 19 from Overland, Mo., and Ritenour High School, was the Southeastern Conference freshman of the year last season and qualified for the NCAA Championships in the all-around.
Porter has been suspended from the team per athletics department policy, team spokesperson Kate Lakin confirmed. 
An MUPD officer was dispatched on a possible fraud case Sunday for an incident believed to have occurred June 8 at an off-campus location, according to a report provided by MUPD Major Brian Weimer. The officer identified Porter as the suspect. She was contacted at her residence at 9 p.m. Tuesday and arrested on suspicion of fraudulent use of a credit/debit device for more than $500. Porter was taken to Boone County Jail after processing and left on a $4,500 bond.
The report did not say what Porter is suspected of buying with the card or where she used it.
Fraudulent use of a credit device is a class A misdemeanor unless the value of the property or services obtained or sought within a 30-day period is $500 or more. In that case it's a Class D felony.
Per university system policy, an athlete charged with a felony is suspended immediately from practice and competition. If the athlete pleads guilty or is found guilty of a felony charge, the athlete is barred permanently from participation in athletics at any school in the UM System. A student suspended from participation in intercollegiate athletics as a result of a felony charge shall not be prohibited from receiving financial aid during the pendency of such felony charge.
On Wednesday, former Mizzou football player Trevon Walters, recently charged with a felony count of receiving stolen property, tweeted about the media not reporting on athletes in other sports getting arrested. Walters was arrested earlier this month on suspicion of using a stolen credit card. He was dismissed from the team during preseason camp. Walters faces arraignment Sept. 9 in Boone County.
"I wonder why when college football players get arrested it goes all on ESPN, all the news channels, news paper etc," Walters tweeted, followed by, "But when a different college sport get arrested no one hears about it. I'm not gonna call any teams or names out but I think that's crazy." And, later, "Let's see if this arrest hits social media"
Dave Matter brings you the latest updates from the Mizzou sports scene.