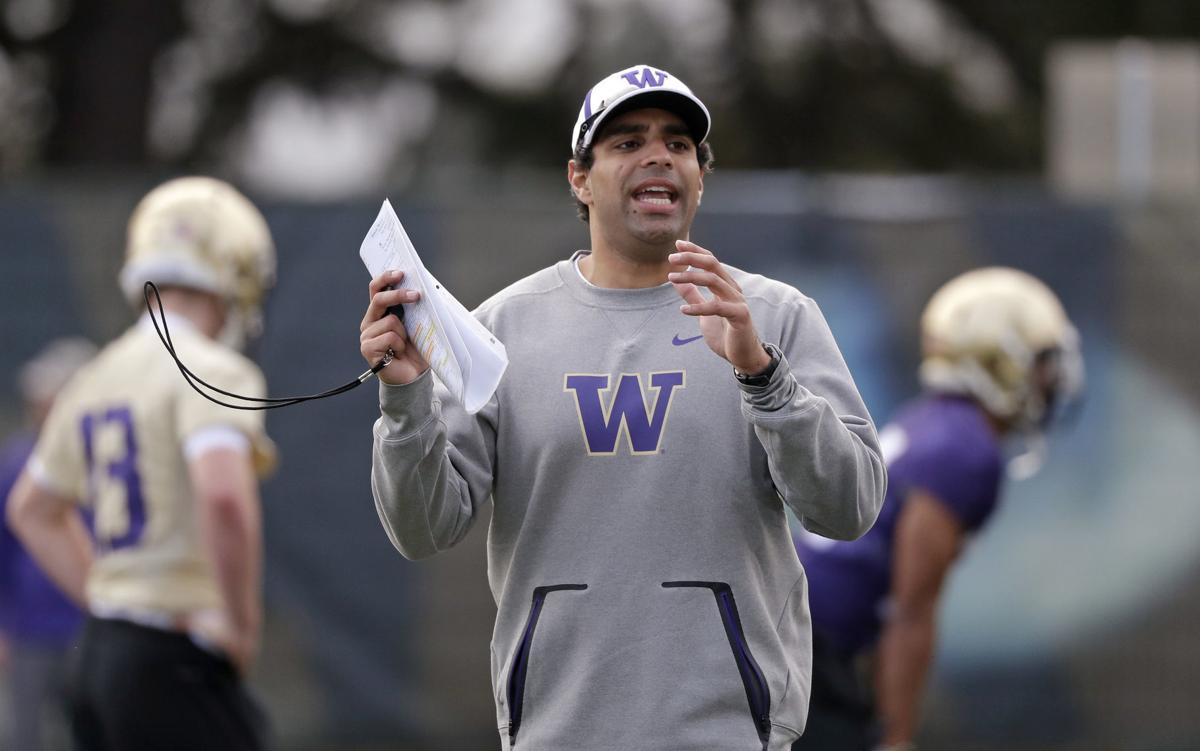 Missouri coach Eliah Drinkwitz is dipping back into his past for his latest addition to the Tigers' coaching staff. Drinkwitz named Bush Hamdan his next offensive assistant on Wednesday.
Hamdan most recently served as the University of Washington's offensive coordinator and quarterbacks coach for the past two seasons. Hamdan and Drinkwitz served as co-offensive coordinators at Arkansas State in 2013. His official title and contract details will be available at a later date.
"I'm excited to reconnect with Bush," Drinkwitz said. "He is an outstanding teacher and has great experience, from his time as a coordinator in the Pac 12, and on successful staffs in the SEC and the NFL. Bush is a good person who does a great job of connecting with kids and he will be a great addition to our staff."
"I had the fortune of working with Coach Drink at Arkansas State and I knew then that he was going to be a rising star in the business," Hamdan said.  "I've got such a great amount of respect for him and how he operates. I'm 100 percent on board with his vision. I'm very excited and grateful for the opportunity to help him build something special at Mizzou, and I can't wait to get started." 
Under Hamdan's watch, Washington's 2018 offense racked up 3,337 passing yards, fourth-most in team history. UW's 5,805 yards were the program's third-most. His offense struggled in stretches during the Huskies' 8-5 season and when UW coach Chris Petersen stepped down after the regular season, new coach Jimmy Lake did not retain the second-year coordinator.
Hamdan previously coached in the Southeastern Conference as Florida's receivers coach in 2012 before spending a year with Drinkwitz at ASU, where he also coached quarterbacks. From there he went to Davidson for a year then Washington as a quality control assistant. He spent the 2016 season as UW's receivers coach and passing game coordinator then left for a year in the NFL as the quarterbacks coach of the Atlanta Falcons. He returned to Washington in 2018 to serve as coordinator and quarterbacks coach. He was not retained by new Huskies coach Jimmy Lake.
As a player, Hamdan was a backup quarterback at Boise State. He got his start in coaching as a student assistant at Colorado in 2009, the same year current Mizzou defensive coordinator Ryan Walters served as a student assistant in Boulder, Colo.
Hamdan was born in Kuwait, according to this Tacoma News Tribune story. His mother is Pakistani and his father, a nuclear scientist, is Palestinian. They were on vacation in the U.S. when Iraq invaded Kuwait and lost their home and cars during the invasion. The family stayed in the U.S. and moved to the Washington, D.C. area where his father began working for the government. His older brother, Gibran Hamdan, played quarterback at Indiana and played briefly in the NFL. 
Drinkwitz has hired two other offensive assistants, TCU's Curtis Luper, who has coordinator experience, and Casey Woods, most recently UAB's tight ends coach. Drinkwitz has not finalized titles or coaching assignments for the new offensive staffers.