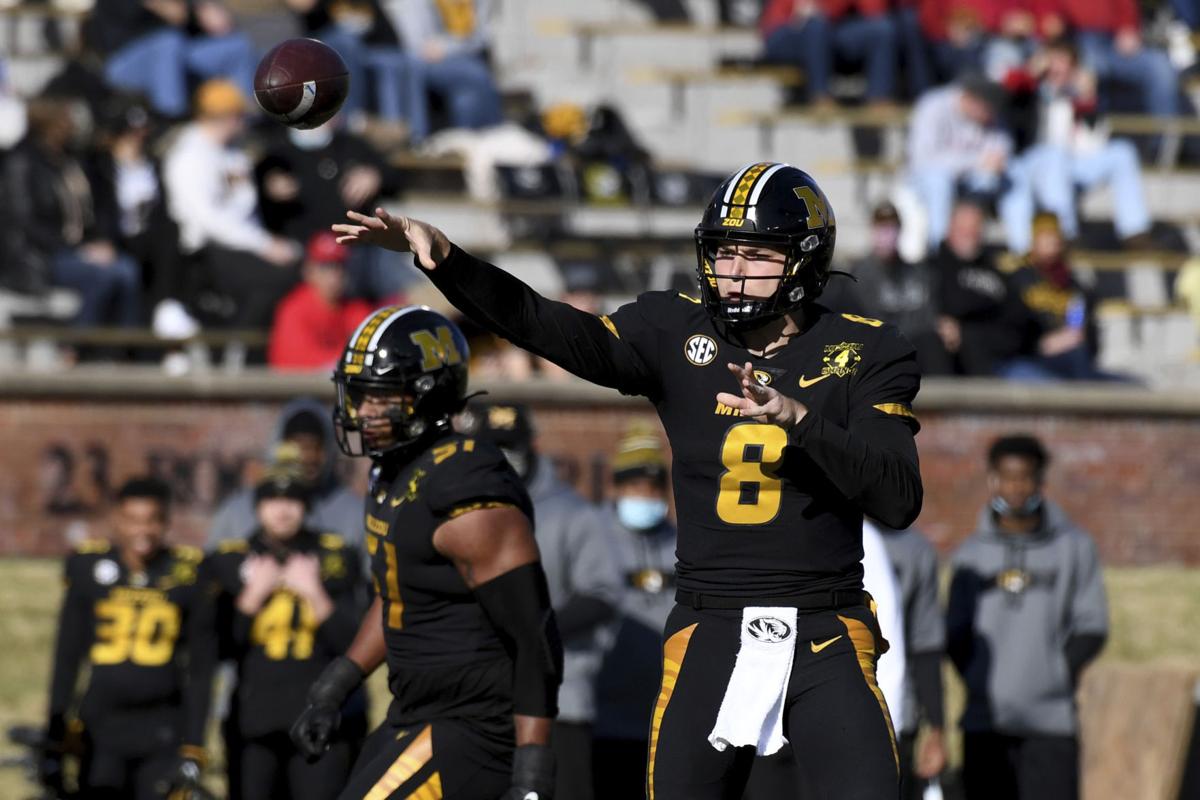 COLUMBIA, Mo. – We called an audible on our Mizzou position reviews for the 2020 football season. Here's how the lineup will look moving forward, barring any more coaching changes:
We know what happened at QB in 2020. Shawn Robinson opened the season as Eli Drinkwitz's starter, based on his playing experience and dual-threat potential against Alabama in the season opener. After a promising passing day against the Crimson Tide  — remember, Robinson completed 76 percent of his passes, better than any opponent against the Tide this year — but he struggled badly in the opening two series the next week at Tennessee, prompting Drinkwitz to turn the controls over to Connor Bazelak. Eight games later, Bazelak was the SEC co-freshman of the year after a year that displayed plenty of promise, some late-season breakdowns but overall hope for the future.
Let's take a closer look at Bazelak's season.
Remember, he didn't have the luxury of playing against overmatched nonconference teams that would have boosted his numbers. He ended the season completing 67.3 percent of his passes, which ranked sixth among SEC starters and 18th across the FBS. That's the best completion percentage for MU's starting quarterback since Chase Daniel in 2008 (72.9). Bazelak's QB rating of 132.1 was conspicuously low but not inexplicably low. The most jarring statistic of Bazelak's 2020 season was only seven touchdown passes — four coming in one game against LSU.
Only 42 quarterbacks in this shortened season threw for 2,000 yards this season —Bazelak threw for 2,366 — and all but one threw at least 10 touchdown passes: Bazelak. All 21 FBS quarterbacks who threw for more yards than Bazelak this season threw for at least 12 TDs.
So, that's the one glaring wart on his stat line for the season. But was the lack of touchdown passes more about Bazelak or more about his supporting cast. Mizzou was severely short on game-breaking receivers who were lethal after the catch. Did Drinkwitz dial up a less aggressive passing attack because of that shortage of game-breaking wideouts?
Using Pro Football Focus' advanced numbers, on passes targeted 20 yards and farther, Bazelak completed 14 of 50 for 416 yards (for four touchdowns and three interceptions). In the nine full games he played — Bazelak didn't get into the Alabama game until late in the fourth quarter — he averaged 5.6 of those deep balls per game and completed 28 percent. Here's how those numbers compare to Drew Lock's last three years as Mizzou's starting QB:
2018: 4.9 deep passes per game, 46.9 completion percentage
2017: 6.8 deep passes per game, 40.4 completion percentage
2016: 7.4 deep passes per game, 30.3 completion percentage
Bazelak's QB rating on those 20-yard attempts was 63.4, which ranked 13th in the SEC.
A few more Bazelak numbers to consider:
When passing under pressure he completed 54.3 percent of his throws. That ranked 10th among the regular starters in the SEC.
Blitzing Bazelak didn't have much of an impact on his effectiveness. He completed 67.5 percent of his throws when teams didn't send an extra pass rusher – and 67.2 when blitzed. Against the blitz he averaged 7.3 yards per attempt — and averaged 7.3 yards per attempt when he wasn't blitzed. His NFL QB rating against the blitz was 86.8 — and 88.5 when teams didn't blitz.
As for his PFF passing grade, Bazelak finished with a season grade of 77.4. Where's that stack up nationally? There were nine quarterbacks who scored in the 90s. We're talking about the best of the best: Alabama's Mac Jones, BYU's Zach Wilson, Florida's Kyle Trask and Ohio State's Justin Fields. Another eight regular starters scored in the 80s, including Texas A&M's Kellen Mond and Ole Miss' Matt Corrall. Bazelak finished in the same high 70s company as Notre Dame's Ian Book, Texas' Sam Ehlinger and Arkansas' Feleipie Franks.
Here's how Bazelak's PFF passing grade compares to Mizzou's recent starting QBs:
Bazelak's season produced some noticeable splits, especially in home vs. road games:
Completion percentage: 70.8 at home, 62.1 road
TDs-INTs: 4-1 home, 3-5 road
QB rating: 142.8 home, 116.4 road
Yards per game: 252.0 home, 213.5 road
Bazelak really seemed to struggle in MU's last two games, especially after he was knocked out of the Georgia game early in the second quarter on a play where a Bulldogs lineman kicked him in the back of the head while falling to the turf. Perhaps more impactful, Bazelak got his throwing hand stepped on inadvertently. Check out his splits before and after that collision:
Before: 70.0 completion percentage, 138.3 QB rating, 1.1 interception rate
After: 53.7 completion percentage, 101.0 rating, 5.5 interception rate
Interpret those numbers as you wish.
Brady Cook got a few cameos during the season and made the most of his 20 snaps, completing 6 of 7 passes for 72 yards and a touchdown.
What's next? With Robinson moving to defensive back permanently — at least that was his plan in Starkville at the season finale — the Tigers expect to open the season with three scholarship quarterbacks in Bazelak, Cook and freshman Tyler Macon, who plans to enroll this month to take part in spring practices and, as Macon has said all along since committing to Mizzou last year, compete for the starting job.