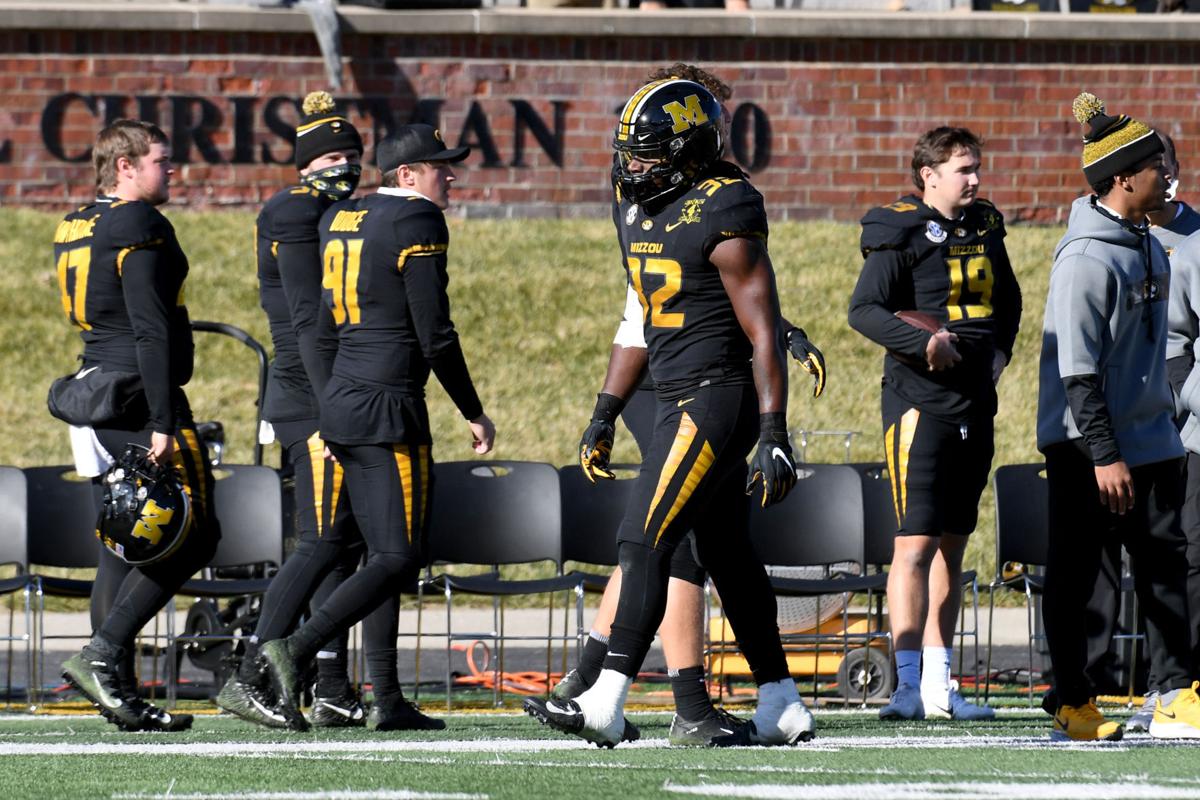 COLUMBIA, Mo. — We've gotten to our penultimate position review for the 2020 Missouri football season and it's one that doesn't require a whole lot of analysis: inside linebacker. Two dudes had almost all the snaps this season and rarely left the field in MU's 4-2-5 scheme.
Let's look at the season snaps, per Pro Football Focus:
Nick Bolton: 584
Devin Nicholson: 577
Chad Bailey: 87
Cameron Wilkins: 57
Jamal Brooks: 40
Jamie Pettway: 7
Will Norris: 1
For the second straight year Bolton was an easy choice for first-team All-SEC honors and he showed up on multiple second-team All-American teams, including the Associated Press squad, making him the first Missouri player to earn All-American honors since Kentrell Brothers in 2015.
Bolton was spectacular early in the year: 17 tackles at Tennessee, 11 tackles and three pass breakups against LSU, including a huge swat on the game's second-to-last play, 23 tackles and four for losses in back-to-back impressive defensive showings against South Carolina and Kentucky. He became Mizzou's first player to earn first-team All-SEC honors in multiple seasons since the Tigers joined the conference in 2012 and just the ninth Mizzou player in 20 years to earn first-team all-conference honors in multiple seasons, following E.J. Gaines (2011, 2013) Michael Egnew (2010-11), Jeff Wolfert (2007-08), Sean Weatherspoon (2007-09), Jeremy Maclin (2007-08), Chase Coffman (2006, 2008), Justin Gage (2001-02) and Justin Smith (1999-2000.)
But the naked eye and the numbers tell you Bolton's season dropped off late in the season, notably during Mizzou's final three games. Before that late stretch, he was on pace for first-team All-American status and (possibly) the Butkus Award. Not so much by December.
Bolton indicated most of the season that he was dealing with some injury issues, to the point his family made up T-shirts emblazoned with his epic quote after the LSU game: "Pain's only temporary. Wins are forever." He had to jog off the field a couple times for treatment, including seven plays into the Arkansas game on Dec. 5, the game Bolton had to watch from the sideline in the second half after a controversial targeting penalty. Early on Arkansas' second drive of the game, Bolton was shaken up on the field and needed help getting to the sideline where he received treatment on his lower left leg. He would return to make one more tackle but was ejected for targeting in the second quarter. He'd return the next game against Georgia and played the season finale at Mississippi State but rarely looked like the same player who terrorized offenses the first two months of the season.
If you split Bolton's season into two parts — before and after he came out early of that Arkansas game — the stat splits are telling:
• Before Bolton left the Arkansas game for treatment, the Tigers were giving up 5.4 yards per play. That's far from elite but not terrible. That average would have ranked fourth in the SEC and No. 41 nationally for the season.
After he came out of the game for treatment, Mizzou allowed 7.5 yards per play for the rest of the season. That average would have ranked last in the SEC for the season and No. 126 out of 127 FBS teams that played this year. Small sample size? Yes, but still worth considering when measuring MU's season.
• Before that moment Bolton came out of the Arkansas game, he had averaged one tackle for every 5.7 plays from scrimmage. After he came out of the game — and soon re-entered — he averaged one tackle for every 13.5 plays. Maybe Georgia and Mississippi State schemed him out of the play, but a linebacker who imposed his will on opponents for two months suddenly became just another guy on the field. Credit Bolton for gutting through the final 20 percent of the season when he wasn't nearly 100 percent, but he just wasn't the same player late in the year.
For the season, Pro Football Focus rated Bolton as Mizzou's best defensive regular, with a season defensive grade of 74.7. Among the players who had major roles on the defense, he finished with the team's No. 2 grade for rush defense (79.0), No. 3 grade or tackling (70.5) and No. 1 grade for pass rush (78.2). He was 12th on the team in coverage grade (58.8).
Bolton ranked third in pressures (16) and among the team leaders in hits (six) and hurries (seven). He also led the team in missed tackles (13). In coverage he allowed two touchdowns but just 7.2 yards per completion with three breakups. His targeting foul against Arkansas was his only penalty of the season — on 584 snaps.
When it comes to PFF grades, Bolton's 2020 fell well short of the top defensive seasons for Mizzou players in recent years. Since 2016, here were PFF's top defensive grades for MU starters or key backups:
Jordan Elliott, 2019: 92.4
Bolton, 2019: 91.1
Cale Garrett, 2019: 89.0
Elliott, 2018: 86.5
Aarion Penton, 2016: 85.1
Garrett, 2018: 82.9
Garrett, 2017: 82.3
Tyree Gillespie, 2019: 80.0
Nicholson became the starter at middle linebacker late in 2019 and was a fixture in the middle in 2020. He finished the season as MU's No. 2 tackler with 82 stops, 12th-most in the SEC. He logged double-digit tackles in four games, led the team with two forced fumbles and clinched the win at South Carolina with an interception in the final minute. It was a promising season by every measure and positioned Nicholson to be a defensive leader in 2021 and one of the league's most productive returning players at the position.
PFF didn't think so highly of Nicholson's work this fall. His season defensive grade (46.2) was among the team's worst, along with his rush defense grade (44.0) and coverage grade (49.4). But he could absolutely tackle. Nicholson finished with the team's No. 1 tackling grade (79.0) and missed just seven tackles in 10 games. He ranked seventh  among SEC linebackers in tackling grade and ninth in tackling efficiency (12.7), which calculates attempted tackles per missed tackle.
Bailey and Brooks spent the bulk of the season as the two primary backups, though Wilkins was carving out a role before he suffered an undisclosed injury a couple weeks into the season. Every scholarship player in the position group except for Bolton is in place to return for 2021 with Bailey and Brooks positioned to be the leading candidates to replace Bolton at the weakside position. Pettway, who played mostly on special teams in 2020, could also make a push. If Wilkins is healthy, he, too, could contribute. The Tigers also add two high school recruits to the mix for the fall: Dameon Wilson and Zach Lovett.
Mizzou in Review