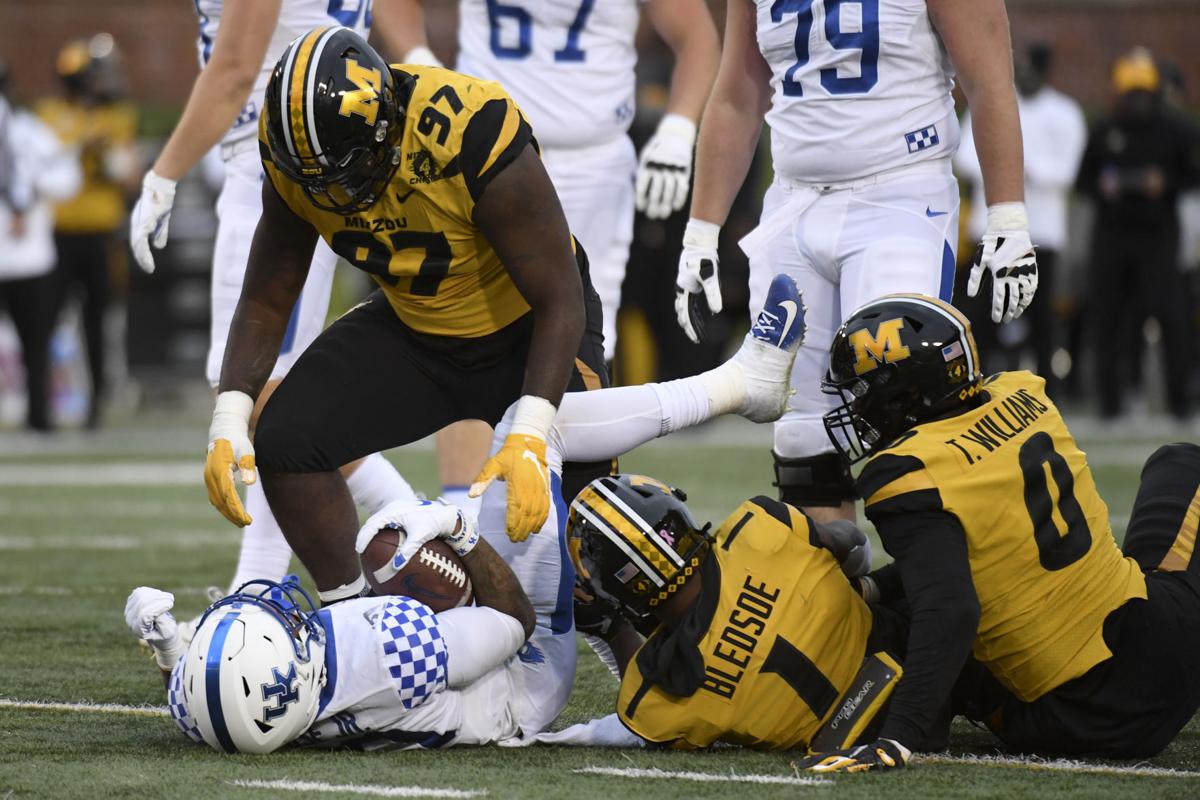 COLUMBIA, Mo. — When it comes to Mizzou football one of the most scrutinized position groups — if not THE most scrutinized position groups — in the post-Pinkel era is the defensive line. For more than a decade, the unit produced scores of all-conference players and NFL draft picks, a factory of impact players year after year under the watch of longtime D-line coach Craig Kuligowski. The success was so consistent the group earned its own nickname — D-Line ZOU — that has carried over two head coaches later.
After an initial turnstile of position coaches in the early Barry Odom years, Brick Haley just completed his fourth season in charge of the D-line, a group that began the year loaded with experience and depth and subsequent high expectations.
How did the that group fare this season? Much like the entire program, some good, some bad, some promise for the future. 
First, let's look at the season snap counts, both total and per game.
Trajan Jeffcoat: 436 snaps, 48.4 per game
Isaiah McGuire: 411 snaps, 41.1 per game
Akial Byers: 352 snaps, 39.1 per game
Markell Utsey: 331 snaps, 36.8 per game
Tre Williams: 325 snaps, 40.6 per game
Chris Turner: 278 snaps, 27.8 per game
Kobie Whiteside: 204 snaps, 40.8 per game
Darius Robinson: 189 snaps, 27.0 per game
Jatorian Hansford: 83 snaps, 16.6 per game
Cannon York: 49 snaps, 8.2 per game
A quick disclaimer: Yes, Mizzou listed its depth chart differently this year, tagging the field-side edge rusher as a stand-up Buck linebacker instead of a defensive end in a three-point stance. This was more of a tweak on paper than it was on the field. The defense aligned the same way for much of 2019 but under Odom Mizzou still listed that edge rusher as a traditional defensive end. That changed this year under since-departed Ryan Walters as the Tigers continued the transition to a three-man front base defense. The Buck linebacker, though, still came from the defensive line group.
For most of the season, that player was Jeffcoat, a first-team All-SEC selection who finished the year among the league leaders with six sacks. Jeffcoat, who wasn't enrolled at Mizzou in 2019 but quietly rejoined the program in August, took over the Buck position. Williams, Hansford and York also saw snaps at the Buck, while Williams also played the boundary-side defensive end position until he opted out of the program and left the team with two games left in the regular season.
Otherwise, McGuire and Turner shared the other defensive end position, lining up directly across from the offensive tackle in MU's unique three-man front. When healthy, Whiteside was the top choice at nose tackle, though a knee injury sidelined him for half the season. Robinson also saw snaps at the nose, along with Utsey when Whiteside was injured. Utsey's natural position was the other defensive end spot, lined up between the nose tackle and the Buck linebacker. Byers was the top reserve there and usually played starter's snaps.
Using Pro Football Focus' grades, here were the group's top five players in three categories: overall defense, run defense, pass rush.
Now for some individual stats …
Jeffcoat, McGuire, Whiteside, Williams 6
Defensive stops (tackle on a successful defensive play)
Just based on the numbers, Jeffcoat was by far the most productive player along the defensive line. His specific grades don't reflect that production, though, which says more about PFF's grading system when it comes to evaluating the players' every snap, not just his empirical statistics.
By any measure it's fair to say Jeffcoat put together a strong season on the edge, while Whiteside was stout when he was available. Williams was more valuable than his raw numbers indicated. The same for Turner. McGuire blossomed into a productive regular in his expanded role this year.
As much depth as the Tigers had in terms of experienced players, the top eight in this group were unavailable for a combined 13 games, including the two games Williams missed after leaving the team.
What's next for this group? Lots of bodies. Jeffcoat returns as one of the SEC's best edge rushers in 2021, while Robinson and McGuire are two young pieces the Tigers can build around. Byers, Utsey and Whiteside will take advantage of the NCAA's extra year of eligibility and provide depth inside. Turner could also return.
There figures to be plenty of competition from some newcomers. The Tigers signed two four-star edge rushers who could see the field quickly, Travion Ford and Kyran Montgomery. Junior college transfers Daniel Robledo and Realus George could provide some immediate help inside. Incoming freshmen Arden Walker, Jonathan Jones and Mekhi Wingo could be in the mix, too.
Mizzou in Review