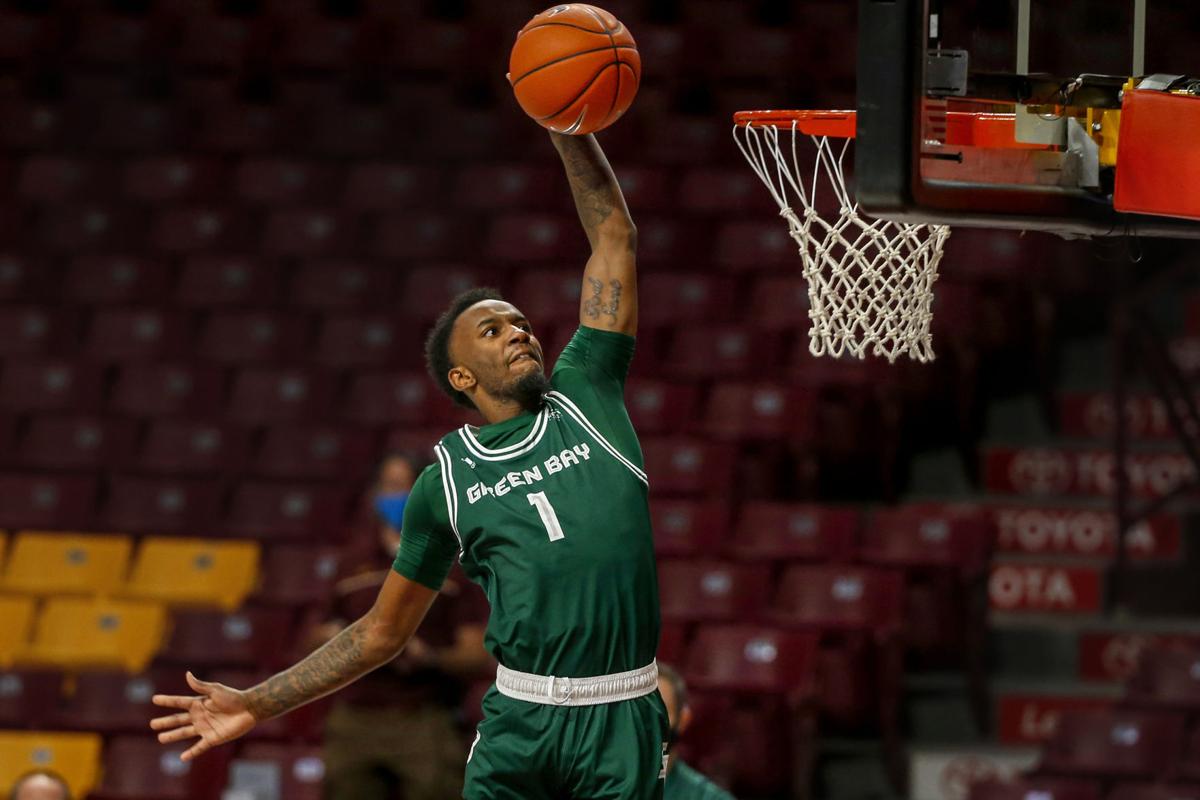 A day after losing Xavier Pinson to the transfer portal, Missouri replenished its backcourt via the portal. Amari Davis, a 6-foot-4 guard from University of Green Bay, committed to the Tigers on Thursday, announcing his decision on Twitter. 
Davis averaged 17.2 points per game for the Green Bay Phoenix in the Horizon League this season, plus 1.9 assists, 1.4 steals and 3.7 rebounds, while shooting 28% from 3-point range, which was a vast improvement from his freshman year when he didn't connect on any of the eight 3-pointers he attempted. Davis was a second-team All-Horizon League choice this year after being named Horizon League freshman of the year last season when he averaged 15.9 points per game. 
"I'm a slasher, I can get to the rim or I can stop and pull up for the mid-range jump shot," Davis said in a phone interview Thursday. "I've been starting to shoot the 3 better. I really started shooting it more last year and have just continued to work on that. And I'm a relentless defender. I can defend almost anybody on the court."
Davis' only other offer came from Tulane, but he said he wanted to settle on a school quickly. 
"Like they say, go somewhere where you're needed, not where you're just wanted," he said.
Davis was recruited to Green Bay by former Phoenix coach Linc Darner, a friend and former college teammate of Mizzou coach Cuonzo Martin at Purdue. Darner coached Davis his freshman year at Green Bay before the school made a coaching change last year. 
"He can put the ball in the basket. That's what I liked about him," Darner said in a phone interview Thursday. "He can score and score at a high-level. When we saw him play in high school, he averaged like 30 points a game, but we knew his game would expand beyond just being an at-the-basket, pull-up jump shooter. He improved on that, but he knows how to make shots and he can score different ways. He's got a really good pull-up game. He's really good off the dribble. He's really good in the open floor. But the thing that I liked about him is the ball just went in the hoop a lot."
Davis, from Trotwood, Ohio, will have three years of eligibility at Mizzou, and, as long as the NCAA approves immediate eligibility for transfers this offseason, he'll be cleared to play for the Tigers in 2021-22. Davis scored in double figures in 21 of 25 games this season with eight 20-point games. He's a high-usage, low-turnover guard who excels at drawing fouls and getting to the free throw line, where he shot 80.4%.
He's had some solid scoring games against high-major competition, going for 16 against Wisconsin as a freshman in just his fourth college game. He scored 19 against Xavier then had 17 against Minnesota. 
The bulk of Davis' shot attempts (46.4%) came on jumpers inside the 3-point arc, according to HoopMath.com. He shot 40% on 2-point jumpers and 55% on shots at the rim. As a freshman he led the Horizon League and ranked 11th nationally in 2-point field goals with 215.
"That's his strength, his mid-range game," Darner said. "When we played Wisconsin, Purdue, New Mexico, Xavier, teams that had the 6-8, 6- guys, he knew how to get a shot off. I don't know if he ever got a shot blocked. He just has a knack for putting the ball in the basket. We knew that his game would expand as time grew, but it didn't stop us from recruiting him, that he wasn't a 3-point shooter. I think it stopped a lot of teams from recruiting him, but at the end of the day, the bottom line is can you put the ball in the basket? That's what he can do at a high rate."
"He's a great kid who comes from a great family," Darner added. "I'm happy for him. I hope he has a great three years and has a great career with Zo. He was a joy to coach."
Pinson's departure left MU with two scholarships to use on transfers for the 2021-22 season, though it's possible more spots could open in the coming weeks if the roster has more turnover. Mizzou has been busy exploring the transfer market and earlier Thursday offered a scholarship to Kansas City guard Brandon McKissic, a St. Louis native who starred at St. Louis U. High. McKissic averaged 17.2 points per game this season, 1.5 steals, shot 42.9% from 3-point range and was named the Summit League defensive player of the year. 
In recent days Pinson has announced that he's received offers from Auburn, Georgia and Nebraska.