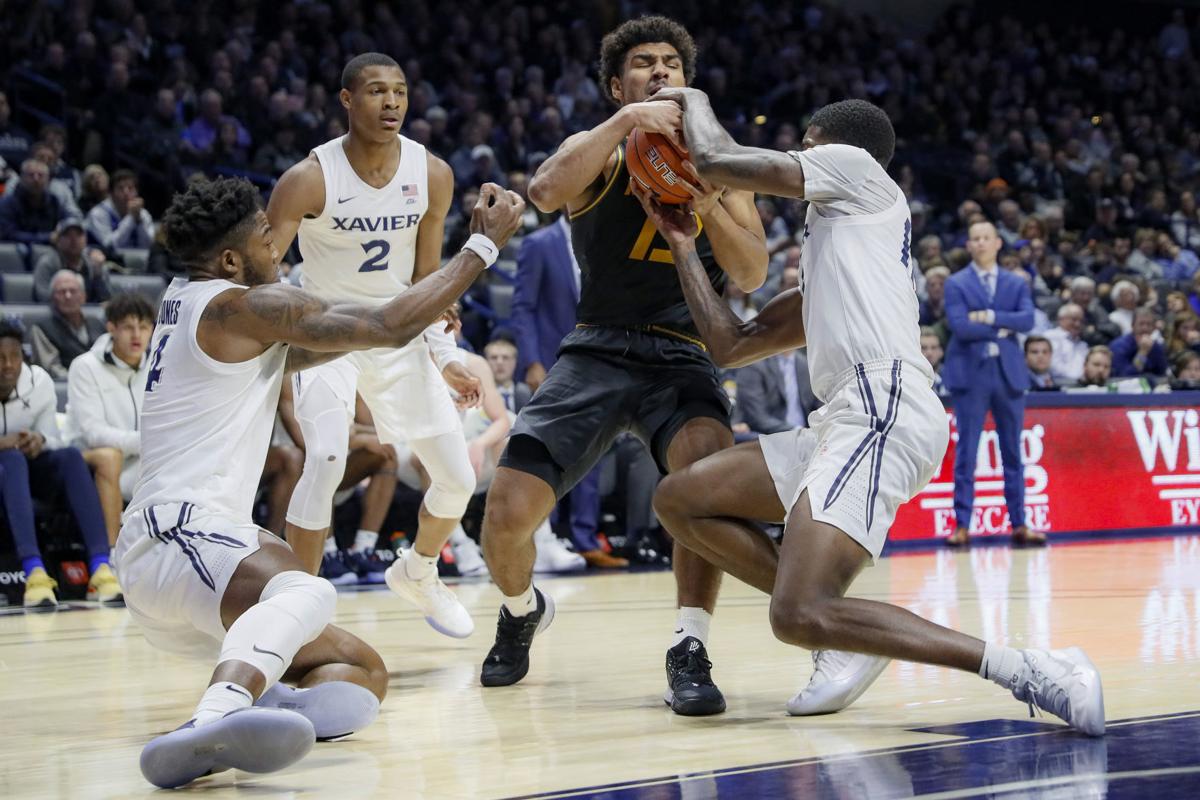 CINCINNATI — Missouri probably couldn't have played any worse in the first half.
The Tigers were almost as bad in overtime.
Missouri was 1-for-4 from the field with the only shot that fell being sophomore guard Torrence Watson's 3-pointer, and Xavier went 8-for-10 on free throws to pull out a 63-58 nonconference win before a raucous crowd of 10,224 at the Musketeers' Cintas Center.
After weathering a mostly dreadful first half during which Jeremiah Tilmon was limited by foul trouble to fewer than three minutes, the Tigers came back to lead by five late in the game before falling to drop to 2-1 in their first road game of the season.
"I felt like we needed time to get used to the environment," said sophomore guard Xavier Pinson, who finished with nine points. "Everyone knew it was going to be a dog fight. We just had to keep fighting."
Missouri coach Cuonzo Martin fell to 3-2 in his career against Xavier, and Missouri suffered its first overtime loss since falling, 86-80, to No. 25 Louisiana State on Jan. 26 of last season.
Fourth-year junior guard Dru Smith led both teams with 22 points and added a career-high 10 rebounds, but he was Missouri's only player to reach double figures, while the more-balanced Musketeers had three players in double figures.
The Tigers missed a chance to go 3-0 for the first time since winning 10 straight to open the 2013-2014 season.
Smith wasn't available for comment after suffering a bloody mouth injury late in the game.
Tilmon, who average 14.5 points in Missouri's first two games, was limited to eight points in just a shade under 23 minutes. Senior Reed Nikko played just over 18 minutes after not seeing the court for more than four minutes in either of the Tigers' first two games. The 6-foot-10 Nikko scored two points with four rebounds.
"It was depressing, but Reed stepped up and got some good stops and rebounds," Pinson said.
The teams combined for 36 turnovers, 20 by Missouri.
After getting back into the game with a surge to end the first half, the Tigers used a 14-0 run to take a 38-34 lead midway through the second half. They still led, 45-40, with 4:02 left in the game before Xavier ended the game with an 11-6 run to force overtime. Pinson, who missed a dunk in the first half, broke free for one with 1:14 left and added a leaner to give the Tigers a 51-48 lead in the last minute.
"That's just basketball," Pinson said of his personal turnaround and the team's comeback. "You have bad halves, bad games. You just have to respond."
"We just had to settle in and make some adjustments," Martin said. "With Jeremiah out, that changes some of the things we can do. Reed did a good job at both ends.
"Our guys settled down. They recognized the game plan and we reiterated it halftime. We talked about the things we have to do to be successful."
Missouri's first half started unraveling when Tilmon picked up two fouls in a span of 12 seconds, the second on an illegal screen fewer than three minutes into the game. Tilmon sat for the rest of the half.
The Tigers finished the half 7-for-27 from the field, including 1-for-9 on 3-pointers, and with 13 turnovers, one fewer than the 14 they committed in the season-opening win over Incarnate Word and helping Xavier open up a half-high 27-12 lead. The pratfalls included Pinson's missed dunk with 6:10 left before halftime.
Xavier enjoyed a 10-4 lead in points off turnovers at halftime and 18-8 for the game.
That sole 3-pointer was junior guard Mark Smith's shot from the key that swished as the buzzer sounded, capping a 9-1 Missouri run to end the half and cutting the Musketeers' lead to 28-21.
"I don't know if it was so much us falling apart," Martin said. "I think some of it had to do with Xavier being at home. Our guards had to get into a better flow. We normally don't turn the ball over. We did a below-average job keeping them off the glass."