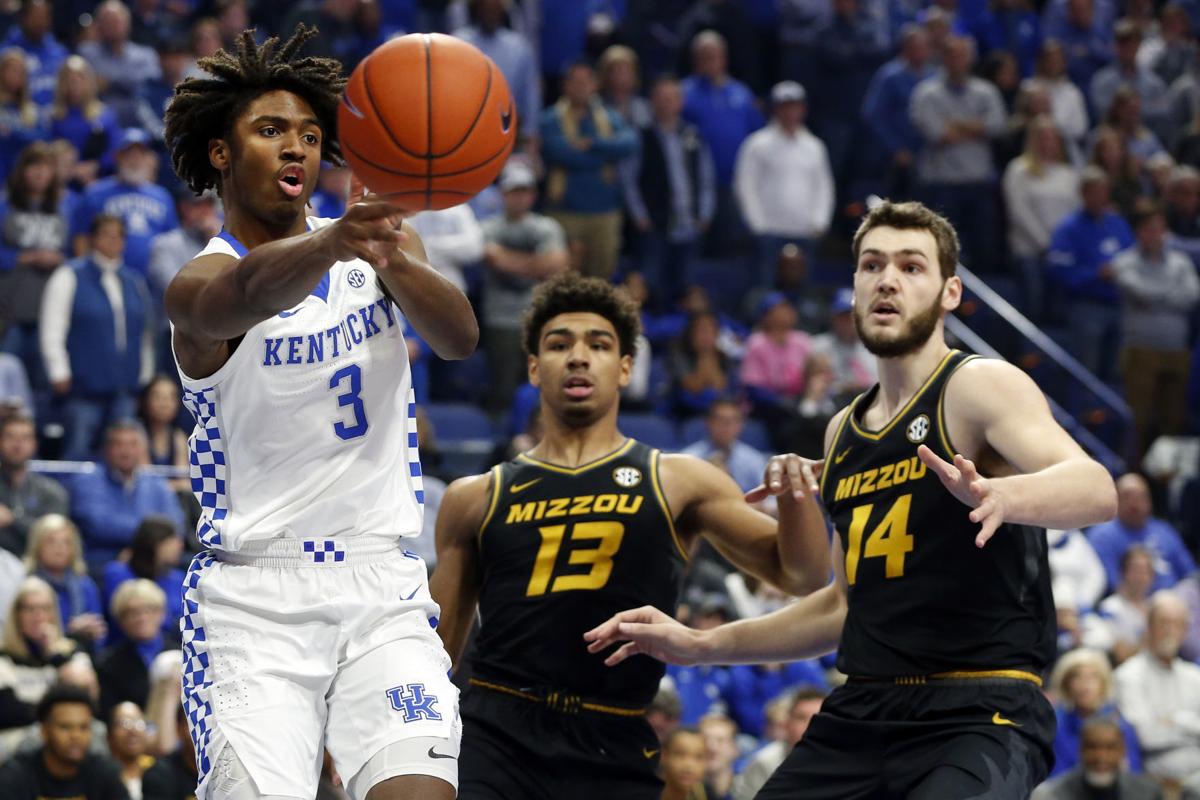 LEXINGTON, Ky. — Missouri coach Cuonzo Martin didn't need an elaborate post-mortem report to explain the difference between his team and No. 17 Kentucky after Saturday's matinee at Rupp Arena.
"We felt as a staff going into the game the difference would be who can get interior production," Martin said. "And they won the battle."
Translation: The Wildcats had Nick Richards and the Tigers did not.
Other differences stood out in Kentucky's 71-59 victory, but it was the 6-foot-11 junior's masterful afternoon — yes, the one-and-done NBA factory produces the occasional junior — that decided the Southeastern Conference opener. The Kingston, Jamaica native with the Bob Marley tattoo on his right arm was UK's most lethal Buffalo Soldier, blasting the Tigers (8-5, 0-1 SEC) for 21 points, 12 rebounds, four blocked shots and several more altered into the blue heavens of Rupp Arena.
Martin was so impressed with Richards' virtuoso performance he couldn't help gush praise on the big man.
"You hate to lose games," Martin said after Kentucky (10-3, 1-0) snapped Mizzou's four-game winning streak and dropped MU to 0-5 all-time at Rupp. "But you're happy to see a young guy grow like that as a junior in college, improve his game, his free-throw shooting, his touch around the rim, putting the ball on the floor. So I'm happy for him."
But not so much for his front line. Still nursing a right foot injury, Mizzou center Jeremiah Tilmon came off the bench and dealt with foul trouble from the minute he stepped on the court, finishing with seven points and four rebounds in eight minutes. Starting center Reed Nikko had a couple dunks in 17 minutes but didn't offer much resistance in the paint. Mitchell Smith missed all six of his field goal attempts in 28 minutes before fouling out. Martin even took the bubble wrap off 7-foot junior college transfer Axel Okongo, who made his long-awaited but hardly memorable season debut. He played just 59 seconds without logging a single stat.
"They got more from their bigs than we got from our bigs," Martin said. "Simply that."
Martin didn't offer Tilmon's sore foot as an excuse.
"He's fine," he said. "He was on the floor, so he's fine."
"He's fighting through it," Nikko said. "I know he's in pain. … Obviously it's hindered him a little bit, but to what extent, that's really a question for him."
For Kentucky coach John Calipari, the game left only one nit to pick. He didn't like seeing his breakout player jawing with Tilmon in the second half, an encounter that led to double technical fouls for Richards and Mizzou's center.  
"Why would you get in a back and forth with another player when you're playing that?" Calipari said. "He doesn't have the composure because he's never been this guy. Now he's this guy (and) you have a different responsibility. But he did great. I'm proud of him."
For a while Saturday Mizzou executed its plan to perfection. Keep Kentucky out of the paint, defend without fouling and limit the transition points. That was MU's pathway to an upset, its only chance to neutralize the Wildcats' greatest strengths.
But after surging to an early eight-point lead, the Tigers woke up a relatively sleepy Big Blue Nation crowd of 20,396 and Kentucky seized control with a 22-6 run. Early on, Mizzou attacked the paint consistently and enticed the Cats to do what they don't do well, hoist shots from the 3-point arc. UK missed its first six 3s as the Tigers raced to a 17-9 lead. 
But no matter how far down the bench Martin searched, he couldn't find answers for Richards. The former five-star recruit dunked a lob pass from Ashton Hagans — one of his game-high seven assists — and drilled two 15-foot jumpers as part of 17 first-half points, nearly doubling the 10 points he combined to score in three past meetings with Mizzou.
"I think the biggest thing for us is that we waited and didn't really play well against him in the first half," Nikko said. "We kind of came out lackadaisical. Letting a guy like that with that kind of talent get in rhythm early, you can't let a guy do that. He sees a couple of shots go in and his conference goes through the roof."
"Obviously he hit some jump shots that maybe we weren't as ready for," he added, "but we got to do a better job keeping him off the glass, especially me."
UK grabbed control with a 12-0 run just as the Tigers started to stall on the offensive end and give away possessions with reckless turnovers. Immanuel Quickley gave UK its first lead, 19-17, with UK's first 3-pointer. Three straight UK turnovers and a late Mark Smith 3-pointer — his only points of the first half — trimmed the Wildcats' lead to 31-26 heading into halftime.
"The end of the half bothered me, three turnovers," Calipari said. "Come on now. Three turnovers. If you finish plays, then we're up 12 at the half. It's a different ball game."
In the second half, the only thing to slow Richards was the whistle. He went to the bench with his third foul early in the half, but then it was Quickley's turn to take over. After a Torrence Watson 3-pointer got MU within four, the Cats erupted for a 11-2 run with Quickley scoring eight points, including a pair of free throws for a Javon Pickett technical foul. Quickley finished with a game-high 23 points, including 9 of 9 from the foul line.
The Wildcats enjoyed a vital discrepancy in fouls and free throws for most of the game. Mizzou was whistled for 28 fouls to UK's 19 and attempted 17 free throws to the Wildcats' 30. It wasn't like the Tigers avoided contact inside, especially guards Dru Smith, Pickett and Mario McKinney Jr. The Tigers matched UK's 28 points in the paint, but the whistles didn't blow their way as the Wildcats had a 16-point advantage at the foul line.
"I thought Dru and Javon did a great job of attacking the rim," Martin said. "Just didn't capitalize enough. They have to continue to do that and we'll get those shots to fall. That's part of the game."
---
After surging to a 17-9 lead, Mizzou woke up Big Blue Nation at Rupp Arena and No. 17 Kentucky seized control of the first half with a 22-6 run. Three straight UK turnovers and a late Mark Smith 3-pointer — his only points of the half — trimmed the Wildcats' lead to 31-26 heading into halftime. Some quick takeaways from Mizzou's first half of conference play ... 
• MU executed its plan to near perfection early. The Tigers got into the paint consistently and kept the Wildcats out of the paint, enticing the Cats to do what they don't do well, hoist shots from the 3-point arc. UK missed its first six 3s as the Tigers raced out to an eight-point lead. MU's first three defensive possessions resulted in two steals and a blocked shot. 
• Jeremiah Tilmon didn't start but entered the game after the first media timeout but wasn't much of a factor, scoring two points with one rebound in four minutes. He was off the floor for good with his second foul with 9:30 left to play. Reed Nikko started in his place and the first half included the Mizzou debut of junior college 7-footer Axel Okongo, who played one uneventful minute of action. UK was plus-4 with Okongo on the floor. 
• The Tigers didn't have any answer for 6-11 UK forward Nick Richards - and UK didn't have much support outside of the big man. In 18 minutes he scored 17 points on 7-of-10 shooting. He also pulled down eight rebounds and blocked three shots. 
• UK took control with a 12-0 run just as the Tigers started to stall on the offensive end. Immanuel Quickley gave UK its first lead, 19-17, with UK's first 3-pointer. 
• Not a bad first half of conference play from MU freshman Kobe Brown, who led the Tigers with seven points. 
• After splashing eight 3-pointers Monday against Chicago State, Torrence Watson logged only one statistic in eight minutes: one rebound. The backup guard didn't attempt a single shot. 
---
Greetings from the Commonwealth of Kentucky, the Bluegrass State, the town known as "the horse capital of the world" and the home of the beloved Kentucky Wildcats.
Here are some keys to the 1 p.m. tipoff on SEC Network:
BUILD THAT WALL
Here's the good news for Mizzou: The Tigers are one of the nation's elite defenses when it comes to guarding the 3-point line, allowing opponents to hit 26.0 percent of their 3s, which ranks No. 8 nationally. Here's the bad news: Kentucky doesn't shoot many 3s. The Wildcats attempt less than 16 per game, and 3s account for just 19 percent of their points. Only two teams across all 353 Division I programs get less scoring from behind the arc. That means one thing for Mizzou on Saturday: Protect the paint.
"They have multiple guys, I would say one through four, who can put the ball on the floor and get to the rim," Tigers coach Cuonzo Martin said. "They run some of the dribble-drive motion offense, so they get downhill. Very aggressive attacking the rim. Any signs of spacing (and) it's a straight line drive to the rim. So your defense has to be tight. We say all the time we have to build a wall. We have to have to play on the outside. You let those guys play north and south and it's a long night for you."
That challenge starts with UK's three premier perimeter players, sophomore point guard Ashton Hagans, freshman Tyrese Maxey and sophomore Immanuel Quickley. None of them shoot 32 percent from 3-point range, but all three can attack the paint, draw contact and finish at the rim. Each one draws at least four fouls per game. Free throws account for 23.5 percent of UK's points, which ranks No. 14 in Division I. And they make 79 percent of their foul shots, 10th-best in the nation. The Tigers have to play tight interior defense without fouling.
"Those guards are pretty quick, quick first step and can get downhill," MU's Torrence Watson said. "We've talked about keeping them out of the paint and making them shoot more 3s."
John Calipari knows that formula. When Mizzou beat Kentucky two years ago in Columbia, the Tigers built that wall inside and held UK to just 40.4 percent on 2-point shots, the Cats' second-worst shooting game inside the arc all season, and forced them to attempt 20 3s, UK's third-most attempts all season. The Cats only made two of those tries.
"They're playing physical," Calipari said. "They're collapsing on defense. They'll block shots. You're not getting open clear looks. That's not how they play. They're running good stuff. They're moving the ball. Coach Martin's good. He's as good as they get. They play to his personality, which is grit, let's go, we're bringing it. It'll be a really hard game for us to win."
Maxey is the most dangerous scorer of the bunch. He's had his best games in UK's biggest games, lighting up Michigan State for 26 points in his first regular-season contest, then had 27 in Saturday's overtime win over rival Louisville. The five-star freshman from was rated the nation's 10th-best recruit in 2019 and figures to be a first-round NBA draft pick this summer.
"He can score. He can shoot. He can drive it. He can get in transition," Martin said. "He does a good job of running off those baseline screens and reading screens. For a young guy he does a good job doing that. He can make shots and put the ball on the floor. I mean, I would classify him as a legitimate scorer."
SECURE THE BALL
Mizzou is 5-0 this year when it turns the ball over on 20 percent or less of its possessions. If the Tigers get reckless with the ball Saturday, the Cats will pounce on turnovers like a ball of yarn. UK doesn't have elite defensive metrics — at least not yet — but Hagans is a steals machine. Live-ball turnovers, the kind Kentucky can convert into easy transition baskets, could be the death of the Tigers. Missouri is at its best when it locks down on teams in the defensive halfcourt, but Martin's team can't afford to give away possessions to  Calipari's fleet of athletes. Mizzou guard Xavier Pinson put the turnover threshold at 10. Any more and the Tigers are in trouble. Any less and they can win.
"If we take care of the ball this game is ours, I feel like," he said. "We just have to stay locked in and focused and give our all for 40 minutes."
What's the key to limiting turnovers?
"I just think it's having confidence with the ball and understanding who you are as a player," Martin said. "If I'm a catch and shoot guy then dribbles are at a minimum. If I'm a ball-handler and decision-maker then makes sound decisions.
"I guess it's complicated, but I don't think is it as complicated as it should be. Get to the lane, jump stop. Be strong with the basketball."
THE TILMON FACTOR
Will Mizzou's big man be available? The answer is yes, a team spokesman confirmed at Rupp Arena. That doesn't mean the junior center will start. He's dealing with a foot injury that sidelined him for Monday's game against Chicago State and clearly bothered him in the Braggin' Rights Game 14 days ago. The Tigers seemed hopeful on Friday that he would play. Tilmon wasn't made available for interviews.
"I think J.T. will go if J.T. can go, but I don't want him out there if he's going to hurt himself," Mitchell Smith said. "But J.T. wants to play in big games like this and he knows we need him. He's going to do what he can do."
Whether or not Tilmon can play heavy minutes, the Tigers will need continued production from Smith, the 6-10 redshirt junior who's become a reliable and versatile defender and for the first time in his career a core player in the rotation when it comes to heavy minutes. Against UK's 6-11 Nick Richards and 6-10 E.J. Montgomery, the Tigers need Smith's presence and energy inside.
"I think he's truly that guy who can defend one through five," Martin said. "I think he takes pride in playing defense. He enjoys the excitement of getting a stop, getting a charge, getting a steal, being aggressive."