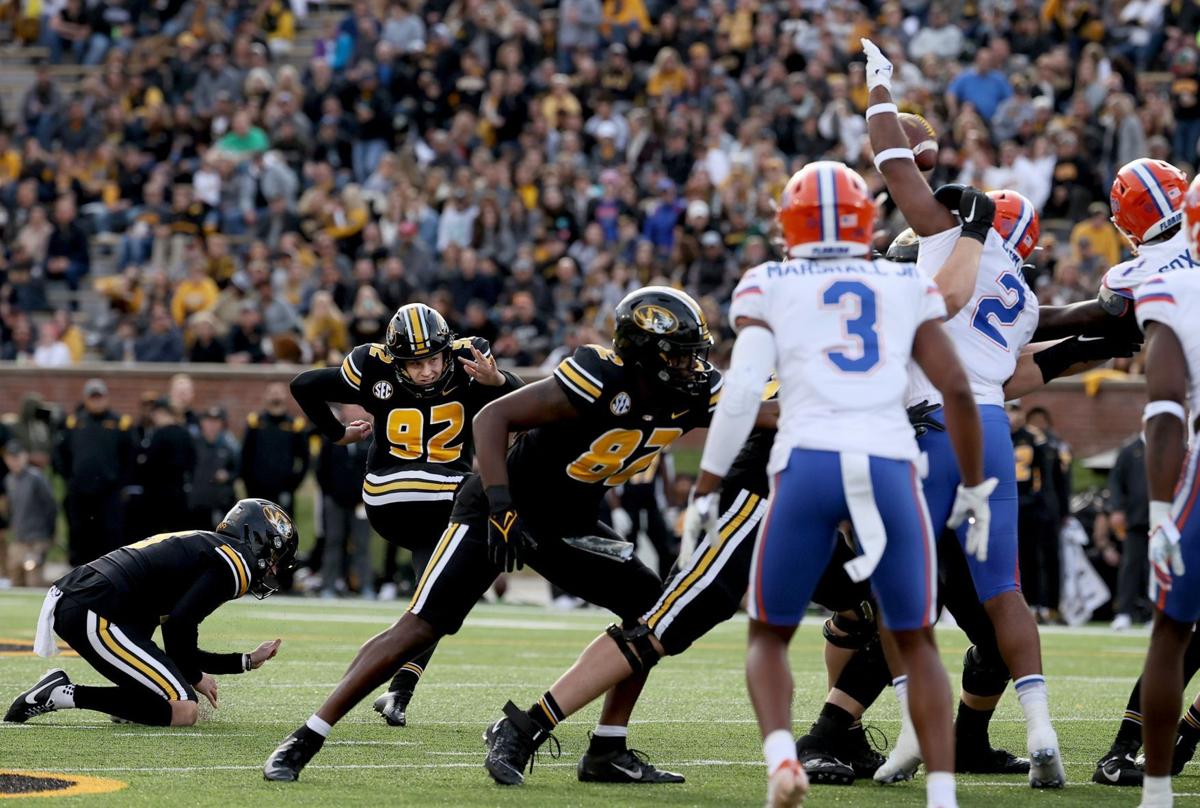 COLUMBIA, Mo. — Tyler Badie did it again.
The Missouri senior tailback, most likely playing his final game at Memorial Stadium, saved his best for last Saturday, rushing for 128 of his 146 yards in the second half and overtime as the Tigers outlasted Florida 24-23 Saturday.
Badie came into Saturday's home finale averaging a robust 9.0 yards per carry in the fourth quarter. He proved to be the Tigers' most valuable closer again against the Gators.
Early in the fourth quarter, the Tigers finally found their footing early, starting with two first-down runs by Badie for 17 and 19 yards. Later in the drive, on a play the Tigers call "Burn," the team's MVP became its most valuable decoy when Connor Bazelak faked an inside screen to Badie and instead connected with tight end Niko Hea wide open down the right sideline. The CBC grad did the rest, racing a couple Gators to the end zone for a 41-yard touchdown to put Mizzou back in front 16-13.
Badie "actually called the pass to Niko," Tigers coach Eli Drinkwitz said. "He told me they were yelling screen. He said (to) call, 'Burn.' I was like, no, that's a crazy idea. Then I was like, nah, that's probably a pretty good idea."
The play-calling running back was pretty good at his day job, too. He opened MU's overtime period with a 12-yard run, then finished the drive on the next snap with a 13-yard gallop to the end zone.
"I just keep fighting," Badie said. "I know how SEC games go. They keep bumping and bumping. You just got to stay on your grind. … I told the offensive line at halftime if we keep pushing, keep pushing, they're going to break eventually."
Now with 1,385 yards, Badie moved from fifth to third place on Mizzou's single-season rushing list. He's 21 yards behind Brad Smith's 2003 second-place total of 1,406 yards and 193 yards behind single-season record-holder Devin West, who ran for 1,578 yards in the 1998 regular season.
Timeout strategy
Florida coach Dan Mullen was content to play for overtime in the final minute of regulation, but that didn't stop Drinkwitz from calling his final two timeouts to force Florida to punt.
"We wanted to make them execute a special teams play," Drinkwitz said. "Can we make them execute a punt? Y'all remember the Michigan-Michigan State game (in 2015). And (Florida) had a punt shanked earlier in the game that would've put us in field-goal range."
Punt returner Boo Smith couldn't get a clean return, leaving MU with two seconds left on the final possession. The Tigers took a knee to head into OT.
"When we got the ball obviously with two seconds left, there was no reason to risk anything," Drinkwitz said.
Tiger tales
Mizzou honored 23 seniors before the game, most of whom played in their final home game. Some could decide to return for another year of eligibility granted by the NCAA.
Cornerback Akayleb Evans, who last week accepted an invitation to play in the Senior Bowl, decided not to partake in the pregame ceremony after going through the same ceremony last year at Tulsa. He also didn't play in the game for undisclosed reasons.
• Defensive end Trajan Jeffcoat had a team-high 3½ tackles for loss but left the game after going down, apparently because of lower body injury in the second half.
• Linebacker Chad Bailey led MU with nine tackles, three of them for losses.