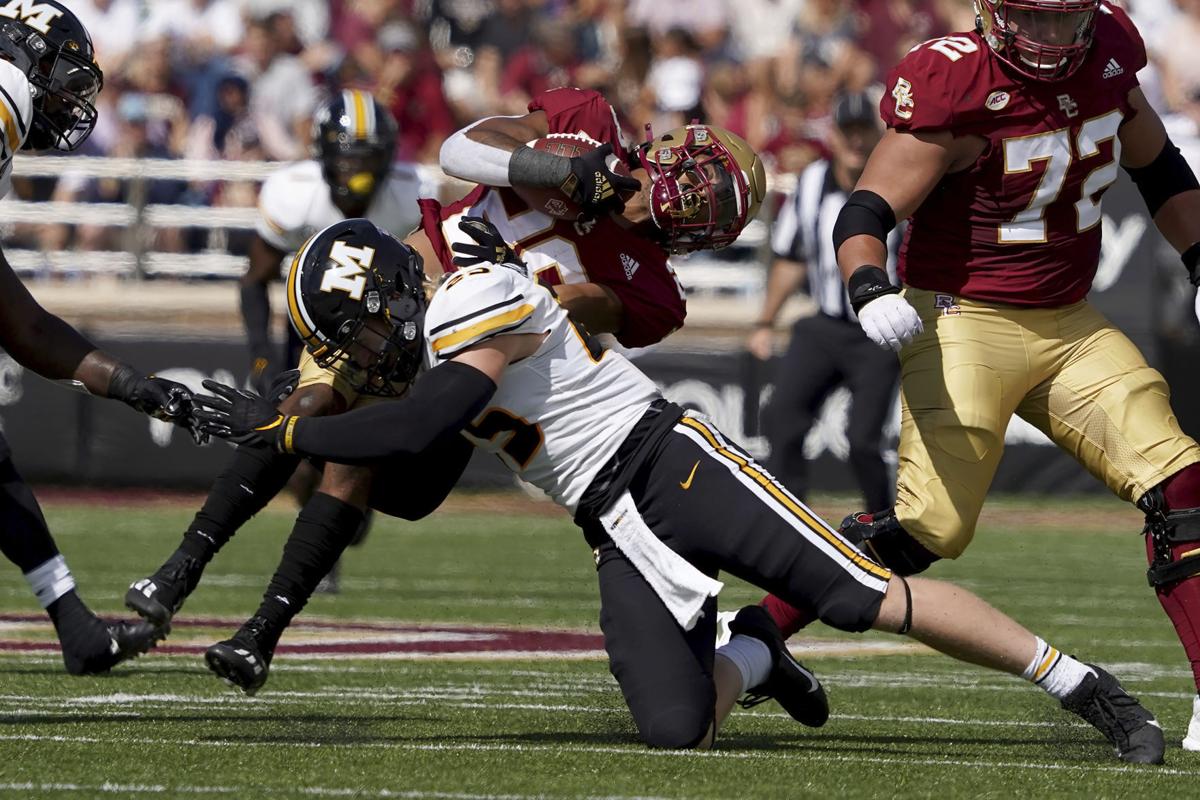 CHESTNUT HILL, Mass. — For everything that went wrong for Missouri late in the Tigers' loss Saturday at Boston College, early missed opportunities had coach Eli Drinkwitz still steamed hours after the 41-34 overtime defeat.
The Tigers' day couldn't have started any better. Just four minutes into the action at Alumni Stadium, they had thrown a touchdown pass and forced a turnover on BC's first play from scrimmage.
Connor Bazelak connected with Barrett Banister on a 9-yard play-action pass in the end zone to open the scoring. Then, against a Missouri defense that's been ravaged by the run this season, Boston College opted for a deep pass on first down — and might have gotten too cute for its own good. Safety Shawn Robinson made a juggling interception to extinguish BC's opening drive on its first play.
A two-score lead was there for the taking. But Mizzou only sputtered, coming up with a three-and-out series.
"It was an opportunity to really establish our will in the game, to go up 14-0," Drinkwitz said. "We didn't take advantage of the opportunity. We punted and they went down and scored. It gave them some momentum. It's something we've got to continually improve. … This is a work in progress. This whole thing is a work in progress."
Down only a touchdown, Boston College stayed true to its identity on offense and began to chip away at Mizzou's proven weakness. The second time he touched the ball, running back Patrick Garwo dashed through three flailing defenders on a 67-yard jaunt to the end zone for BC's game-tying score, part of a four-play 98-yard touchdown drive. Relying heavily on their running game, the Eagles ripped off more scoring drives of 75, 75, 50 and 60 yards, maintaining possession for more than five minutes on five of their nine series in regulation.
BC finished the day with five runs of 10 yards or more but did most of its work methodically, getting every yard it needed in any situation. The Eagles converted 10 of 16 thirds downs and two of two fourth downs and only lost yardage on four of 76 plays from scrimmage. Missed tackles were a problem on some runs, but more than anything, the Tigers struggled to shed blocks in the trenches.
"Against a team that runs the ball like this, you get a lot of zone (blocking)," Missouri linebacker Blaze Alldredge said. "They really don't even try and be super physical on blocking you. They just kind of try to get in your way. On those long drives if you fall asleep a little bit and maybe they haven't been cutting it back when they ran the same play two or three times in a row, all of a sudden, you just let the guard cut you off and he cuts it back and he hits a big one."
No timeout?Boston College reached Mizzou territory in the final seconds of the first half, but after a sack on third and long, Drinkwitz decided against calling a timeout as BC faced fourth and 17. Instead, MU let the Eagles nearly run out the clock to kick a game-tying 49-yard field goal with five seconds left.
His counterpart was surprised by the strategy.
"Truthfully, I thought he would have called timeout," BC coach Jeff Hafley said "Remember at the end of the half, there was 40 seconds left? I waited and we kicked a field goal so they wouldn't have any time. I thought he was going to use a timeout there, because then he would have had about 34, 35 seconds left at the end of the half with that explosive offense. You saw what they did with 20 seconds (at the end of regulation), right?"
Mevis deliversThe circumstances were different from last year's comeback win over Arkansas, but Harrison Mevis delivered just the same Saturday. Thanks to a quick 5-yard pass to Barrett Banister, the Tigers had just enough time for Mevis to attempt a field goal to send the game into overtime. Against Arkansas last year, a similar last-minute drive set up his game-winning 32-yarder. He'd need more leg this time on the 56-yard attempt.
"We thought if we got to the 40 we could kick it," Drinkwitz said. "Man, that was a really big-time drive for us to get a chance to make that kick."
Mevis just cleared the crossbar for the longest field goal of his career but took little satisfaction considering the final outcome.
"I'm trying to make kicks, score points," he said. "I'd probably say (it was a) career long but that doesn't matter. … I just wanted to give my team an opportunity to go win the game. That's all I was focused on."
Extra pointsMissouri played without starting right guard Case Cook for the second straight game as he recovers from an undisclosed injury. The team captain snapped a streak of 22 straight starts when he missed last week's game against Southeast Missouri. Connor Wood started in his place.
• Saturday's game was MU's first overtime contest since a two-OT loss to South Carolina in 2013.
• Running back Tyler Badie finished with 72 rushing yards on 18 carries and added five catches for 34 yards.
• Keke Chism led Mizzou with seven catches for 67 yards.
• Redshirt freshman wideout Mookie Cooper played sparingly and caught only one pass for 3 yards.
• Alldredge and safety Martez Manuel led Mizzou with 11 tackles each and combined for MU's only sack.