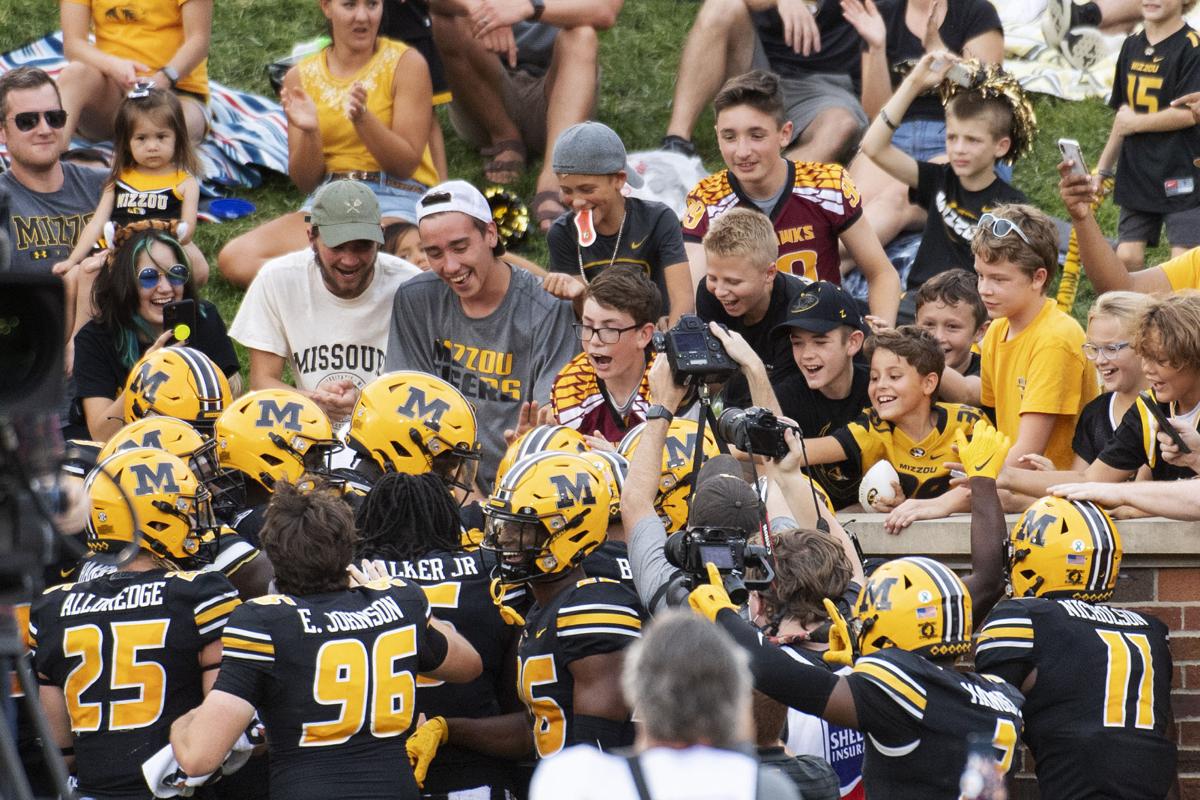 COLUMBIA, Mo. — Mekhi Wingo never got the chance to score a touchdown at De Smet High School. It took only six college games to visit the end zone.
The freshman defensive tackle was in the right place at the right time Saturday when defensive end Trajan Jeffcoat got a hand on a North Texas pass and deflected it straight into Wingo's paws. The rookie would not be stopped from there, chugging 40 yards to the end zone.
"I'm a running back at heart, so that was my chance right there," Wingo said after the Tigers' 48-35 homecoming victory.
By Wingo's count, that was his fist touchdown since he played for the De Smet freshman team in 2017.
"When I got to playing varsity," he said, "Coach Steeps wouldn't put me at running back."
That would be former De Smet coach Robert Steeples, now a special teams assistant for the Minnesota Vikings. Once he sees Wingo's return Saturday, he might regret that decision.
Wingo, the first recruit to commit to Mizzou's 2021 signing class, has seen the most playing time of Eli Drinkwitz's freshman class, earning an immediate role at a position stocked with veterans. On Saturday, he made his first start, replacing Akial Byers in the lineup. After Tennessee thrashed the Tigers 62-24 last week, Drinkwitz promised to scrap the depth chart and open every starting job in practice. Linebacker Chad Bailey also made his first start in place of Blaze Alldredge. Otherwise, MU's other defensive starters had started at least one game prior to Saturday.
Wingo finished the day with four tackles, including one of six behind the line of scrimmage by the D-line.
"First commitment in the 2021 class, plays extremely hard, practices hard, does things the right way," Drinkwitz said. "He's a great leader for our football team, a great representative for St. Louis. … I know his mom's proud of him. I'm proud of him, too."
Wingo became the first Mizzou defensive lineman to score a touchdown since Byers recovered a fumble in the end zone against Arkansas in 2018. Wingo was the first Mizzou D-lineman with an interception since Terry Beckner Jr. against Vanderbilt in 2017.
The Tigers added two more takeaways, both by nickelback Kris Abrams-Draine. He picked off a pass in the first quarter, needing a replay review to confirm the interception. Later, he recovered a fumble forced by cornerback Akayleb Evans.
Downing delivers
When the Tigers need an extra pass protector in the backfield for Connor Bazelak, that assignment usually goes to sixth-year running back Dawson Downing. That was the case again Saturday on a play late in the fourth quarter — that is until Mizzou adjusted the play before the snap. For just the third time this season, Downing got the carry. He didn't disappoint, racing through the Mean Green for a 60-yard touchdown run.
Downing was far more involved in the running game two years ago, carrying 40 times 227 yards and a TD. Last year, though, he was almost exclusively a blocker, getting just one carry.
On Saturday, Drinkwitz fiddled with his running back depth behind starter Tyler Badie. Freshman B.J. Harris had an expanded role — he carried 14 times for 39 yards — while Downing made the most of his chances with 73 yards on four attempts.
"We've seen B.J. really from fall camp on and he's done a really nice job," Drinkwitz said. "So we wanted him to get some carries. Dawson Downing is a really good protector on third downs. So, on his touchdown drive, we had a play called and we were checking it based off if they were not pressuring and he ended up being able to be in the game for that and really did a nice job with his opportunity on that run."
Extra points
Five-star East St. Louis wide receiver Luther Burden, the top-rated wideout in the nation, attended Saturday's game on an unofficial visit. He plans to announce his verbal commitment on Oct. 19, choosing between Alabama, Georgia and Mizzou. … Redshirt freshman Mookie Cooper returned to action Saturday after sitting out the Tennessee game. He caught three passes on four targets for 19 yards. … Connor Bazelak passed for a season-low 160 yards, completing 21 of 32 attempts. His only completion longer than 13 yards was a 41-yard TD to J.J. Hester.
Senior tailback is the difference with 217 rushing yards, three touchdowns in 48-35 win over North Texas.
COLUMBIA, MO. — Turns out that Jethro Franklin wasn't the only person who lost his job. When Missouri's defense took the field here Saturday, …