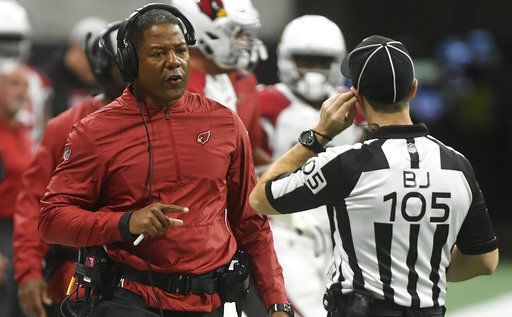 Missouri has reached an agreement with Steve Wilks to take over as the program's defensive coordinator, several sources confirmed Thursday.
Wilks, 51, hasn't been on a college staff since 2005 and was out of coaching this past season but brings more than 25 years of experience at the college and NFL level to Missouri's staff. He was most recently the Cleveland Browns defensive coordinator in 2019 and before that was the Arizona Cardinals head coach for one season in 2018.
"We are thrilled to welcome Steve Wilks and his family to Mizzou," MU coach Eli Drinkwitz said. "Steve has a strong reputation as a man of character and a leader of men. His experiences both as an NFL head coach and defensive coordinator are exactly what we need at Mizzou. I'm looking forward to Steve putting his fingerprints on our defense as we continue to elevate Mizzou Football to greater heights."
"As I took time off to reflect over the past year, I wanted to find a good program with great people that was moving in the right direction, and without a doubt, Mizzou Football has all of that," Wilks said. "I reached out to Coach Drinkwitz when he got the job at Appalachian State as an alum, and Coach Harbison is a good friend of mine who spoke volumes about the culture and people at Mizzou. Mizzou has things moving in a great direction and I wanted to be a part of that.
"I've had a reputation of building relationships everywhere I've been, from college to the NFL. I pride myself on being a great teacher and communicator and having the ability to get the most out of my players. Players like Josh Norman, who developed from a fifth-round draft pick into a All-Pro selection, is just one example of someone who I was able to help develop. In college, you must develop players, and I believe I can bring that to Mizzou, along with being a great communicator and teacher."
Wilks replaces Ryan Walters, who left Eli Drinkwitz's staff earlier this month for the coordinator position at Illinois.
"Steve is one of the best teachers and communicators that I have ever worked with," Ron Rivera, head coach of the Washington Football Team told the Post-Dispatch via email on Thursday. "He is a tremendous leader of men and a genuinely good man. Missouri got an excellent coach."
Wilks will have at least one defensive assistant to hire. Defensive line coach Brick Haley will not return to the staff in 2021. The team took Haley off its online roster Thursday. 
Wilks spent 12 of his 14 NFL seasons working under Rivera in Chicago, San Diego and Carolina. 
Wilks was an NFL assistant from 2006-2019, working as a defensive backs coach with the Bears, Chargers and Panthers before taking over as Carolina's coordinator in 2017 under Rivera. Wilks landed the Cardinals' head-coaching job in 2018 but lasted just one season in the desert before he was fired after a 3-13 season. After one season running the Browns' defense he was not retained in the team's head-coaching change last year. Wilks has been a college assistant at Division II schools Johnson C. Smith and Savannah State then spent one year each at Illinois State, Appalachian State, East Tennessee State, Bowling Green, Notre Dame and Washington. 
Wilks has preferred a 4-3 base defensive scheme in his past, but in Arizona, the Cardinals operated out of a nickel defense (two linebackers, five defensive backs) on 84 percent of their snaps in 2018, which led the NFL, according to FootballOutsiders.com.
Wilks has a couple connections to Drinkwitz's current staff. MU defensive backs coach Charlie Harbison worked under Wilks when Wilks served as the Cardinals head coach in 2018. Long before that, Wilks was a player for the Charlotte Rage Arena League team in 1993 when Harbison was a coach on the staff. Willks also played collegiately at Appalachian State from 1987-91 under head coach Sparky Woods, the father of Mizzou tight ends coach Casey Woods. Of course, Drinkwitz was also App State's head coach in 2019.