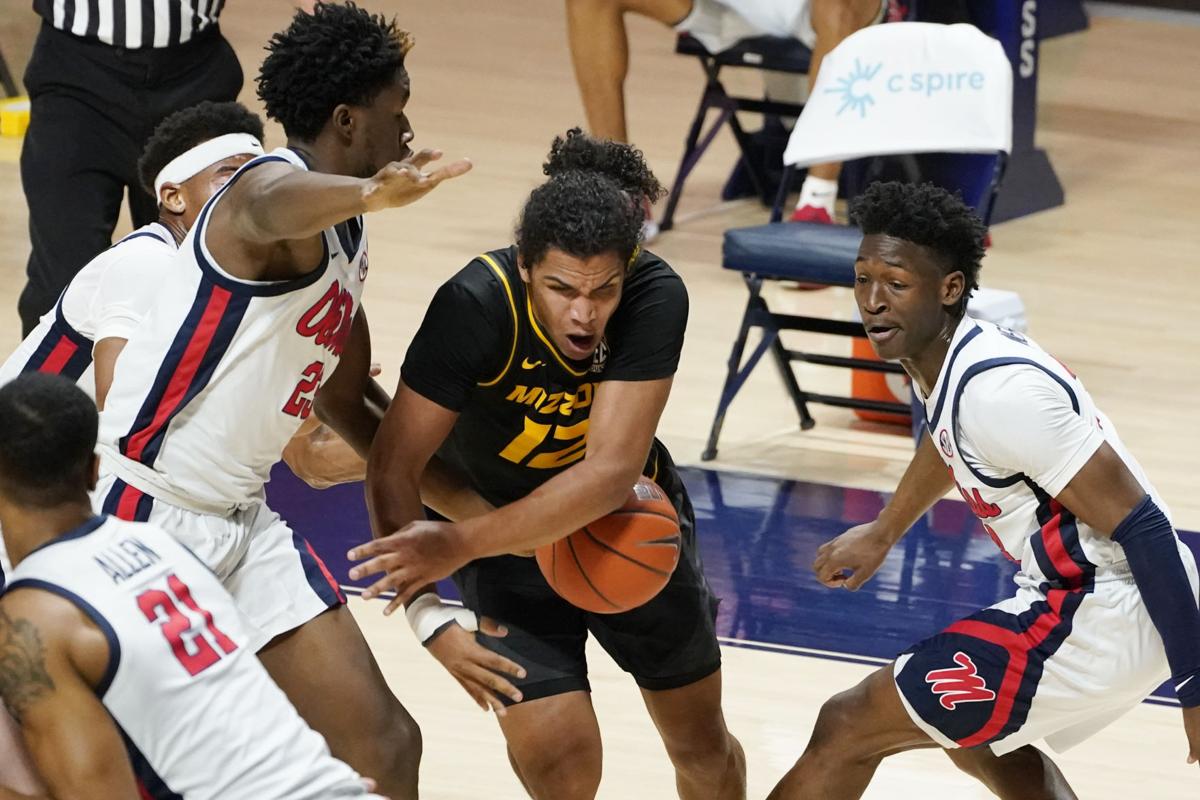 COLUMBIA, Mo. — Was it the return of senior center Jeremiah Tilmon? Was it the therapeutic players-only team meeting? Was it the disciplined shooting and ball-handling? Maybe it was just the quality of the opponent?
An assortment of factors could explain Missouri's slump-busting performance Saturday at South Carolina, where Cuonzo Martin's team snapped a three-game losing streak with a much-needed 93-78 victory. What made the difference Saturday depends on whom you ask.
"Well, to be honest with you, having Jeremiah back," assistant coach Marco Harris said Monday. "It helps out when you have a big like that who can dominate and you don't have to be so perimeter-oriented."
Maybe so. Tilmon, who stepped away from the team for the two previous games after the death of his grandmother, was a force off the bench at South Carolina, leading the Tigers with 17 points in 21 foul-free minutes. Mizzou's guard play was much improved, too. Point guard Xavier Pinson came out of his fog, shot the ball more judiciously and didn't turn the ball over. Do-everything guard Dru Smith continued his all-conference push with 17 points and seven assists. Mark Smith chipped in with 13 points, his best output in more than a month. With Tilmon commanding the Gamecocks' attention inside, the Tigers flourished everywhere else, posting their second-best offensive efficiency rate of the season — 125.8 points per 100 possessions — and best this season in conference play.
Of course, South Carolina has been in a tailspin lately, but the No. 24 Tigers (14-6, 7-6 Southeastern Conference) aren't going to apologize for beating a team saddled with injuries and inexperience. They've been there plenty of times the last few years.
Missouri senior guard Drew Buggs credited last week's players meeting, the details of which they've declined to share, for sharpening the Tigers' focus heading into the weekend.
"This is a veteran group, and we knew that the three-game skid did not reflect us," Buggs said Monday. "Of course, we were missing Jeremiah, which is a big piece. But at the end of the day, this is a deep team. We don't make excuses. We just had to regroup and just get back to the way that we were playing earlier in the season. It's not easy. It's a long season. It's a weird season. The SEC is tough. Every game is a battle.
"We realized that we're still in a great position heading into this final stretch of the season. So it wasn't the end of the world. But at the same time we couldn't just keep going down that same path that we were headed down."
As the regular season winds down, the calendar is running out of days to capture a burst of momentum before the postseason arrives. Whether Mizzou caught that wave at South Carolina will be answered Tuesday when Mississippi (12-9, 7-7) visits Mizzou Arena for an 8 p.m. tip-off on SEC Network.
It's a rematch the Tigers are eager to play, with a chance to expunge their worst effort of the season, a 21-point loss to the Rebels two weeks ago, the start of the three-game skid.
The Tigers were a mess that night in Oxford, Mississippi. Pinson had more turnovers (four) than field goals (three). Mark Smith attempted — and missed — just one 3-pointer. Tilmon played listlessly in the paint, finishing with six points and six rebounds. The Tigers allowed the worst 3-point shooting team among the six major conferences to shoot 40% from behind the arc. After the game, Martin criticized his team's effort, something he's rarely done in four years at Mizzou.
Ole Miss' signature 1-3-1 trapping zone defense only caused minimal problems for the Tigers, but Martin's team played passively on the offensive end.
"I think we're just going to focus on being more aggressive," Buggs said. "Last time we were getting good looks. We just weren't making the shots. We're just not going to let that get us stagnant. We have too many good players on the floor to let someone's defense dictate how we play on the offensive end. We want to just focus on our end and be sharp and sound and execute."
With Tilmon back on the floor Saturday, one upside of his absence emerged: Bench players whose roles expanded in those two games are now fixtures in Martin's suddenly deeper rotation. Forward Parker Braun and guard Torrence Watson both produced with Tilmon out and earned more minutes Saturday, 14 and 15 respectively.