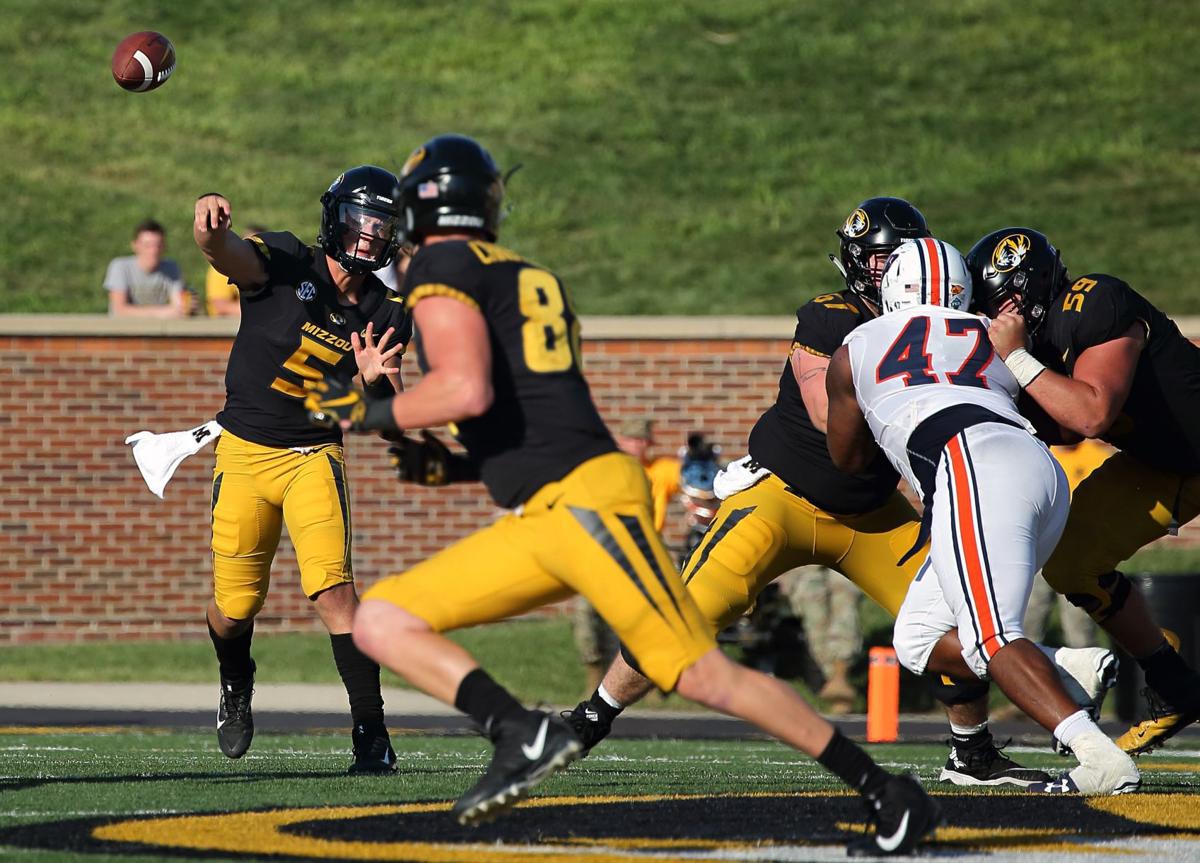 COLUMBIA, Mo. — Taylor Powell doesn't act like a backup quarterback.
Before Missouri's season started, Powell had already spent the summer studying film on all of the Tigers' opponents on his own. As the second-team quarterback, he didn't know which of those opponents he'd see action against, but he prepared anyway.
When Powell was called to go in for the injured Kelly Bryant in the second half of Saturday's game against Troy, he said it was business as usual. Bill Blankenship, his high school coach, said it's Powell's "weird mix of humility and confidence" that make him special.
Powell came to Mizzou from Fayetteville, Arkansas, where he was a three-year starter for Fayetteville High School. His freshman year at Missouri marked the first time he hadn't been at the top of a depth chart since 10th grade.
Blankenship came to Fayetteville for Powell's senior year. Blankenship, the former head coach at the University of Tulsa, knew he'd have a veteran quarterback but didn't quite know what he was getting until he saw Powell during the season.
In the middle of the season, when Powell wasn't satisfied with the offense's performance or wanted to work on something new, he would call together his receivers and meet at the stadium to put in extra work.
"I just call it the 'it factor,'" Blankenship said. "He could just rally his guys, and anytime he (called them) they're going to show up. And it paid off time and time and time again."
Powell's play got him noticed. He was invited to participate in the Elite 11 regional quarterback competition in Dallas as a sophomore and won the regional competition in New Orleans as a junior. He was named Gatorade Player of the Year for the state of Arkansas his senior year. His parents said he received 17 Division I offers. Powell committed to Wake Forest in June 2016, but his parents said Powell's mind was always on Mizzou.
"Since he was a little kid, he's been a Chase Daniel fan," Powell's dad, Mark, said. "He really liked the offense. He had Missouri T-shirts and pajamas."
Mizzou receiver Barrett Banister, who played with Powell in high school, said they would always watch the MU-Arkansas rivalry game on Black Friday. Powell was always the one person pulling for the Tigers over their hometown Razorbacks.
Powell's mother, Elizabeth, said her son told the Wake Forest coaches that if an offer from Mizzou came, he would have to consider it. The offer came in January of Powell's senior year, when Tigers coach Barry Odom and then-offensive coordinator Josh Heupel drove five hours from Columbia to Fayetteville in a storm that kept them from flying. Powell flipped his commitment from the Demon Deacons to the Tigers shortly after the visit.
Banister, who has known Powell since preschool, said he's seen change in Powell since the two arrived in Columbia.
Powell "really understands what it means to be a student of the game," Banister said, "whether that's not going and eating lunch with guys because he needs to study film, or just spending an extra hour just trying to get his body right to be ready to perform."
Now the head coach at Owasso High School in Oklahoma, Blankenship said he and Powell have stayed in touch. After Drew Lock left Mizzou and the Tigers added transfer quarterbacks Bryant and Shawn Robinson, Powell's future became less certain. He called his former coach.
"I told him (that) as a coach, my job was to bring somebody in better than him," Blankenship said. "As a player, your job is to work so hard that you don't care who I bring in, they're not going to beat you out. … I think he found the inner strength to say, 'No matter where I go, I've got to fight and earn this job. And I love it here.' And so he stayed and he fought through it."
When Powell replaced Bryant last week, he didn't get much of a chance to show off his ability to lead the offense. He played the entire second half, but by then, with a 42-7 lead, the Tigers stripped down the playbook. He attempted only eight passes, completing six for 57 yards. Still, Odom praised his performance.
"I thought he was efficient," Odom said. "It's a tough situation to be in with how you call (the plays) because you want to be able to see him do a little more. But also, I thought we handled it well and he handled the play-calling well as far as executing the plays."
The Tigers (4-1, 1-0 SEC) are expected to start Bryant Saturday against Ole Miss (3-3, 2-1). But when the Bryant era ends for the Tigers, there will be more questions. Powell will compete for the starting spot with Robinson, freshman Connor Bazelak and any other newcomers who may arrive.
His father believes Powell's ability to act like a starter will see him through.
"If they woke him up tonight at 2 in the morning," Mark said, "I think he'd be ready."